Anise hyssop is a perennial herb (in zones 4-9) from the mint family and a favorite plant of bees and gardeners alike. It can grow tall and woody with flowers commonly blooming in lavender but there are also white, pink, and blue varieties. Prolific in the garden and extremely useful in the home for food and medicine, Anise Hyssop is worth growing and keeping on hand, here are 5 Uses for Anise Hyssop to get you started: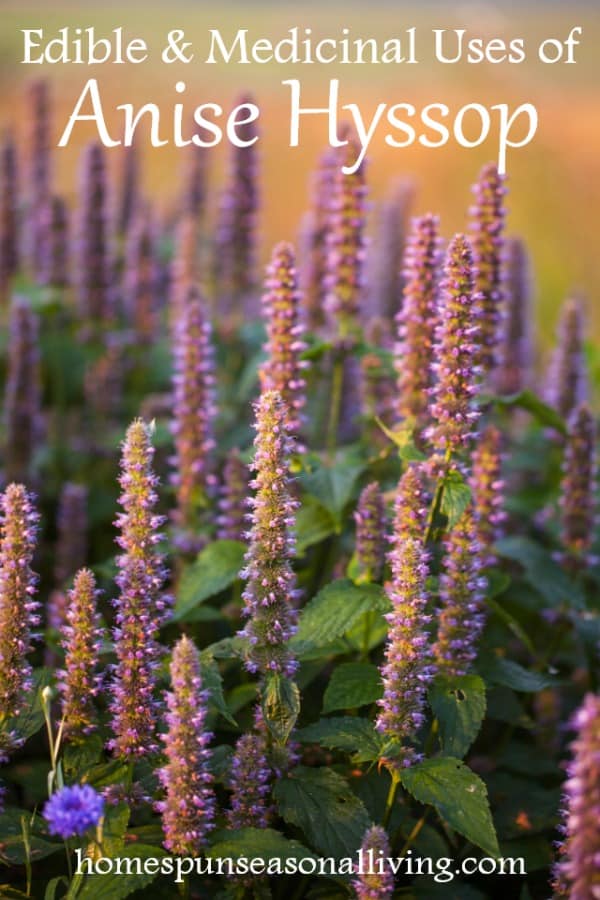 1. Simply Eat
The flowers are edible with a lighter anise flavor than the leaves and make for a tasty and beautiful garnish or addition to a salad. Truly beautiful for tea parties.
[mailerlite_form form_id=1]
It adds a delicious licorice flavor to many sweet foods and drinks too. Think: hot chocolate, cookies, and candy.
2. Tea (Fresh or Dried)
The leaves and flowers make a delicious black licorice flavored tea that also has some medicinal benefits. In The Green Witch Herbal, the author states that hyssop helps expel mucus making it ideal for treating colds. Susun Weed, too, suggests that it is good for relieving congestion.
To dry, simply hang the stems in a dark place until crispy and then store in airtight containers.
3. Cordial
Hyssop is a traditional ingredient in absinthe and makes for a tasty homemade infusion.
Fill a jar half full with fresh leaves and fill the jar completely with vodka, cover and let sit for a month. Stain the leaves and sweeten the vodka with a sugar syrup to taste and you have a wonderful anise flavored dessert cordial.
4.Relaxing & Healing Bath Infusion
Put fresh or dried leaves in a square of cheesecloth and hang from the tub faucet, letting the water flow over the herbs. The scent from the hyssop will help calm frazzled nerves. Traditionally it was also used for pain relief, so soak those sore muscles in an anise hyssop bath.
5. Dream Pillows
Anise hyssop is supposed to stop nightmares so add some to dream pillows to encourage sweet dreams.
What's your favorite way to use anise hyssop?