Jeff is a big fan of black licorice. I tried growing licorice root but didn't have much luck in my zone 4B garden. I have had luck in growing anise hyssop in my garden, however, and its flavor is similar. The flavor is so close that I thought I would try making some kind of homemade licorice from it this year. I wouldn't quite master licorice but I have figured out some tasty gumdrops which are close enough for us. These anise hyssop gumdrops have a chewy texture that is nicely complimented by crunchy chopped nuts. The texture, herbs, and sugar make for a delightful treat. The chopped nuts do give it a nice crunch, but I think you could skip it with equally amazing results. It's a delicious and different way to use the herbs growing in the garden.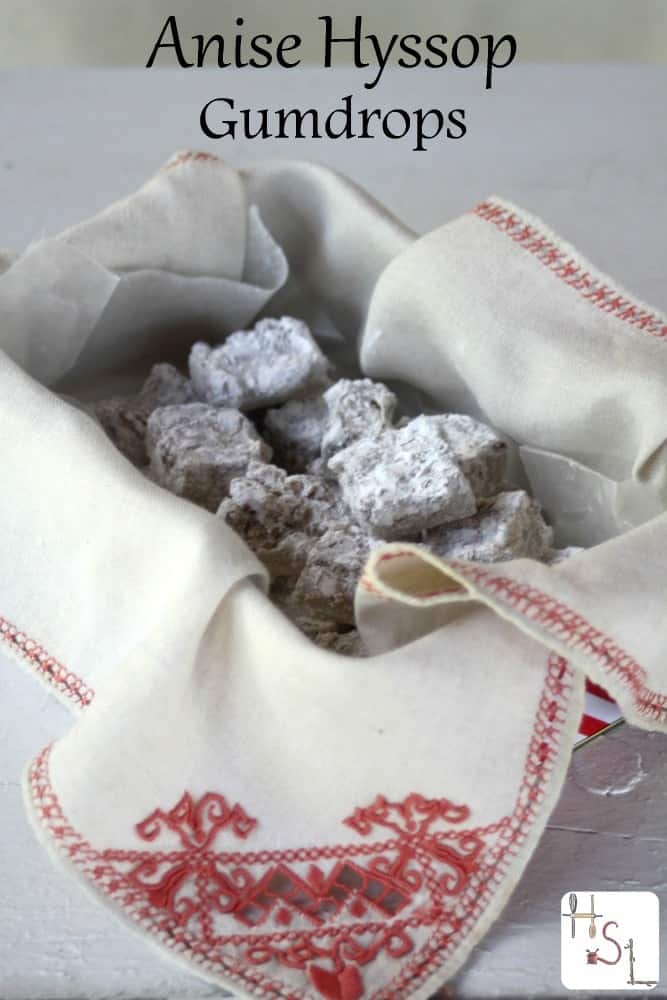 Because this candy essentially starts with a strongly brewed herbal tea, I believe any herb or tea would work wonderfully, just brew it strongly enough to kept its flavor into the face of the other ingredients.
Anise Hyssop Gumdrops
Use fresh herbs from the garden to make anise hyssop gumdrops for an herbal sweet treat.
Ingredients
1 Cup Fresh Anise Hyssop Leaves, finely chopped & loosely packed
2 Cups Boiling Water
4 Tablespoons Gelatin, unflavored
3 Cups Sugar
3 Tablespoons Cornstarch
¼ teaspoon Salt
1 ¼ Cups Chopped Nuts
2 Tablespoons Lemon Juice
Powdered Sugar for dusting
Instructions
First Make Tea
Pour boiling water over anise hyssop leaves and let steep 10 minutes. Strain and refrigerate liquid until cold.
Make the Gumdrops
Line a 9" square cake pan with parchment paper
In a medium saucepan, whisk together the sugar, cornstarch, and salt. Slowly whisk in 1 cup of the cooled hyssop tea. Bring to a boil over medium heat, stirring constantly. Boil gently until the mixture reaches 240 degrees Fahrenheit on a candy thermometer. Remove from heat.
In a small bowl, sprinkle gelatin over remaining cold herbal tea. Let soften for 5 minutes.
Add gelatin and lemon juice to hot mixture and whisk until gelatin is completely dissolved. Stir in nuts.
Pour into prepared pan. Chill until firm.
Cut into Squares
Dust a cutting board with powdered sugar. In a wide bowl, place some more powdered sugar to roll the gumdrops in for longer storage. Turn the candy out onto the sugared board. Using a serrated knife, slice the block into small squares. Roll the squares in the powdered sugar, coating all sides. Store the candy at room temperature.


Notes
To make these gumdrops with dried herbs use 1/2 cup packed leaves as dried herbs have a more concentrated flavor than fresh.
These gumdrops would make a great and unusual gift, simply pack them in a pretty tin and perhaps include a bottle of
homemade cordial
in the same herbal flavor.
[sc:Useadsenselarge ]