I got a very good deal on organic nectarines over the weekend. The great thing about buying and canning a quantity of nectarines is that they don't need peeling prior to canning, like peaches, and for this busy girl that is always a plus. We quite enjoy nectarines canned in an extra light sugar syrup so I ended up doing 42 pints of that. I wanted something special too, something I knew I could give away as gifts. I wasn't in the mood for jam making but I do love a good fruit butter and that's what I decided on. A Nectarine Maple Vanilla Butter to be exact. I wanted to use our maple syrup in some kind of fruit preserve this summer and I do believe this was a perfect use.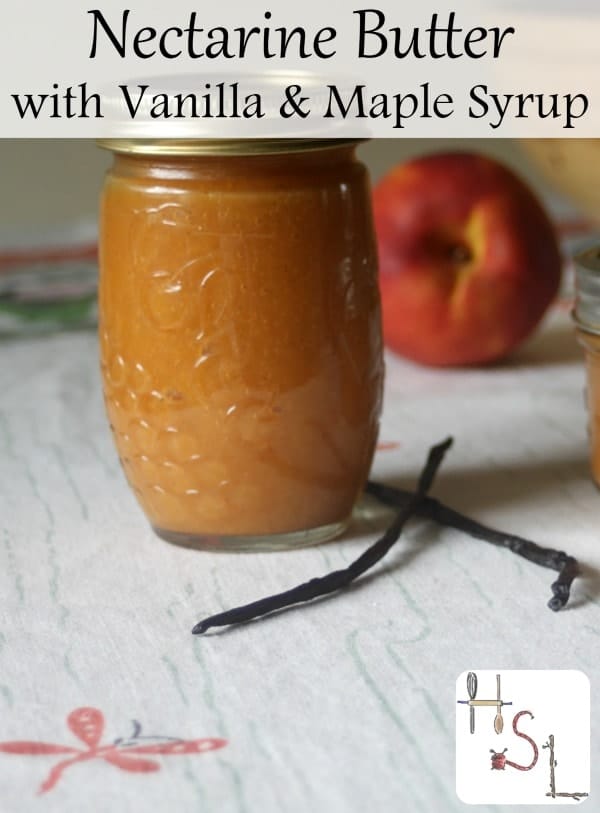 This is a simple recipe, with only a few ingredients, made even simpler by cooking it down in a slow cooker. The nectarines stand out and the hint of maple syrup doesn't over-sweeten it but rather adds just hint of flavor.
Yield: 5 Pints
Nectarine Maple Vanilla Butter
Nectarine maple vanilla butter is a thick and creamy spread made slightly sweet and warming from maple syrup and vanilla - perfect for breakfast toast.
Ingredients
5 Pounds Nectarines, Pitted & Coarsely Chopped
2 TBSP Lemon Juice
1 Cup Water
½ Cup Maple Syrup
2 Vanilla Beans, Split & Scraped - save only the seeds scraped from the inside
Instructions
In a heavy sauce pan combine the nectarines, lemon juice, and water. Cover and bring to a simmer. Stirring frequently to prevent scorching, cook until fruit is soft - 10 to 20 minutes.
Remove from heat and puree in a blender.
Pour the puree into a slow cooker with the maple syrup and scraped vanilla beans. Set the slow cooker on high, do NOT cover. Allow the steam to escape. Stir occasionally and cook until the puree is a thick spreadable butter. Probably about 4 hours, but actual time will depend on your fruit and slow cooker.
Pour into hot jars and can for 10 minutes in a boiling water bath (adjusting for elevation).