Keeping the herbal medicine cabinet stocked also means having a tea drawer stocked as well. The line is often blurred between herbal medicine and herbal tea and understandably so, most herbal teas even when brewed for flavor have some medicinal properties. This lemony lavender mint tea is an example of such, it's a delicious and soothing hot drink that can also be used to calm frazzled nerves and promote a restful night's sleep.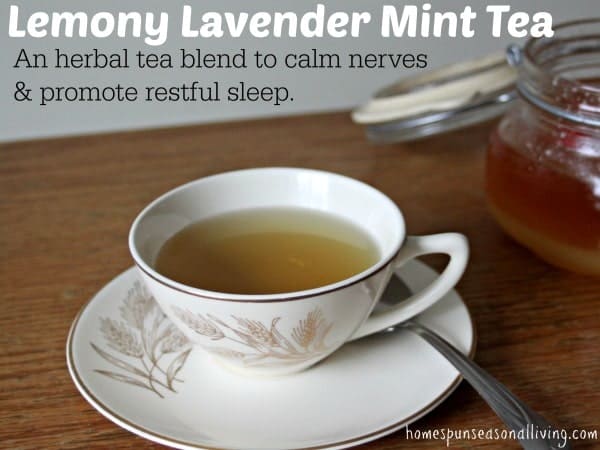 Lemon Balm
Lemon balm and mint is a very tasty combination even without all of its medicinal uses. At the end of a stressful day, this amazing herb can help resolve anxiety and emotional unrest. Just the reduction of anxiety alone will help many folks get better sleep, but lemon balm has also been studied as a way to promote calmness and sleep.
Lavender
The lightly floral flavor of lavender helps cut the sweetness of the mint and adds a layer of flavor that is delightful. There's just a hint of it but is enough to make the taste buds pay attention and provide some medicinal benefit. Lavender has long been considered a soothing herb and one that many people use to fight insomnia.
Mint
At the end of the day mint helps soothe tummies and minds. It's high in magnesium, a mineral known to help promote sleep. Mint has the ability to be calming and rejuvenating to the mind at the same time. This combined effect is one that allows us to relax while giving us some mental clarity, it is not stimulating like caffeine making it a perfect end of day drink
Optional Honey
This tea blend is tasty and doesn't need sweetening. However, honey has been shown to help with a restful night sleep so don't be shy in adding it to your cup. If you have some mint infused honey in the pantry this is a great place to use it.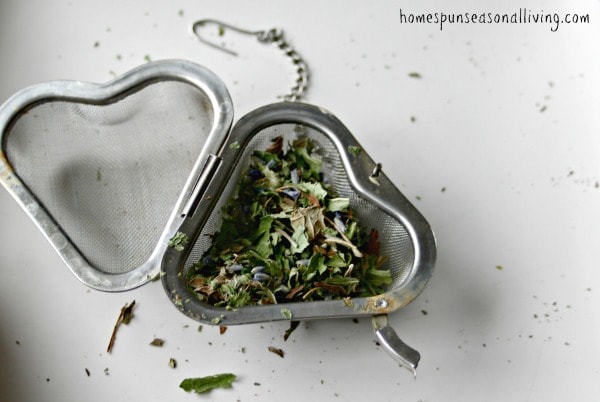 Make it a Calming Ritual
Mix up the herbs, put them in your tea ball, put the kettle on to boil, and sit. Take some time to just relax and breathe. After pouring the water over the herbs, let it steep and continue to sit and relax. While drinking the tea stay seated, write in a journal, knit a few rows, do something relaxing or do nothing at all. The important part here is to create a tea ritual of sorts that allows the mind to rest from the day and prepare for sleep.
Lemony Lavender Mint Tea
Mix up these homegrown herbs for a tasty lemony lavender mint tea to help soothe frazzled nerves and promote sleep.
Ingredients
Instructions
Put herbs in a tea ball. Pour boiling water over and let steep 5 minutes. Remove tea ball and sweeten if desired. Sip while warm.
[sc:Useadsenselarge ]