The lemon balm plant is a thick and bushy perennial herb. Because it is in the mint family it can be almost invasive in many home gardens. Thankfully, there is no shortage of lemon balm uses. It smells great, is super tasty, and has a variety of medicinal benefits.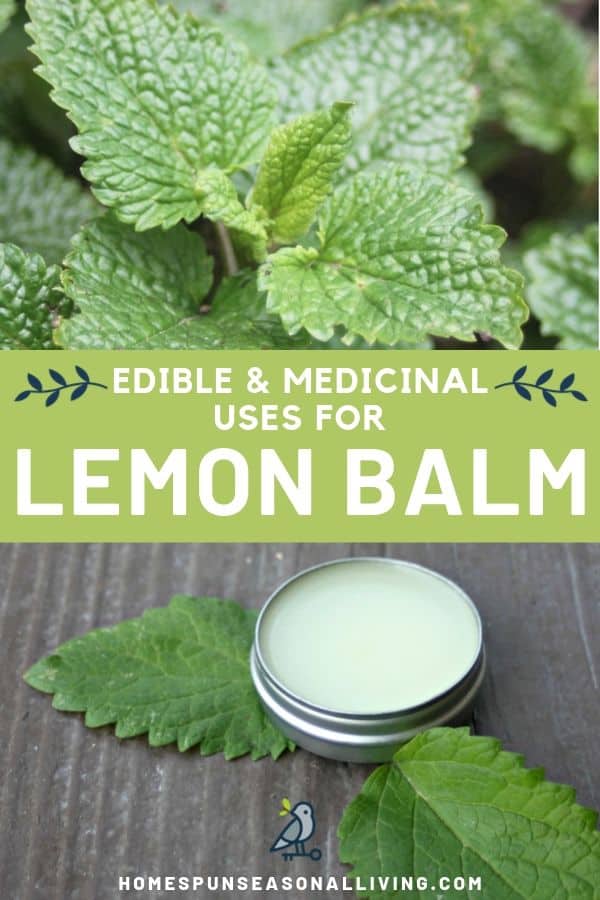 When planning a medicinal herb garden, lemon balm should be considered in the plant list for its ability to soothe anxious nerves and heal cold sores.
Equally important, it should be considered for the edible, kitchen herb garden simply for its for flavor.
While the possibilities seem endless, here are a few easy ways to get started using those big herb harvests for food and medicine.
Smoothies
Lemon balm does indeed have a lemony flavor. It's not intense or tart like lemons but the light flavor is great in a number of different culinary dishes.
Toss a handful of the leaves in with your smoothies to impart that light lemon flavor. Add them to any favorite combination and blend until smooth.
Simple Syrup
This couldn't be simpler to make and yet the possibilities for the final product are endless.
Simply combine equal parts (1 cup of each for example) lemon balm leaves, water, and sugar in a pot and bring to boil. Boil until the sugar is completely dissolved. Remove from heat and cover. Let stand 30 minutes. Strain the leaves from the syrup. Store the syrup in the refrigerator.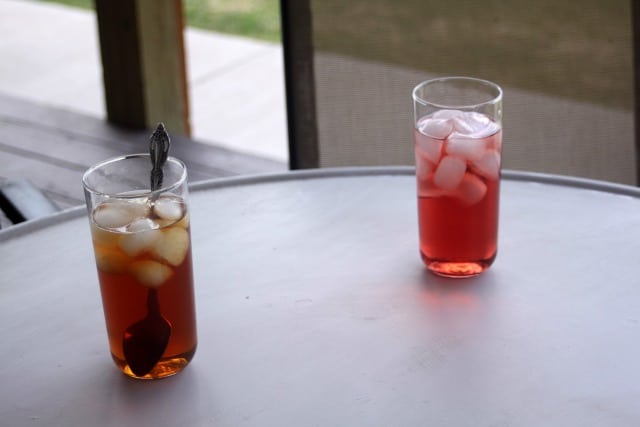 Use to sweeten lemonade and iced tea. Pour into club soda for Italian sodas or mix with club soda and vodka or whiskey for a summery cocktail.
Roasted Chicken
The combination of lemon and chicken is always amazing and flavorful. Simply toss a handful of leaves into the chicken cavity before cooking for a light lemon infused flavor. Put some leaves under the skin before roasting, too.
With Fish
Toss stems of lemon balm in the cooking liquid for fish to add a light lemon flavor. Add stems of lemon balm to packets before baking fish in the oven or on the grill.
Compound Butter
Mix ¼ Cup of finely chopped leaves with 1/2 cup of softened, salted butter and that's all it takes to make an herbal compound butter.
Use this compound butter on chicken by rubbing it underneath the skin prior to roasting.
Spread the herbed butter on toast and top with sliced tomatoes or cucumbers for a simple, flavorful sandwich.
Make big batches of the compound butter and freeze it for use in the winter months.
Lemon Balm Tea
Lemon balm benefits include calming effects that reduces anxiety, helps with sleep, and more. The easiest way to take advantage of those qualities is by drinking it in tea.
To make tea from the fresh leaves simply pour 8 ounces of boiling water over 2 tablespoons of chopped leaves. Steep for about 10 minutes (more or less to taste), strain and enjoy.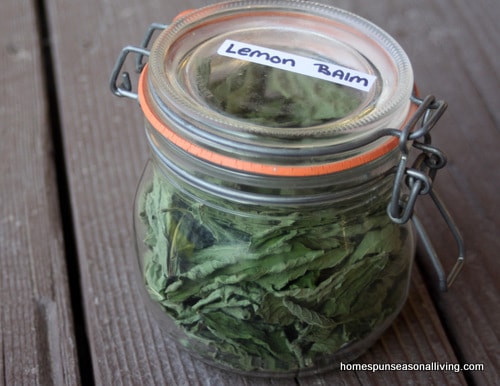 Lemon balm also dries incredibly easily at home with no special equipment. Simply hang bunches until crispy dry.
To make tea from the dried leaves, pour 8 ounces of boiling water over 1 tablespoon of crumbled leaves. Steep for about 10 minutes (more or less to taste), strain and enjoy.
If you like your herbal tea sweetened, add some of the infused honey.
Infused Honey
Just like making mint infused honey – pack a jar half full of lemon balm leaves, fill it with honey. Let sit for a month before straining and use the honey to flavor tea, desserts, and more.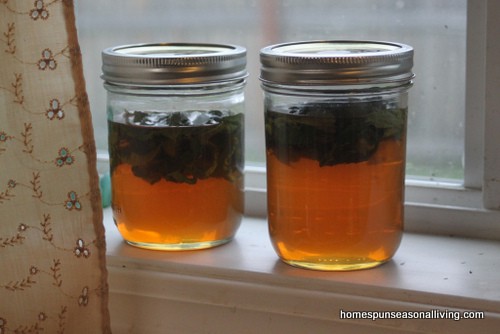 Fruit Salads
Add a few Tablespoons of chopped lemon balm leaves to fruit salads to impart some lemony flavor without making it sour or too tart.
Also, try mixing some chopped leaves with yogurt to use as topping for fruit salads.
Lip Balm for Cold Sores
Lemon balm has been studied as an effective treatment for cold sores. Just like making a healing salve, infuse the lemon balm in almond oil and add some beeswax to make a lip balm.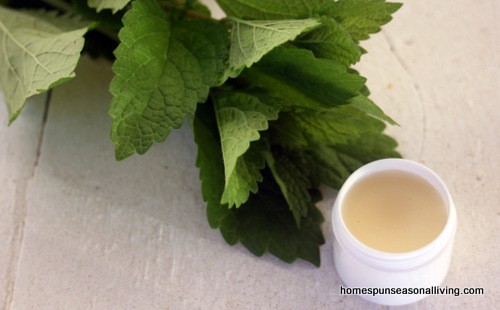 The minute I feel that little tingle announcing a cold sore is coming, I start applying the balm liberally.
Infused Vinegar
Fill a jar half full with fresh leaves, top with white wine vinegar (champagne vinegar is nice too) and seal. Place in a cupboard for 3 to 4 weeks. Strain and bottle the vinegar.
Use in salad dressings, chutney, even fresh salsa for a delightful hint of lemon.
Cordial
This is not intended to be a medicinal tincture, though without the sugar it could be, this is simply a pleasantly sweet and lemon flavored adult beverage.
Fill a clean glass jar half full with packed fresh lemon balm leaves. Fill the jar with vodka (use the cheap stuff here). Let sit for one month in a dark cabinet, shaking when you remember. Strain the lemon balm. To the infused vodka add some simple sugar syrup to taste and bottle.
Serve over ice as a pleasant dessert drink. It does turn a lovely light yellow color too, all on its own – no food coloring here.
Pesto
Basil is the most traditional and common pesto herb, however; it isn't the only choice. Use lemon balm in homemade pesto either by itself or in combination with other herbs like basil or oregano.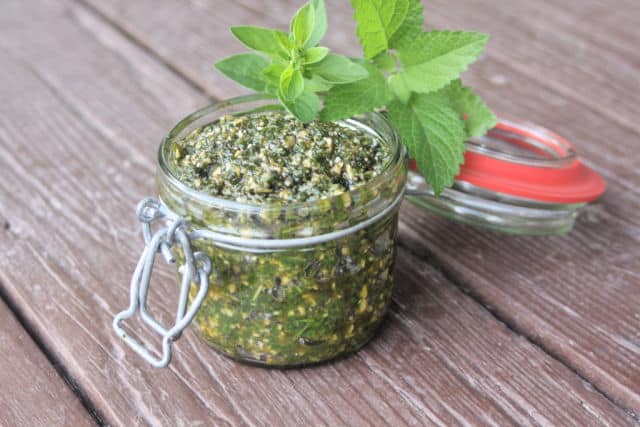 Pesto freezes incredibly well meaning it's a great way to save up large herb harvests in the summer for winter eating.
Fresh in Jams
When making jams, berry jams especially, toss in a handful of chopped lemon balm leaves just before putting the jam in jars and processing. It helps impart a lovely light herby flavor and often adds a wonderful texture to the final product.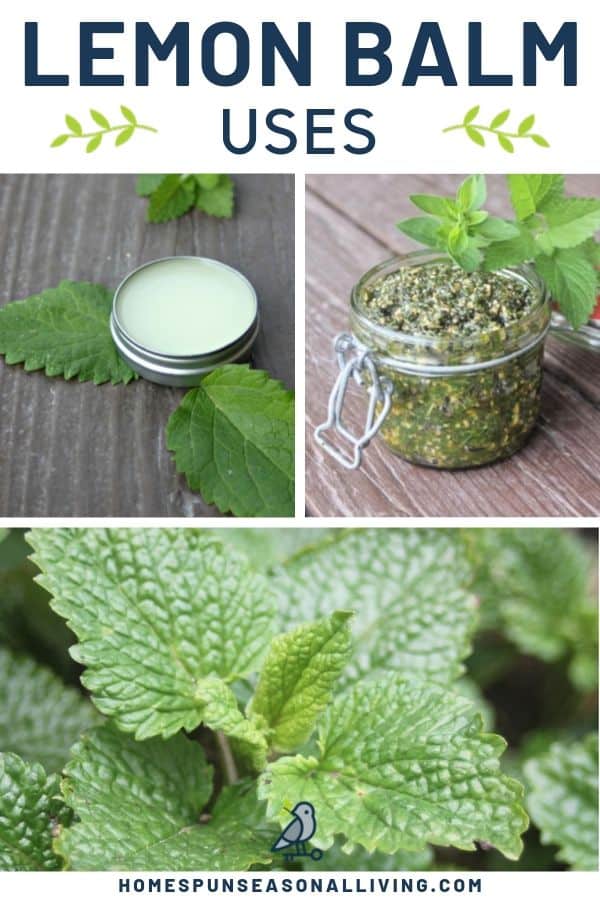 Baked Goods & Dessert
That lemon flavor is ideal in many baked goods and desserts. It's crazy easy to add lemon balm to a wide variety of things. Use these recipes as a starting point.