Use up the ever abundant perennial herbs with this lemon balm oregano pesto. It's easy to make, freezes well, and most importantly is delicious.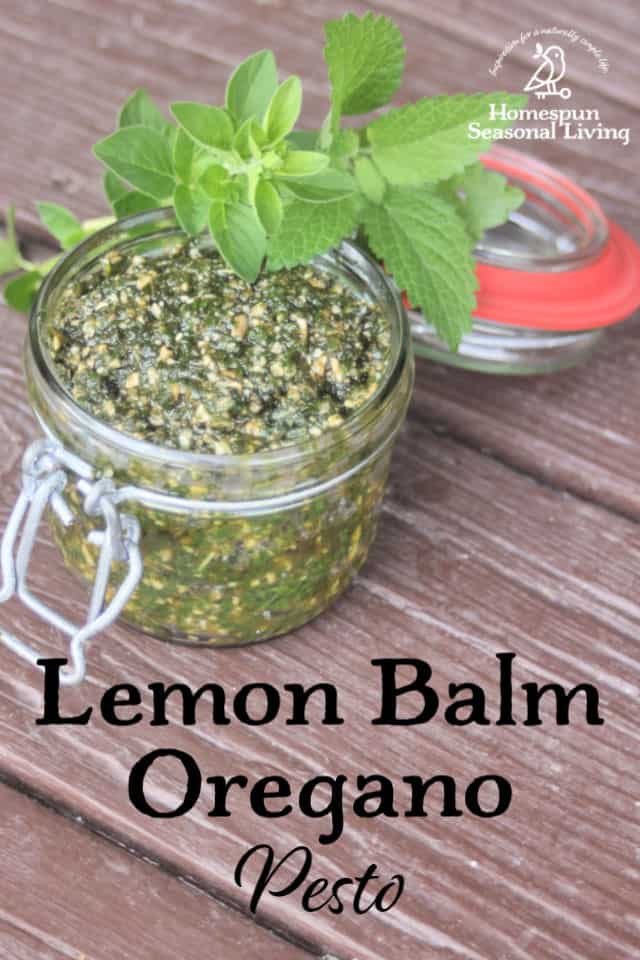 Versatile Lemon Flavor
Lemon balm does, of course, impart a lemony flavor to this pesto. The final result is still herbal in flavor but lemon mellows out the oregano nicely. Plus lemon as a flavor is incredibly versatile for pasta, soups, chicken, and more.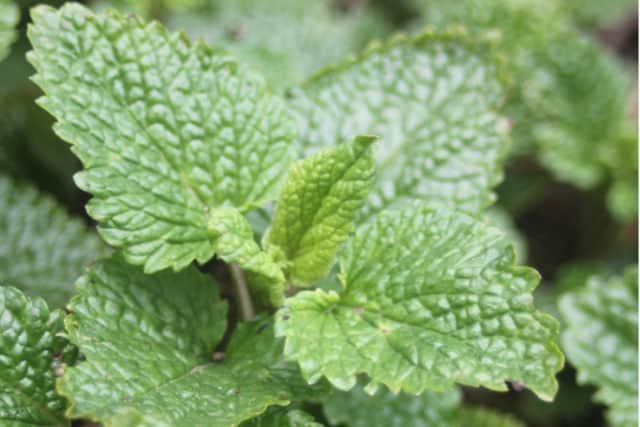 Earthy Oregano
Oregano is almost as versatile as lemon. In this pesto, it adds a delightful earthy herbal note that works great in plain in old pasta but will work great with a number of vegetables and of course poulty as well.
[mailerlite_form form_id=1]
Customize the Herbal Ratio
The recipe as written as equal parts lemon balm and oregano. This will create a balanced pesto in flavor that can be used for most any dish where pesto is required.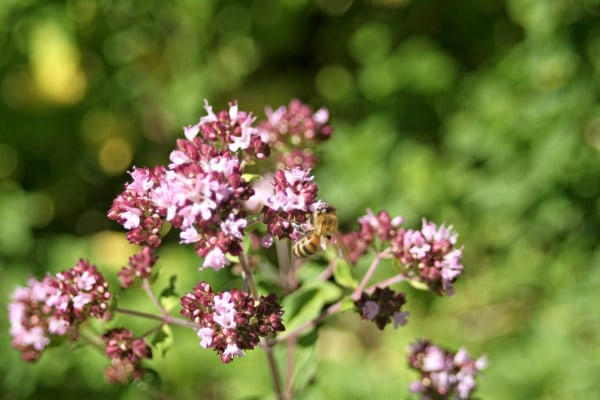 However, a person could easily use more lemon balm than oregano for say using in a chicken salad dressing. Or use more oregano than lemon balm for a pesto to be used on pasta or rice.
Truly adjust the herb ratio based on personal preference. Heck there's no reason not to make multiple batches of different ratios, just label appropriately.
Seed or Nut Pesto
Pine nuts are the traditional choice when making basil pesto. They definitely impart a unique and delicious flavor. Pine nuts are also extremely expensive.
Pesto does not need to have pine nuts, however.
Most any nut or seed will do in making this (or any) pesto. I opt for sunflower seed kernels most of the time simply because it is the most frugal bulk choice in my local store.
Use whatever is on hand or frugal. There's no sense in making the most frugal use of the garden harvest to blow the budget on nut or seed choice.
Smooth or Chunky
Most pestos are a very smooth paste-style sauce. I make mine that way most of the time, too. However, keeping a few small chunks of seeds or nuts adds a delightful crunch and texture to final dishes.
To give the chunkier pesto a try, simply add a little less oil and puree just until the desired texture is reached.
Vegan or Not – Your Choice
To add cheese or not to pesto is a personal choice. I rarely add cheese to pesto itself, choosing instead to add it to the dish if and when cheese is necessary.
If you do add cheese to pesto, taste it befor adding additional salt and add salt slowly to avoid too much.
How to Preserve Pesto
There are no safe and approved methods for home canning pesto. However, it freezes delightfully.
I generally freeze it in half-pint jars as that's as much as I would use at any one time. However, feel free to freeze it in any size jar that is reasonable.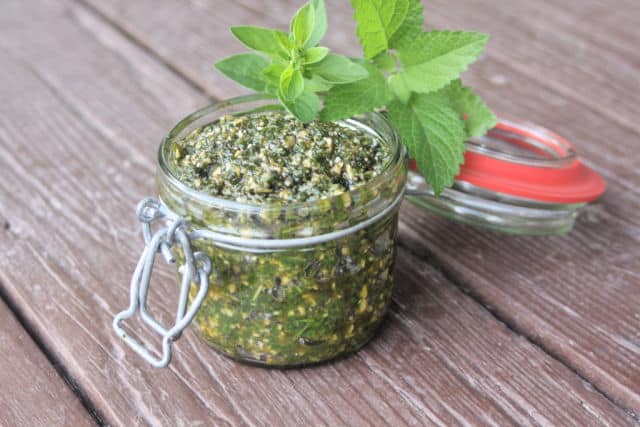 To freeze, pour the pesto into glass jars with straight sides or plastic containers. Leave at least 1″ headspace to allow for expansion. To prevent drying out, pour a little oil over the top of the pesto to keep it sealed and moist.
Use up frozen pesto within six months. It won't likely go bad after that time but freezer burn and flavor degradation is common.
How to Use Lemon Balm Oregano Pesto
In short, use it anyway you'd normally use basil pesto.
Mix with pasta or rice for a simple but filling dish. It would be incredible in pasta primavera.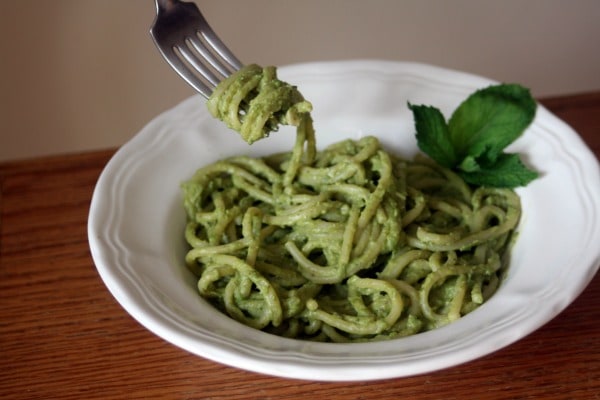 Slather it on bread instead of mayo for a delicious sandwich.
Use it instead of tomato sauce on your homemade pizza.
Yield: 1 Cup
Lemon Balm Oregano Pesto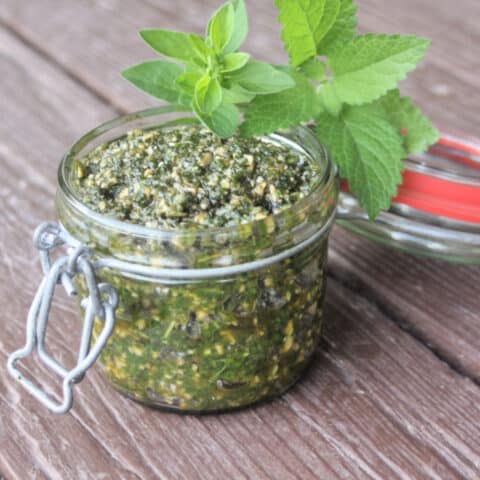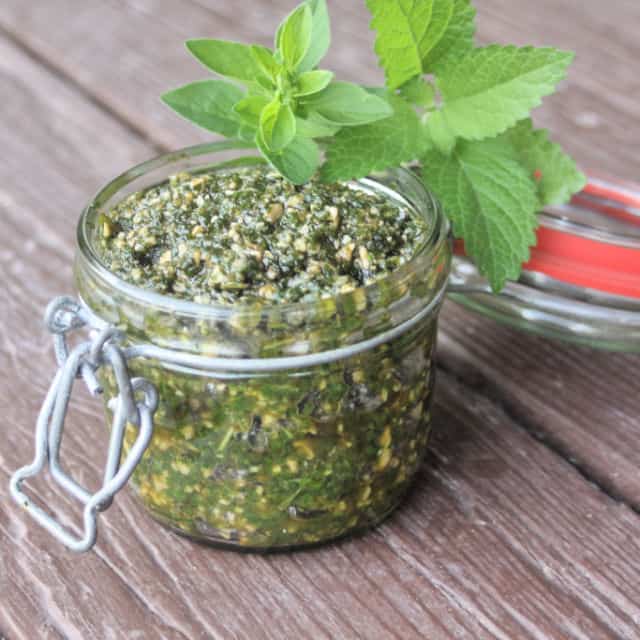 Lemon balm oregano pesto is a bright and flavorful pesto that makes the most frugal use of ever abundant garden herbs.
Ingredients
1 1/2 Cups Fresh Lemon Balm Leaves, Packed
1 1/2 Cups Fresh Oregano Leaves, Packed
3 Cloves Garlic, peeled
3/4 Cup Olive Oil
1/2 Cup Sunflower Seed Kernels
Generous Pinch of Salt
Generous Pinch of Black Pepper, optional
1/4 Cup Grated Parmesan Cheese, optional
Instructions
Put the herbs, sunflower seeds, garlic, and 1/2 cup of olive oil in a blender or food processor.
Puree until smooth, add more olive oil as needed to keep the blender moving.
Add the salt and pepper, scrape down the sides of the blender or food processor.
Blend to combine.
Remove from the blender, stir in the cheese if using.
Use immediately if desired.
Alternatively, refrigerate in an airtight jar for up to 1 week. Freeze for up to 6 months.
Nutrition Information:
Yield:
16
Serving Size:
1 Tablespoon
Amount Per Serving:
Calories:

141
Total Fat:

13g
Saturated Fat:

2g
Trans Fat:

0g
Unsaturated Fat:

10g
Cholesterol:

1mg
Sodium:

279mg
Carbohydrates:

7g
Fiber:

4g
Sugar:

1g
Protein:

2g
We try our best but cannot guarantee that nutrition information is 100% accurate.