Looking for something a little new and different for those radishes? Try this sweet radish bread on for size.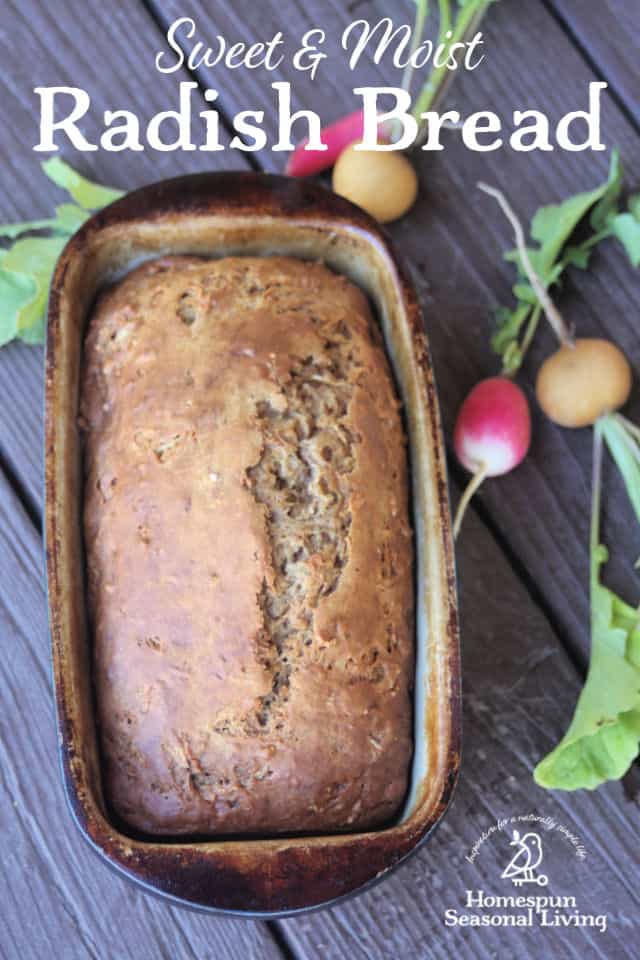 I normally space out the radish planting every couple of weeks over the summer so that we're not indudated all at one. The two of us simply can't keep up with a huge radish harvest.
This summer, however; I messed up somewhere along the line and was faced with an overabundance of radishes. Specifically, Zlata radishes. In an effort to use them before they got woody I figured I would try putting them in some kind of baked good.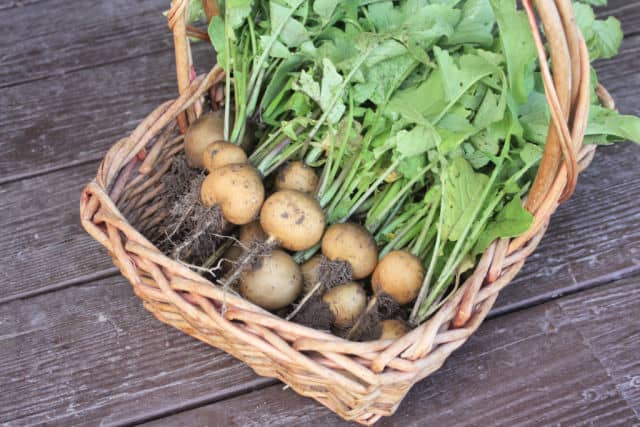 I figured carrots go nicely in cake and quick bread, why not radishes? Indeed, why not. This radish bread turned out quite nicely and is so easy to whip up
No One Will Know
You might be worried about the flavor but there is no discernible radish flavor here. Instead the radishes simply add a layer of moistness and earthy sweetness that is delightful.
No one who is served this bread will know it contains radishes unless you tell them, I promise.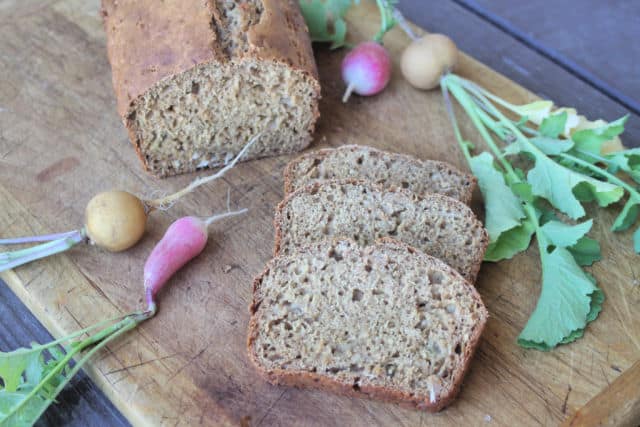 I tested this recipe with both Zlata radishes and french breakfast radishes. The zlata radishes are hotter than the french breakfast when raw but that hotness disappears after being baked and sweetened with sugar.
Any Radish Variety
I did not test the recipe with every radish variety available. However, I do think most any radish would work. Use what you have growing or got in your CSA box.
To Glaze or Not to Glaze?
Many quick breads add a glaze, I know. A simple vanilla glaze would likely be lovely here but honestly, I felt like it was sweet enough plain and opted not to add one. However, it is a bit plain looking and if you want to make it prettier or sweeter, drizzle some over the top.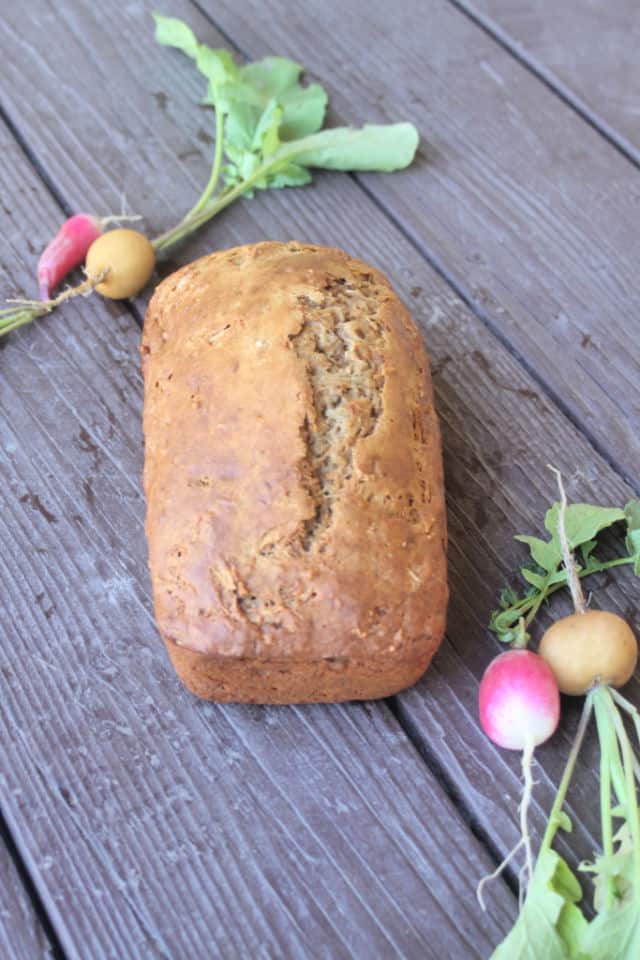 Options to Customize
This bread is extremely flexible and customizable. Use ginger or cardamom instead of the cinnamon. Pumpkin pie spice would be incredible as well. Add more or less spice or even different spices as is preferred.
Toss in some extras. 1/2 to 1 cup of chopped nuts would add crunch and bulk. Dried fruits like raisins or cranberries would be nice too. Heck, even 1/2 cup of mini chocolate chips would be tasty. Again, go with what is preferred in your house.
Freezer Friendly
Radish bread freezes delightfully. If you happen to have a bunch of radishes to use, make a double batch. Eat one loaf now, freeze the other for later.
To freeze, simply let cool completely before wrapping and sealing in an airtight container or bag.

Let thaw at room temperature before slicing and serving.
Eating Radish Bread
This is a sweet and moist loaf perfect for quick breakfasts. Simply slice and eat, though slathering it in butter and/ or apple butter will only make it better.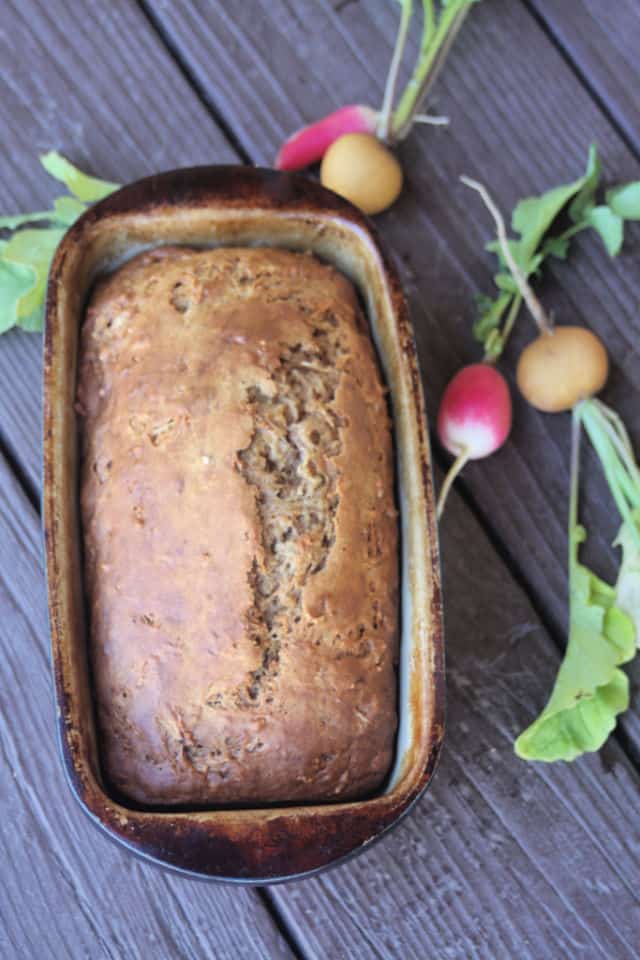 I quite like it with an over easy egg.
It is sweet enough to serve as a light dessert, maybe add a little whipped cream or a sprinkling of powdered sugar.
Yield: 1 Loaf
Radish Bread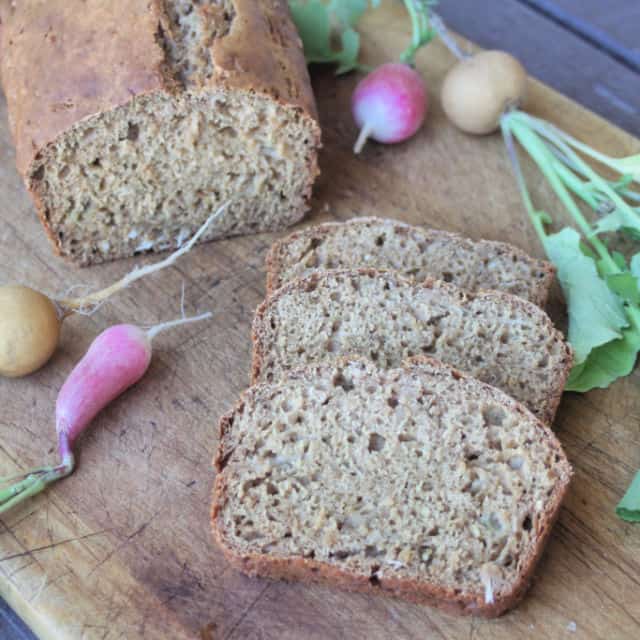 Radish bread is a sweet and moist quick bread perfect for breakfast or a light dessert.
Cook Time
1 hour
10 minutes
Total Time
1 hour
25 minutes
Ingredients
2 Cups Unbleached All-Purpose Flour
1 teaspoon Ground Cinnamon
1 teaspoon Baking Soda
1/2 teaspoon Salt
1 Cup Sugar
1 Egg
1/4 Cup Milk
1/2 Cup Unsweetened, Pureed Applesauce
1 1/2 Cups Shredded Radishes
Instructions
Preheat oven to 350 degrees Fahrenheit.
Grease a 9X5" Bread Pan.
Sift together the flour, salt, baking soda, and cinnamon in a large bowl. Set aside.
Whisk together the applesauce, egg, milk, and sugar until completely combined.
Pour the wet ingredients into the dry and mix until almost combined.
Fold in the shredded radishes and mix until completely combined.
Spread the batter into the prepared bread pan.
Bake in the preheated oven for 60 to 70 minutes. An inserted toothpick will come out clean when tested.
Remove from pan and cool completely on wire rack before slicing.
Nutrition Information:
Yield:
12 slices
Serving Size:
1 slice
Amount Per Serving:
Calories:

159
Total Fat:

1g
Saturated Fat:

0g
Trans Fat:

0g
Unsaturated Fat:

0g
Cholesterol:

16mg
Sodium:

208mg
Carbohydrates:

35g
Fiber:

1g
Sugar:

18g
Protein:

3g
We try our best but cannot guarantee that nutrition information is 100% accurate.