Fresh mixed berry pie seems the like ultimate way to celebrate the summer season. It's simple with only a handful of ingredients and can easily be customized to whatever is local and on hand at any given moment.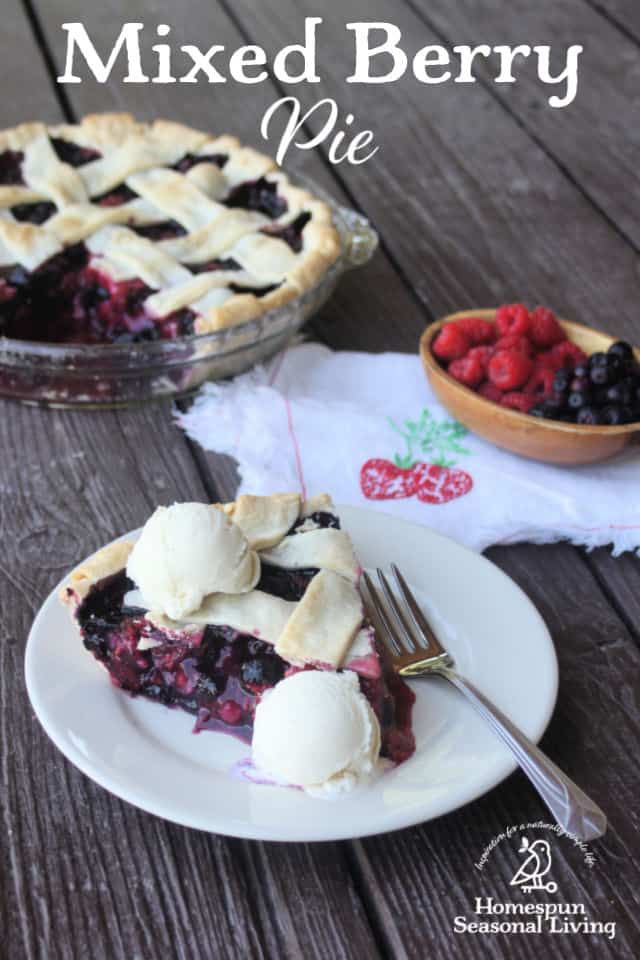 Any Mix of Berries
Fresh berries really are the pinnacle of summer seasonal eating. They just beg to be eaten right from the plant.
This pie is a great way to use up odds and ends, perhaps some homegrown, some u-pick, and some foraged berries all in one amazing package.
Truly any mix of berries can be used in this pie. And if they're small berries leave them whole. Large berries can be halved or even quartered. A nice of mix of berries and sizes gives a pleasant taste and texture.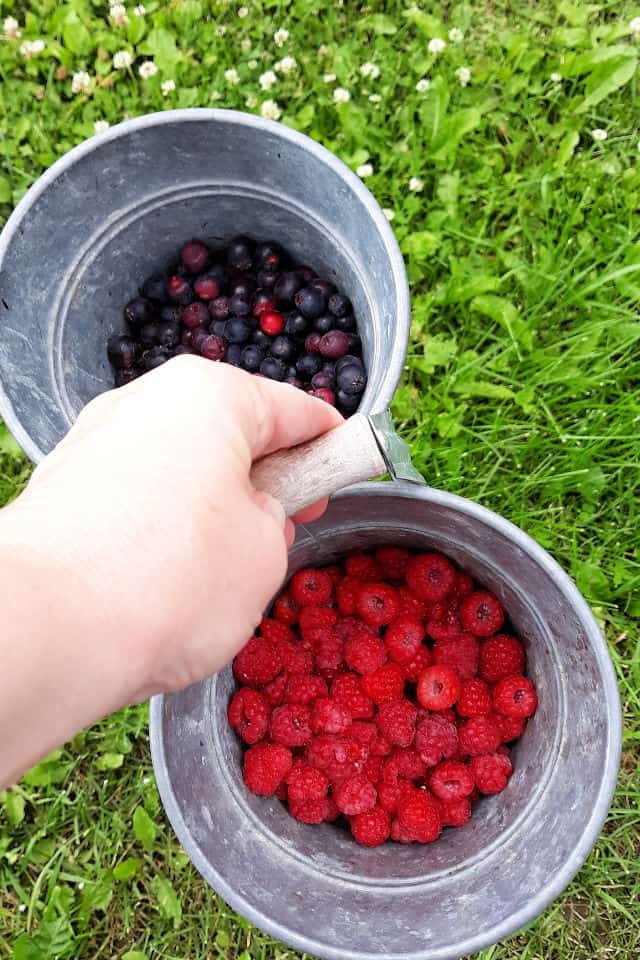 The pie in the picture is a combination of homegrown raspberries and foraged, wild saskatoon berries.
Keep It Simple
I think there's this tendency to spice things up all the time. I fall into this trap often. How can I toss some lemon balm in there to increase the flavor?
There's nothing wrong with that and there are times when indeed some herbs or spice can go a long way.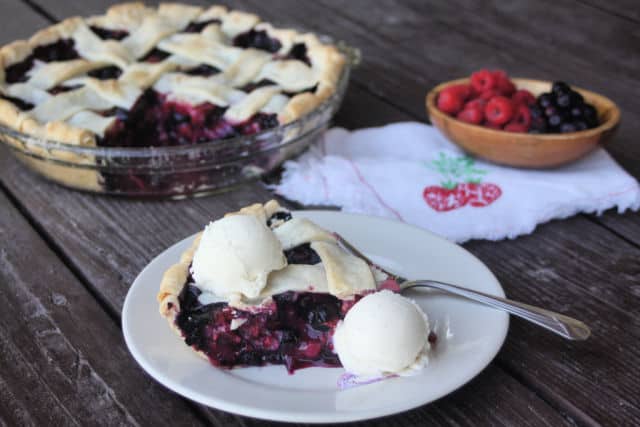 However, there's something to be said for simple, seasonal flavors. And mixed berry pie is the place for letting the natural berries do their thing. Don't be tempted to add much here, let the bright berry flavor be the shining star.
Not Too Sweet
Adjust the sugar in the recipe to compliment the berries. If the berries are already quite sweet use less. If the berries are a little bland add a little more.
There's no exact science to this – simply taste a few of the berries before starting the pie and decide how much sugar they might need. When in doubt use exactly what's called for in the recipe.
Pie Crust
Use whatever pie crust is your favorite. I'm a fan of an all butter pie crust but have been known to use lard too.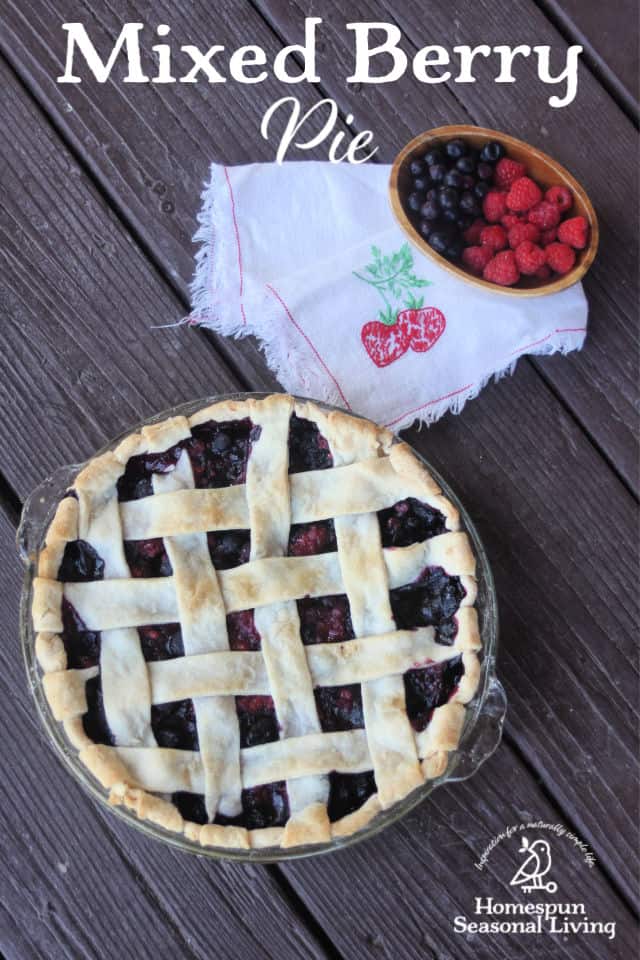 Try a sourdough pie crust if you're so inclined.
I admire a beautiful pie crust. You know those ones you see on Instagram. I admire them but cannot seem to make one. That's okay, it's still delicious. Don't fret if you're like me. Bake the pie and don't compare your results to anything on social media (or your grandma like I often do).
How to Serve Mixed Berry Pie
A slice of this pie on a plate with a cup of tea or coffee is an amazing dessert. It's great cold or at room temperature.
A scoop or two of ice cream is amazing too. I prefer a good quality vanilla ice cream. However, I think some homemade fresh mint ice cream would be great too, since berries and mint are so good together.
A dollop of whipped cream is, of course, classic with pie and excellent here too.
Yield: 6 Servings
Mixed Berry Pie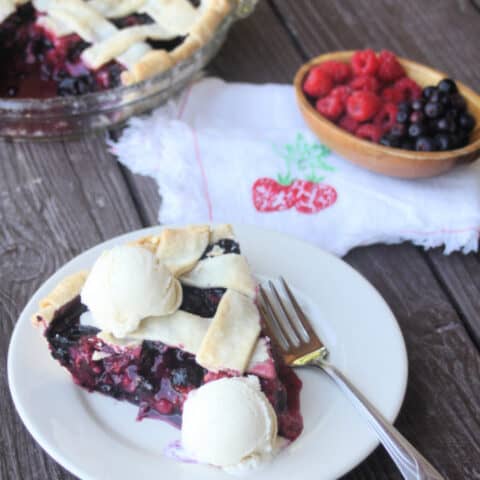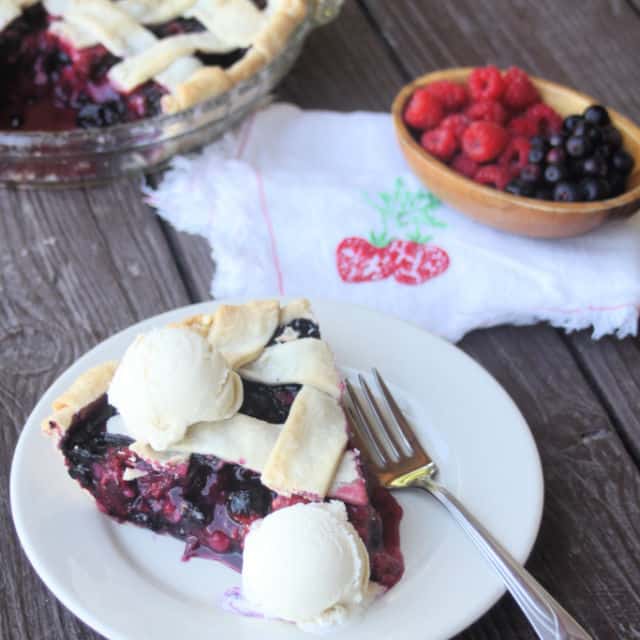 Mixed berry pie is a simple summer dessert full of flavor and makes use of all your favorite berries in one delicious pastry.
Total Time
1 hour
10 minutes
Ingredients
Double Pie Crust
6 Cups Mixed Berries
6 Tablespoons Flour
3/4 Cup Sugar
2 Tablespoons Lemon Juice
Instructions
Preheat oven to 450 degrees Fahrenheit.
Line pie plate with bottom crust.
Toss together the berries, flour, sugar, and lemon juice.
Pour the berries into the pie crust and press down slightly. Just so that the berries are compacted into the crust - not crushed.
Top with pie crust. Use a lattice crust or leave a few holes for steam to escape if you prefer a regular crust.
Bake in the preheated oven for 15 minutes. Turn down the oven to 325 degrees and bake another 30-40 minutes. The berries will bubble and the crust should be a golden brown.
Leave pie plate to cool on a wire rack. Let cool completely before slicing & serving.
Nutrition Information:
Yield:
6
Serving Size:
1 slice
Amount Per Serving:
Calories:

321
Total Fat:

8g
Saturated Fat:

2g
Trans Fat:

0g
Unsaturated Fat:

5g
Cholesterol:

0mg
Sodium:

123mg
Carbohydrates:

61g
Fiber:

7g
Sugar:

35g
Protein:

4g
We try our best but cannot guarantee that nutrition information is 100% accurate.