Maple apple butter is a delicious twist on the old-favorite. Rather than being overly-sweet this version uses just a touch of maple syrup to highlight rather than overpower the spiced apple flavor.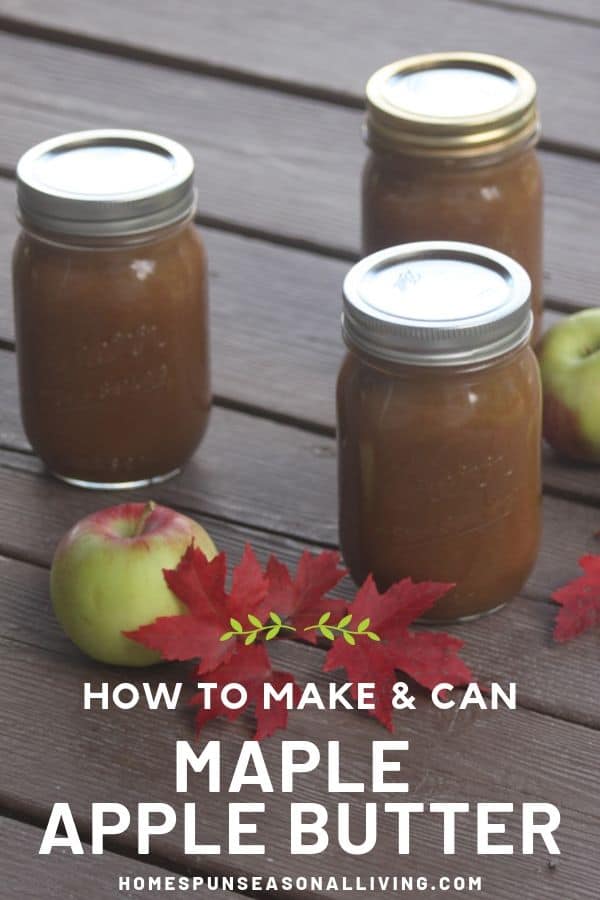 Canning apple butter is an easy and worthwhile project that also makes a great gift, so don't be shy in making a big batch or several.
[mailerlite_form form_id=3]
Choosing Apples
Supposedly softer apples work better. That makes sense in that they'll cook down better for a texture standpoint. However, use whatever apples you can find and just cook until soft.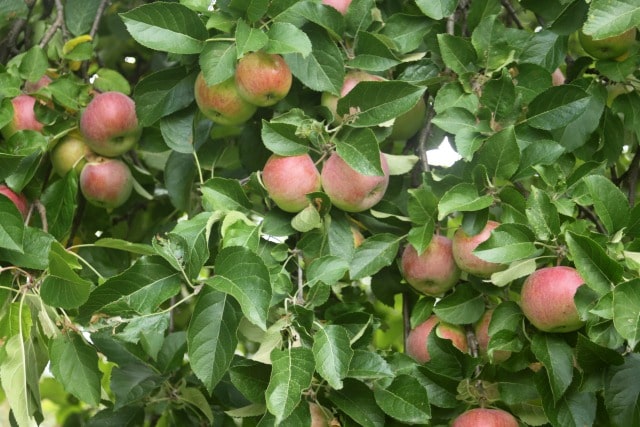 Slow Cooking
Fruit butters need to be thick and that thickness comes from removing the water rather than adding pectin like in jams.
Doing this slow removal of water in the slow cooker saves some hands-on work. You could do it on the stovetop but stir that quite often (almost constantly) to avoid scorching. The house will smell amazing while the butter cooks down.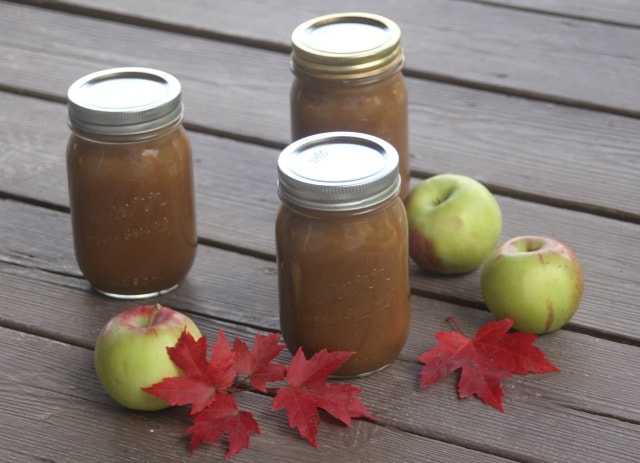 This recipe is for a very large batch (you will need at least a 5-quart slow cooker – larger even better) cutting it in half will work just fine for smaller slow cookers.
Skip the Peeling
As the apples get pureed, I don't peel them. A person could peel, if they're so inclined but skipping the step saves time and energy. If you're going to do the pureeing by hand rather than with a blender, peeling might make more sense but honestly it is unnecessary.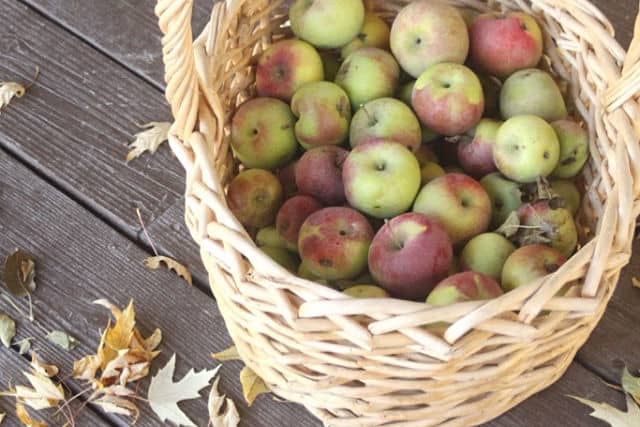 Canning Safety
Try as I might, I could not find a tested & approved apple butter canning recipe that included maple syrup. I saw different variations posted on other recipe sites and blogs but nothing by my usual trusted sources.
To that end, I decided to can this as if it were applesauce not apple butter. Normally, apple butters are canned as a jam or jelly – meaning about 10 minutes but they usually have a lot of sugar.
As this recipe is light on sugar and applesauce can be canned without sugar at all, I processed it as if it were applesauce (15 minutes, adjusting for elevation).
How to Serve
Spread it on toast. Use it for peanut butter and jelly sandwiches.
It's a delicious topping for simple pound cakes and ice cream.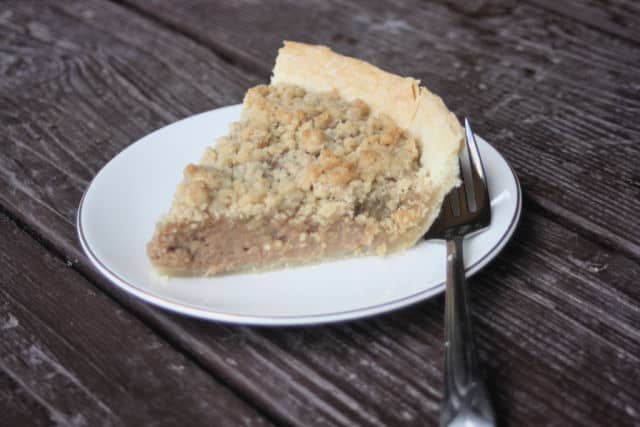 Make an apple butter pie.
Make frosted apple butter bars.
Yield: 7 Pints
Maple Apple Butter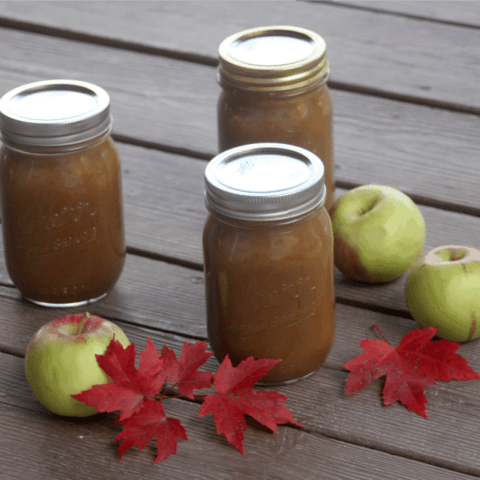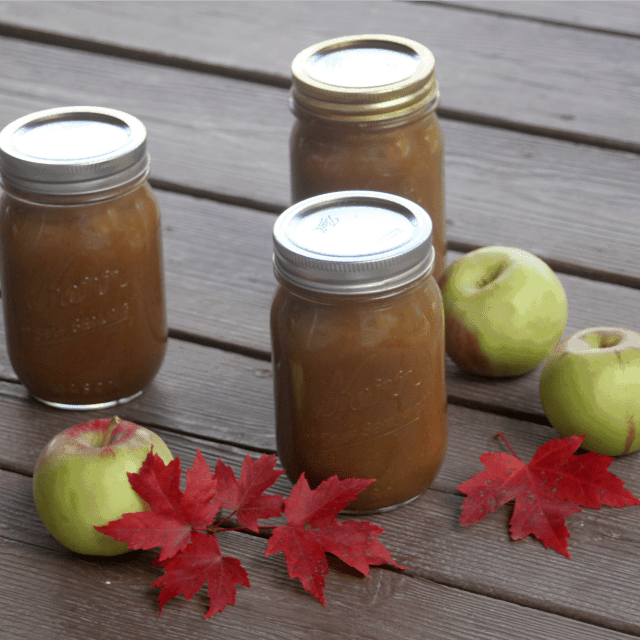 Preserve the abundance of fall apples for winter eating and gift giving with this lightly and naturally sweetened maple apple butter perfect for canning.
Total Time
1 hour
5 minutes
Ingredients
10 Pounds Apples, cored & quartered
3 Tablespoons Lemon Juice
½ Cup Water
2 Cups Apple Juice
1 Cup Maple Syrup
4 teaspoons Ground Cinnamon
½ teaspoon Ground Nutmeg
1 ½ teaspoons Ground Allspice
1 teaspoon Ground Cloves
Instructions
In a heavy bottomed stock pot, combine the apples, lemon juice and water. Cover the pot and bring to a simmer over medium high heat. Cook until apples are soft (about 20 minutes) stirring occasionally.
Puree the apple mixture in a blender (or with a stick blender).
Pour the pureed applesauce into a slow cooker. Add the maple syrup, apple juice, and spices. Stir well.
Turn the slow cooker onto high and leave the lid off. Cook until the mixture is thick, it should mound up onto a spoon. Actual time will vary based on apples, slow cooker, etc. but figure at least 4 hours, potentially 6 hours.
Prepare a water bath canner, jars, and lids.
Pour the hot apple butter into hot jars, leaving 1/2 headspace. Remove air bubbles, wipe rims, place lids and rings.
Process in a boiling water canner for 15 minutes (adjusting for elevation).
Recommended Products
As an Amazon Associate and member of other affiliate programs, I earn from qualifying purchases.
Nutrition Information:
Yield:
112
Serving Size:
2 Tablespoons
Amount Per Serving:
Calories:

31
Total Fat:

0g
Saturated Fat:

0g
Trans Fat:

0g
Unsaturated Fat:

0g
Cholesterol:

0mg
Sodium:

1mg
Carbohydrates:

8g
Fiber:

1g
Sugar:

6g
Protein:

0g
We try our best but cannot guarantee that nutrition information is 100% accurate.