Enjoy sweet and delicious pears all year long with these simple preservation ideas. If you have an abundance of fresh pears that you don't want to got to waste – can, freeze, or dehydrate them now to enjoy later.
Because of their high sugar content, pears make a naturally delicious dessert and the recipes below will help you save them for months to come for easy cooking, baking, and snacking anytime of year.
Preserved pears are not only great for whipping up autumn-feeling desserts, but they also make a great food gift as well (just like these food gifts that ship well).
So, round up the last of the in-season fruit and get started wit these tasty ideas.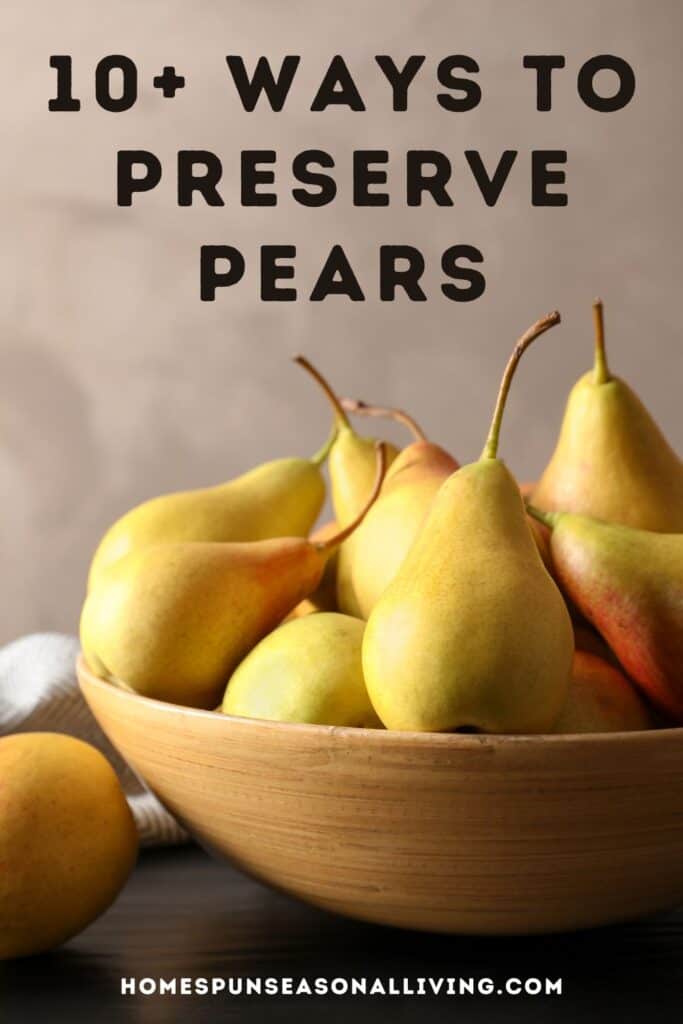 The Best Pears To Preserve
Like most fruits, each variety of pear comes with a slightly different flavor. Below are the best type of pears to preserve and the flavor profile you can expect:
Bartlett pears are a classic and the most common which makes them perfect for canning. They're sweet, juicy, and easy to work with.
Bosc pears are normally firmer in texture and while sweet have a bit of a spicy undertone.
Anjou pears are very mild overall which means that they work well in just about any recipe and will take on other flavors from the ingredients.
Comice pears are ultra juicy and delicious fresh. Because they have an almost buttery flavor, they're great in baked goods.
Seckel pears have a spicier flavor and work best for pickling or spiced types of recipes.
If you have your own pear tree or access to something local go with those varieties of pears first and foremost. Local fruit will likely be fresher and tastier than things found in the grocery store. There's no reason not to combine pears of different types for fun and flavorful preserves. Experiment and see which you like best.
While slightly unripe pears can be used for canning in some instances, the riper the pear the better the flavor in the long run.
Recipes to Preserve Pears
If you have enough pears, try to pick a recipe in each method - canning, freezing, and drying. This will give you many different ways to use them throughout the winter and beyond from snacking on dried bits, to putting frozen slices in smoothies, to spreading jam on toast and so much more.
Canned Pear Recipes
Because pears are high-acid they can be processed in a water-bath canner making them accessible and easy for most novice and experienced canners. Of course they can be chopped and preserved in fruit juice or sugar syrup for easy use later on. If you're looking for something a little different that could perhaps also double as a gift, these ideas will give your ripe fruit plenty of life.
Photo Credit: melissaknorris.com
Simply can pears in hot syrup for easy use later on. This is the basic method to keep pears shelf stable and provide snacks and more.
Sweetened lightly with maple syrup and spiced with vanilla, star anise, and ginger to give this pear butter a unique, comforting flavor. Done in the slow cooker, you can make this while doing other things at home as well. This recipe could also be frozen if you wanted to skip the canning process.
Photo Credit: nourishandnestle.com
A unique twist on homemade jam this spiced jam has both a warm and comforting flavor that treats your taste buds! Seasoned lightly with cardamom and cinnamon this jam is perfect for your morning toast or fun appetizers.
Photo Credit: www.therusticelk.com
Mix this pear chutney with some cream cheese and you have an indulgent appetizer! Seasoned with garlic, chili pepper, and cinnamon this chutney is a spicy blend that fires up your taste buds. The combination of brown sugar and vinegar means this condiment can be used in many different ways.
Photo Credit: hildaskitchenblog.com
Infused with lavender and cardamom this jam makes a special morning treat! It only takes 30 minutes to prepare and since it's made in small batches it's a great one to gift to neighbors.
Photo Credit: modernharvest.ca
Pack your wide-mouth jar with pear slices and then top with a chai spiced medium syrup for a preserve that all the chai tea lovers will adore! With warming and cozy notes these are delightful for later enjoyment when the days are cold. Add these pears to muffins, salads, or yogurts, and enjoy their rich flavor all season.
Photo Credit: www.annsentitledlife.com
Canning pears in juice with just a hint of brandy makes them incredibly flavorful and perfect for gift giving! The bit of honey with the alcohol and crystallized ginger make for a canning jar full of sweet comfort. Make these early and store them in a dark place for a bit for best flavor.
Photo Credit: noshingwiththenolands.com
A simple condiment that adds flavor to anything it's paired with. This chutney uses a variety of fruits paired with gingerroot paste and cinnamon for a warming punch that makes for a great combination of sweet and savory.
Photo Credit: nourishandnestle.com
A cozy one for the Holiday season this pear preserve mixes tart cranberries with sweet apple juice and simple spices like cinnamon to maximize flavor in an easy to make treat. Make half pint jars and have on hand to give away as hostess gifts, tuck into care packages, and more.
Dried Pear Preserves
Canning isn't the only way to preserve summer pears. These dried preserves take a juicy fruit and transforms it into a portable, easy-to-grab snack. Explore the recipes below that take basic pears and turn them into deliciously seasoned add-ons to charcuterie boards or salads in very simple steps.
Photo Credit: www.cravethegood.com
The perfect grab-and-go snack. These pears are easy to make and come out crisp and crunchy, perfect for munching! These pear chips are delicious once made but they can even be stored in the freezer to keep them for longer.
Photo Credit: www.healthygreensavvy.com
Combine the fresh fruits of fall in this easy to make dehydrated treat - great for snacking and more. This recipe is only sweetened by the fruit meaning you can skip the cups of sugar in the boxed leathers from the store.
Recipes to Freeze Pears
Want to skip the canning and dehydrating but still have pears around for months to come? Frozen pears are easy to enjoy all year. Freezing helps retain their juicy flavor for months to come. You can freeze them in slices to be used in a variety of ways. Whip up the recipes below and use them as needed. All the freshness of your favorite fruit can be enjoyed in any season.
Photo Credit: ladyleeshome.com
This easy method treats pears with lemon juice to prevent darkening, then lays them out on a baking sheet to flash freeze. After that you can pack pears into freezer-safe bags for longer term storage. The flash freezing first, means the pears won't stick together and you can grab what you need to make crisp, smoothies, and muffins, and more!
Photo Credit: champagne-tastes.com
A blend of cardamom, lemon, and honey creates a deliciously refreshing flavor. This sauce is made in just thirty minutes and can be frozen to be used as a side dish or dip later on. You could store this in freezer bags for flat storage or other plastic containers. You could freeze a quart jar just make sure to leave at least a 2-inch headspace to prevent breakage.
Photo Credit: thelittlestcrumb.com
Create your own refreshing cocktail or sweeten your tea naturally with simple syrup. This pear-infused syrup is made in just twenty minutes and can be frozen to be enjoyed later. It's an easy way to take the flavor up a notch on drinks, ice cream, or drizzled onto tarts.