Pears make a tasty and different fruit spread than the berries and fruits of summer. This pear butter is slightly more sophisticated than the normal fruit butters of fall. It's slightly sweetened with maple syrup and delicately spiced with star anise, ginger, and vanilla.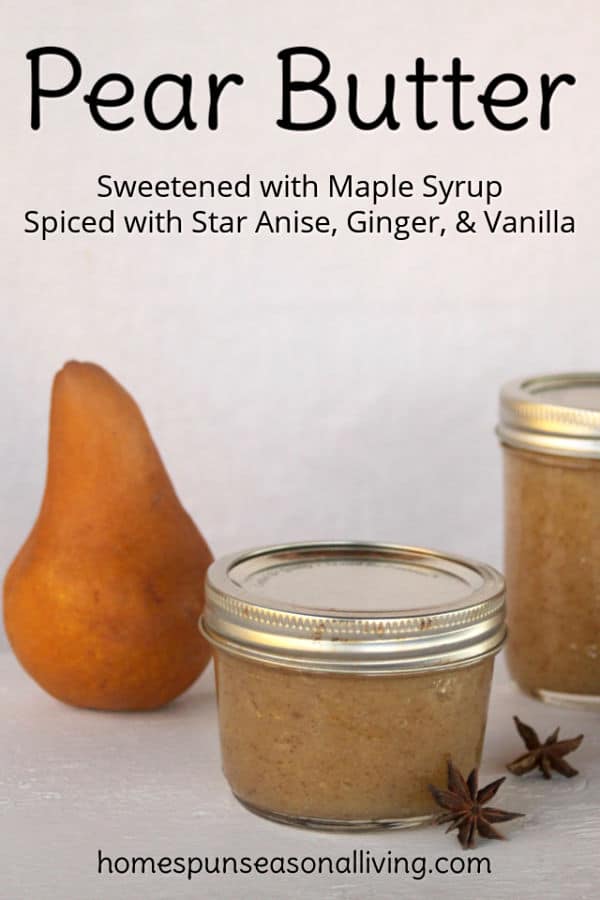 Pear Variety
Use any pears that you have on hand. I used bosc pears in this last round giving it a lovely golden color from the skins but truly any type of pear will work wonderfully.
Whole not Ground Spices
The spices are infused lightly throughout the cooking process, giving just a hit of their flavor, rather than becoming overpowering as so often happens with dried ground spices. There's just a bit of maple syrup to help sweeten and add another bit of flavor rather than making the pear butter cloyingly sweet.
The spices are important here for the best possible flavor. In my experience the health food store is the best place to buy small amounts of each.
Whole star anise isn't something many of us probably use a bunch of so look for just a few in the bulk section of your local store.
Dried ginger can also likely be found in the bulk section. I haven't tried it but fresh could probably be substituted but it might add a little heat to the butter.
Vanilla beans can be quite expensive, I know, but in this recipe they add just a bit of background warmth. If the beans are just not an option for the budget, add a teaspoon or two of vanilla extract just before putting it to jars.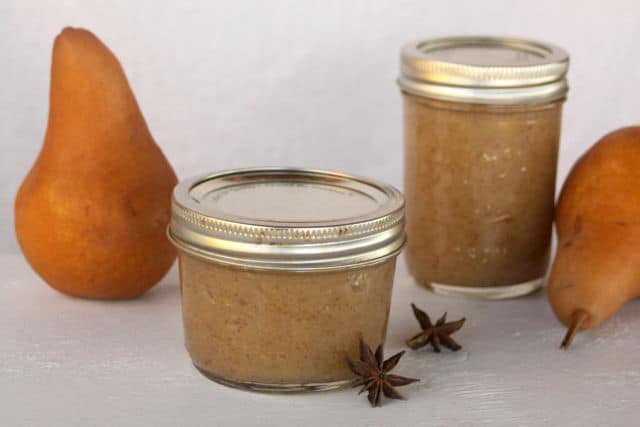 Use the Slow Cooker
The great thing about fruit butters is that they can cook down in the slow cooker, making the house smell good, and allowing you to do other things than stir the cooking mixture on the stove. Simply leave the lid off the slow cooker and let the water evaporate.
A fruit butter is done cooking when it's thick and creamy. It should mound on a spoon.
Option to Freeze
If you don't want to run the jars through the canning process, this pear butter freezes well, just thaw before trying to spread it.
How to Use Pear Butter
Use this pear butter on toast, spread on pancakes, warm it slightly and pour over cake and ice cream.
Yield: 8 Half Pints
Pear Butter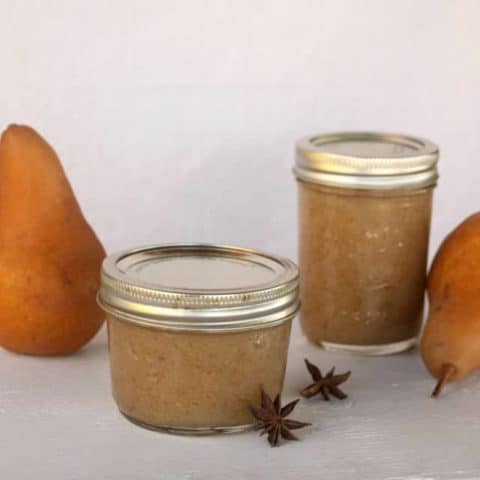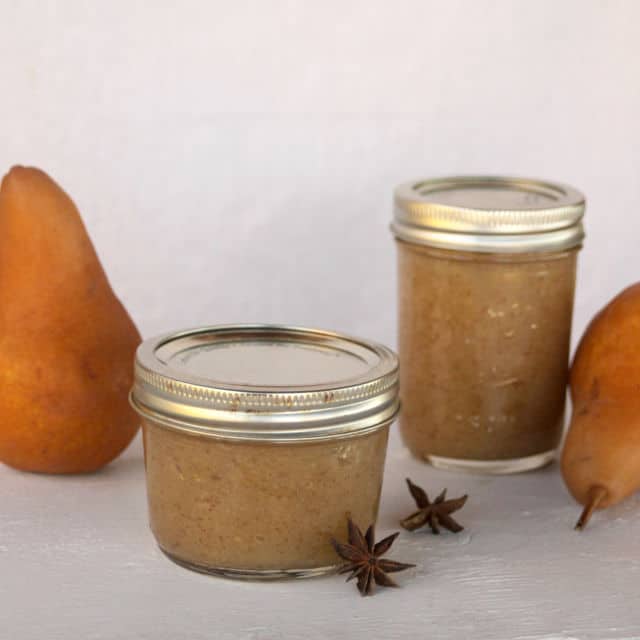 Whip up this pear butter sweetened with maple syrup and spiced with star anise, ginger, and vanilla for a tasty spread perfect on toast or pancakes.
Ingredients
5 Pounds Pears, cored and coarsely chopped
⅓ Cup Lemon Juice
2 Cups Water
4 Whole Star Anise
2 Vanilla Beans, split and cut into 1" pieces
1 Piece of Dried Ginger, about 1" long
½ Cup Maple Syrup
Instructions
Put the star anise, dried ginger, and vanilla pieces into a large tea ball or wrap in cheese cloth for a spice bag.
In a pot, put the pears, lemon juice, water, and spice ball. Cover and bring to a boil. Simmer gently until the fruit is soft. Remove the spice ball and purée the fruit until smooth.
Pour the puréed fruit into a slow cooker, stir in the maple syrup, and add the spice ball. Leave the lid off and turn the cooker on high. Cook until the pear butter is thick and mounds on a spoon without running off (probably three hours but actual time will vary based on the fruit's water content).
To can, pour into jars, leaving 1/4" headspace. Process in a hot water bath for 20 minutes, adjusting time for elevation.