As any gardener knows, there's no such thing as a small mint harvest. Make delicious use of that abundance with these fresh mint desserts that are perfect for keeping and giving.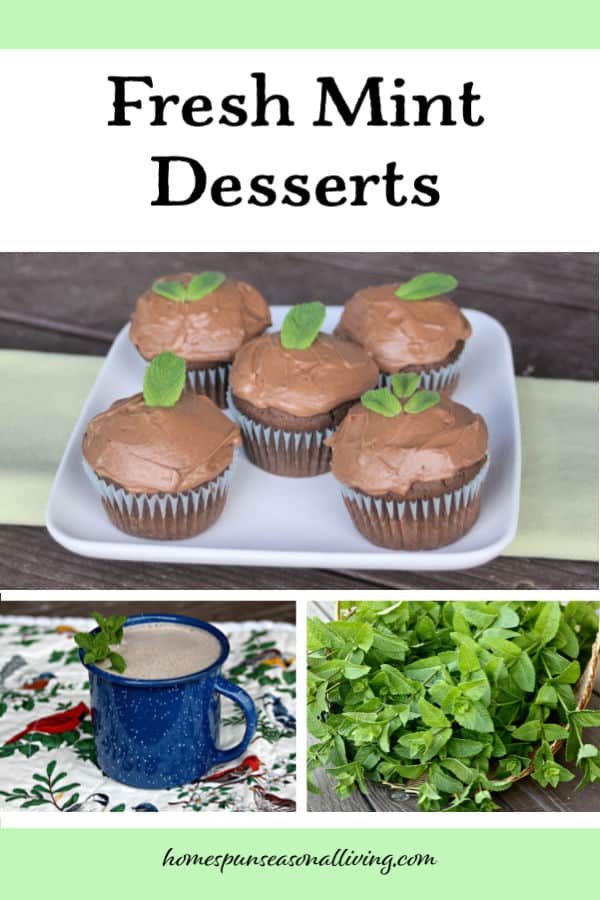 Tips for Using Fresh Mint
The flavor of mint is strong but it can easily be overpowered by other strong flavors and seems to lose its strength in baking. To get the most flavor out of fresh mint consider these tips:
[mailerlite_form form_id=9]
Cream it well with butter. When baking cookies or cakes, for example, beat the well chopped mint with the butter and sugar. This creaming action will help get much of the flavor absorbed into the fat and sugar which will carry throughout the dessert.
Infuse well. Anytime there is a liquid ingredient, milk or water for example, infuse the mint into that and let it cool before continuing on with the recipe. This strong mint tea will again help carry the flavor throughout the entire dessert.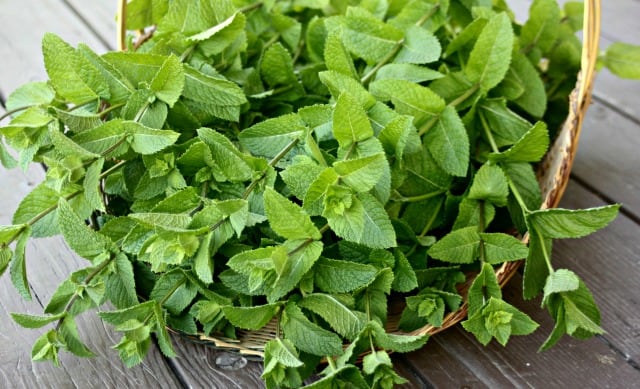 Puree if appropriate. Puree the mint with the liquid for an even stronger flavor than infusing. This works great, however; it likely means a green color to the final product. That may or may not be ideal for some things. If you're going to add cocoa powder or chocolate it won't be noticed but it likely might in something else. Go with what feels most appealing to you or those who are being served.
How to Preserve Mint for Desserts
Drying mint is easy. Simply hang in bunches and dry. Use 1/3 less dried mint for the fresh mint called for in recipes. This may or may not always work. It doesn't always work well to leave the bits of dried mint in cookies for example. Creaming dried mint with butter isn't likely to turn out as delightful. It will work great for things that are infused and then the mint strained out, however.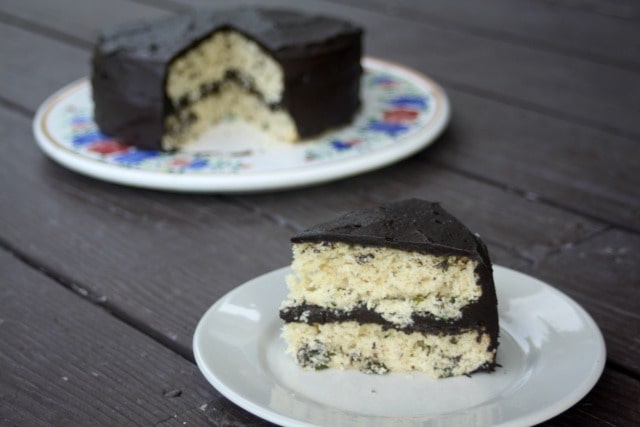 Make and freeze compound butter. Add 1/2 cup chopped fresh mint to 1/2 cup of softened butter. Mix well. Then wrap in waxed paper and freeze. When you're ready to make this winter simply thaw and proceed with the recipe.
Candy fresh mint leaves. While these candied leaves aren't used directly in recipes, they make a beautiful, edible decorative touch to baked goods all winter long.
Fresh Mint Dessert Recipes
Use these ideas for fresh mint desserts that make the most delicious use of the ever abundant herbal harvest.
Cakes & Cupcakes
For the baker, these mint cakes and cupcakes are perfect treats for birthdays and office meetings.
This fresh mint cake with dark chocolate mint frosting is a simple and yet elegant treat perfect for birthdays or any night of the week, really.
Sometimes you need a treat that is portable for parties, potlucks, and more. These mint cupcakes make it easy to share the mint harvest with everyone in a super tasty way.
Dessert Drinks
Sometimes a light dessert or just a sweet sip is all we need, rather than taking the time to make something more involved. These mint drink recipes will hit just the right refreshing and dessert notes.
This can easily be made with fresh or dried mint. Hot chocolate isn't always the thing we want in the summer, though it might be just perfect next to the campfire on a cool night.
Photo Credit: jenaroundtheworld.com
Mint Julep is a classic but this version skips the alcohol making it perfect for kids, too!
Frozen Treats
Because when it's hot outside the last thing many of us want to do is fire up the oven. Use these frozen treats to keep the house and body cool.
Photo Credit: wearenotmartha.com
Coconut and mint is a delightful combination. Keep it simple with coconut cupcakes and mint frosting. She uses a chocolate mint in this recipe which would be extra delightful with the coconut cake.
Photo Credit: nourishedkitchen.com
The combination of berries and mint is truly something special. Get them in this honey-sweetened and dairy-free frozen delight.
Photo Credit: confessionsofanover-workedmom.com
When the need for a quick dessert arises, this mint shake couldn't be easier. Use store bought ice cream, grab handful of fresh mint and blend for a treat worth sipping on the porch.
Photo Credit: adamantkitchen.com
Who needs the artifically colored tubs of ice cream from the store? Get all the flavor of mint ice cream and more in this homemade version that is sure to please.
Photo Credit: betsylife.com
For my huband, mint ice cream has to include chocolate chips and I know that's true for many folks. Make a homemade version you can feel good about serving.
Photo Credit: www.blossomtostem.net
Mint and chocolate is always delicious and this sorbet is no execption and sure to please the chocolate lovers.
Photo Credit: www.moonandspoonandyum.com
Make a big batch of this healthy mint freezer candy and keep it in the freezer for grab and go desserts that are perfect after a long day in the woods or garden.
Cookies
Cookies are one of my favorite things to bake and they make delightful care package fillers. These mint cookies are a great way to share the herb garden with loved ones far away.
Photo Credit: www.dessertfortwo.com
Chocolate chip cookies are always welcome and a bit of fresh added mint is only going to make them even better.
Photo Credit: www.cupcakeproject.com
Browned butter is always such a rich flavor that will compliment mint and white chocolate so deliciously.