Make this lemon balm tincture to ease troubled nerves, encourage sleep, and aid digestion.
This simple lemon balm tincture recipe is perfect for using up copious amounts of the fresh herb in spring and summer while being useful for the body and mind all year long.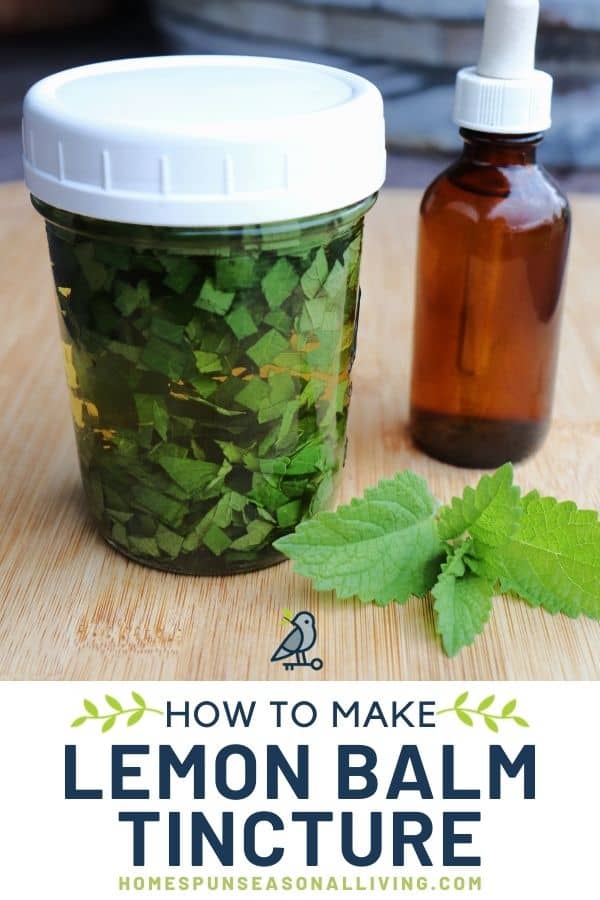 Lemon balm is a perennial herb in the mint family that has many uses for both food and medicine in our seasonal homes.
Harvesting Lemon Balm
Cut lemon balm before it begins to flower. Simply cut the stems from the plant.
Be sure to give it a quick rinse or clean to remove any bugs or dirt.
Let the surface water dry and then remove the leaves from the stem. Compost the stems, you only need the leaves for the tincture.
How to Make Lemon Balm Tincture
The following is the folk method. It's easy because there's no precise measuring while still being effective. This method is great for home herbalists who don't necessarily need repeatable results like a professional would use for sale.
Roughly chop your lemon balm leaves, no need to be precise.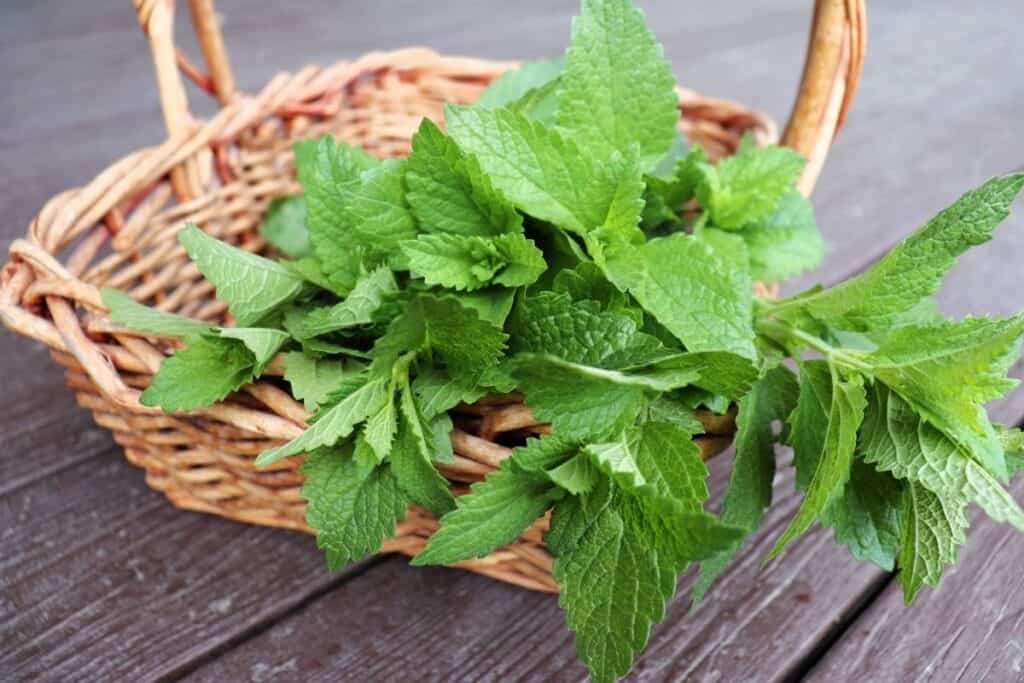 Fill a jar about half full with the chopped lemon balm. Add vodka to the jar so that it covers the lemon balm by about an inch.
The size of your jar will depend on how much you want to make. Don't make more than you can feasibly use in a year's time. I make just half a pint and that's more than enough, but go up or down depending on your planned usage.
Cover the jar with a lid and place in a cabinet to infuse for at least 4 weeks. Longer is just fine.
After the 4 weeks, strain the lemon balm from the vodka and place the lemon balm tincture into clean, labeled bottles.
Lemon Balm Tincture Uses
Lemon balm (Melissa officinalis) is a wonderful nervine. It is gentle and effective.
Add a few drops to hot water as a sort of tea to encourage sleep before bed.
Take a dropper full of tincture a few times a day to help ease anxiety or frazzled nerves.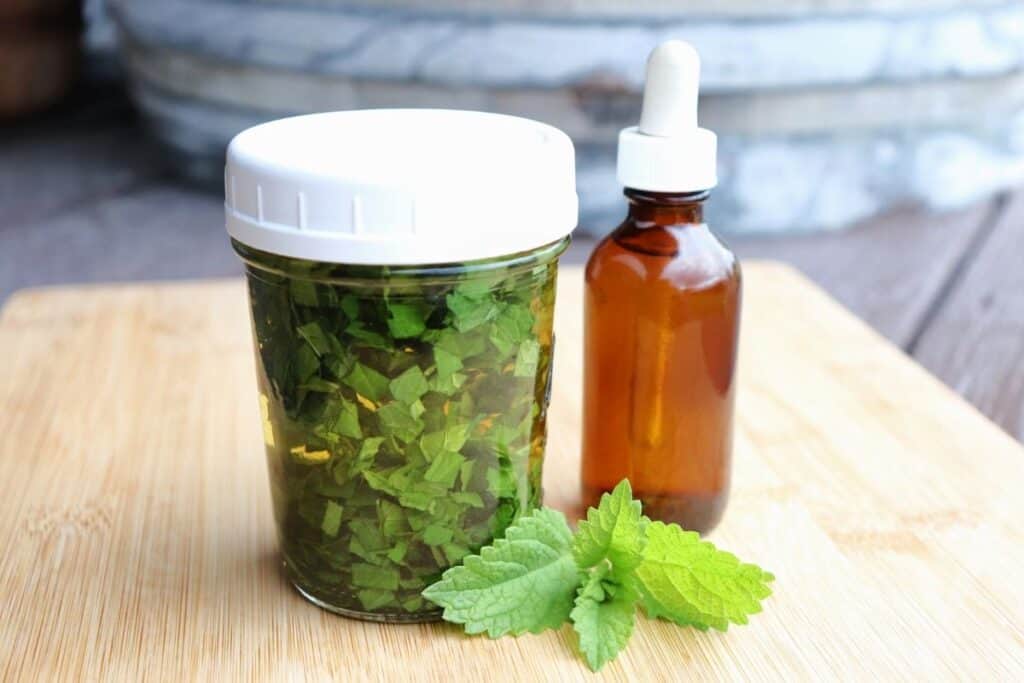 The bitter properties of lemon balm means it can have an antispasmodic effect on the digestive system. Take some after large meals to avoid discomfort.
Lemon balm has long been studied for its ability to heal cold sores more rapidly. A salve applied topically is easy but Rosemary Gladstar also suggests using the tincture for cold sores. Beware that the alcohol might sting too much for some folks.
Who Should Avoid Lemon Balm Tincture
Lemon balm is mostly safe but there as with all things it isn't safe for everyone, everywhere.
Folks on thyroid medications or who have thyroid problems in general should avoid lemon balm.
If you're taking any kind of sedative medication don't use lemon balm.
And as is often the case with many herbs, lemon balm hasn't been widely studied for use in pregnant women. So to be on the safe side, expectant mothers should avoid it.
As with all herbal preparations, talk with your doctor, pharmacist, herbalist, or other healthcare practitioner before taking any herbal remedies.
Yield: 8 ounces
Lemon Balm Tincture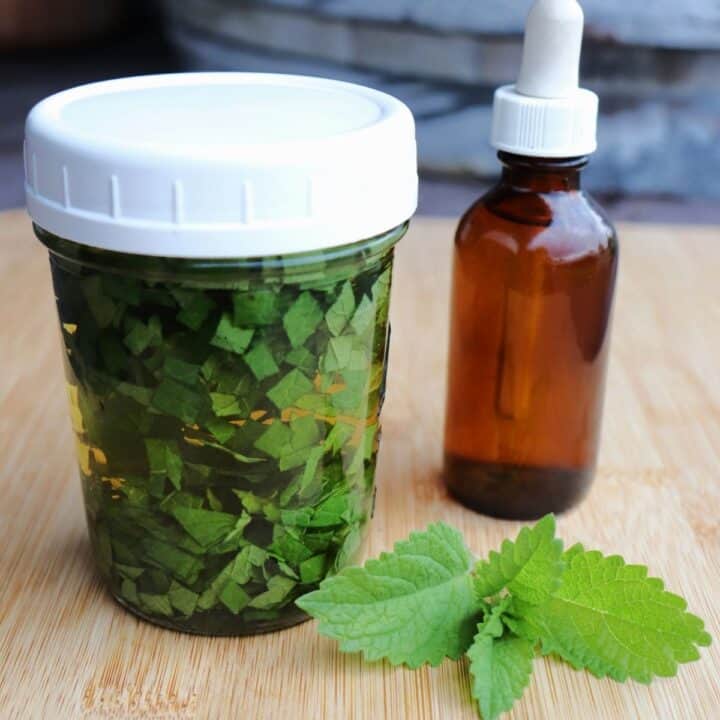 Make an easy lemon balm tincture to soothe nerves and upset stomachs.
Total Time
28 days
10 minutes
Ingredients
1/2 Cup Lemon Balm Leaves, Chopped
1 Cup Vodka
Instructions
Place the chopped leaves into a glass jar with a tight fitting lid.
Pour vodka over the lemon balm, making sure to submerge the leaves.
Put the lid on the jar.
Give the jar a gentle shake.
Place jar in a dark cabinet and let infuse for 4 weeks - longer is okay.
Strain the leaves from the vodka.
Place the finished tincture into clean, labeled jars.
Use as needed.
Recommended Products
As an Amazon Associate and member of other affiliate programs, I earn from qualifying purchases.
Nutrition Information:
Yield:
192
Serving Size:
1/4 teaspoon
Amount Per Serving:
Calories:

3
Total Fat:

0g
Saturated Fat:

0g
Trans Fat:

0g
Unsaturated Fat:

0g
Cholesterol:

0mg
Sodium:

0mg
Carbohydrates:

0g
Fiber:

0g
Sugar:

0g
Protein:

0g
We try our best but cannot guarantee that nutrition information is 100% accurate.