White clover tea is a refreshing, delicious, and nourishing drink from the backyard.
That simple little backyard weed that fills lawns full of tiny white flowers, is actually an edible and medicinal plant free for us to use and delight in.
White clover tea has a slightly sweet flavor with a hint of vanilla that is amazing either hot or iced.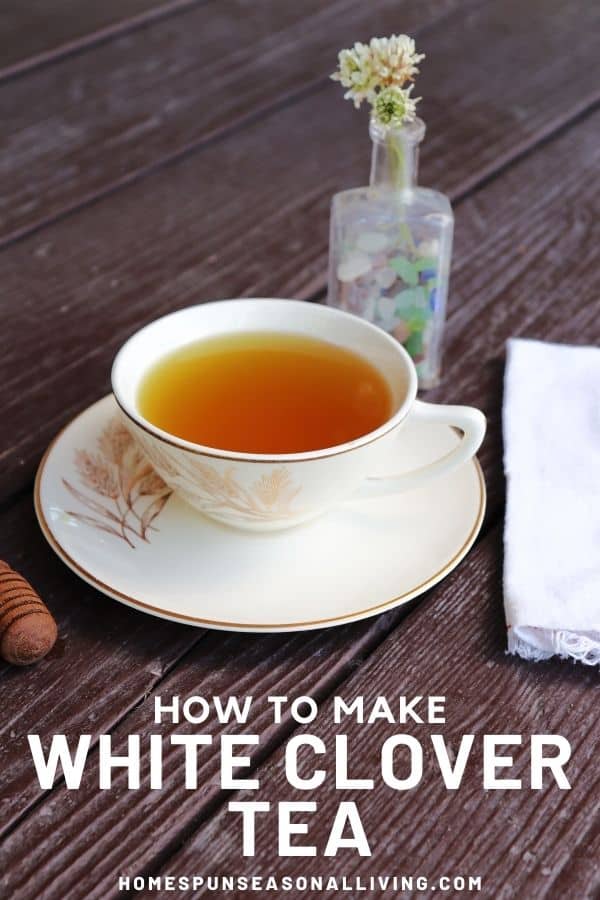 How to Harvest
Gather white clover flowers from unsprayed yards or parks. Harvest at least 10 feet from a road.
Simply cut the flowers from the stalk and pile up in a basket.
Do pick flowers that are fully in bloom and still looking good – not wilted or browned around the edges for best flavor.
Preparing Flowers
Give the flowers a quick rinse with cool water to remove any bugs and/or dirt. Use a salad spinner to remove excess water or simply spread out onto a towel to dry for a bit.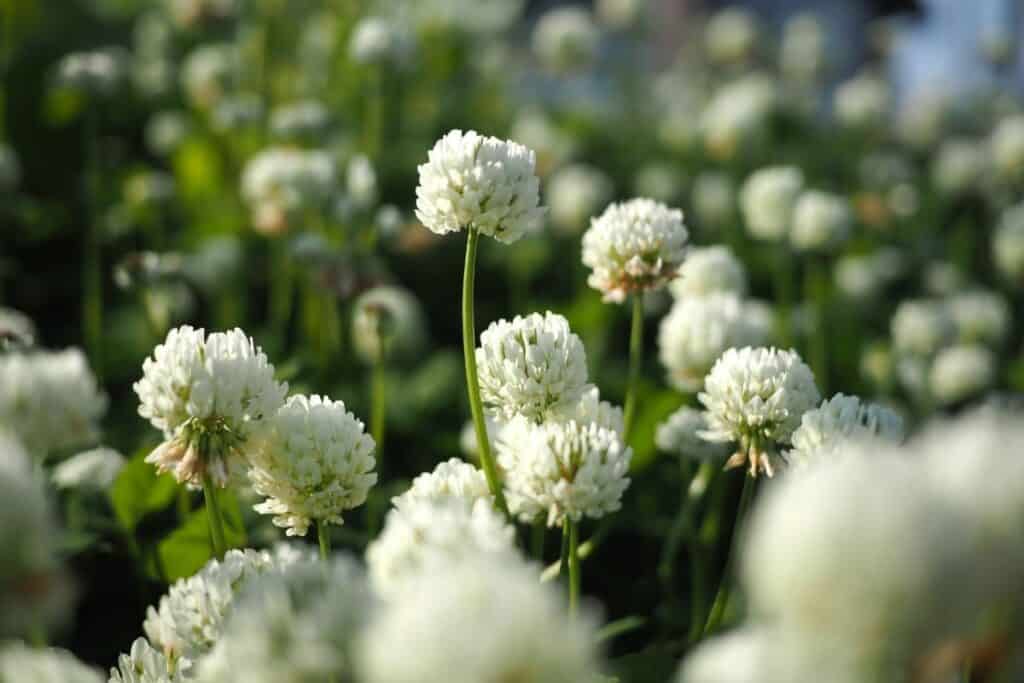 Drying the Flowers
Want to save the harvest for tea drinking later? Simply spread the washed flowers out onto a tray and dry until crispy.
You can spread the flowers out onto dehydrator trays and place them in the dehydrator. There's rarely a need to turn the dehydrator on, however; give it a week and the flowers will likely be dry.
Once dry, simply store in a labeled glass jar.
White Clover Tea Benefits
White clover has traditionally been used to help reduce fevers and treat coughs. This same ability to cool coughs makes it a great way to cool the body after a hot day.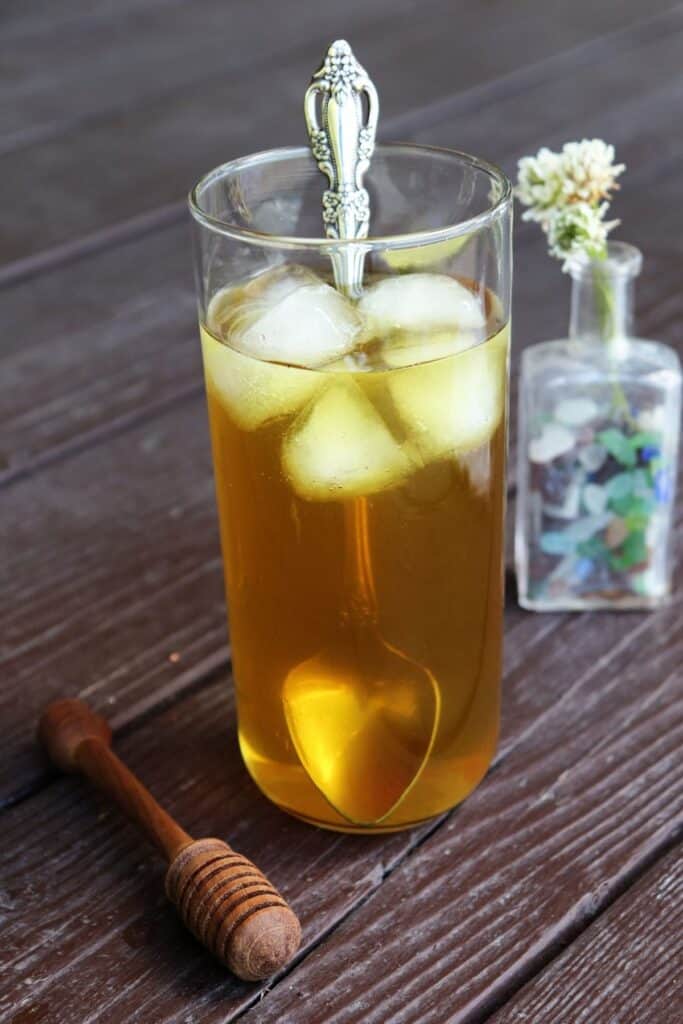 It's high in vitamins and minerals as well making it a nourishing as well as delicious drink.
How to Make White Clover Tea
For every 4 cups of tea, 2 cups of white clover blossoms are needed. Honey or other sweetener is completely optional.
Bring water to a boil and let sit for just two minutes so that it's not a rolling boil and pour 4 cups of the water over the 2 cups of blossoms.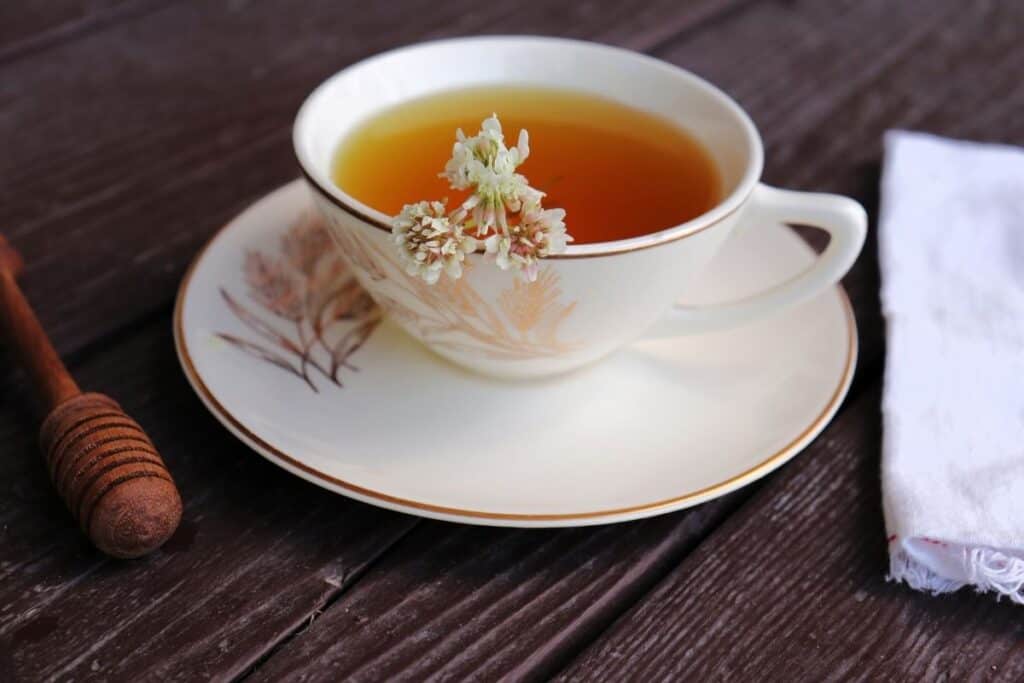 Let steep for 10 minutes and strain the blossoms from the water. Sweeten, if desired.
Enjoy warm or refrigerate and drink over ice.
Do store any unused tea in the refrigerator for up to 3 days.
Finally iced tea that you won't forget in the other room! These recipes give show you how to use what you have to craft teas with the flavor and healing benefits you need. Get my Guide to Iced Tea to help you get creative and stay refreshed!
Yield: 4 Cups
White Clover Tea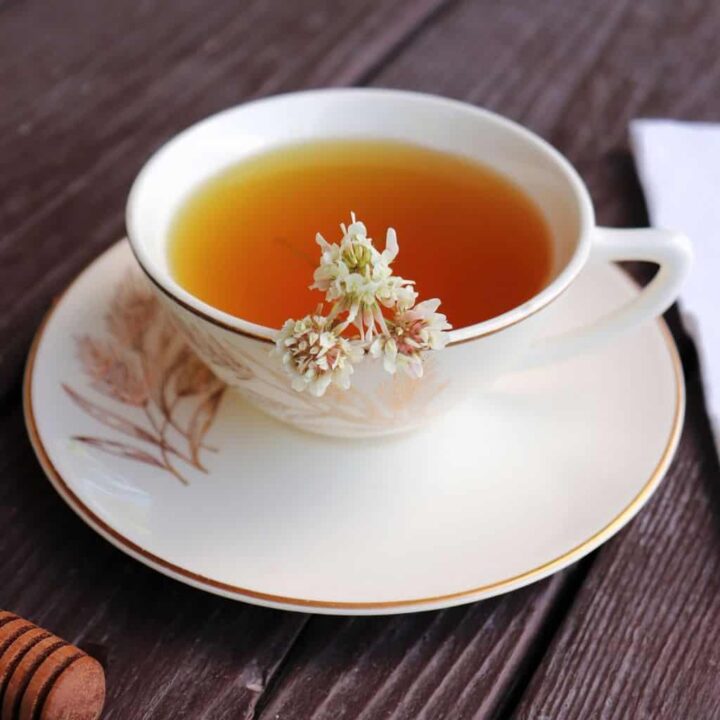 Nourishing and refreshing white clover tea is a delicious summertime drink.
Ingredients
4 Cups Boiling Water
2 Cups Fresh White Clover Flowers
Honey to taste, optional
Instructions
Put the white clover flowers into a heat proof cup.
Remove the boiling water from the stove and let sit 2 minutes so that it's no longer in a rolling boil.
Pour the almost boiling water over the flowers.
Let steep 10 minutes.
Strain the flowers from the water.
Enjoy warm or refrigerate and drink cold.
Recommended Products
As an Amazon Associate and member of other affiliate programs, I earn from qualifying purchases.
Nutrition Information:
Yield:
4
Serving Size:
1 cup
Amount Per Serving:
Calories:

16
Total Fat:

0g
Saturated Fat:

0g
Trans Fat:

0g
Unsaturated Fat:

0g
Cholesterol:

0mg
Sodium:

10mg
Carbohydrates:

4g
Fiber:

0g
Sugar:

4g
Protein:

0g
We try our best but cannot guarantee that nutrition information is 100% accurate.