Use this easy to make calendula salve recipe as a homemade herbal remedy to soothe sunburn and dry skin as well as a healing ointment for wounds.
Calendula, also known as pot marigold, is often found in many home gardens. It's a beautiful flower that also has edible and medicinal use for our homes.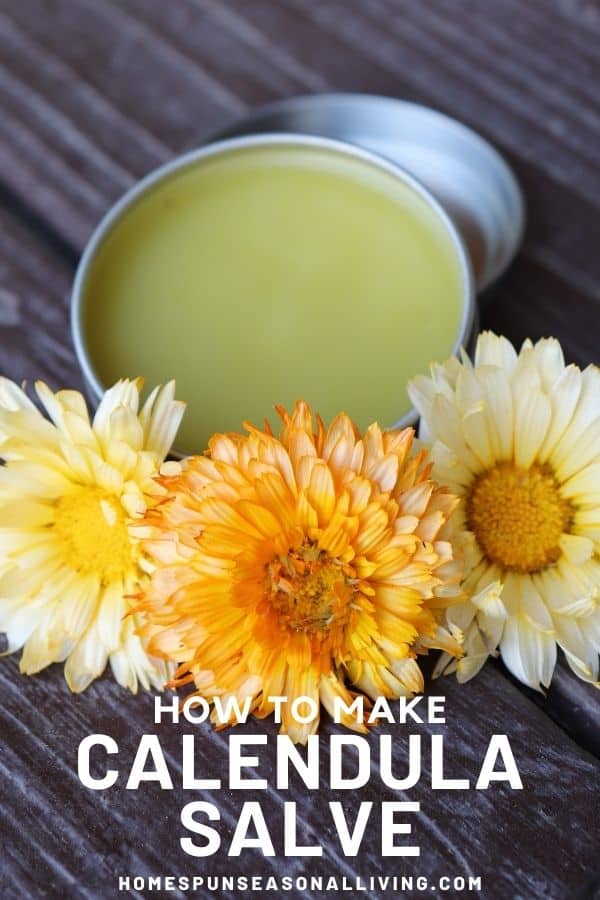 Harvesting Calendula
For this salve and most topical applications of calendula, harvest the entire flower head.
Simply cut whole and still lovely flowers from the plant.
Like most herbs, harvest when fully open and before wilting or going to seed. Gather flowers after the morning dew has dried off.
Dehydrate Flowers
Spread the flowers out onto a wire rack.
Feel free to use dehydrator trays and place them in the dehydrator, it is not necessary to turn the dehydrator on.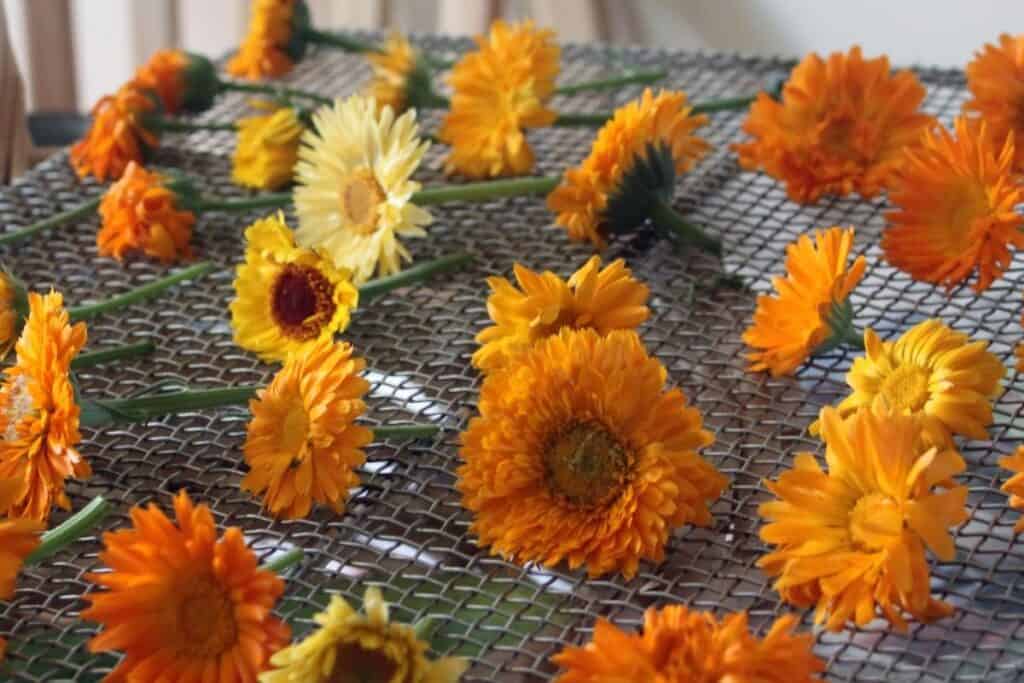 Just let the flowers dry naturally until completely dry and crispy.
In most climates the leaves will dry in less than a week, more humid climates might take longer.
Storing Dried Flowers
Put the entire dried flower head into an airtight container and leave sit out of sunlight.
Do not remove the petals from the rest of the flower head. There are important and healing oils in the green base. Using only the petals results in a weaker medicinal salve.
Calendula Medicinal Actions
Calendula is anti-inflammatory, antifungal, and antibacterial making it ideal for treating a number of skin ailments.
Use it as part of a skin soothing balm or as a healing salve.
Make Infused Oil
Calendula salve requires calendula infused oil first and foremost.
This can be made in a few different ways.
Quick Fresh Flower Method
Place 1/4 cup chopped fresh calendula blossoms (the entire flower head – petals & green base) and ½ cup oil of your choice (olive, almond, avocado, etc.) in a bowl.
Use this bowl as the 'top' of a double boiler. Place the bowl over a pan of simmering water and let it infuse for at least 30 minutes.
The point here is not to fry the herbs but merely keep the oil and herbs warm.
Strain the herbs from the oil and proceed with the salve recipe.
Slow Solar Method
While fresh herbs can be used for this method, the chances of mold increase greatly. Using dried calendula flowers prevents mold from growing.
Place 2 Tablespoons dried chopped calendula flower heads in a jar. Cover with ¼ cup oil of choice. Place the lid on the jar and place it on a sunny windowsill.
Let infuse for 3 to 4 weeks.
Strain the flowers from the oil and put the infused oil in a clean, labeled jar or proceed with salve making.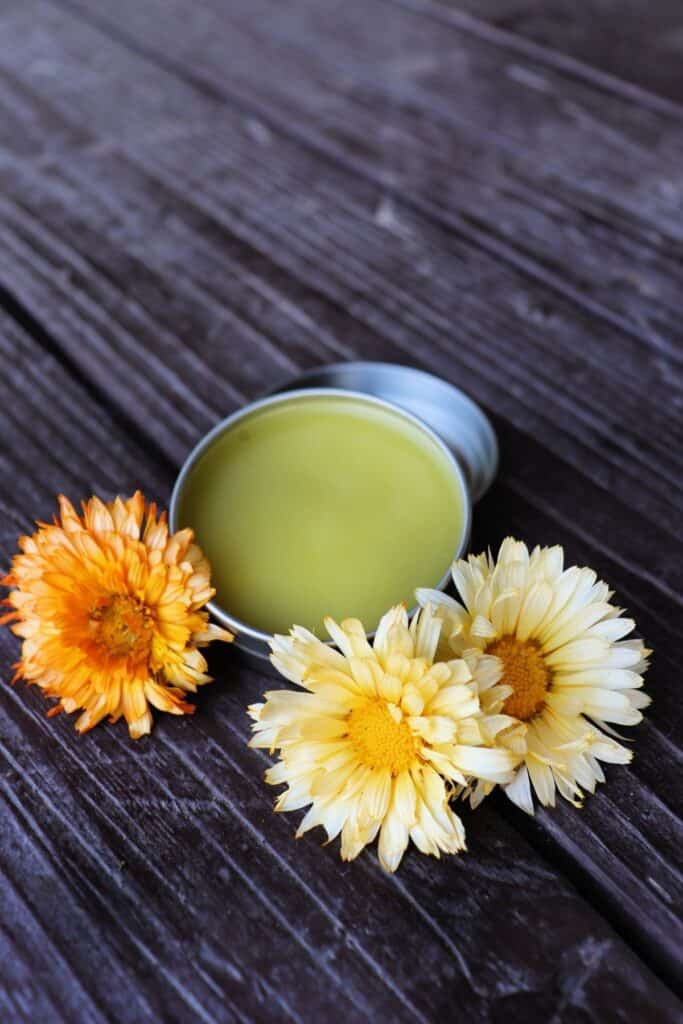 Making Salve
Salve is really nothing more than infused oil and beeswax. The beeswax makes the oil solid.
Experiment to find the level of hardness in your salve that you most enjoy. If the following recipe is too soft for you, remelt and add a bit more beeswax. If it's too hard, remelt and add a bit more oil.
Storing Salve
Most any clean container will work for storing your finished calendula salve. Small glass jars work, metal tins or plastic containers are widely available. Feel free to use old candy tins that have been washed well.
All oils can eventually go rancid, use up your salve within 1 year.
Be sure to label the salve (they all look alike and are easy to get infused if not labeled. Get printable labels here when you sign up for my newsletter.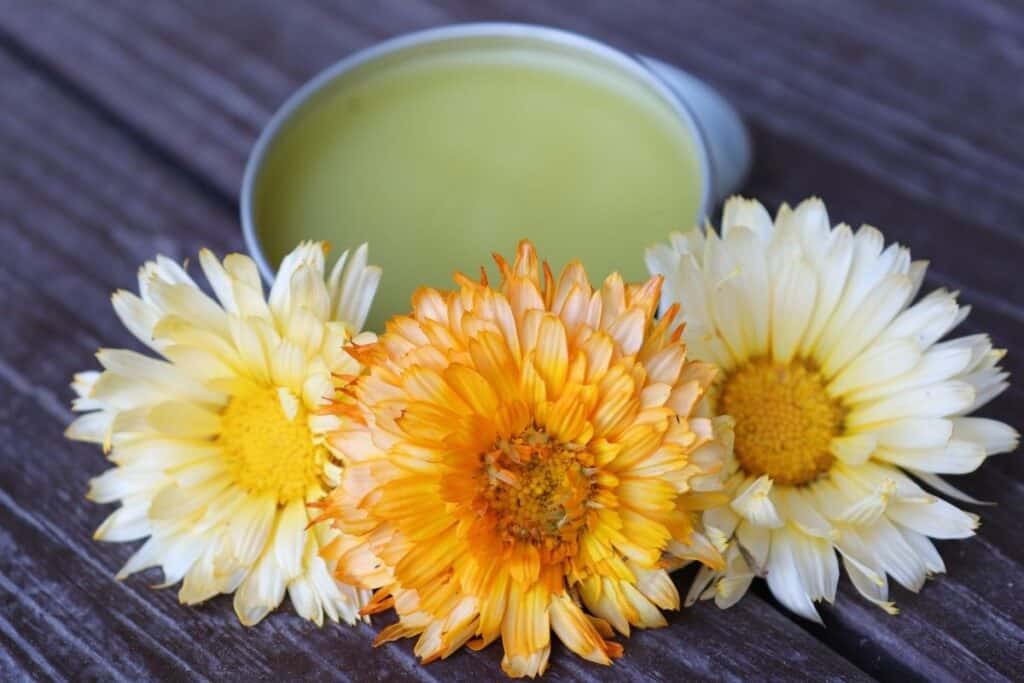 Calendula Salve Uses
Simply spread the salve onto clean wounds as needed to help with healing. Use on sunburned skin to find relief from the sting.
Spread on to extremely dry or chapped skin to find soothing, softening relief.
Want to learn how to make better use of your garden herbs? Take my Year of Seasonal Herbs E-Course for a fun and educational experience sure to grow your herbal confidence.
Yield: Approximately 5 Ounces
Calendula Salve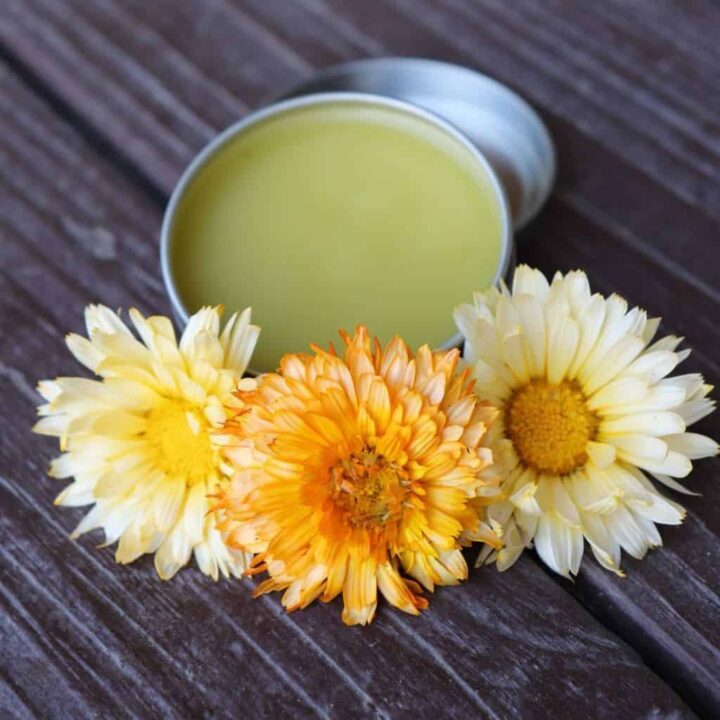 Use this simple calendula salve to soothe sunburn and soften dry skin.
Total Time
1 hour
40 minutes
Materials
1/2 Cup Olive Oil (or other oil of choice)
1/4 Cup Fresh Calendula Blossoms
Instructions
In the bottom of a double boiler, place an inch of water and bring to a boil. Keep the water simmering.
In the top of the double boiler, combine the calendula flower heads and oil.
Let the oil and calendula sit and stay warm (but not frying) on top of the boiling water for 30 minutes.
Strain the flowers from the oil into a clean bowl.
Wipe out the top of the double boiler to remove any flower petals.
Add more water to the bottom of the double boiler if necessary and keep simmering.
Pour the strained oil back onto the top of the double boiler and add beeswax.
Heat until the beeswax melts.
Pour the salve into tins and let harden and cool about 1 hour before placing lids on securely.
Notes
Add more beeswax for a harder salve, less for a looser consistency.
All oils go rancid, use your salve up within 1 year.