These homesteading and do-it-ourselves lifestyles can be quite difficult on the hands and feet. Our skin is often exposed to the elements and simply worked hard. Our joints are moving and the nature of our lives and hard work can often mean inflamed. Thankfully, we can treat our bodies with a little natural care with beeswax and this calendula cocoa butter balm.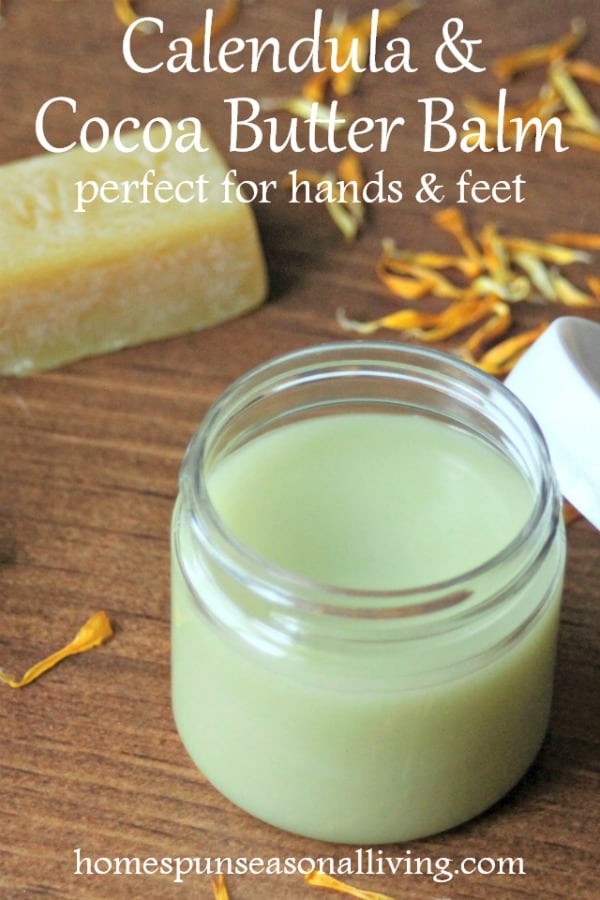 The Many Uses of Beeswax
I am continually humbled and amazed at the amazing and awesome resources that nature provides us. Resources that often serve a multitude of purposes if we know how to look for and use them. One of these natural wonders is beeswax. Beeswax can light our homes, soothe our skin, heal our wounds, protect our tools, and so much more.
[mailerlite_form form_id=1]
Need a light, then make a beeswax candle. Want to put a little color on your lips for date night? Make a natural lip color with a beeswax base. Pack a lunch with reusable wraps coated in beeswax to avoid disposable containers. Extend the life of gardening tools and camping equipment by adding a few other ingredients to your beeswax. There's seemingly no end to the usefulness and applications of beeswax.
The Beeswax Workshop – Your Beeswax Project Guide
No matter what a body or homestead needs, there's probably a way for beeswax to help. The thing is figuring how best to use beeswax and what additives to use for all those different applications. Thankfully Chris Dalziel wrote, The Beeswax Workshop, to help us all out. Useful and beautiful the projects in this book are sure to inspire and encourage everyone on the DIY spectrum.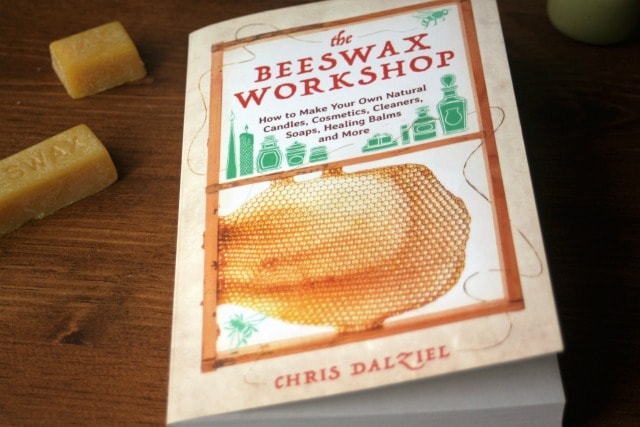 For the beginners, the book covers basics like how to make herbal infused oils that for use in beeswax creations. Tips on working with wax and cleaning it up as well plenty of easy to embrace projects that require very little in terms of special equipment. For the more advanced, there are soap recipes and projects for the artists. There are ideas and recipes to inspire every person and every need for the home and the people inside.
The author takes the time to explain the various additives like pine resin and shea butter. Beyond just giving us recipes, there are suggestions for substitutions as well. Often if one ingredient isn't on hand the substitution might already be in the pantry or at a nearby store.
Soothing & Anti-Inflammatory
I've been training to run a half-marathon in July. I've been a runner for a few years but this year the weather has had me on the treadmill more than outside and it's taking a harder toll on my feet than I can ever remember. To combat that abused skin and slight inflammation I turned to The Beeswax Workshop for some homemade and natural relief.
I decided on the Calendula Hand Balm. The ingredients are nourishing and I knew would amazing on my feet too. The cocoa butter is deeply moisturizing and the infused oils are softening and healing as well. The beeswax adds some hardening and further protects the skin.
Yield: 4 Ounces
Calendula Cocoa Butter Balm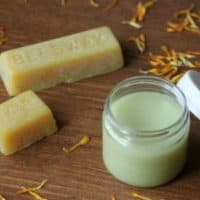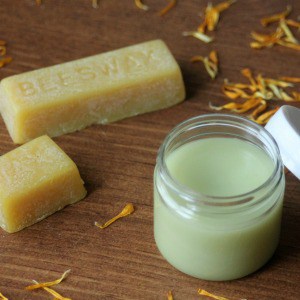 Soothe and nourish overworked hands and feet with the power of beeswax and natural ingredients in this DIY calendula cocoa butter balm.
Materials
3 Tablespoons Calendula Infused Oil
3 Tablespoons Feverfew Infused Oil
Tools
Double Boiler
4 Ounce Salve Tin
Instructions
Melt the beeswax, cocoa butter, and infused oils in the top of a double boiler.
Remove from heat and stir. Let sit until cool to the touch.
Stir in the essentials oil.
Pour into a 4-ounce storage container.
Substitutions
The original recipe would be amazing as written, no substitutions are necessary. I made two little changes based on my own needs and items on hand:
The original recipe called for comfrey infused olive oil which I substituted with some feverfew infused almond oil. I did this because I know that feverfew is good for inflammation and would likely help my swollen feet. I already had this on hand from last summer's herbal harvest and infusions.
I used calendula infused grapeseed oil instead of infused olive oil, simply because I already had the grapeseed oil infused in my herbal apothecary. This grapeseed oil infusion is why my balm has a slight greenish hue as the grapeseed oil is green.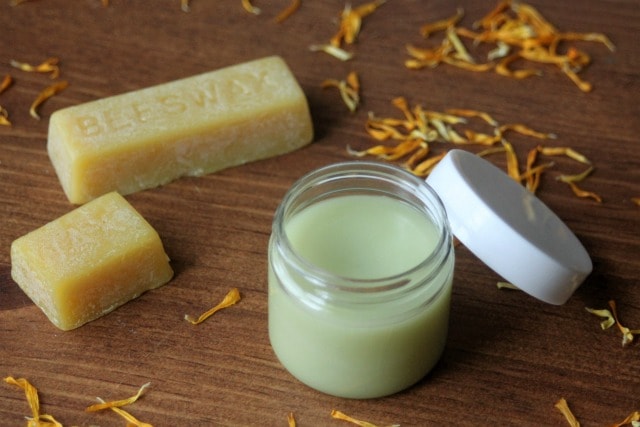 Results
I am so pleased with how this balm feels on my feet. Sure to the author's words, it does feel a little greasy when first applied but after a few minutes of sitting with my feet up the balm is absorbed and my skin feels better. I do believe the feverfew is helping with the inflammation too. This balm will now become part of my long run recovery process.
I cannot recommend The Beeswax Workshop highly enough. You'll use this book to heal your body, light and clean your home, make crafts, and more for the year to come with its amazing recipes and projects. You'll want to have it on hand as part of your DIY library.