Feverfew is a gorgeous daisy-like flower with some amazing healing benefits. It's super easy to grow and extremely productive. All those productive blooms make it easy to take advantage of the external and internal uses of feverfew.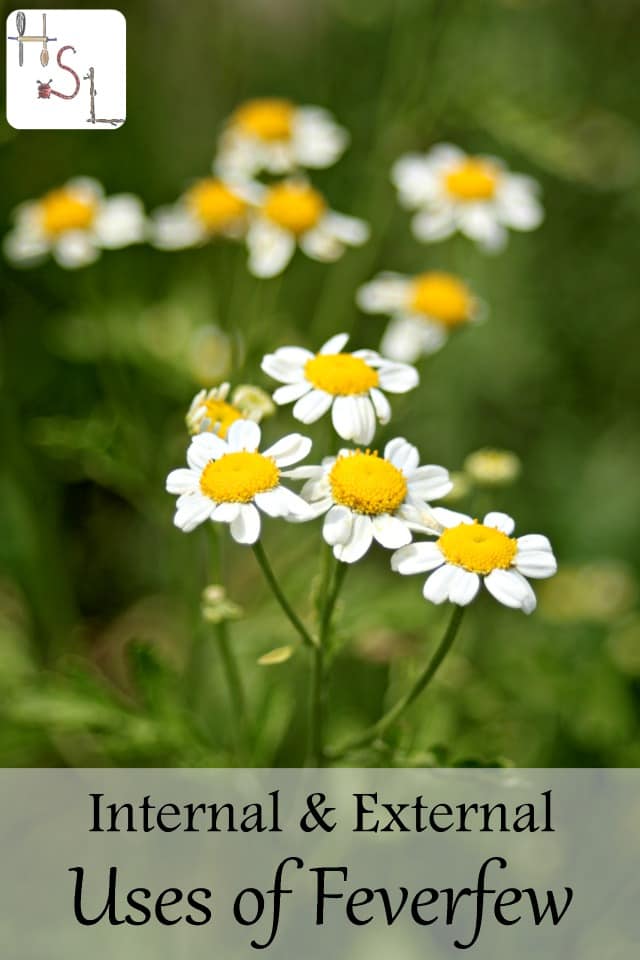 External Uses of Feverfew
Feverfew is said to relieve inflammation. Infuse it in oil and use that oil by itself or as the base for salves or balms for arthritic joints. Use a feverfew infused oil for inflamed skin due to dermatitis as well.
A natural insect repellent, feverfew is especially good for mosquitoes, gnats, and biting flies. Make a strong tea of the blossoms and leaves – 1/4 Cup fresh (2 Tablespoons dried) to 1 Cup boiling water. Let the blossoms steep until the water is cooled. Strain the blossoms and dampen the skin with the feverfew tea. Let air dry. This can be used on pets as well.
Internal Uses of Feverfew
Most notably feverfew is a powerful herbal ally for those struggling with migraines and headaches. To take advantage of this benefit, make a tincture: Fill a jar 1/2 full of chopped fresh feverfew blossoms (1/4 full of dried) then cover the plant material with vodka or vegetable glycerin, filling the jar to 1/2″ of the top.
Put the lid on the jar and let it sit for a month, shake when remembered. Strain out the plant bits in a cheesecloth lined strainer, then squeeze all the liquid from the plant material. Put the feverfew into a clean glass jar and label it. To use, take 1/4 tsp to 1/2 tsp 3 times a day.
Gather those beautiful blooms this summer and get infusing for the many uses of feverfew. Don't forget to dry a few blooms as well for winter remedy making if necessary. Simply hang the flower stems until dry or lay them out on trays.
Precautions:
If allergic to ragweed, avoid feverfew. Raw feverfew can cause mouth ulcers, discontinue use if this happens. Avoid, if pregnant. As always, consult a medical professional and check any prescription medications for contraindications.