Protect your time, money, and effort by organizing the herbal medicine cabinet for efficient use and ease.
We all have limited time and when you're in need of a particular herbal remedy searching for it is the last thing anyone should be doing.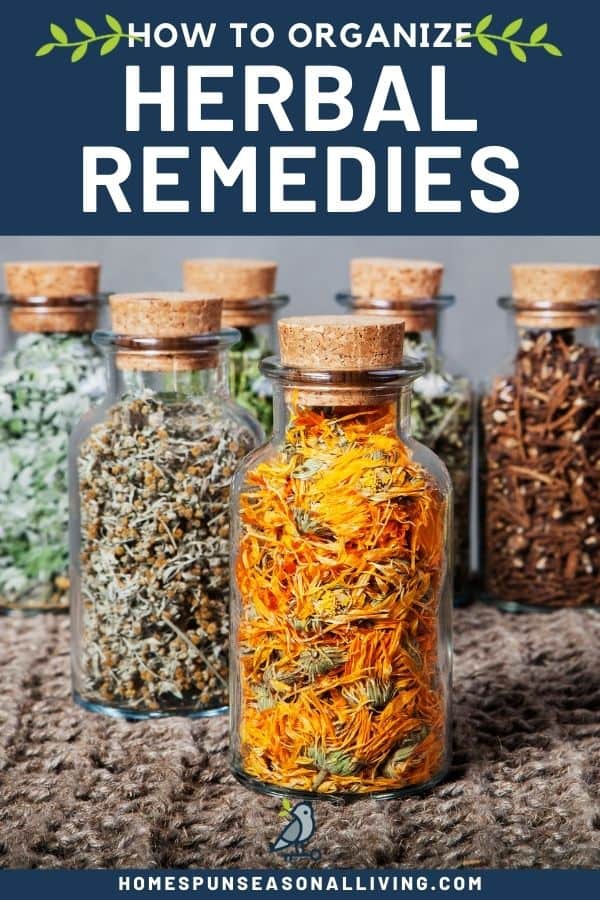 Be ready to grab your herbs and your herbal remedies quickly and easily (while also preventing waste) by keeping your supplies organized.
These are simple little things but they add up over time to help keep home and life a little less cluttered and less overwhelming.
1. Use Glass Jars
Canning jars are just fine, but the home herbal medicine cabinet is a great place to reuse spice jars and other glass jars from purchased items.
Those glass jars that oils come in clean up easily enough with some hot water and good soap. This can also be a fun place to use funky jars found at thrift shops and yard sales.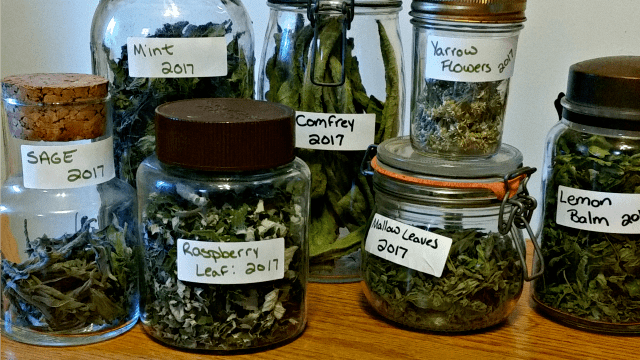 Glass jars with tight fitting lids, keep out smells, bugs, and more, while also keeping flavor in. Clear glass means easy inspection of what's inside too for mold or other issues.
It's also much easier in my experience to find what I need when everything is in jars rather than plastic bags. For that reason when I get herbs at the bulk section or in the mail, they also get put into jars for long term storage.
2. Label Immediately
I'm not perfect, please learn from my experience: when that infused dandelion oil is strained and bottled, label it immediately. We all think we'll remember what we stored where but life has a funny way of ruining our memories. Whole dried herbs might be rescued later by smell but this isn't fool-proof either. Save that hard work by labeling the jars before storing.
I often use just basic white adhesive labels, but I've been known to use a piece of cardstock as well. Simply write the ingredient on the cardstock and adhere to the jar with clear packing tape. Masking tape and a permanent marker work well too.
When storing purchased herbs, I often just use the label from the bag, cutting it and then taping it to the jar.
3. Rotate the Stock
Dried herbs will most likely last a very long time, however may also lose potency and certainly flavor over time. If I have dried mint still in the cabinet from last year when I'm ready to add newly dried mint from this year, I simply compost the dried from last year and start fresh.
4. Keep Records
It doesn't have to be super scientific (though if that's your thing, go for it), just basic records of methods, remedies, and their effect. Maybe mint tea didn't work but ginger tea did on that upset stomach. The sage honey was tasty but maybe didn't help the sore throat.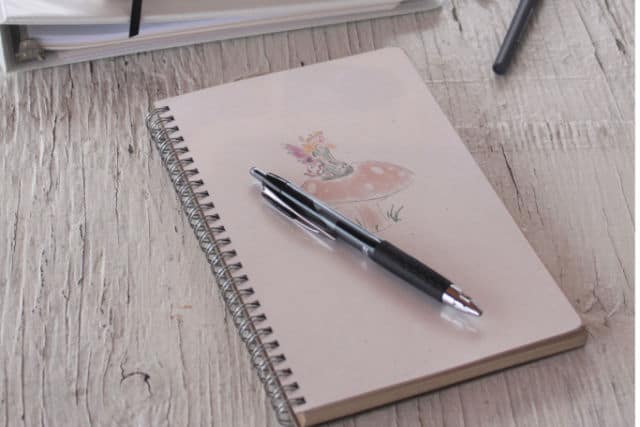 Basic thoughts, experiences, and ideas these are the things to record in an herbal journal and refer to later on.
These are simple steps that do not take much time in and of themselves but that will save time, energy, and possibly waste later as you go searching for something in a hurry.