Sage often grows in abundance in many home gardens and has a multitude of culinary and medicinal benefits. Thankfully, preserving sage for food and medicine is relatively easy with very little hands-on time.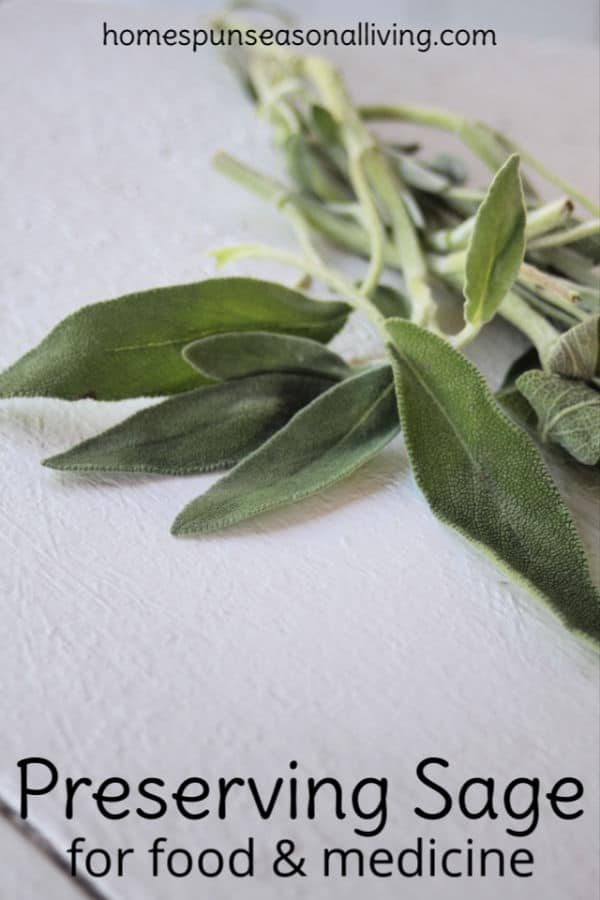 Dry Sage
Simply cut the fresh sage, before it flowers, from the plant about an inch from the ground. Hang the herbs in bundles in a dry, dark place until crispy. Remove the leaves from the stems and store in air-tight containers.
Infuse Honey
Fill a jar half full with fresh leaves (1/4 full if using dried leaves), fill the jar leaving 1/4″ headspace with liquid honey. Cover the jar with a tight-fitting lid and place in a sunny window for 1 month. Turn the jar over now and then, to move the herbs and honey around the jar to infuse fully. At the end of the month, strain the herbs from the honey and store the flavored honey in an airtight jar.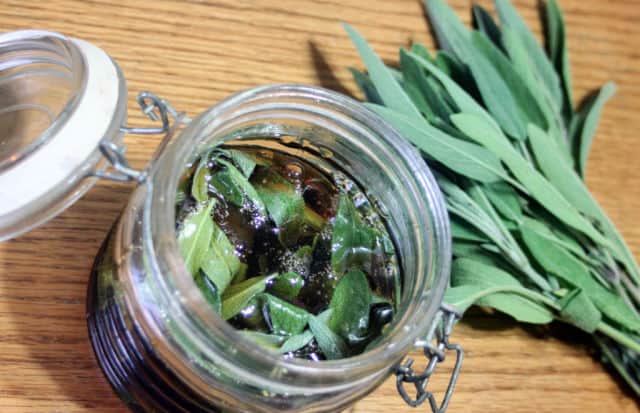 Freeze Sage
Chop the sage finely and place 1 – 2 teaspoons in each compartment of an ice cube tray. Fill the tray with water and freeze until solid. Remove from the tray and store in labeled containers.
Infuse Vinegar
Fill a jar 3/4 full with chopped, fresh sage (1/4 full with dried sage) and fill the jar with apple cider vinegar. Store the jar in a cool, dark cabinet for 1 month. A the end of the month, strain the herbs and put the infused vinegar in a clean airtight jar.
Using Preserved Sage for Food
Toss dried sage into soups, ground meats, eggs, and more for a flavorful addition.
A bit of sage infused honey in herbed biscuits or cornbread provides a lightly sweet herb flavor.
Add a sage ice cube to sautéed veggies and cook out the water for soups, casseroles, meatloaves, and anywhere else a hit of sage would be nice.
Use sage infused vinegars as part of marinades, in salad dressings, etc.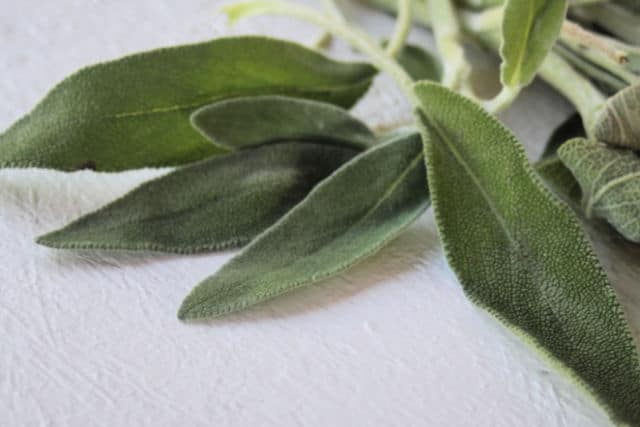 Using Preserved Sage for Medicine
Sage has antibacterial, anti-inflammatory, and antiviral properties. It helps calm sore throats and soothe frazzled nerves.
Combine dried sage with chamomile for a soothing herbal tea at the end of a stressful day.
Put the infused honey in herbal tea or a cup of hot water to help soothe a scratchy throat.
Gargle with the infused vinegar to help with laryngitis and sore throats.
Drink sage tea to help with hot flashes.
Fill the spice rack and the medicine chest with preserved sage this summer's abundance and keep your healthy and bellies full with tasty food all winter long.