Last year we harvested over 50 pounds of strawberries from our little patch. It's a great bounty and one we enjoyed all winter long. The great thing about fresh berries is that they make great snacks, of course. Fresh berries don't last very long on their own but thankfully we can keep them on hand with these easy ways to preserve strawberries.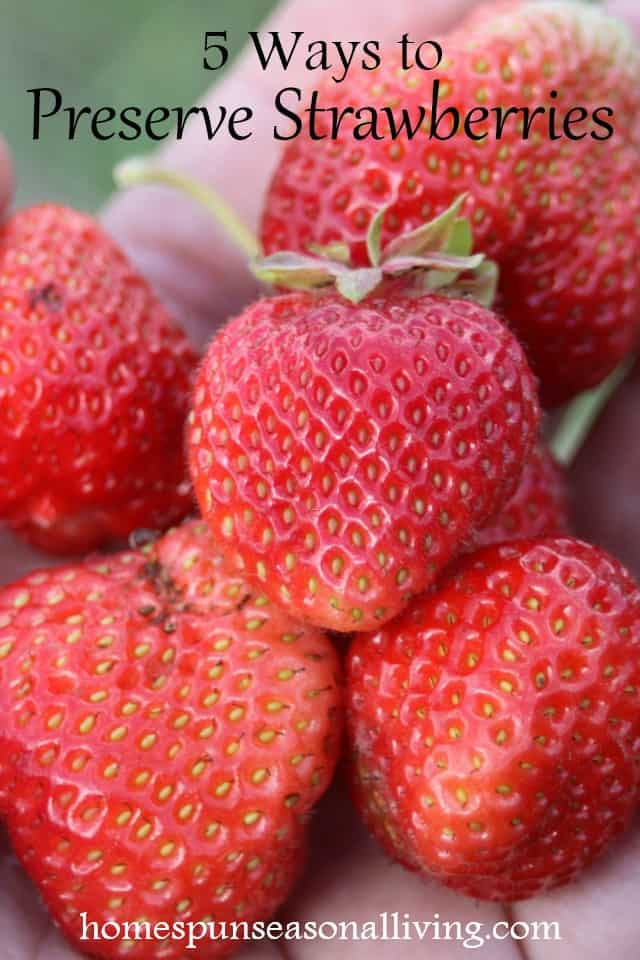 1. Make Jam
Strawberry jam is my favorite way to preserve strawberries. It's tasty, can easily be done with honey, low-sugar, even no-sugar or sweetener if desired. It can be canned in a water-bath or frozen for quick, easy processing. Strawberries also easily combine with other berries, rhubarb, cherries, and more for delicious combinations that are great pantry fillers and gift-giving items.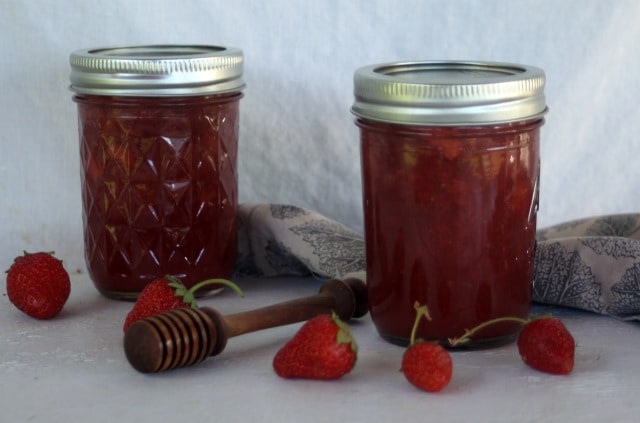 2. Freeze Whole Berries
Remove the leaves and tiny core, place the strawberries in an even layer on a cookie sheet and freeze for several hours, until solid. Remove from the cookie sheets and store in containers until ready to use. The great thing about freezing them on the tray first is that it's easy to remove as many as needed later on rather than having to chop through a huge frozen strawberry block.
3. Dehydrate
Strawberries are quite tasty dehydrated and make for a great hiking snack, baked good filler, and more. Simply lay slices of berries on dehydrator trays and dry until crispy. Store in airtight containers. If fruit leather is your thing, it can easily be done with strawberries too.
4. Can Whole Berries
Not my personal favorite as the berries get so very mushy in my opinion. However, it is an easy option if you'd like to give it a whirl. Fill jars leaving 1/2″ headspace with strawberries and add sugar syrup. Remove air bubbles, wipe rims, and place on lids and rings. Process in a boiling water 20 minutes for pints, 25 minutes for quarts (adjusting for elevation).
5. Infuse Vodka
Fill a jar half full with chopped strawberries. Cover the berries with vodka, fill the jar to about 1/2″ from the top. Give it a little shake and put it into a dark cupboard. Let it sit, shaking when you remember, for about a month. Strain the chopped berries and bottle the liquid. Sweeten with a simple syrup if desired.
Make the most of that strawberry harvest whether homegrown or from a U-pick farm this summer by eating tons of them fresh and saving some for the winter ahead.
What's your favorite way to preserve strawberries?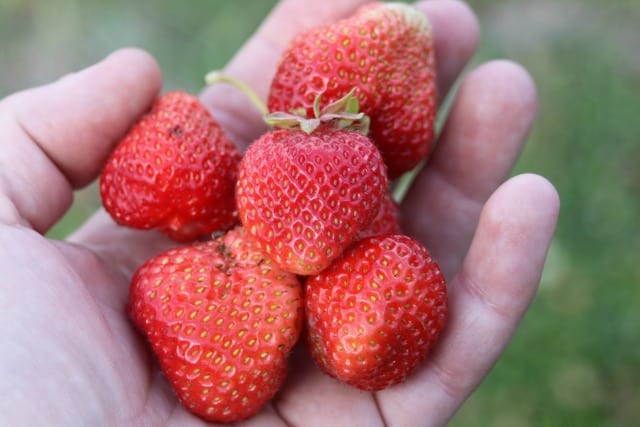 Disclaimer: I may receive compensation for products mentioned in this post. All opinions expressed are my own. I am not a doctor, always seek trained medical advice. No statements should be considered approved by the FDA or as a diagnosis or treatment for any illness. See my Full Disclaimer Here.