I made this jam for the first time last summer when our strawberry patch was producing way more than we could keep up with fresh. This jam quickly became one of our favorites. This honey sweetened strawberry vanilla jam is at once full of warming flavor and bright sweet summer.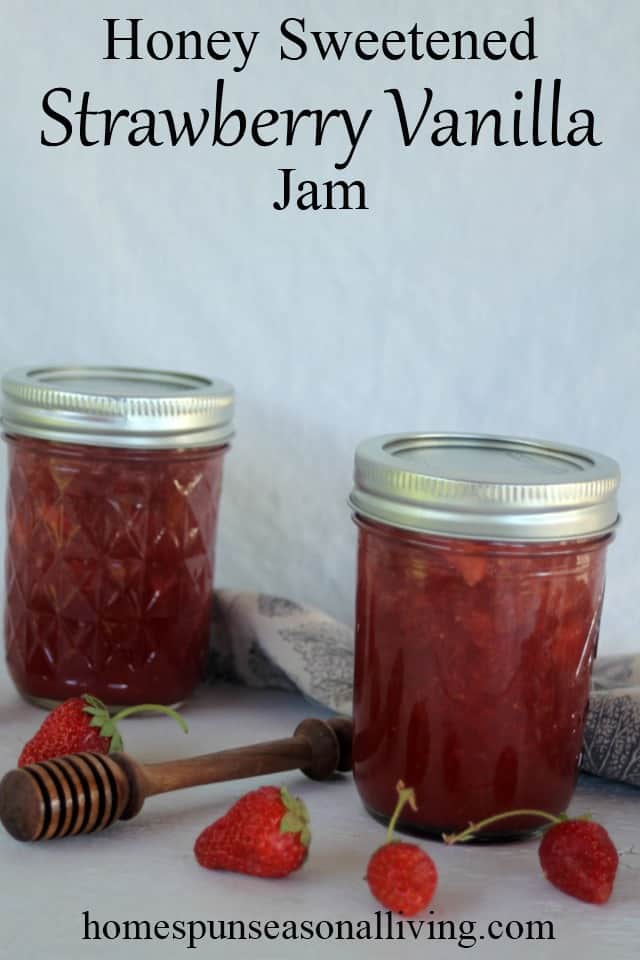 Strawberries are a low pectin fruit and will need help setting into a jam. Generally, recipes add tons of sugar to help fruit set but I wanted to avoid that here to let the strawberries shine, so I chose to add some Pomona's Pectin to get the jam to set. I added a touch of honey to sweeten it slightly and bring out more of the strawberries natural flavor without turning it into a candy.
We ran out far too quickly this past winter and I know I'll be making several batches this summer when the berries come ripe. Make extra, it makes a great gift.
Strawberries will sometimes float to the top of the jam. This is completely normal and happens often in strawberry jam of any kind. Just give it a stir when you open the jar prior to spreading.
Yield: 6 Half Pints
Honey Sweetened Strawberry Vanilla Jam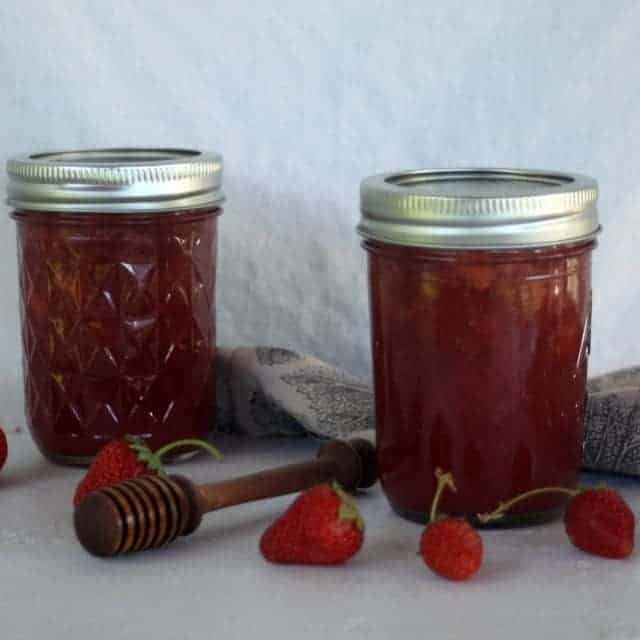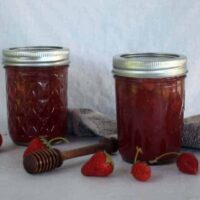 Make up a batch or several of this Honey Sweetened Strawberry Vanilla Jam to stock the pantry for winter and have tasty gifts on hand.
Ingredients
4 Cups Mashed Strawberries
1 Vanilla bean, split in half & scraped (save only the inside scrapings)
½ Cup Honey
2 teaspoons Pomona's Pectin Calcium Water
2 teaspoons Pomona's Pectin Powder
Instructions
Have jars, lids, rings, and water bath canner ready.
In a bowl, combine the honey and pectin powder. Stir until thoroughly combined and set aside.
In a pot, mix together the strawberries, vanilla bean scrapings, and calcium water.
Bring to a boil over medium heat.
Pour in the honey and pectin powder mixture. Stir well and return to a boil. Boil for 1 minute.
Remove from heat and skim off any foam.
Pour into jars leaving 1/4" headspace. Process in a boiling water bath for 10 minutes (adjust for elevation).
Learn more about making jam and get more recipes in my Fiercely DIY Guide to Jams, Jellies, and Fruit Butters.