Honeysuckle, that flower many of us picked and pulled apart to drink the droplet of sweet nectar from is full of medicinal benefits. So while out hiking and snacking on those sweet, beautiful blossoms bring some back for medicine making. Extract those medicinal properties by learning how to make honeysuckle glycerite.
Making a glycerite is an easy process, there is time involved but it's not hands on time.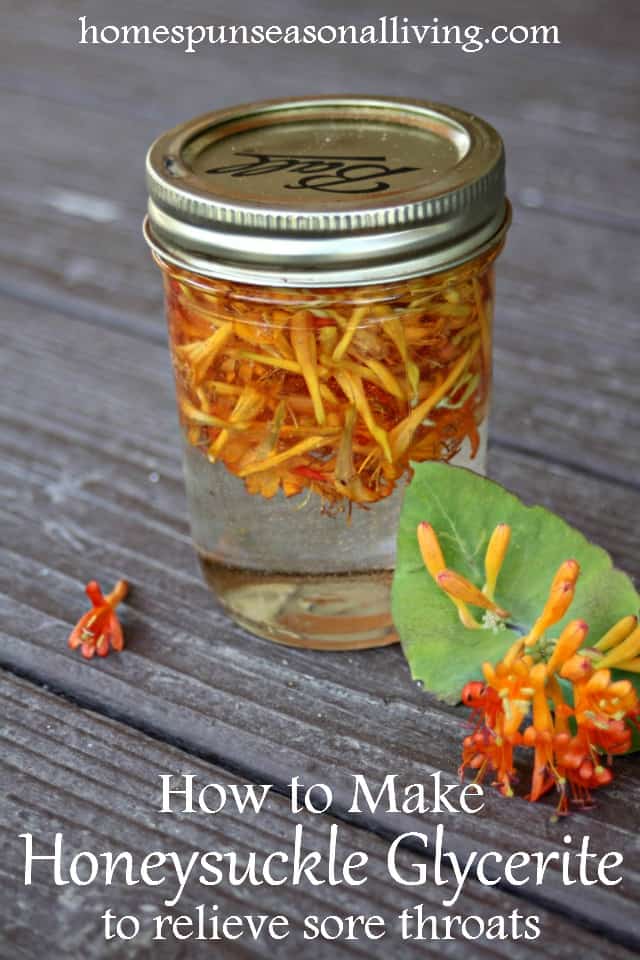 How to Make Honeysuckle Glycerite
Fill a clean glass jar with clean honeysuckle blossoms and unopened buds, leaving about 1/2″ headspace. Pour food-grade vegetable glycerin over the honeysuckle, again leaving the 1/2″ headspace. Give everything a stir and put on a lid. Put the jar in a sunny window and let it infuse for one month. Shake the jar every once in a while to keep the leaves from floating above the glycerin. At the end of the month strain the flowers from the glycerin. Bottle and label the honeysuckle glycerite for storage.
It truly is that simple and yet almost magical.
How to Use Honeysuckle Glycerite
My favorite use for this glycerite is as a soothing and healing treatment for sore throats. It has become my go-to the instant my throat gets that inflamed, sore tingle. To use it for sore throats, take 1 teaspoon up to 3 times a day.
It is also said that honeysuckle can help cool hot flashes and ease respiratory infections. While those are indeed traditional uses, I'll be honest in that I prefer other treatments to honeysuckle for these conditions. In my experience, honeysuckle glycerite works best for sore throat relief.
When those beautiful blooms begin to fill the yard and woods be sure to grab a jar full and make up a batch. This simple project can bring much relief in the winter months when sore throats begin to take hold.