Honeysuckle glycerite is a wonderfully easy herbal remedy to make in the early summer with benefits that will serve you well for the entire year.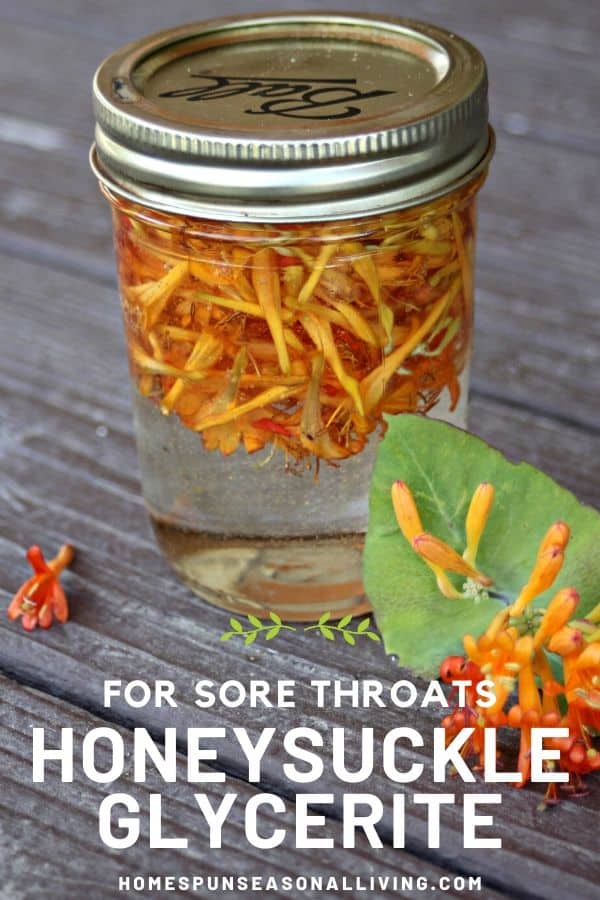 That honeysuckle flower many of us picked and pulled apart to drink the droplet of sweet nectar from is full of edible and medicinal uses. So while out hiking and snacking on those sweet, beautiful blossoms bring some back for medicine making for this super easy method.
What is a Glycerite?
Essentially, a glycerite is a tincture made with glycerin instead of the traditional alcohol.
[mailerlite_form form_id=14]
There are many reasons for skipping alcohol tinctures – giving them to children or adults who avoid alcohol for a variety of reasons being the two most popular.
In this particular case, it's more soothing to the throat which is one of the main reasons to ingest honeysuckle.
Making a glycerite is an easy process, there is time involved but it's not hands on time. It's just letting the herbs infuse in the glycerin.
It truly is that simple and yet almost magical.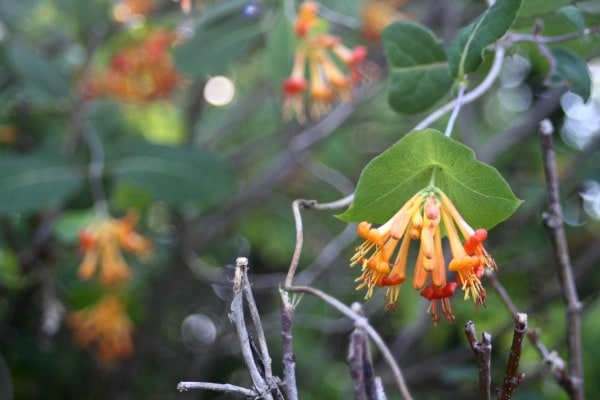 How to Use Honeysuckle Glycerite
My favorite use for this glycerite is as a soothing and healing treatment for sore throats. It has become my go-to the instant my throat gets that inflamed, sore tingle. To use it for sore throats, take 1 teaspoon up to 3 times a day.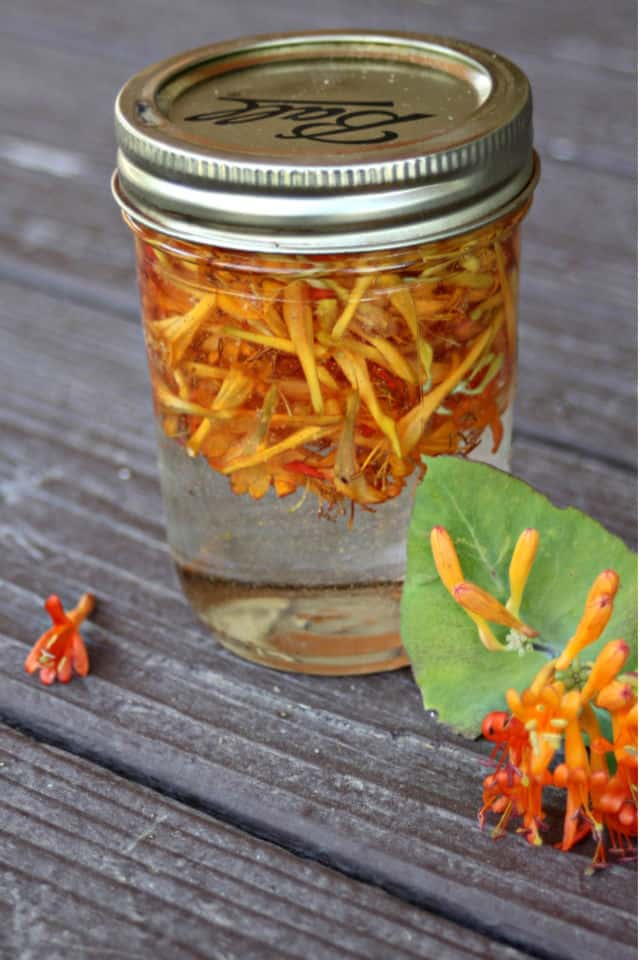 It is also said that honeysuckle can help cool hot flashes and ease respiratory infections. While those are indeed traditional uses, I'll be honest in that I prefer other treatments to honeysuckle for these conditions. In my experience, honeysuckle glycerite works best for sore throat relief.
Yield: 1 Cup
Honeysuckle Glycerite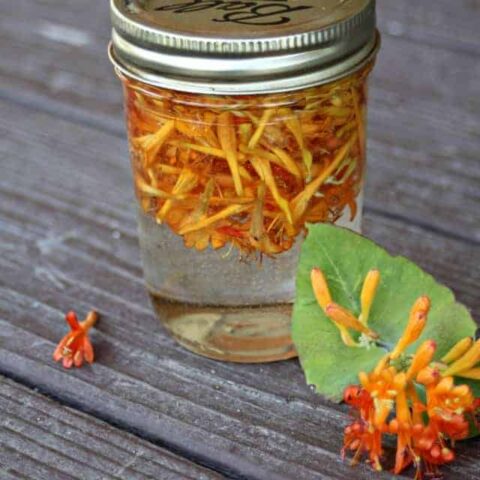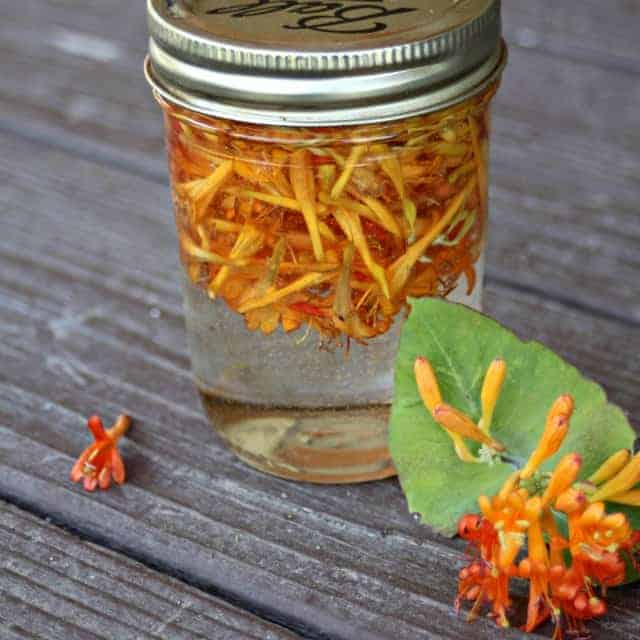 Honeysuckle glycerite is a simple and sweet way to soothe sore throats and more.
Total Time
30 days
10 minutes
Ingredients
1 Cup Fresh Honeysuckle Blossoms
1 Cup Edible, Vegetable Glycerin
Instructions
Put the honeysuckle blossoms in a half pint jar and pack them in so that there is about 1/2" of headspace at the top.
Pour the glycerin over the honeysuckle, making sure to submerge the blossoms and remove any air bubbles. Again, leave 1/2" headspace at the top of the jar.
Put a lid on the jar.
Set the jar in a sunny window and let it infuse for one month. Shake the jar every once in a while to keep the leaves from floating above the glycerin.
At the end of the month strain the flowers from the glycerin. Bottle and label the honeysuckle glycerite for storage.
Notes
Scale the recipe up or down by simply packing any size jar with honeysuckle blossoms and covering them completely with the vegetable glycerin.
Take 1 teaspoon up to 3 times a day for sore throats.
Recommended Products
As an Amazon Associate and member of other affiliate programs, I earn from qualifying purchases.
Nutrition Information:
Yield:
16 Tablespoons
Serving Size:
1 Tablespoon
Amount Per Serving:
Calories:

3
Total Fat:

0g
Saturated Fat:

0g
Trans Fat:

0g
Unsaturated Fat:

0g
Cholesterol:

0mg
Sodium:

3mg
Carbohydrates:

1g
Fiber:

0g
Sugar:

0g
Protein:

0g
We try our best but cannot guarantee that nutrition information is 100% accurate.