Sour cherry butter is a thick and delicious preserve that is super easy to make, too!
These sour cherry preserves contain only 3 ingredients and do the bulk of their cooking in the slow cooker, leaving you free to do anything else you'd rather be doing.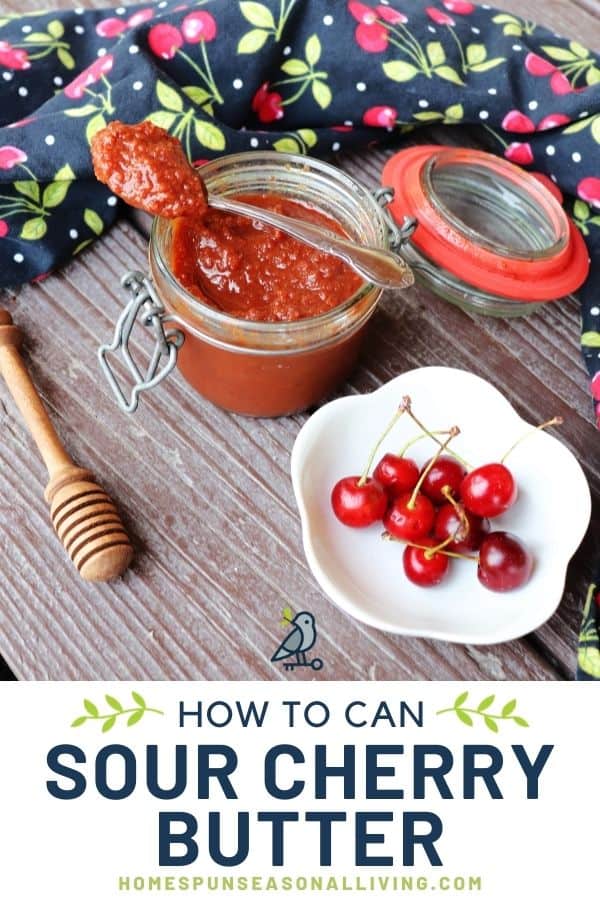 Pitted Cherries
This recipe needs quite a bit of stemmed and pitted sour cherries. The stemming needs to be done by hand. The pitting can be done much faster and easier with a pitter. I use this one and have for over 10 years now. I use it for both sweet and sour cherries every single canning season.
Once the cherries are pitted, simply puree until smooth in a blender or food processor.
Save the juice from the collection bowl of the pitter if you can. This is added to the butter as it cooks down.
Honey
The recipe calls for 1 cup of honey to 12 cups of pitted cherries. Feel free to add more or less to taste.
Substitute maple syrup to keep it vegan, if desired.
The Juice
Use the juice reserved from pittin the cherries for a lovely tart and sweet flavor. Make the final butter slightly sweeter by substituting apple juice instead.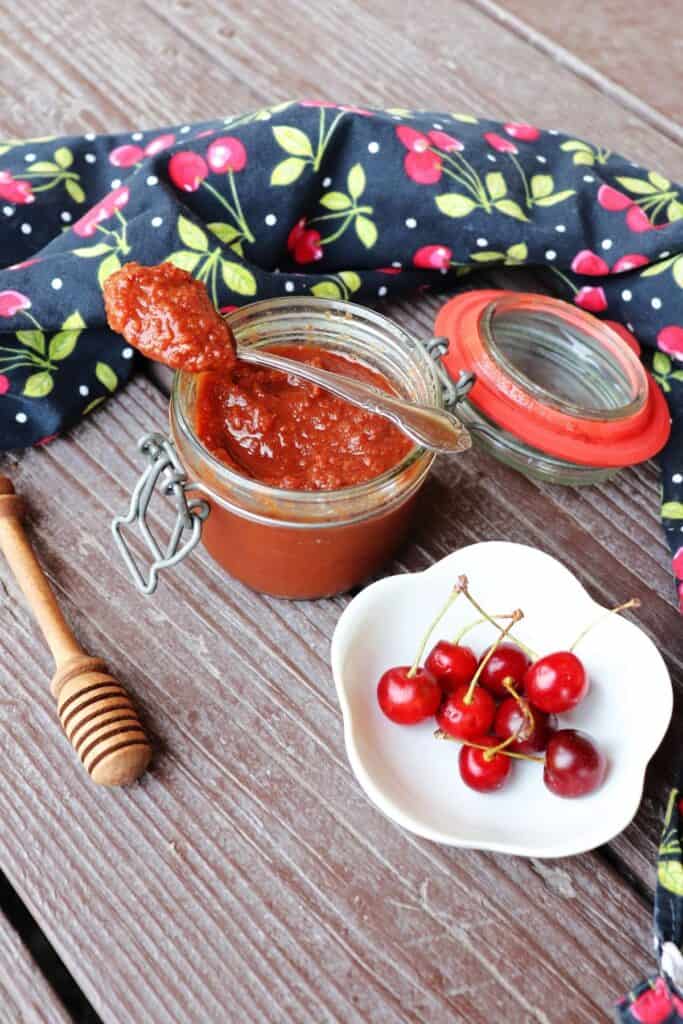 Cooked Until Thick
Fruit butters are always cooked until thick. Ideally they should mound up on the spoon when they're done.
There are several ways to achieve this:
Cook on the stove, stirring almost constantly to avoid scorching. This is faster but the stirring is a hassle in my opinion.
Bake slowly in the oven, stirring occasionally to avoid scorching. A fine method but requires the oven to be on for a while on likely hot days.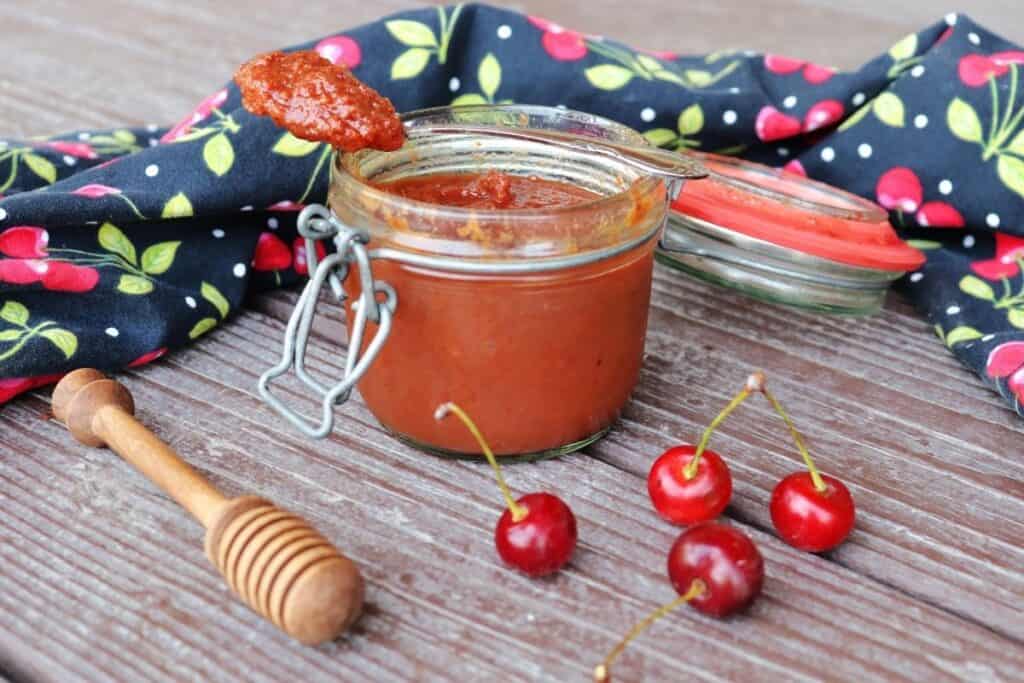 Simmer in a slow cooker on high, leaving the lid off for steam to escape. Stir occasionally and let cook until thick. This takes several hours but is mostly hands off and doesn't heat up the kitchen.
Choose whatever method you prefer. All that really matters is that the sour cherry butter gets thick.
Can or Freeze
Half pint jars should be canned in a water bath canner for 15 minutes, adjusting for elevation. This makes it a super quick can for an easy project.
Alternatively, the butter can be frozen. Fill jars leaving 1-2 inches of headspace. Then place the lids and freeze.
I prefer to can it and not use the freezer space. Plus canning makes it easy for gift giving.
Whether you can or freeze the sour cherry butter, use it up within 1 year for best flavor.
How to Serve
Use like you would any jam or fruit butter. Spread on toast, slather inside a peanut butter sandwich. Pour over ice cream or cake. Use it instead of syrup on pancakes and waffles.
Looking for Other Cherry Preservation Recipes?
Yield: 8 Half Pints
Sour Cherry Butter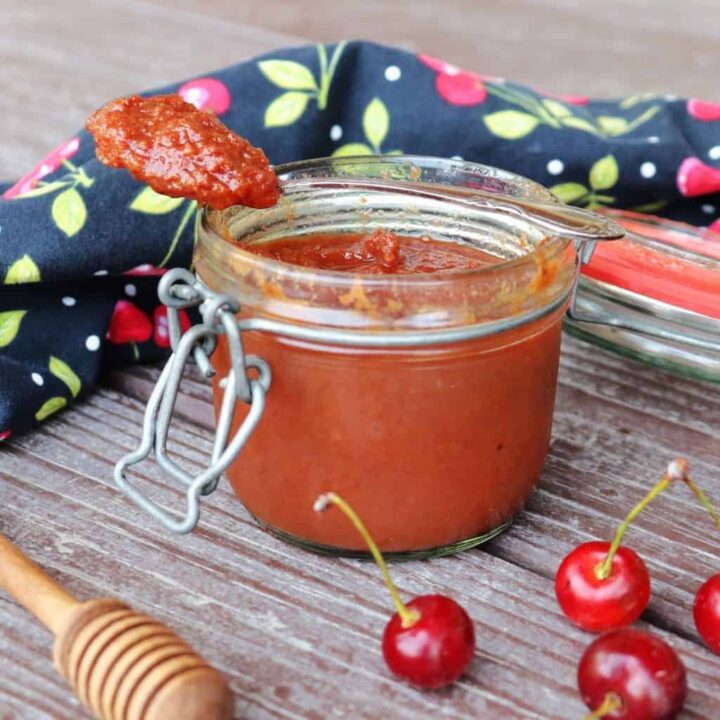 Sour cherry butter is a thick and lightly sweet spread perfect for toast, pancakes, ice cream and more.
Total Time
3 hours
30 minutes
Ingredients
12 Cups Pitted Sour Cherries, pureed
3/4 Cup Cherry or Apple Juice
1 Cup Honey
Instructions
Combine the pureed cherries, juice and honey in a slow cooker.
Cook on high, leaving the lid off, until the butter is thick. Stir occasionally. It should mound on a spoon. The time it takes for this will depend on the water content of the cherries and heat of the slow cooker.
Alternatively, combine everything in a large stock pot and simmer on the stove, stirring almost constantly until thick. This will likely be faster but the constant stirring to avoid scorching is more hands-on.
Get water bath canner, jars, lids, and rings ready.
Pour the cherry mixture into jars leaving 1/2" headspace. Wipe rims. Place lids and rings.
Process in half pints for 15 minutes (adjusting for elevation).
Alternatively, freeze the jars.
Recommended Products
As an Amazon Associate and member of other affiliate programs, I earn from qualifying purchases.
Nutrition Information:
Yield:
128
Serving Size:
1 Tablespoon
Amount Per Serving:
Calories:

17
Total Fat:

0g
Saturated Fat:

0g
Trans Fat:

0g
Unsaturated Fat:

0g
Cholesterol:

0mg
Sodium:

1mg
Carbohydrates:

4g
Fiber:

0g
Sugar:

4g
Protein:

0g
We try our best but cannot guarantee that nutrition information is 100% accurate.