Preserve one of summer's tastiest fruit combinations in this cherry raspberry jam recipe.
This small batch recipe makes perfect use of the last bits of cherries and berries after you've eaten your fill of them fresh.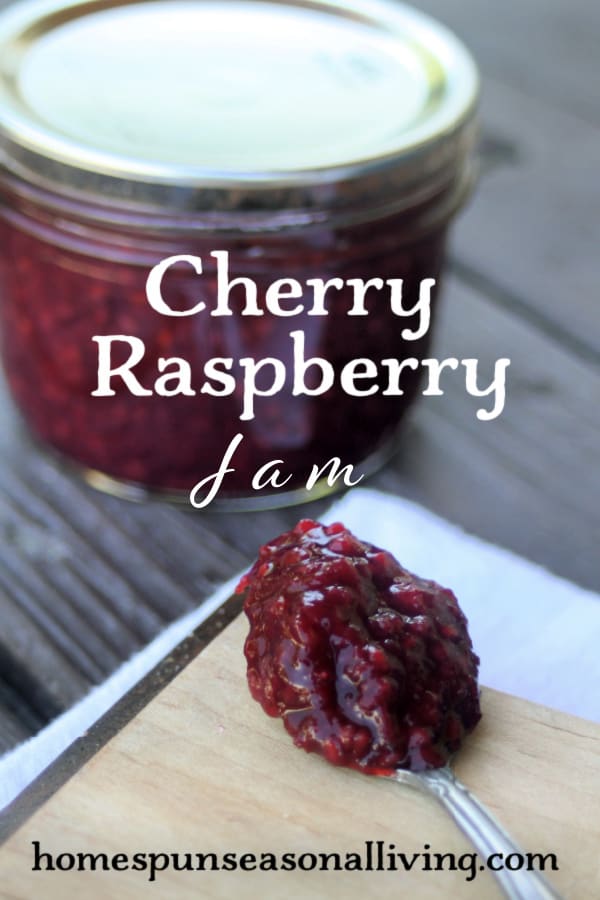 This take on cherry jam is lightly sweetened with real maple syrup and maintains a lovely color and texture perfect for gift giving.
5 Cups of Fruit
The recipe as written calls for 3 cups of sweet cherries and 2 cups of raspberries. However, any combination will work – just start with 5 cups of fruit.
Any berry or combination of berries would also work, use whatever you have on hand.
I did not test it but I believe sour cherries would also work, but one might want a touch more maple syrup to mellow the sourness.
If you want a specific sour cherry and berry preserve – check out my brandied berry cherry preserve recipe here.
A Note About Texture
I wanted the jam to be relatively smooth. To that end, I pureed the cherries in a blender and simply mashed the raspberries with a potato masher.
One could likely puree the raspberries and cherries together and achieve great results.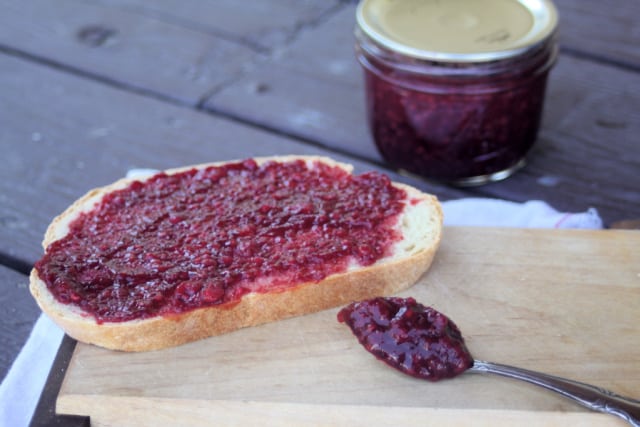 To make the jam seedless, press the raspberries through a sieve to remove their seeds. I am always too lazy to do that and the seeds don't bother us but it is doable.
Sweetener Choices
I chose maple syrup for this jam. We had a good maple sap run earlier this year and I feel flush enough to do that. The recipe only calls for 1/3 of cup so it's not a ton even if you buy syrup.
However, one could substitute honey or even plain sugar for the maple syrup and have delicious results.
Adjust the level of sweetness to your family's taste by simply adding more or less.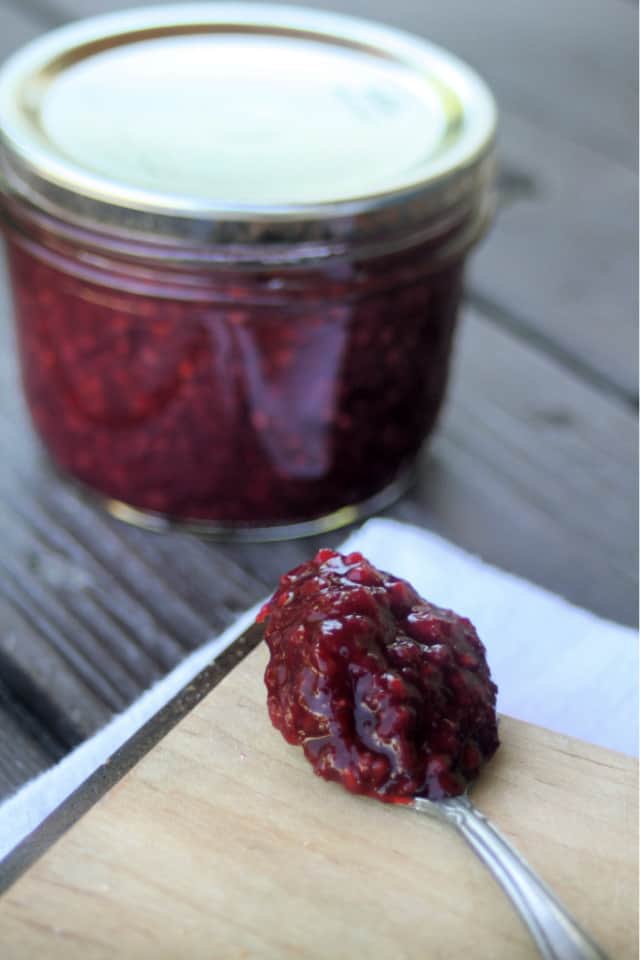 Yield
The recipe gave me 3 half pint jars and some extra that would fill a 4 ounce jar. I simply refrigerated the extra and we ate it up in a couple of days.
However, those little 4 ounce jars are super nice additions to care packages and gift baskets so don't be shy about canning it up.
Yield: 3 1/2 Half Pints
Cherry Raspberry Jam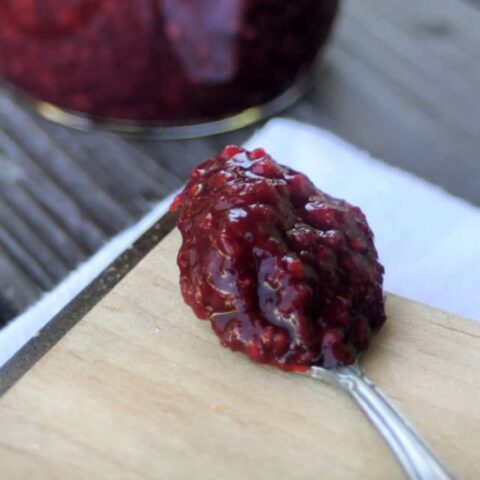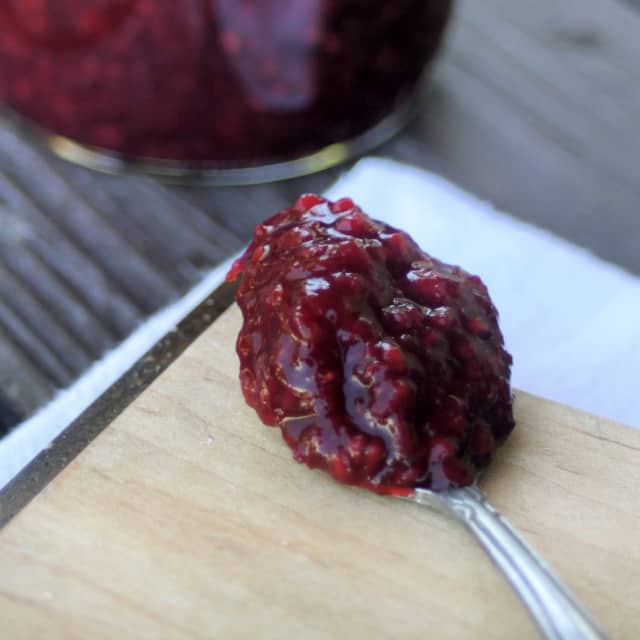 Combine sweet cherries and raspberries with maple syrup for a lightly sweet and very flavorful jam.
Ingredients
3 Cups Sweet Cherries, pitted
2 Cups Raspberries
2 Tablespoons Lemon Juice
1/3 Cup Maple Syrup
Instructions
Get a boiling water bath canner ready. Wash jars and lids.
In a blender or food processor, puree the cherries
In a heavy saucepan, crush the raspberries using a potato masher.
Add the pureed cherries, lemon juice, and pectin to the raspberries. Mix well.
Over medium-high heat, bring the mixture to a rolling boil that cannot be stirred down.
Add the maple syrup, stir, and return to a boil. Boil hard for 1 minute. Remove from heat.
Ladle the jam into jars. Place lids and rings.
Process the jam in a boiling water bath for 10 minutes, adjusting time for elevation.
Recommended Products
As an Amazon Associate and member of other affiliate programs, I earn from qualifying purchases.
Nutrition Information:
Yield:
56
Serving Size:
1 Tablespoon
Amount Per Serving:
Calories:

16
Total Fat:

0g
Saturated Fat:

0g
Trans Fat:

0g
Unsaturated Fat:

0g
Cholesterol:

0mg
Sodium:

2mg
Carbohydrates:

4g
Fiber:

1g
Sugar:

3g
Protein:

0g
We try our best but cannot guarantee that nutrition information is 100% accurate.