At the farmer's market recently I found these amazing sour pie cherries. Of course, I had to buy some because cherry pie is one of my most favorite things though I rarely make it. I did indeed make my pie and there were some cherries left over, I also happened to have some bits of strawberries and raspberries from our garden needing used. These brandied cherry berry preserves were born from that need to use up odd bits of fruit and combine that into something tasty for later.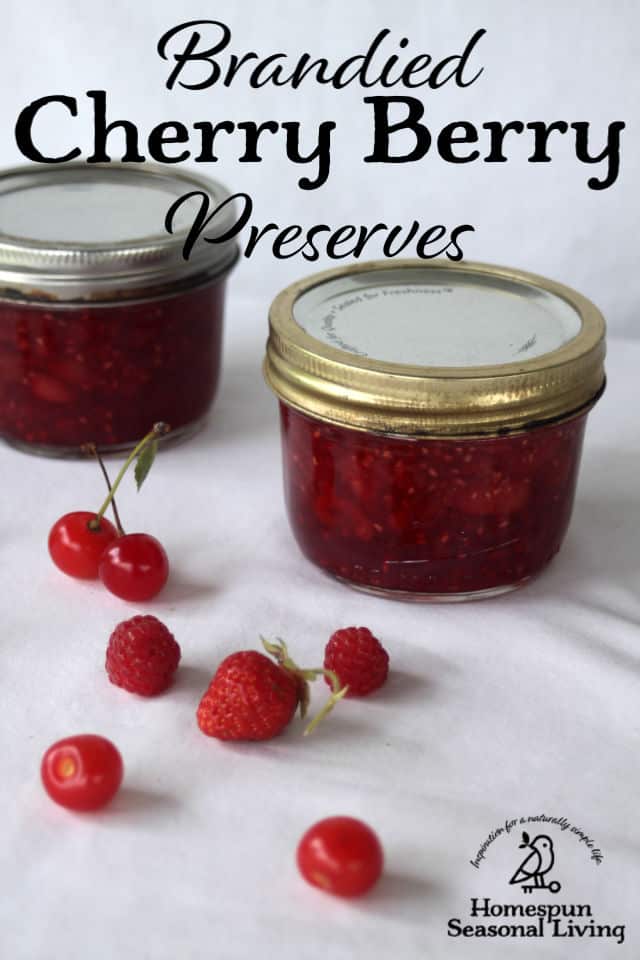 A Soft Preserve
While this recipe does include some pectin, it doesn't set up like a firm jam or jelly. The consistency of these preserves is more of a sauce, the pectin makes it thicker than a syrup but not necessarily spreadable either.
There's simply not enough sugar in this recipe to help it set into something firm. I prefer to have the tangy flavor of the sour cherries mixed with the sweet berries shine through rather than mask it all with tons of sugar.
[mailerlite_form form_id=3]
Use Any Berries
Use any berries or combination of berries you have on hand to make these preserves. You can't go wrong.
I used about 2 1/2 cups of raspberries and 1 1/2 cups of quartered strawberries for the jars in the photos, which did make the preserves an amazing red color.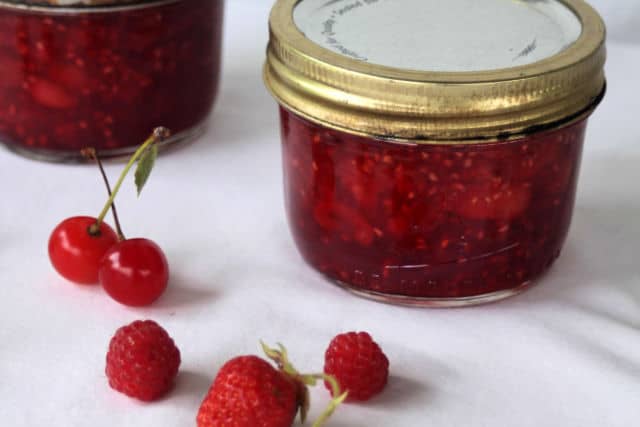 I was tempted to go pick some serviceberries (saskatoon berries) to add but in the end used what was close at hand. Blueberries, huckleberries, blackberries, and more would all be delightful.
How to Use Brandied Cherry Berry Preserves
These preserves make a delightful topping for pancakes, pound cake, ice cream, oatmeal and more. The brandy is optional but the alcohol cooks out leaving only a slight flavor behind.
Yield: 6 Half Pints
Brandied Cherry Berry Preserves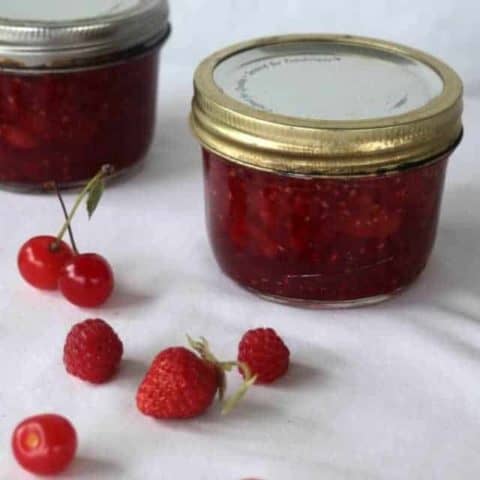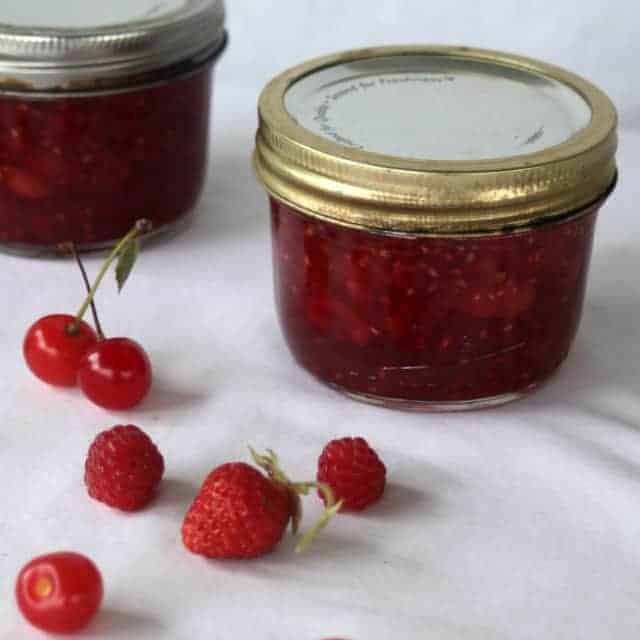 Make these delightful brandied cherry berry preserves and top pancakes, oatmeal, poundcake, and more with the flavors of summer all year long.
Ingredients
1 ½ Cups Sour Pie Cherries, pitted & halved
4 Cups Berries (any single berry or combination desired)
2 Tablespoons Lemon Juice
1 ⅔ Cup Sugar
2 Tablespoons Brandy, optional
Instructions
Prepare jars, lids, and rings. Get water bath canner ready.
In a saucepan, combine the cherries, berries, lemon juice, and sugar. Stir well. Let sit 10 minutes to convince the fruit to release some juice.
Over high heat, bring the fruit mixture to a boil that cannot be stirred down. Add the pectin all at once and boil hard for 1 minute. Stir in the brandy, if using. Remove from heat. Skim off any foam.
Fill jars leaving 1/4" headspace. Wipe rims, place lids, and rings.
Process in a boiling water canner for 10 minutes, adjusting for elevation.
Nutrition Information:
Yield:
96
Serving Size:
1 Tablespoon
Amount Per Serving:
Calories:

20
Total Fat:

0g
Saturated Fat:

0g
Trans Fat:

0g
Unsaturated Fat:

0g
Cholesterol:

0mg
Sodium:

1mg
Carbohydrates:

5g
Fiber:

0g
Sugar:

4g
Protein:

0g
We try our best but cannot guarantee that nutrition information is 100% accurate.