Lavender is one of my favorite plants and flavors, for that matter. I'm constantly looking for new ways to use it in the kitchen and apothecary. This lavender bundt cake is an amazing comfort food that can easily be a sweet breakfast or decadent dessert.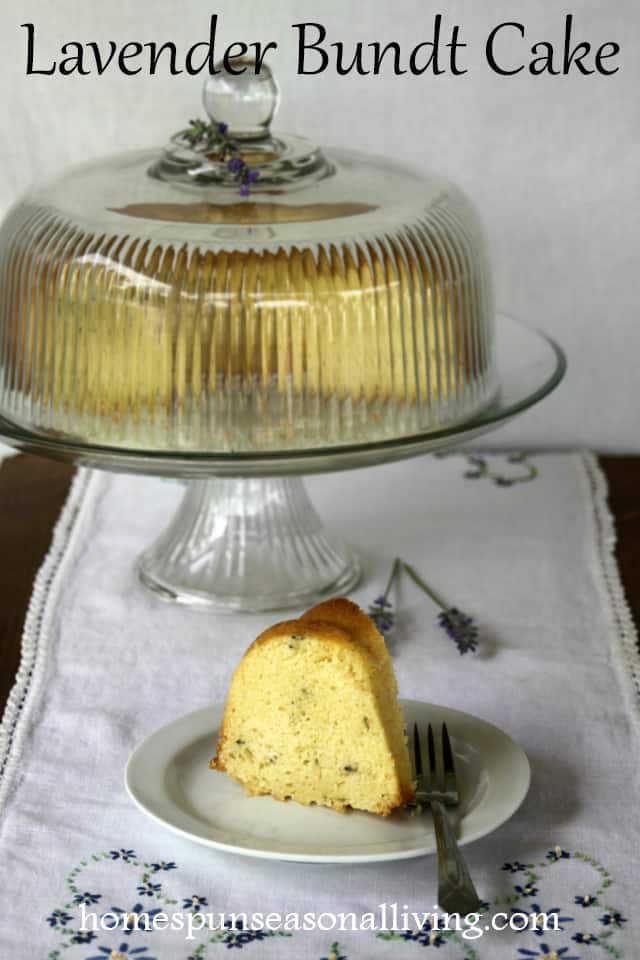 Floral Flavor in Every Bite
This is a simple cake and the lavender flavor comes through in every bite. This is acheived in a couple of different ways. First, the lavender blossoms are infused in the milk and melted butter. This infusing means the flavor touches every inch of the cake. Second, the blossoms are left in the cake to be consumed. This makes for a beautifully lavender dotted slice of cake as well as delicious flavor.
I used some homemade lavender extract to kick up the flavor here but vanilla extract would work just fine if you don't have any on hand. The recipe includes amounts for using fresh or dried lavender buds. I've made this cake both ways and it is as delicious in the middle of winter as it is in summer.
Options for Decorating
The flavor of this cake is perfect all on its own, however, the options for dressing it up are endless. Consider make a glaze from lavender sugar and pouring it over the cake, serve with whipped cream or ice cream, pour some homemade preserves over a slice (like these Brandied Cherry Berry Preserves), even a little chocolate sauce would be nice.
Yield: 12 Servings
Lavender Bundt Cake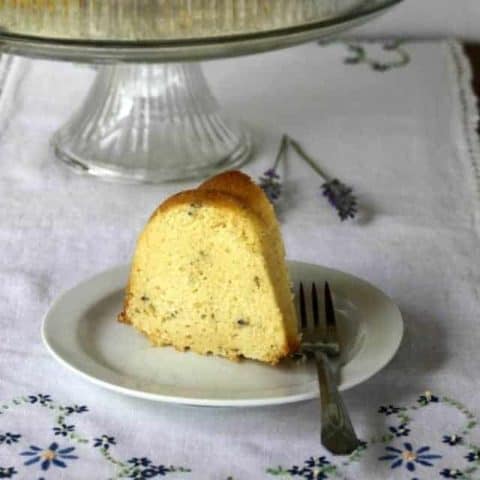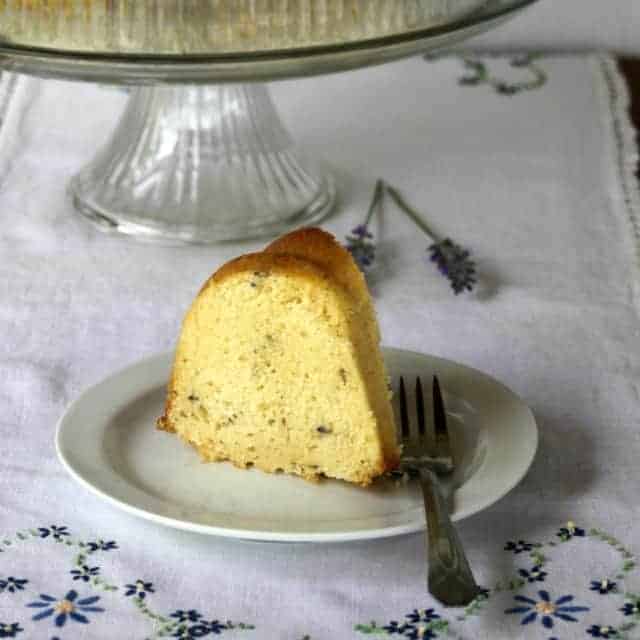 Use the fresh flowers from the herb garden for a delightfully simple and flavorful lavender bundt cake perfect for everyday and special occasions.
Ingredients
3 Cups Flour
1 ½ Cups Sugar
2 teaspoons Baking Powder
1 Cup Butter
1 Cup Milk
4 Eggs
2 Tablespoons Lavender or Vanilla Extract
2 Tablespoons Dried Lavender Buds (6 Tablespoons Fresh)
Instructions
Preheat oven to 350 degrees. Butter and flour bundt pan.
In a small saucepan, add the butter and milk. Heat just until the butter is melted. Remove from heat.
Whisk in the lavender buds and cover the pan. Let steep and sit until slightly cool.
In a large bowl, whisk together the flour, sugar, and baking powder. Set aside.
When the butter mixtures is cool add the eggs and vanilla extract. Whisk until completely combined.
Pour the wet ingredients into the dry and mix until incorporated.
Pour the batter into the prepared and bake in preheated oven for 50-60 minutes or until inserted toothpick comes out clean.
Cool in pan for 10 minutes before turning out onto a cake plate.
Before those beautiful blooms of summer fade, get outside and harvest some for a delightful homemade lavender bundt cake that is sure to impress the folks at your next potluck or the family on a normal Wednesday afternoon.