I've never been a fan of sweet tea. Plain, unsweetened black tea is my preference, the only exception to that has been Thai iced tea. We don't eat out often and Thai food even less often, still on those occasions that we enjoy a Thai restaurant, I always have a glass of Thai Iced Tea. There's something about that lightly spiced, sweet, and creamy drink that just makes me smile. It's almost dessert. I wanted to recreate it at home without any mixes containing dubious ingredients and with herbs if possible. This herbal Thai iced tea contains all the creamy sweet goodness of the original but completely whole food and without caffeine.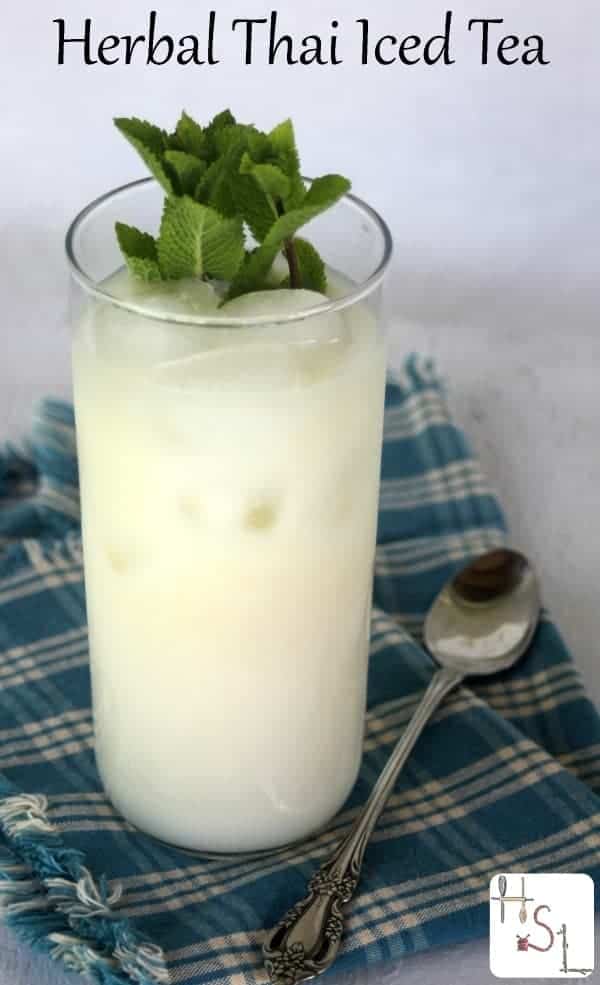 This herbal Thai iced tea is completely customizable. Use whatever herbal flavor is most favored. Anise hyssop and mint are my favorites but raspberry leaf, hibiscus, and rose would also be lovely. Once the herb has been chosen, the actual drink is easy to whip up.
There is a lot of flavors going on in Thai iced tea so brew a strong batch of tea. Strong being 1/4 cup chopped fresh herbs (2 Tablespoons of dried) to 16 ounces of boiling water. Let those herbs steep for 10-15 minutes with just a touch of honey or maple syrup. Strain, pour over ice and add some milk or cream. That's it, take it to the porch or favorite chair and enjoy.
Herbal Thai Iced Tea
A caffeine-free and whole food version of the take out favorite, herbal Thai iced tea is full of the sweet, creamy flavor we've all come to love.
Ingredients
2 Cups Boiling Water
¼ Cup Fresh Herbs, chopped (2 Tablespoons Dried)
1 Tablespoon Honey, more or less to taste
¼ Cup Milk or Cream (full fat coconut milk is great and nut milks work too)
Instructions
Put the honey and herbs in a heat proof cup.
Pour the boiling water over and stir until honey is dissolved. Let steep 10-15 minutes.
Strain the herbs through a sieve and press the herbs to squeeze out all the water.
Fill glasses with ice. Pour tea over the ice filling the glasses ¾ full.
Add 2 Tablespoons of milk to each glass and stir to combine. Enjoy.