White clover is loved by the bees and is often found in gardens and yards. Generally, it is seen as a weed but like most 'weeds' if we look a little closer we can see that it has much to offer us. This summer leave some for the bees but also consider using white clover for food and medicine in your kitchen and herbal apothecary.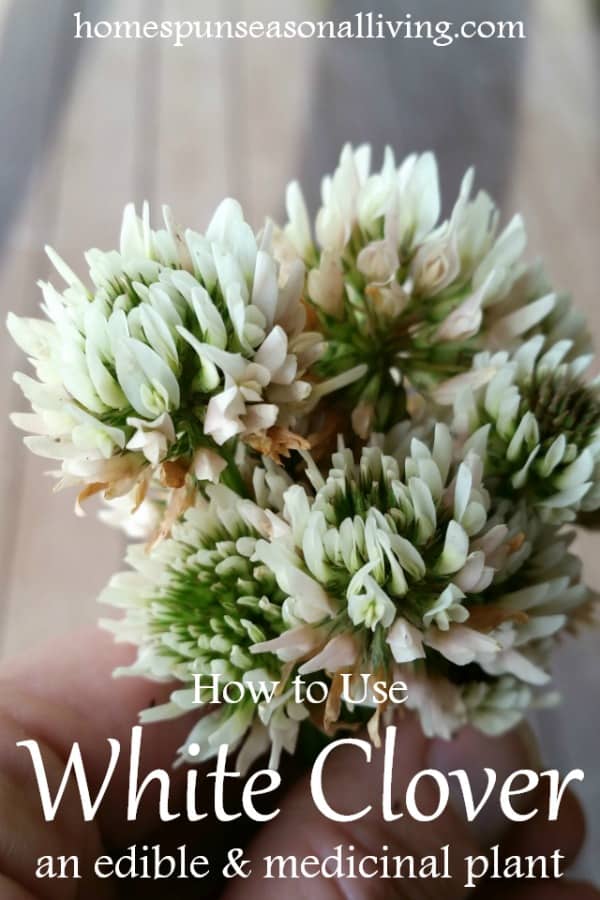 Using White Clover for Food
All of the aerial parts of the clover plant are edible : leaves, stems, flowers, and seed pods. The dried leaves and flowers are slightly sweet and can leave behind a faint vanilla-like flavor.
Use them fresh or dried in baked goods. Use the leaves raw in salads or dry for baked goods later. The flowers make a delicious tea and can be used dried or fresh.
While the flavor is not exactly the same as red clover, try using white clover in any recipe that calls for red clover.
Some recipes for white clover:

Drying White Clover
Spread the blossoms and the leaves out onto trays or screens and let dry until crispy. Alternatively, tie the blossoms and leaves into bundles and hang until completely dry and crispy. Store the dried herbs in air-tight jars. I, personally, dehydrate only the blossoms to use in tea and baked goods but the leaves are good too.
Using White Clover for Medicine
More is more written about red clover than white clover, it seems. However, White clover (Trifolium repens) does have its own medicinal uses. It was traditionally used to purify and cleanse the blood. A tea made from the blossoms can be used as an eyewash. Tincture the leaves to use as an ointment for gout. Make a tea infusion to fight fevers and colds.
Harvest those white blossoms from unsprayed yards and parks this summer, and begin using white clover in the kitchen and home medicine cabinet.