The white clover plant (Trifolium repens) is one of those 'weeds' that most of us see in our lawns, gardens, and parks. Its small white flowers stretch up from the ground just begging us to pay attention.
White clover benefits the body in a number of different ways, making it the perfect wild plant to harvest and use in our homes.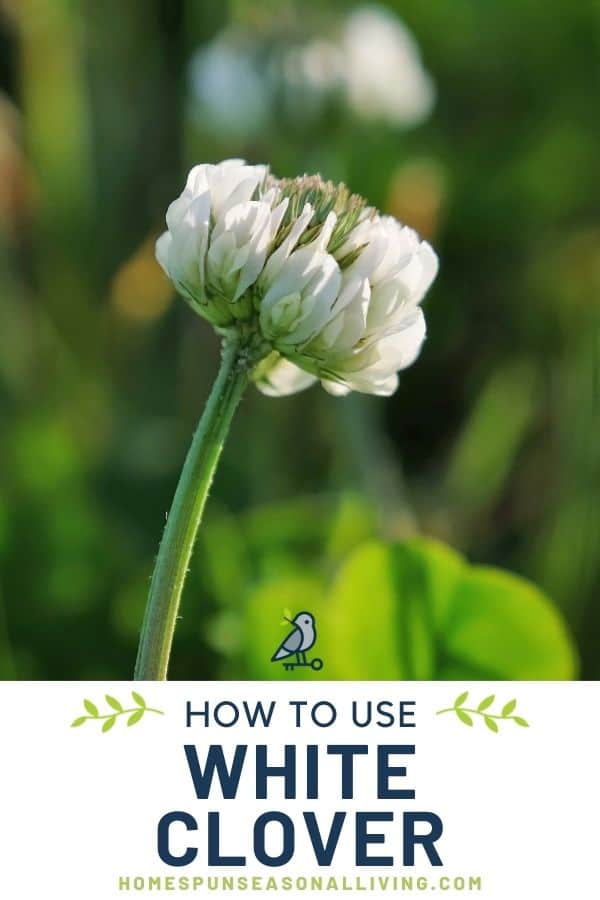 Is Clover Edible?
Yes, All of the aerial parts of the white clover plant are edible : leaves, stems, flowers, and seed pods.
The dried leaves and flowers are slightly sweet and can leave behind a faint vanilla-like flavor. Use them fresh or dried in baked goods.
Use the leaves raw in salads or dry for baked goods later. The flowers make a delicious tea and can be used dried or fresh.
Try baking it in some cookies for a delicious foraged summer treat.
How to Harvest White Clover
Before harvesting do make 100% sure of your identification! Don't ingest until you are certain.
Pick the flowers in the spring and summer for a sweeter flavor. The fall blossoms are still edible and useful, just not usually as sweet.
Like most herbs, harvest white clover blossoms early in the day when the dew has dried.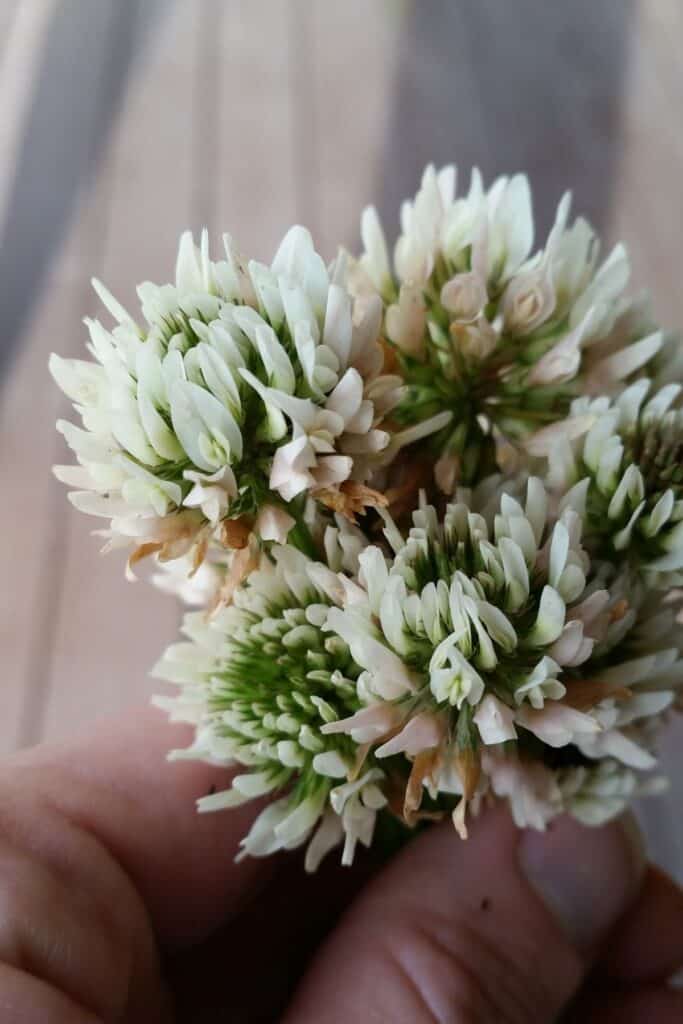 Cut fully open blossoms that are brightly colored, avoid browned flowers.
Leave a small bit of stem for drying purposes.
Cut stems of the leaves close to the ground.
Drying White Clover
Wash the blossoms and leaves to get rid of any dirt and bugs.
Spread the blossoms out onto dehydration trays or wire racks. I usually just leave the trays sitting in the dehydrator without turning it on. Keep them out of direct sunlight while they dehydrate.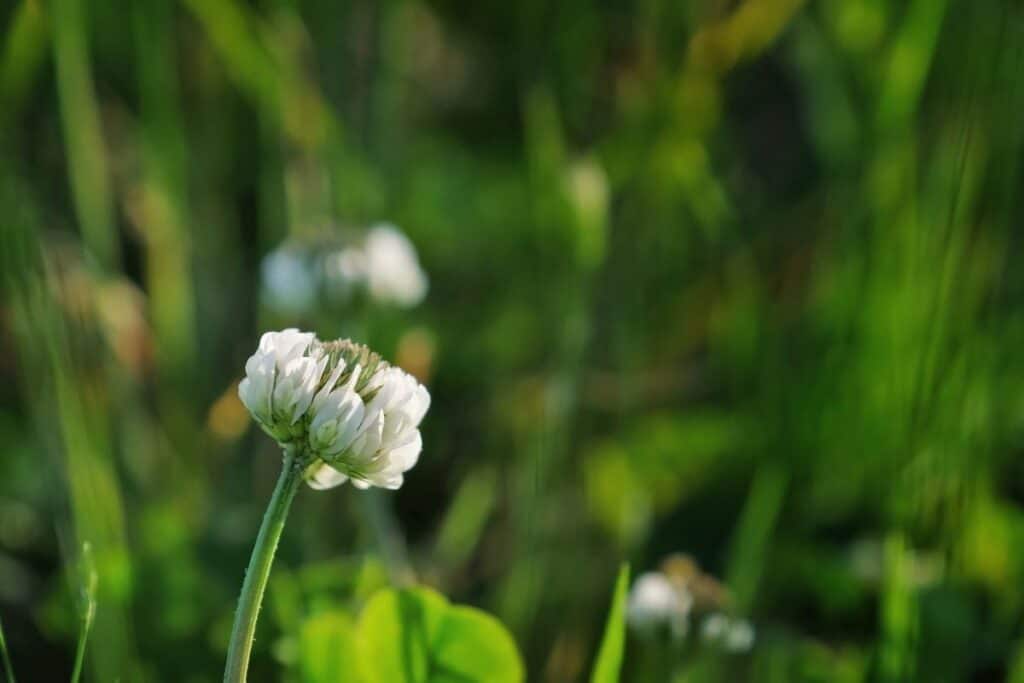 When the flowers are completely dry and crispy, cut the flowers from the stems, place them in an airtight container and label the jar.
To dehydrate the leaves, you could tie stems together and hang to dry until crispy. Or like the blossoms spread out onto trays to dry completely.
White Clover Benefits
It seems more is written about red clover than white clover. However, White clover does have its own medicinal uses and a place in many home herbal medicine chests.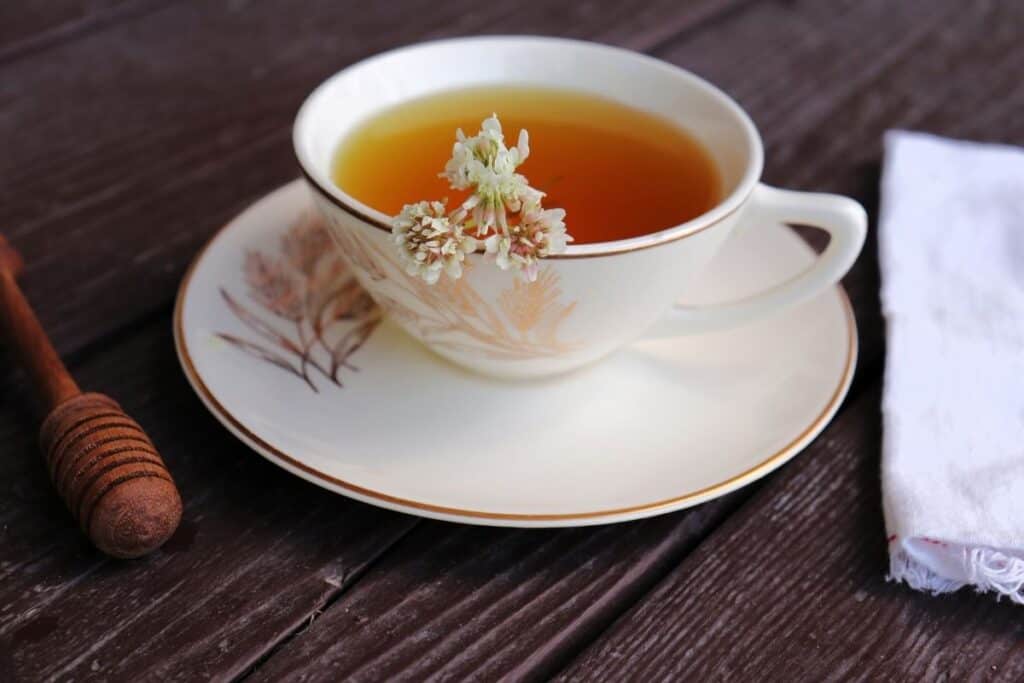 It was traditionally used to purify and cleanse the blood. Take advantage of this by making refreshing cups of white clover tea or by making a tincture.
A tincture made of the leaves can be a treatment for gout.
It is a cooling plant making it ideal for treating fevers and colds. Again do this by drinking tea or making a tincture.
White clover is high in vitamins and minerals making it a nourishing health tonic as well.
As always, talk to your health care practitioner or pharmacist before taking herbs for medicinal purposes. Herbs can interact with certain health conditions and/or medications. Be safe first and foremost.
Want to learn how to make better use of your garden herbs? Take my Year of Seasonal Herbs E-Course for a fun and educational experience sure to grow your herbal confidence.