Make fresh honeysuckle tea for a refreshing and cooling drink this summer season!
This is a simple summer tea that takes advantage of those copious honeysuckle blossoms for a flavorful herbal drink.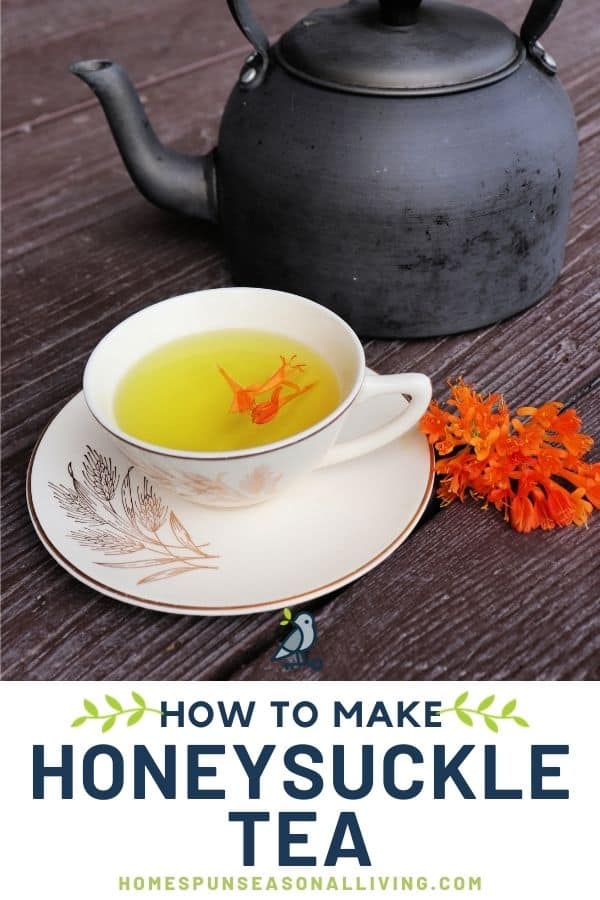 How to Harvest Honeysuckle
Simply cut the blossoms from the vine making sure to not cut off the end of the blossom. Try to keep the sweet nectar of the honeysuckle inside the flower.
No need for stems or leaves, just the blossoms.
A Quick Rinse
Give the blossoms a quick rinse under cool running water and then spin in a salad spinner or blot dry quickly.
We want to remove any dirt, pollen from other plants, and bugs from the flowers. Again, we don't want to soak so much that we lose the nectar from inside the flower. A quick rinse should do.
Honeysuckle Tea Benefits
Besides being tasty, honeysuckle has some wonderful benefits for our body as well.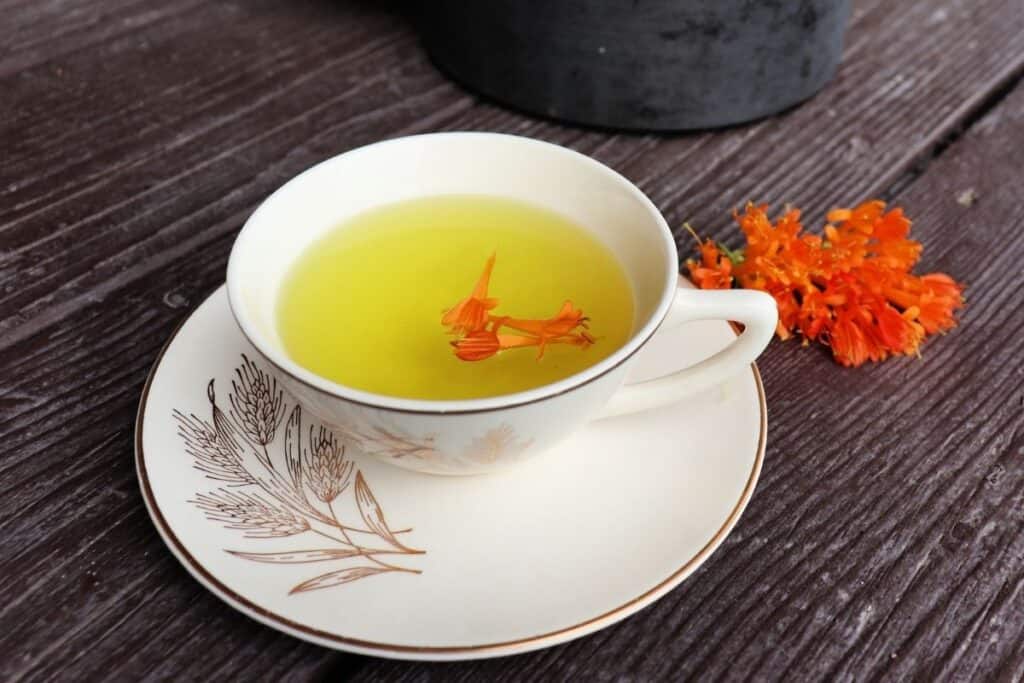 Honeysuckle is considered a very cooling plant and is often used to treat things like hot flashes, fever, and sunstroke. This cooling effect makes it ideal for summer refreshments on the hottest days.
Honeysuckle is also often used to treat sore throats and inflammation in the respiratory tracts. Have a cup of the tea after taking some honeysuckle glyercite to help soothe that sore throat.
Which Type of Honeysuckle?
There are multiple types of honeysuckle grown all over the world, use whatever honeysuckle is available to you.
Please note: As always be sure of identification before ingesting.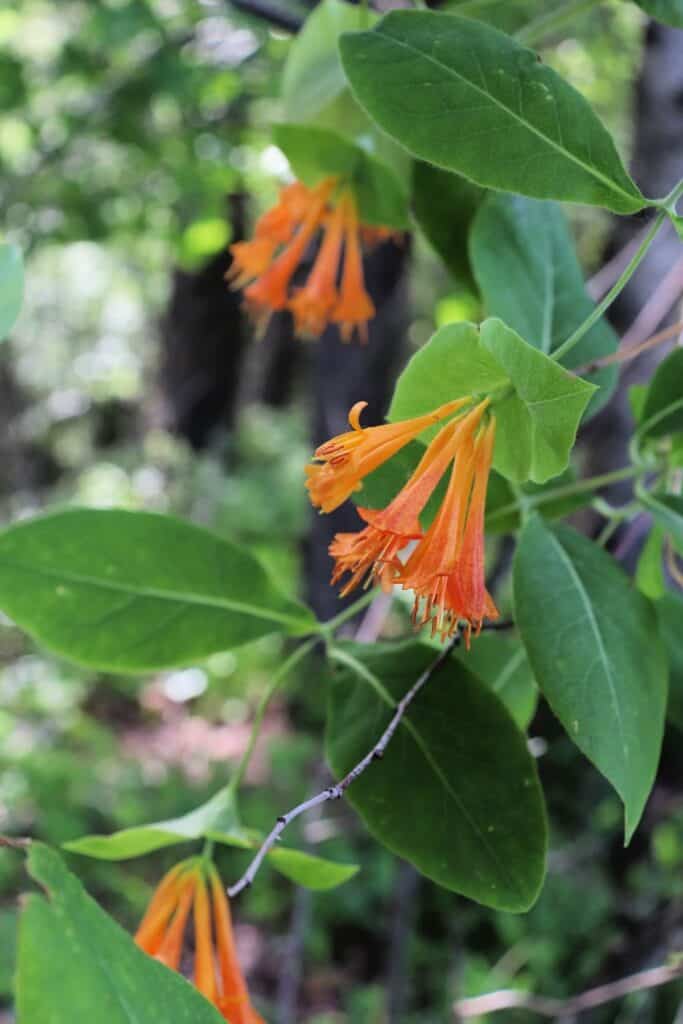 In Montana, we have a native orange honeysuckle that grows on a vine but plenty of folks plant the Japanese Honeysuckle for landscaping purposes. Use what you have.
How to Dry Honeysuckle Flowers
Want to make honeysuckle tea in the winter? Dehydrate the flowers in season to use later.
Simply place the flowers onto wire trays and let sit out of direct sunlight until dry and brittle. This will likely take a few days, depending on humidity and warmth.
Once dry, place into airtight containers and store in a cool, dry place.
Use 1 Tablespoon of dried honeysuckle flowers to 8 ounces of boiling water for tea.
How to Make Honeysuckle Tea
You'll need 2 cups of fresh blossoms for every 4 cups of tea. Honey or other sweetener is completely optional.
Bring water to a boil and let sit for just two minutes so that it's not a rolling boil and pour 4 cups of the water over the 2 cups of blossoms.
Let steep for 10 minutes and strain the blossoms from the water. Sweeten, if desired.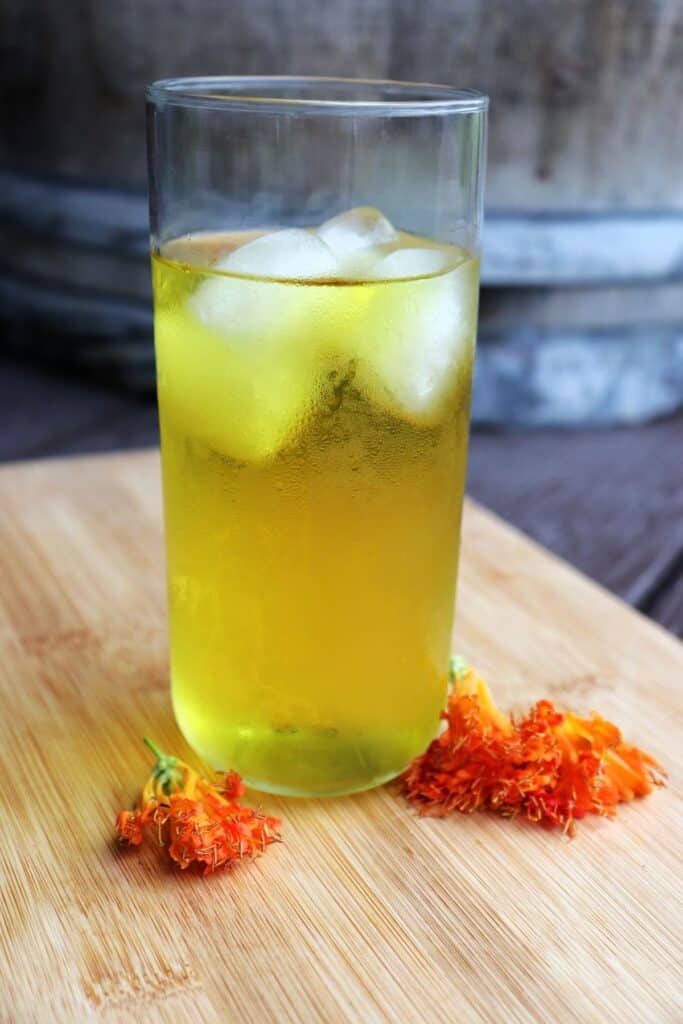 Enjoy warm or refrigerate and drink over ice.
Do store any unused tea in the refrigerator for up to 3 days.
Finally iced tea that you won't forget in the other room! These recipes give show you how to use what you have to craft teas with the flavor and healing benefits you need. Get my Guide to Iced Tea to help you get creative and stay refreshed!
Yield: 4 Cups
Honeysuckle Tea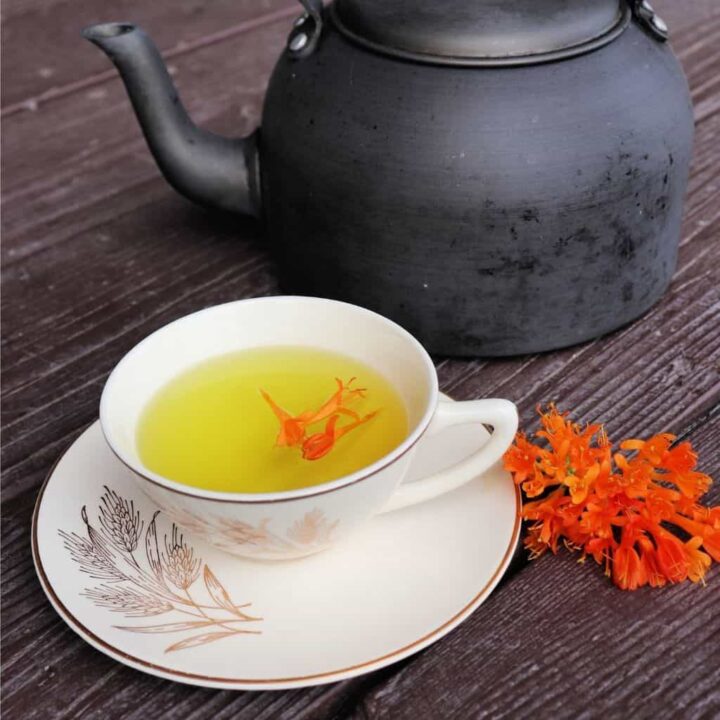 Cooling and refreshing honeysuckle tea is a delicious summertime drink.
Ingredients
4 Cups Boiling Water
2 Cups Fresh Honeysuckle Blossoms
Honey to taste, optional
Instructions
Put the honeysuckle blossoms into a heat proof cup.
Remove the boiling water from the stove and let sit 2 minutes so that it's no longer in a rolling boil.
Pour the almost boiling water over the honeysuckle blossoms.
Let steep 10 minutes.
Strain the blossoms from the water.
Enjoy warm or refrigerate and drink cold.
Recommended Products
As an Amazon Associate and member of other affiliate programs, I earn from qualifying purchases.
Nutrition Information:
Yield:
4
Serving Size:
1 cup
Amount Per Serving:
Calories:

16
Total Fat:

0g
Saturated Fat:

0g
Trans Fat:

0g
Unsaturated Fat:

0g
Cholesterol:

0mg
Sodium:

10mg
Carbohydrates:

4g
Fiber:

0g
Sugar:

4g
Protein:

0g
We try our best but cannot guarantee that nutrition information is 100% accurate.