I don't know about anyone else but I'm ready to throw open the windows, air out the house and do some deep cleaning – spring cleaning. It has been a long winter and I'm ready to rid my house of all the stuff that comes along with wood heat. Don't get me wrong, we keep a relatively tidy house but there is something about that deep spring clean that makes a house feel revived. This isn't the time to break out harsh chemicals but rather a time to participate in some natural spring cleaning and get the home ready for the garden season ahead.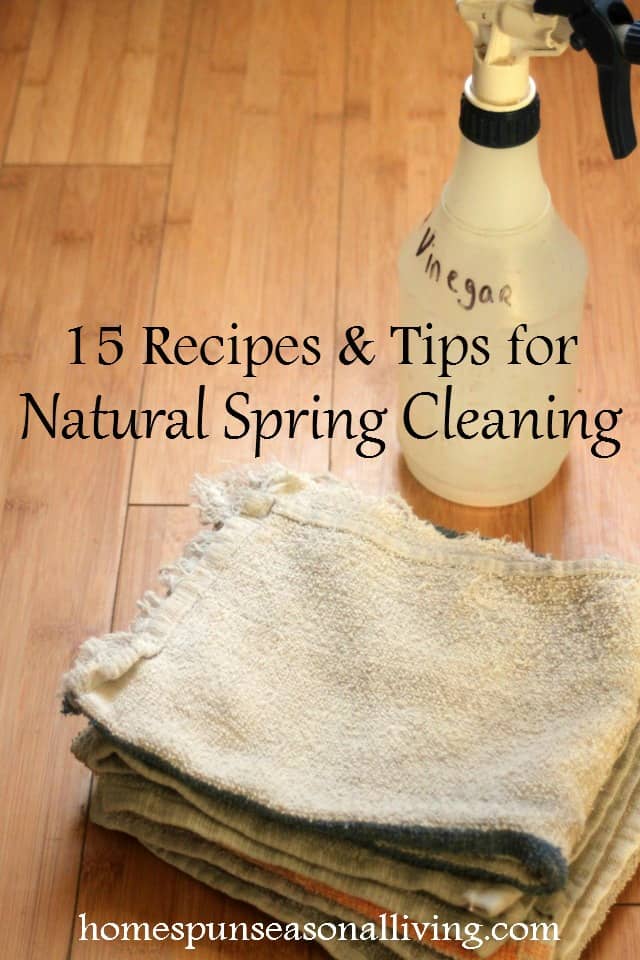 General Housekeeping:
We have busy lives. I know there's so much media pressure on keeping a perfect home – which is impossible. We live in homes not museums. Let's give ourselves some grace and focus on a welcoming and neat home – not a sterile space when everyone is afraid to make a mess. Embrace messes and making a life and home full of experiences that are fun. That being said, some cleaning and housekeeping must be done and we can do it without letting it drive us crazy at the same time.
Make homemaking a little easier by stealing hacks from others with more experience. Truth be told, I learn the best things from talking to other folks and asking them how they do what they do.
A home management binder can truly keep things organized and easily referenced as we move through busy days.
Natural Cleaners:
In a natural and DIY lifestyle, there can be a tendency to make products for every use under the sun. There are definitely times that call for specialized or deeper cleaning methods. However, for most cleaning never forget the simplicity and ease of plain old fashioned soap, water, and a rag. It's frugal and effective – some of my favorite things.
My grandmother would quite literally get a rag damp and get it soapy with regular old bar soap. I often do this with the small bits of soap leftover from the shower, etc. It's another great way to make use of homemade soap.
Sometimes wood surfaces require a little extra cleaning, conditioning, and even restoring. Bring life back to damaged wood surfaces with a simple and DIY cleaner that uses ingredients already in your pantry.
For those times when a little extra disinfecting is needed, it is possible to get that from natural herbs and essential oils. Make thieves vinegar as a great all-purpose and disinfecting cleaner for solid surfaces.
During cold and flu season, use the power of essential oils in an antimicrobial spray to remove germs from things like door handles and more to help everyone in the home get well faster.
In the Kitchen:
The kitchen is an area that can sometimes require a little extra care. There are more stubborn surfaces in the kitchen and preventing food contamination is important. Again, hot soap and water is generally my favorite for cleaning counters and stove tops. If something needs a little disinfecting or is particularly stubborn I break out a few big guns.
Homegrown and dried thyme infused into rubbing alcohol makes a mighty fine counter cleaner that can help cut through the stubborn messes.
The oven can be particularly greasy or stubborn and chemical laden oven cleaners are fairly nasty. And those self-cleaning ovens aren't always everything they're cracked up to be. Make your own natural oven cleaner from baking soda, vinegar, and time.
The dishes generally need to be done several times a day. Plain old liquid castile soap works great for handwashing dishes. If you have a dishwasher consider making your own detergent from commonly found ingredients.
Use good smelling and natural citrus peels to clean out a stinky garbage disposal. This is a great way to keep from wasting citrus peels and naturally clean a hard to reach space.
In the Bathroom:
The bathroom is never a fun place to clean, let's just be honest about that. Still, it needs to be done and a good deep cleaning can go a long way into keeping the home not only running well but feeling well too.
Get the toilet clean and the whole bathroom smelling nice with the combination of borax, vinegar, and essential oils. This recipe requires some time to sit in the toilet. Mix this up and let sit when the house is going to be empty all day.
Hard water can cause a build up of minerals in the toilet that can be almost impossible to scrub off even with regular cleaning. Remove those stubborn stains with a drywall sanding screen.
Laundry:
Spring is a great time to take down curtain and drapes and get them free of dust and clean. Wash throw rugs, throw pillows and more to get the whole house deeply clean.
Wash them in a natural laundry soap. Mix up your own powder that is super frugal and easy to have on hand for spring cleaning and every day.
Natural soap nuts are a frugal and natural way to wash laundry without having to mix up special detergents. They're also considered safe for the high-efficiency washing machines.
Line dry those draperies when possible but if it's not possible, consider making your own reusable dryer sheets instead of the more disposable and chemical laden varieties.
Throw open those windows, this spring and get the whole house clean. Do it now before the busy garden season hits and be ready to relax in a clean home later.