Recipes for applesauce abound, I know, but this method is quick and easy when time might be short. Canning chunky applesauce is done with minimal equipment and open to customization.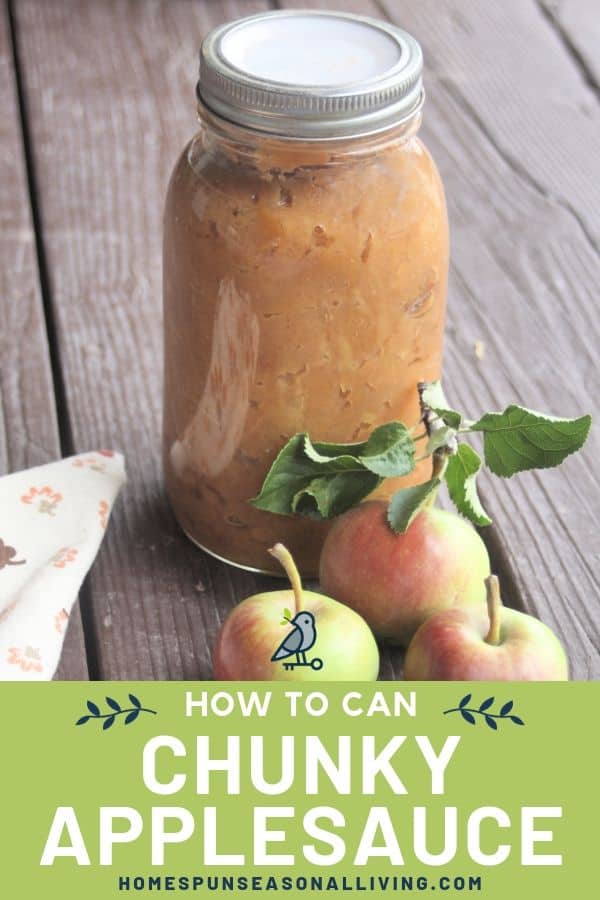 Skip the Peeling
I know this is going to sound odd to many folks and certainly to applesauce purists but there's no reason to peel in most cases. If someone, is really opposed, by all means peel but around here we don't.
Just core and quarter those apples.
You will not likely win a blue ribbon at the fair if you skip the peeling. However, you will get a bunch more done in a hurry if that's important.
Boil
Toss those apple quarters into a pot with about two inches of water in the bottom. Add some lemon juice. Put a lid on the pot and bring to a boil. Cook until the apples are very soft.
The time is going to vary based on a number of things just keep an eye on the pot.
Remove from heat.
Mash
Use a potato masher and mash those apples to a desired level of chunky.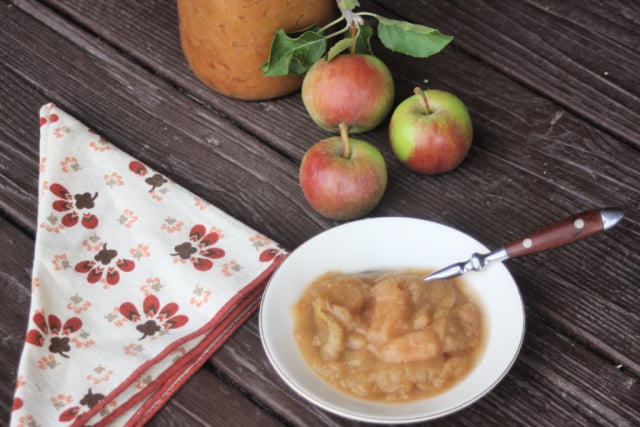 Return the pan to the stove and sweeten and add spice, if desired. 
Bring to a boil again.
Again, it's worth noting that chunky applesauce will not likely win a blue ribbon at the fair.
Put in Jars
Add the chunky applesauce to hot jars leaving 1/2″ headspace for canning (1″ headspace for freezing). Process in a boiling water canner for 20 minutes (adjusting for elevation).
Freeze Instead
If you don't want to can, freezing is an option. Simply put into freezer safe containers, leaving room for expansion. Eat within 6 months.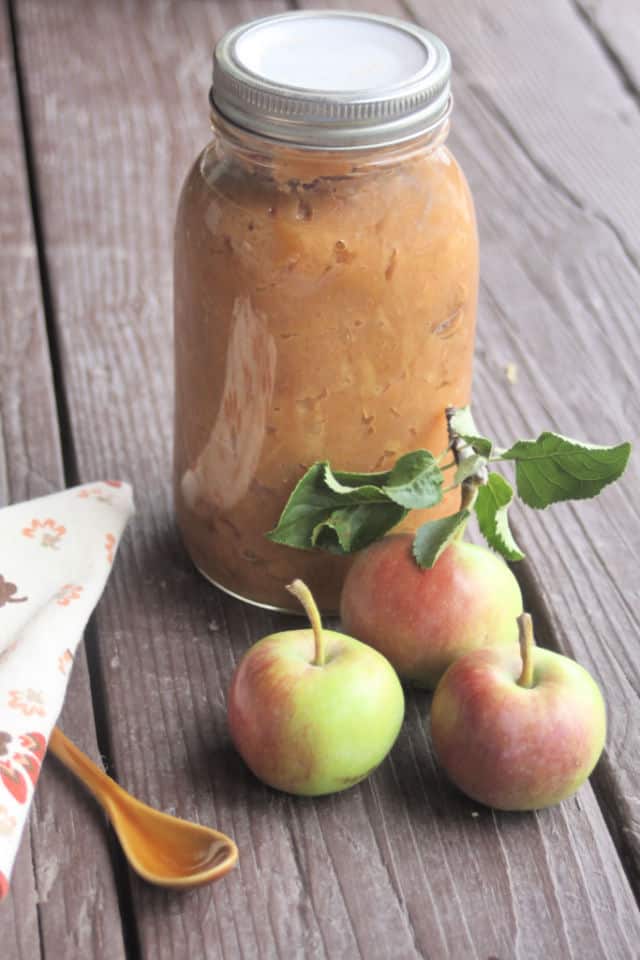 How to Use Chunky Applesauce
Around here, we just eat it as a side dish or a snack a great majority of the time. Sometimes it gets mixed with yogurt or eaten over pancakes. But plain is generally it.
However, I also use applesauce in a number of sweet and savory ways. Generally, when baking with applesauce one wants it smooth not chunky. On those occasions, I just puree the chunky applesauce in a blender and proceed.
Easily Doubled or More
Use the recipe as merely a guideline.
Feel free to double, triple, or more. Unlike jam you don't need to worry about it setting so simply put as many apples as you can fit into a pot and proceed.
That's exactly how we did around here because we're trying to get as much done as quickly as possible.
Yield: 8 Pint Jars
Canning Chunky Applesauce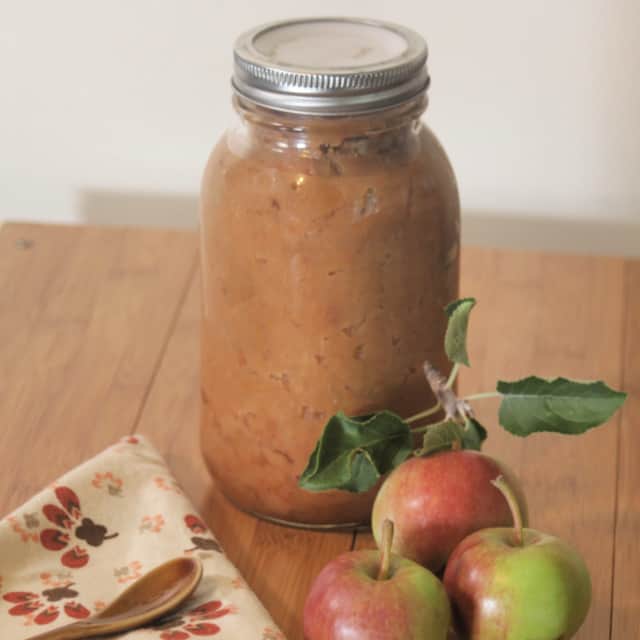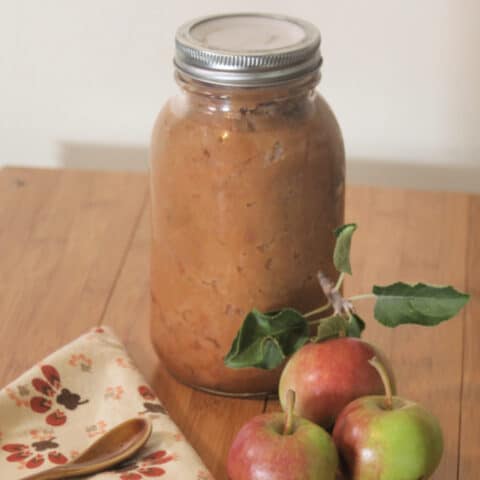 Save the freshness of fall by canning chunky applesauce to eat throughout the winter.
Ingredients
12 lbs apples, cored, quartered
Water
4 Tbsp lemon juice
Sugar, optional (up to 3 cups)
Instructions
Put the apples into a heavy pan with two inches of water and the lemon juice. Cook until the fruit is soft.
Once the fruit is soft, remove from heat. Mash to the desired texture.
Return the mashed fruit to the pan and reheat. Add sugar, if desired. Heat until just boiling and sugar is dissolved. Remove from heat.
Pour the sauce into hot jars, leaving ½" headspace at the top. Process for 20 minutes, adding time for elevation.
Nutrition Information:
Yield:
16
Serving Size:
1 Cup
Amount Per Serving:
Calories:

179
Total Fat:

1g
Saturated Fat:

0g
Trans Fat:

0g
Unsaturated Fat:

0g
Cholesterol:

0mg
Sodium:

5mg
Carbohydrates:

47g
Fiber:

8g
Sugar:

36g
Protein:

1g
We try our best but cannot guarantee that nutrition information is 100% accurate.