Use this healing salve recipe for a simple and effective homemade antibiotic ointment full of ingredients you can pronounce and feel good about.
This is a basic salve recipe that can speed up the healing process for cuts, scrapes, bug bites, burns, and most any small wound.
Homemade salve recipes are as individual as the people making them. They are usually a reflection of the herbalist creating them and the herbs available locally and within easy reach.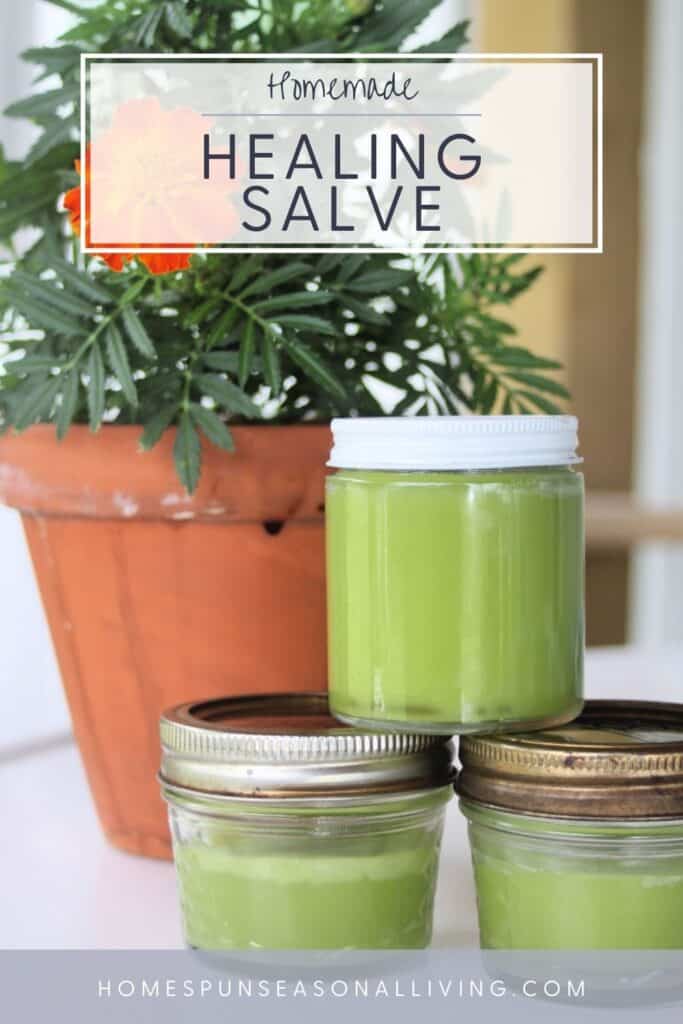 Step 1: Gather Medicinal Herbs
This is all about finding what's close and local. No need for exotic herbs here, go for fresh and local first and foremost.
It's a matter of simply taking what's growing in the neighborhood and harvesting the plants' beneficial properties. There's no right or wrong and each preparation is going to vary based on the location in the world and the particular crafter's own needs.
Here is a list of some commonly found herbs and weeds to guide your formulation:
Calendula flowers (Calendula officinalis) can provide relief to burns including sunburn. It has also historically been used to soften skin which is great for helping to soothe scabs and other skin irritations.
Comfrey (symphytum officinale) speeds healing with it's high vitamin and mineral content.
Dandelion (Taraxacum officinale) greens and flowers are antibacterial and can help relieve stiff and sore joints.
German Chamomile (Matricaria recutita) has anti-inflammatory properties as well as being antibacterial.
Lavender (Lavendula spp.) has anti-fungal properties, is antibacterial and anti-inflammatory.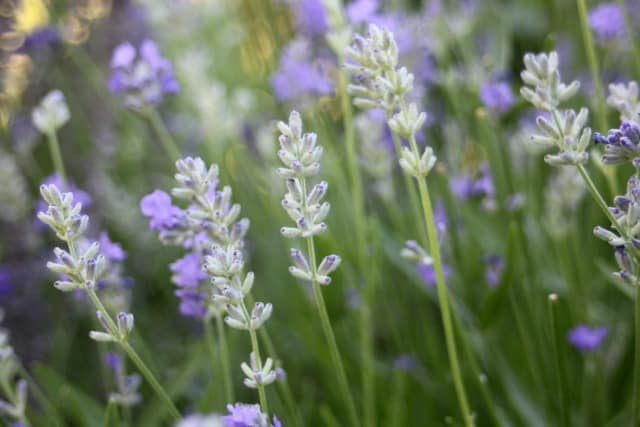 Lemon Balm (Melissa officinalis) is antibacterial and antiviral.
Oregano (Origanum vulgare) is both antibacterial and anti-fungal.
Plantain leaves (Plantago major) help relieve itching associated with skin conditions, and bug bites, as well as easing the pain associated with bee stings.
Rose petals (Rosa spp.) are astrigent, antibacterial, and anti-inflammatory.
Sage (Salvia officinalis) is also antifungal, antibacterial, astringent, and anti-inflammatory.
St. John's Wort (Hypericucm perforatum) is amazing for burns and bruises.
Yarrow (Achillea millefolium) can stop bleeding and disinfect wounds.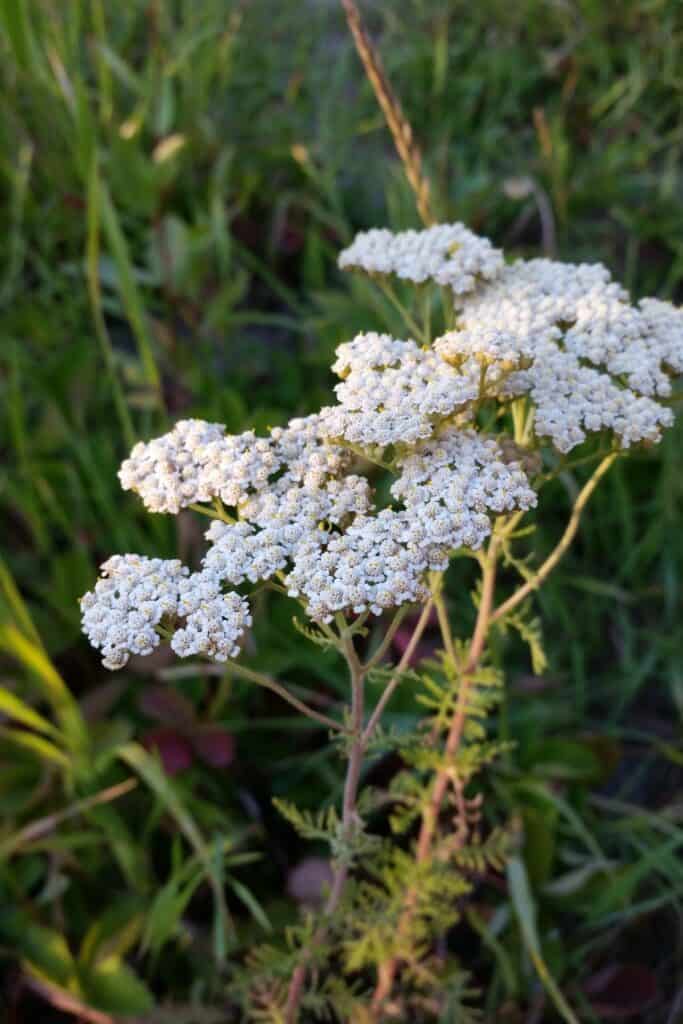 You'll need a total of 1/2 cup of fresh chopped herbs for this recipe. Use a mixture, but the exact ratio isn't important. Again, use what's on hand and generally most needed for your family.
Alternatively, use 1/4 cup of dried herbs.
It can be tempting to make a lot more but this amount of healing salve will last most folks a year. In fact, there's probably enough to give a container or two away as gifts. Don't make more than you'll need in a year.
Step 2: Getting Herbs Prepared
Once your herbs have been gathered, do give them a quick rinse and run through a salad spinner to remove any bugs and dirt.
Spread the herbs out onto a towel and let sit until surface moisture is dry.
If you'll be using the double boiler method in the next step, you may proceed once the surface moisture is dry.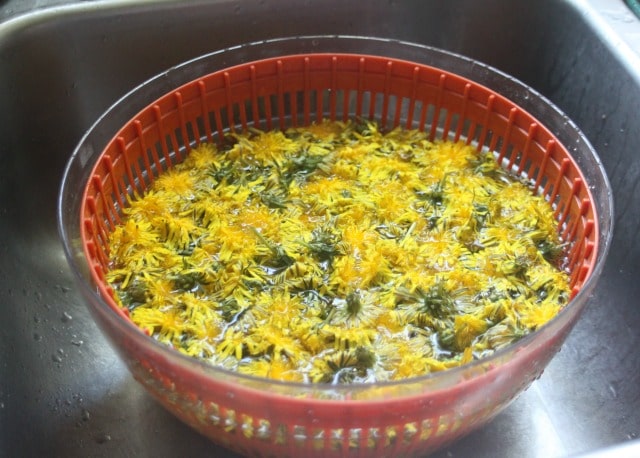 If you'll be using the sunny window method in the next step, let the herbs wilt overnight, then proceed with putting them in the jar with oil.
Step 3: Make Infused Oil
All herbal healing salves start with an herbal oil infusion. There are a couple of different ways to do this infusing.
Before beginning the infusion, give the fresh herbs a rough chop with a knife. It doesn't have to be fancy just give it all a chop so that there is more surface area exposed to the oil.
If you're using dried herbs, give them a good crumble between your hands.
The first is to simply put the herbs in a clean glass jar and cover with oil. Cover the jar with cheesecloth and secure with a rubber band. Let the jar sit in a sunny window for about month. Strain the herbs and proceed with making a salve.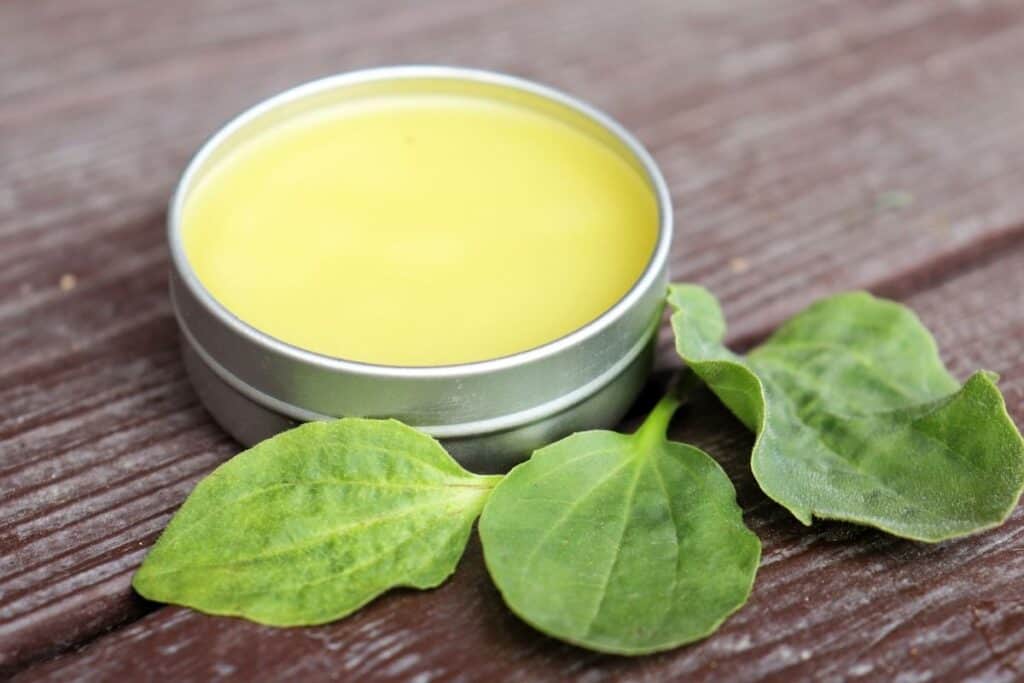 The second, quicker method, requires a gentle heating over low heat. The easiest way to do this in my opinion is in a double boiler. If you have an actual double boiler pot, feel free to use that. Otherwise a small bowl place over a small saucepan works just fine. I keep a dedicated bowl for making salves because it can be incredibly difficult to remove melted beeswax and this way I never worry about it mixing with food.
You'll want to put an inch or two of water in the bottom of the double boiler or sauce pan. Bring the water to a boil.
In the top of the double boiler, add the 1/2 cup of chopped herbs and 1 Cup of oil (any liquid oil will work: sweet almond oil, grapeseed, olive, etc.). Turn the heat down so that the water remains at a simmer but not a full rolling boil, place the top on top and keep the oil warming for 30 minutes.
The purpose is to keep the oil hot but not quite simmering or frying. Keep it heating for a full 30 minutes.
After the 30 minutes, remove from heat and strain the herbs from the warm oil.
Wipe out the top of the double boiler so that there are no bits of plant material in the pot.
Step 4: Make Salve
Return the water in the bottom of a the double boiler to a gentle simmer. Pour the strained oil back into the top of the double boiler and add 2 Tablespoons of grated beeswax or pure beeswax pastilles.
Heat this mixture until the beeswax is completely melted, stirring well. Remove from heat.
To make a softer salve, use less beeswax, for a firmer salve use more.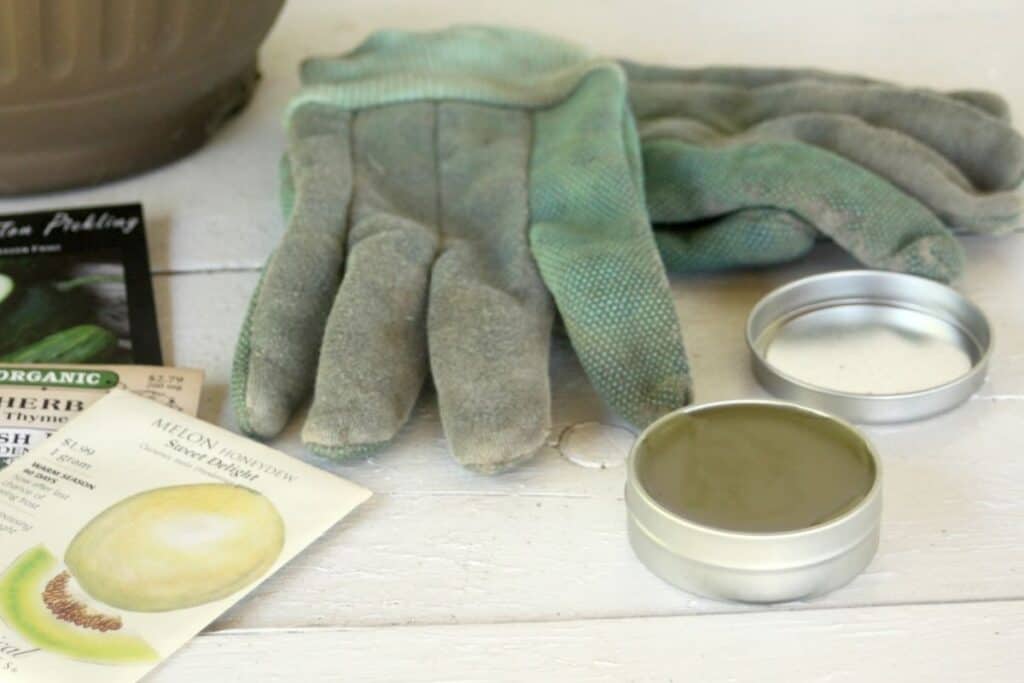 Optional Step:
If you want too, you can add some drops of essential oil here to your salve. Choose good quality oils with additional healing properties. I do not add essential oils to my own healing salve because the herbs seem to do a fine enough job on their own but again healing salves are personal in nature, go with what feels good and right to you.
Simply add your beeswax and stir up well before moving to the next step.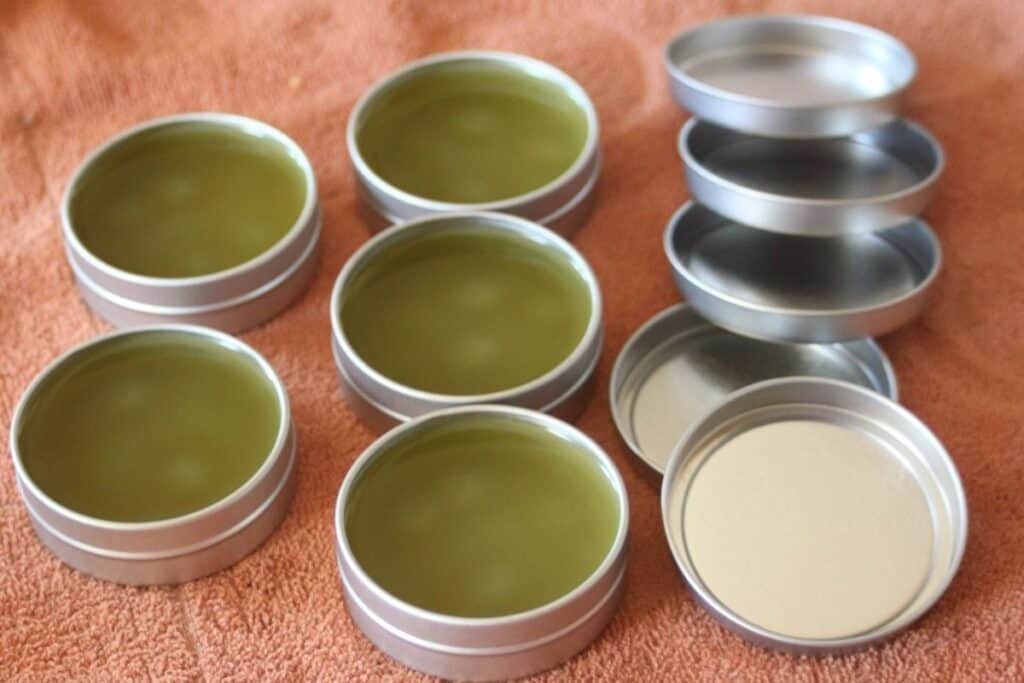 Step 5: Bottle
Pour the still warm and liquefied balm into storage containers – use glass jars, metal tins, even re-purposed candy tins, anything with a wide opening and a lid will work.
Allow the salve to firm up, before putting the lid on the container.
Click here to download labels for your salve tins.
Step 6: Use
Slather this healing salve onto minor cuts, scrapes and burns.
Use it on itchy skin, rashes, and other skin ailments by rubbing a small amount on the affected area.
We've had great success using it on everything from blisters to sunburn.
Because all oils can go rancid, be sure to use the salve up within a year.
Harness the simple power of seasonal herbs in your kitchen and home with confidence – from recipes to remedies and beyond with A Year of Seasonal Herbs.
Words of Caution
Obviously avoid any herbs to which you or the recipient is allergic.
None of this advice replaces that of a trained medical doctor or other health professional. Please seek advice when needed.
Yield: 1 Cup
How to Make Healing Salve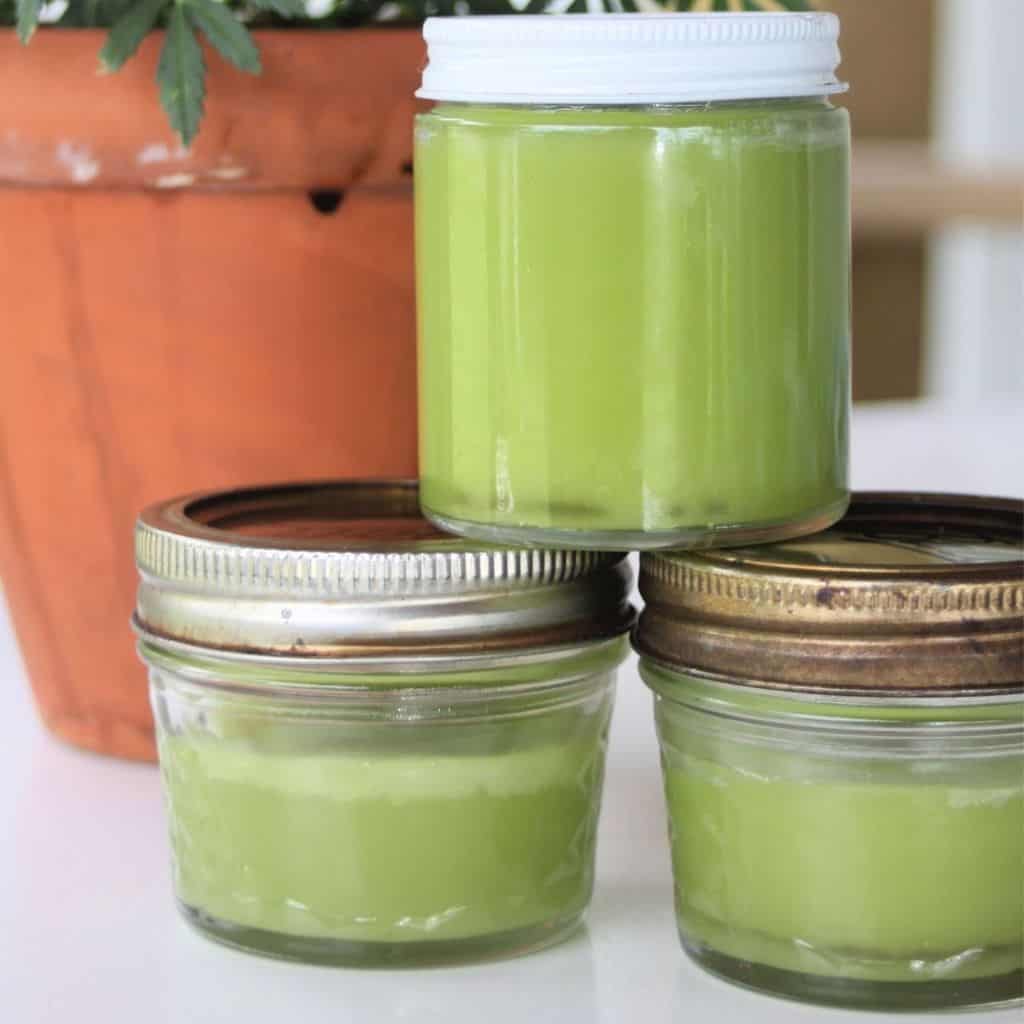 Use this quick and easy method to make healing salve from local and seasonal herbs to treat burns, cuts, scrapes, itches, and more
Materials
1 Cup Olive Oil or carrier oil of choice
1/2 Cup Fresh Herbs or 1/4 Cup Dried Herbs
Instructions
Put an inch or two of water into the bottom of a double boiler. Bring to a boil.
Mix herbs and oil in the top of double boiler.
Place the top on the double boiler and reduce heat to keep water simmering but not boiling.
Keep the herbal oil warm (not frying) for 30 minutes.
Strain the oil through a fine mesh sieve.
Pour the clean oil back into the double boiler that has been cleaned of any herb bits.
Add beeswax. Heat until the beeswax melts.
Pour liquid salve into containers. Let sit until solidified, then put lids on containers.