Have all the flavor and comfort of traditional stuffed cabbage rolls with none of the fuss in this super easy to make cabbage roll soup recipe.
Unstuffed cabbage roll soup is a simple and hearty dish that is a complete meal perfect for easy days at home.
The great thing about this recipe is that while it can be followed exactly, there is also a ton of room for making it individual and for using up whatever happens to be on hand in your pantry.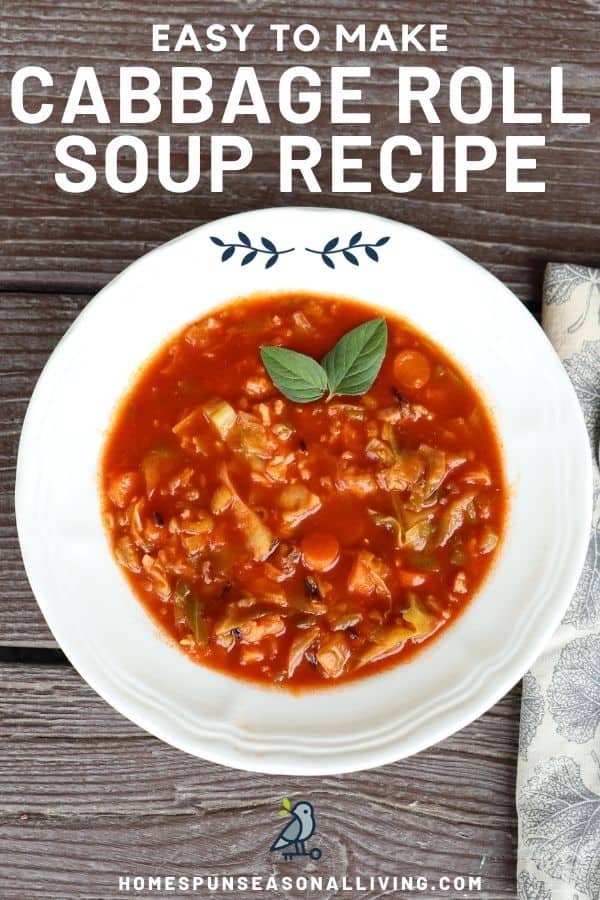 The Meat
I generally prefer ground Italian sausage in my cabbage rolls but the options are endless.
Use ground beef, plain sausage, ground chicken or turkey instead. Skip the ground meat and use chunks of stew beef or even sliced sausages.
A mixture of meat can also be quite nice, some Italian sausage and ground beef for instance.
The Vegetables
Other than cabbage, which is kind of required for it to be cabbage roll soup, the veggies can easily be switched up. Add more or less vegetables as desired.
A good starting point is always the basics: onions, garlic, carrots, celery. But don't stop there if you want to make it vegetable heavy.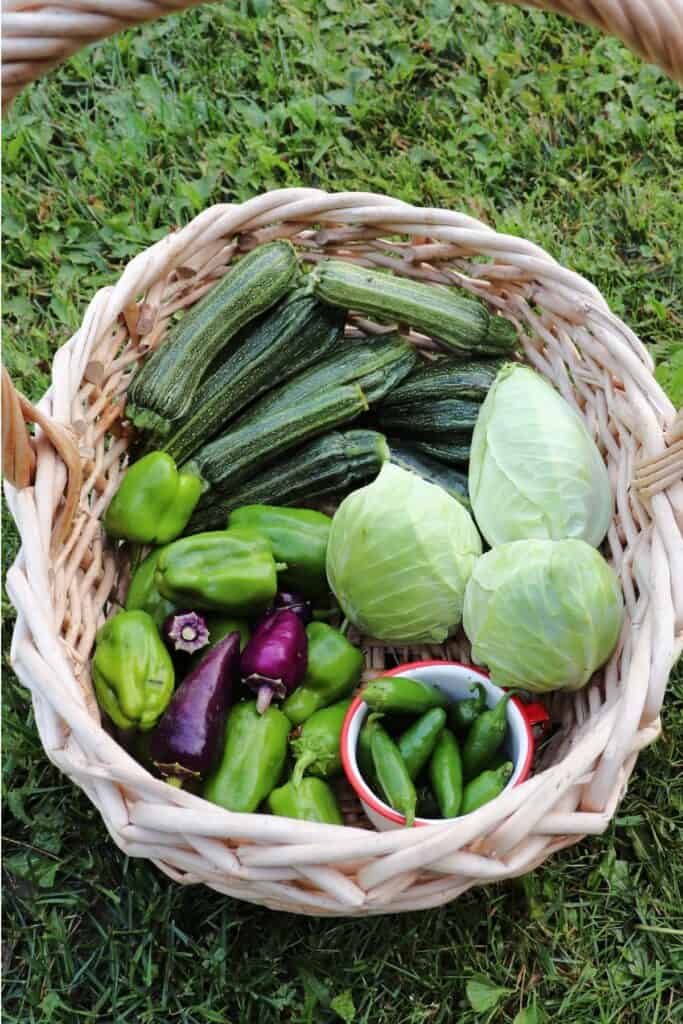 We like a pretty heavy addition of green peppers in both our traditional cabbage rolls and our cabbage roll soup but again, make it your own.
Some chopped jalapeno or other hot pepper can be quite nice if your family likes some heat in their soups.
I often add some peas or green beans too. Generally, I try to use up any small bits of garden harvest or leftovers sitting around. There's no reason you can't throw in some zucchini in the middle of summer either.
The Grain
Rice is most common but there's no reason you can't use quinoa or barley if desired.
I prefer a wild and brown rice mix but again use whatever rice you have on hand.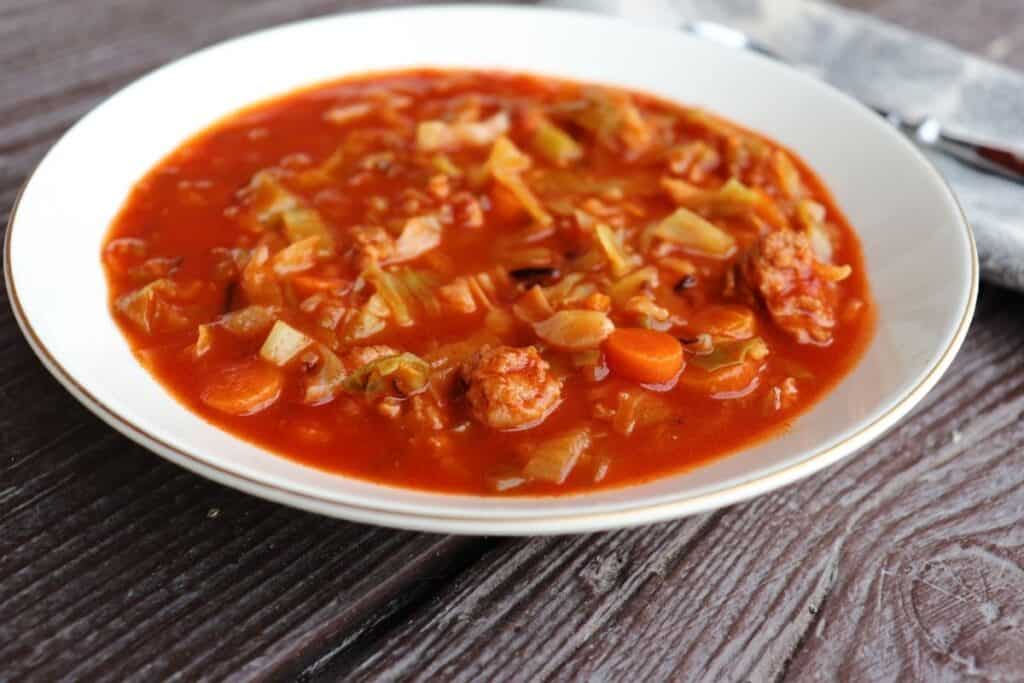 The Liquid
You'll need some tomato sauce (or juice) and some broth to cook everything in. And like most everything else here, options abound.
I generally use home canned tomato sauce but anything commercial will work as well. Sauce will make for a thicker soup in the end, but tomato juice will also work wonderfully.
Match the broth to the meat used. Beef broth for beef, Chicken for poultry. Sausage can generally go with either beef or chicken broth.
Seasoning
If using commercial tomato sauce and broth – taste for seasoning. These products are often quite salty on their own and you might not need to add more salt.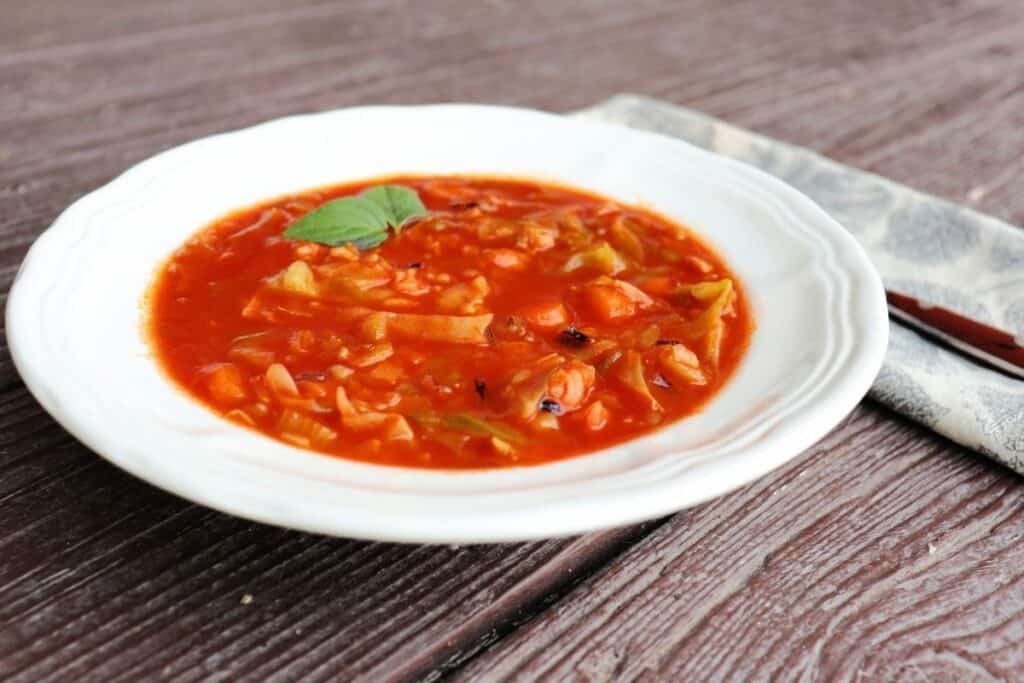 The seasoning is really as individual as your family. I keep it quite simple: salt, pepper, oregano most of the time. Some paprika, parsley, even basil can be nice too. Again, use what you have on hand.
Serving Ideas
The final soup is going to be quite thick. If you want it thinner, simply add more broth or water to make it so.
Serve the soup with a simple salad and some good hearty bread for a wonderful, rustic meal that is sure to please.
A little sour cream on top of a bowl of soup can be quite nice but is by no means required.
Leftovers
The recipe makes a big pot of soup. Store leftovers in the refrigerator and eat up within 3 days.
We quite enjoy making the big pot and eating on it for a couple of days for easy meals.
The rice will continue to absorb the liquid in the fridge, so be prepared to add more broth or some water each time you reheat it to thin out some.
Can You Freeze Cabbage Roll Soup?
Absolutely. Once cooked, let the cabbage roll soup cool slightly and pour into jars or other containers. Be sure to leave room for expansion (at least an inch). Put a lid on the container and freeze.
To reheat, simply let the container thaw in the refrigerator and reheat gently in a pot, adding more water or broth as necessary.
Use up frozen soup within about 8 months for best flavor.
Yield: 8 Servings
Cabbage Roll Soup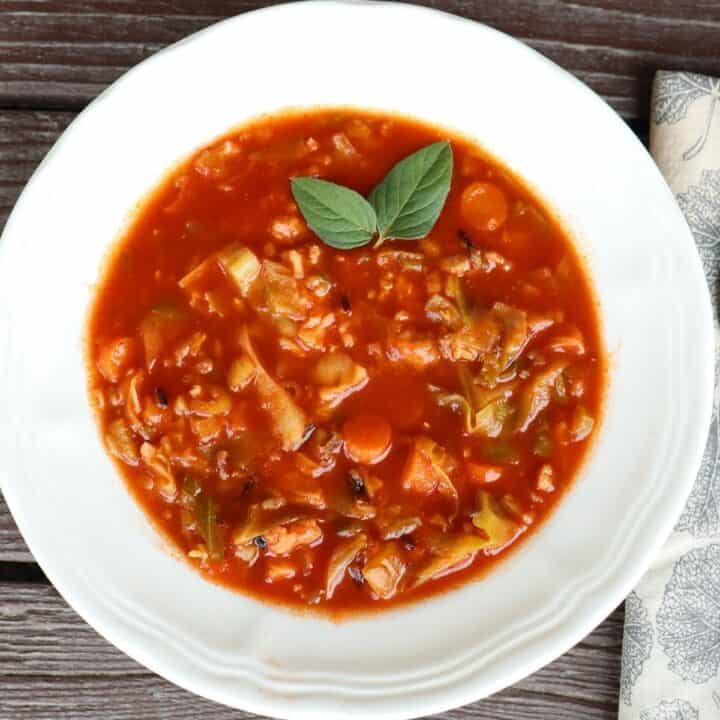 Simple, hearty, and filling cabbage roll soup has all the comfort of cabbage rolls without the fuss for a delicious meal.
Total Time
1 hour
10 minutes
Ingredients
1 Pound Ground Italian Sausage
1 Large Onion, chopped
3 Cloves Garlic, minced
1 Cup Sliced Carrots
1 Cup Sliced Celery
2 Large Bell Peppers, chopped
1 1/2 Pounds Cabbage, shredded
6 Cups Beef Broth
4 Cups Tomato Sauce or Juice
3/4 Cup Uncooked Rice
2 Tablespoons Fresh Oregano chopped, (2 teaspoons dried)
Salt & Pepper, to taste
Instructions
In a large soup pot, brown and chop the Italian Sausage over medium high heat.
Add the onion, garlic, celery, carrot, and bell pepper. Saute until the onion is translucent.
Stir in the shredded cabbage and add a pinch of salt. Stirring frequently cook until the cabbage begins to wilt.
Pour in the tomato sauce and beef broth. Stir well. Add the rice and stir again.
Cover the pot and turn down the heat to medium low.
Simmer until the rice is cooked about 40 minutes or so depending on the type of rice.
Stir in the oregano, add salt and pepper to taste, simmer another 10 minutes.
Serve warm.
Notes
The soup will thicken as it cools, add more beef broth or water to thin it out as desired.
Recommended Products
As an Amazon Associate and member of other affiliate programs, I earn from qualifying purchases.
Nutrition Information:
Yield:
8
Serving Size:
1
Amount Per Serving:
Calories:

366
Total Fat:

17g
Saturated Fat:

6g
Trans Fat:

0g
Unsaturated Fat:

12g
Cholesterol:

32mg
Sodium:

1756mg
Carbohydrates:

38g
Fiber:

5g
Sugar:

14g
Protein:

18g
We try our best but cannot guarantee that nutrition information is 100% accurate.