Make this easy nectarine cobbler for a wonderful and easy summer dessert.
There's nothing fancy or complicated here allowing the wonderful, juicy flavor of nectarines to shine through and be complimented by a light and sweet topping.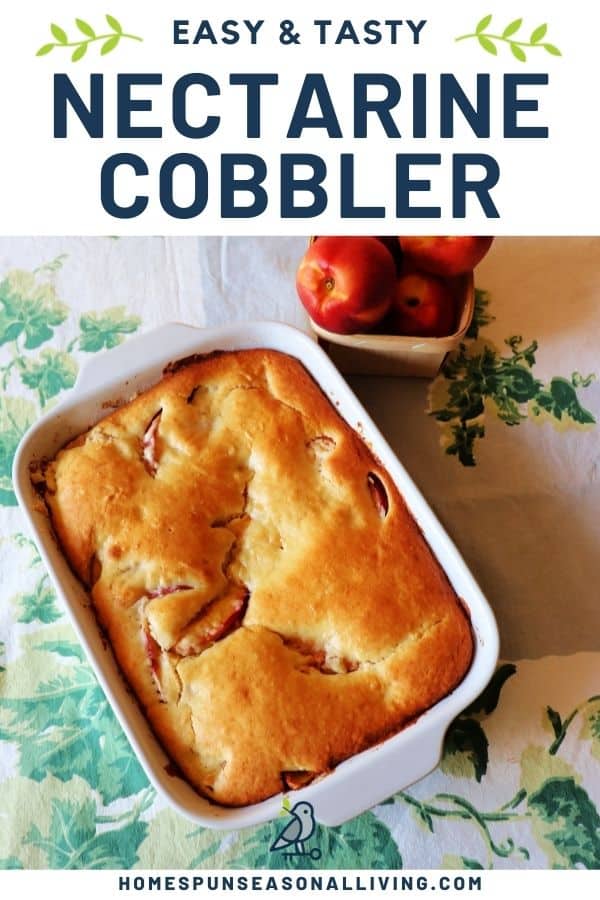 No Peeling Required
The great thing about using nectarines, is that you get all of the flavor of peaches without any of the fuzz.
Nectarines are merely fuzzless peaches meaning you can make this dessert without having to peel the fruit first.
Want to Use Canned Fruit?
If you canned nectarines and want to use those instead, simply drain them quite well and use them instead of fresh in the fruit layer. Because the canned nectarines are likely sweetened from sugar syrup you may want to use less sugar in the fruit layer.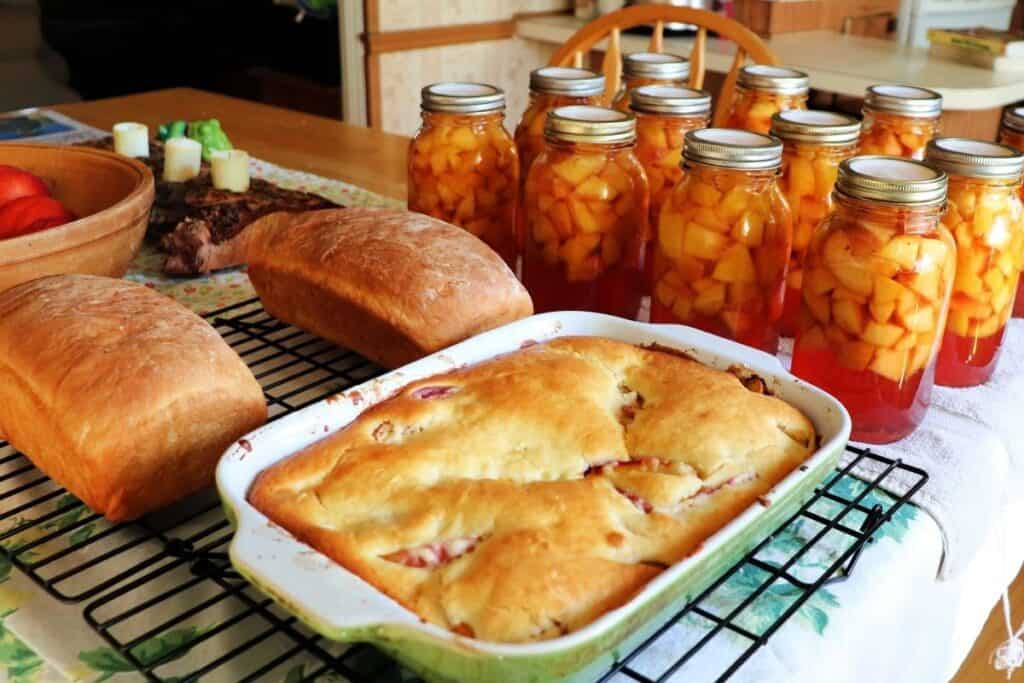 Adjust the Sugar
There's sugar in both the fruit layer and the topping. Feel free to adjust the sugar up or down as desired. If the fruit is especially sweet, you might not want to add much additional sugar to it.
Because the fruit layer is so naturally sweet, there isn't much additional sugar in the topping at all. Feel free to add more or less to taste. Remember that the topping will absorb some of the sweet juices from the fruit.
Self-Rising Flour
Because the topping is quite like a biscuit in texture, I used self rising flour here.
If you don't have self-rising flour, substitute 2 cups of all purpose flour and add 3 teaspoons of baking powder and ½ teaspoon of salt to the batter.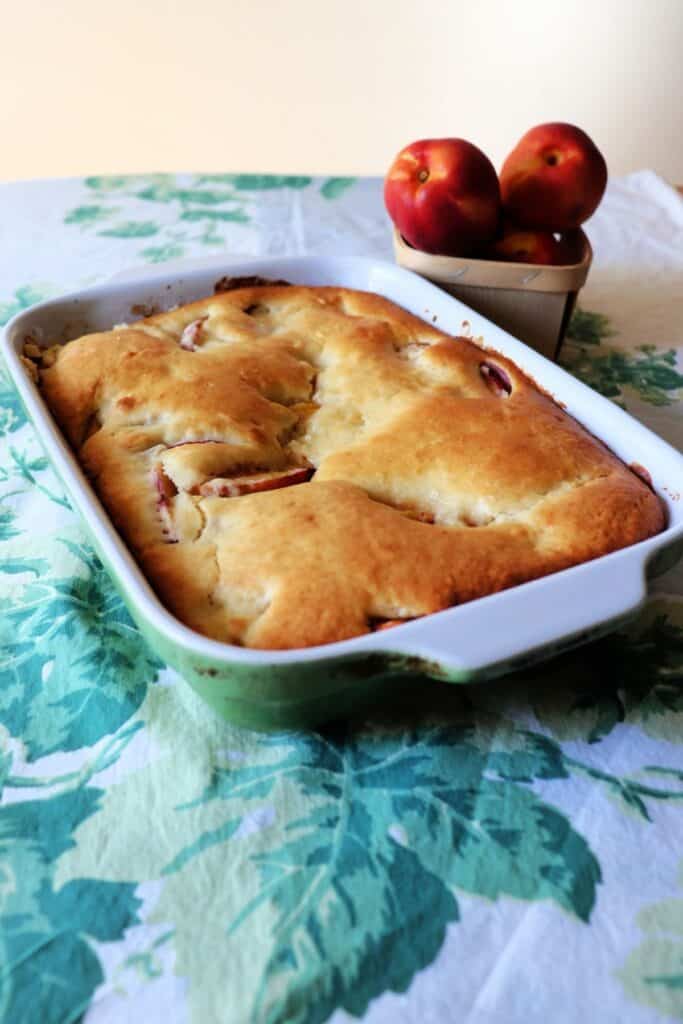 Buttermilk
Buttermilk gives the topping a delightful airiness and tangy flavor. Use actual buttermilk if you have it. The powdered buttermilk works too – just follow the package instructions. Sour milk by adding some vinegar works just as well here.
Substitute plain milk if desired, it will work and the flavor will change just slightly.
How to Serve
Nectarine cobbler is quite wonderful served warm just as it is, but if you want to elevate it even more consider serving it with some ice cream or whipped cream.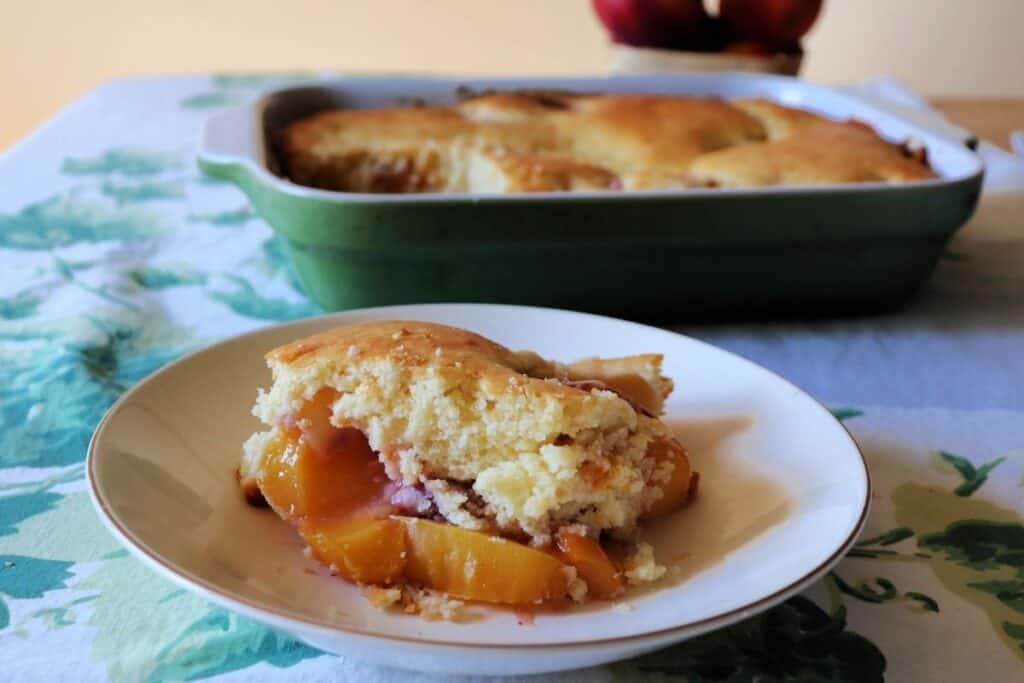 Storing Leftovers
Store any leftovers tightly covered in the refrigerator. The cobbler will keep well for up to 4 days this way.
Yield: 8 Servings
Nectarine Cobbler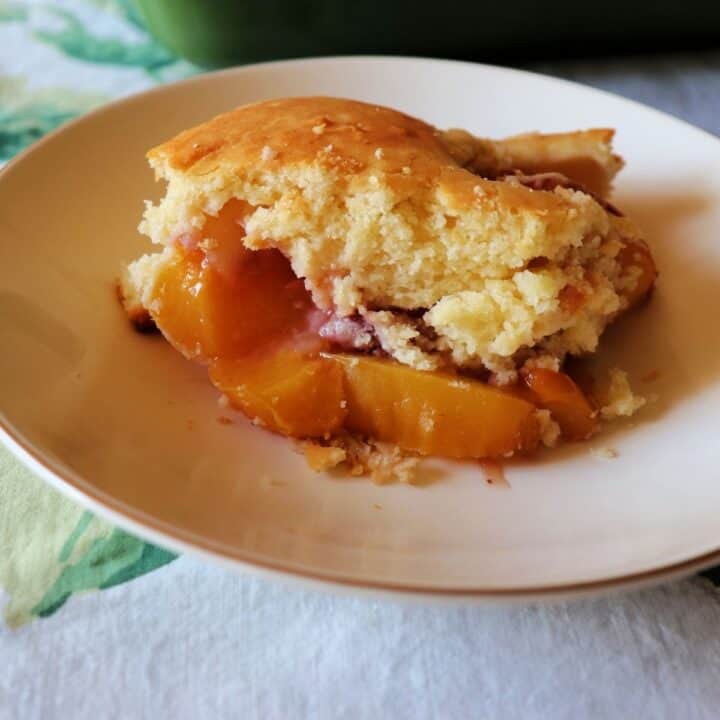 Nectarine cobbler is a simple, sweet, and easy summer dessert.
Ingredients
Nectarine Layer
8 Cups Sliced Nectarines
1/2 Cup Brown Sugar, tightly packed
1/4 Cup Unbleached, All-Purpose Flour
Topping
1/2 Cup Salted Butter, melted
2 Eggs
2/3 Cups Buttermilk
1/3 Cup Sugar
2 Cups Self-Rising Flour
Instructions
Preheat oven to 375 degrees Fahrenheit.
In a
Mix the nectarines, brown sugar, and all-purpose directly inside a 11X7 pan. Spread the mixture into an even layer.
Whisk together melted butter, eggs, buttermilk, and sugar until completely combined.
Fold the self-rising flour into the wet ingredients and stir just until combined.
Pour the topping batter over the fruit layer.
Bake in the preheated oven for 35 to 40 minutes or until golden and an inserted toothpick comes out clean.
Cool on a wire rack. Serve warm or at room temperature.
Recommended Products
As an Amazon Associate and member of other affiliate programs, I earn from qualifying purchases.