Canning nectarines makes for a quick and easy summer food preservation project that is full of flavor for the winter months.
These sweet, sunny colored jars are a wonderful addition to any pantry for summer in a jar goodness long after the summer sun has passed.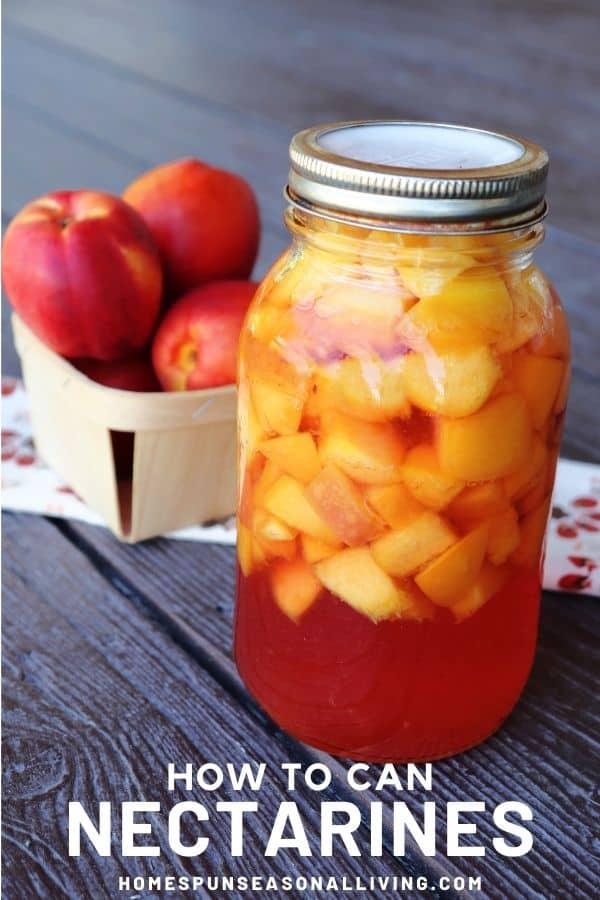 What is a Nectarine?
A nectarine is simply a fuzzless peach. They have been cultivated as long as the standard fuzzy peel peach.
It is this fuzzless nature of the nectarine that makes it a quick and easy canning project – because you can safely avoid peeling for a quicker project.
Selecting Nectarines for Canning
Nectarines like fuzzy peaches have freestone varieties. Choose the freestone for canning whenever possible to make the process faster.
Choose firm nectarines as well as they soften up quite a bit in the canning process.
Use softer nectarines for things like jam or nectarine maple vanilla fruit butter.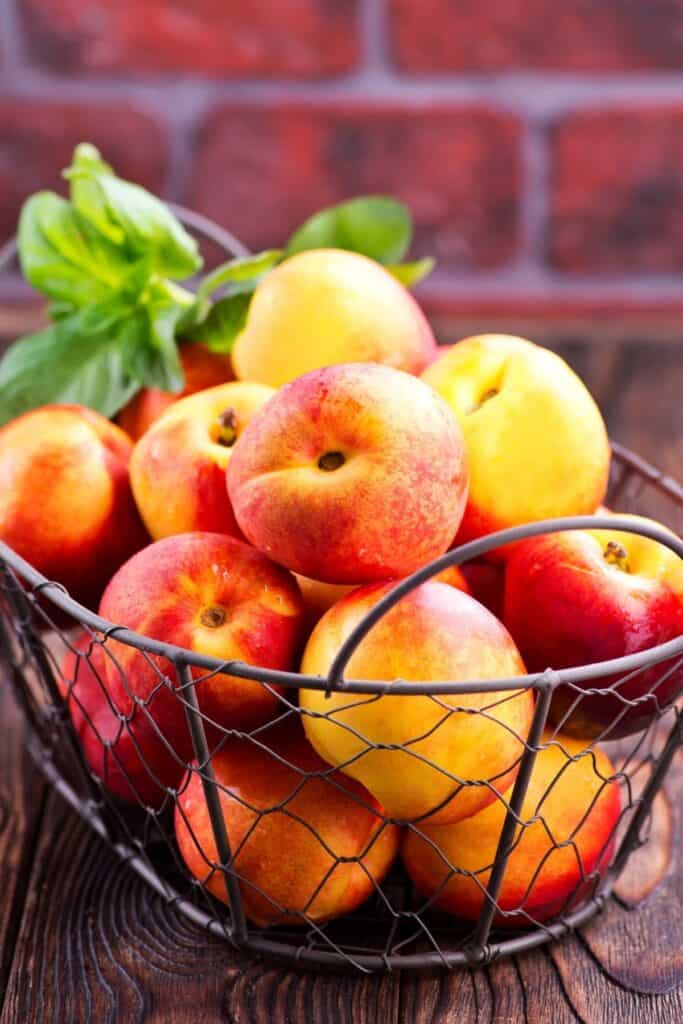 How to Cut a Nectarine
Cut around the nectarine to split it in half. Pull the two halves apart, remove the pit. If you chose a freestone variety this will be super easy.
In the clingstone varieties, you will need to cut the pit away from the fruit.
Once the nectarine is halved, you can leave it in halves for canning or simply slice or chop with a sharp knife. Place the cut side down on the cutting board to make for easier and safer handling and proceed.
Treat for Browning
Most canning books will advise you to treat cut nectarines for browning. I will be honest in that I never do this. I haven't found it to be necessary as nectarines don't brown that quickly. I only cut enough nectarines at a time to fill the 7 jars going into the canner at a time.
However, if you want to treat them to avoid any browning from oxidation, there are two easy options.
You can use a commercial product that is usually made of ascorbic acid, which is essentially vitamin c. Things like Fruit Fresh, are generally in the canning aisle of grocery or hardware stores. Follow package instructions.
Alternatively, use ¼ cup lemon juice mixed with 4 cups of water.
Simply place your cut fruit into the solution as you cut. Drain when you're ready to pack the jars.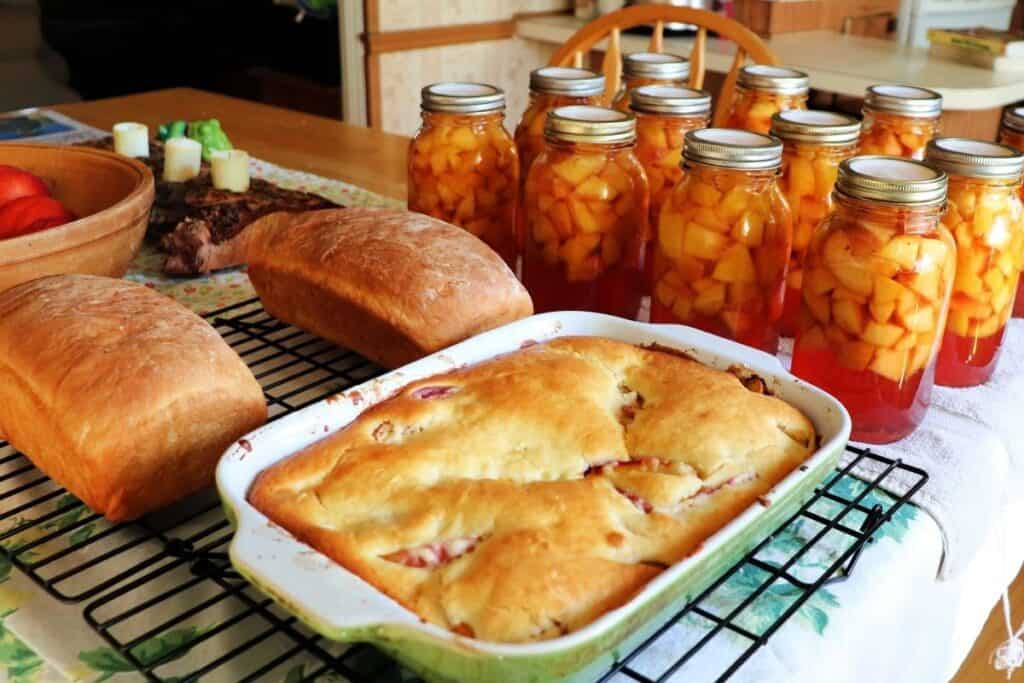 How Many to Can?
Obviously only can as many jars as you can eat up within a year. But a general guideline to guide buying is: 1 ½ pounds of fruit for every pint jar, or 2 ½ pounds for every quart jar.
This is not a hard and fast rule but it's a great place to start – just know that you might be a little short or have some extra.
Sometimes how the fruit is chopped or left in halves, etc. means the jars are packed differently.
Peel or Not?
This is absolutely no reason, beyond personal preference to peel nectarines for canning. Peel if you want, leave the peel and save the time if you desire.
It is this ability to skip peeling that has me canning fuzzless nectaries over fuzzy (requiring peeling) peaches most years in my home.
Hot Pack or Raw Pack
Raw pack means that the fruit is packed into the canning jars raw and then boiling liquid (usually sugar syrup) is poured over the fruit. The jars are then canned.
Hot pack means that the fruit is cooked in the sugar syrup before being packed into jars.
The benefit of using the hot pack method is that you can get more fruit in a jar because it shrinks some as it is cooked.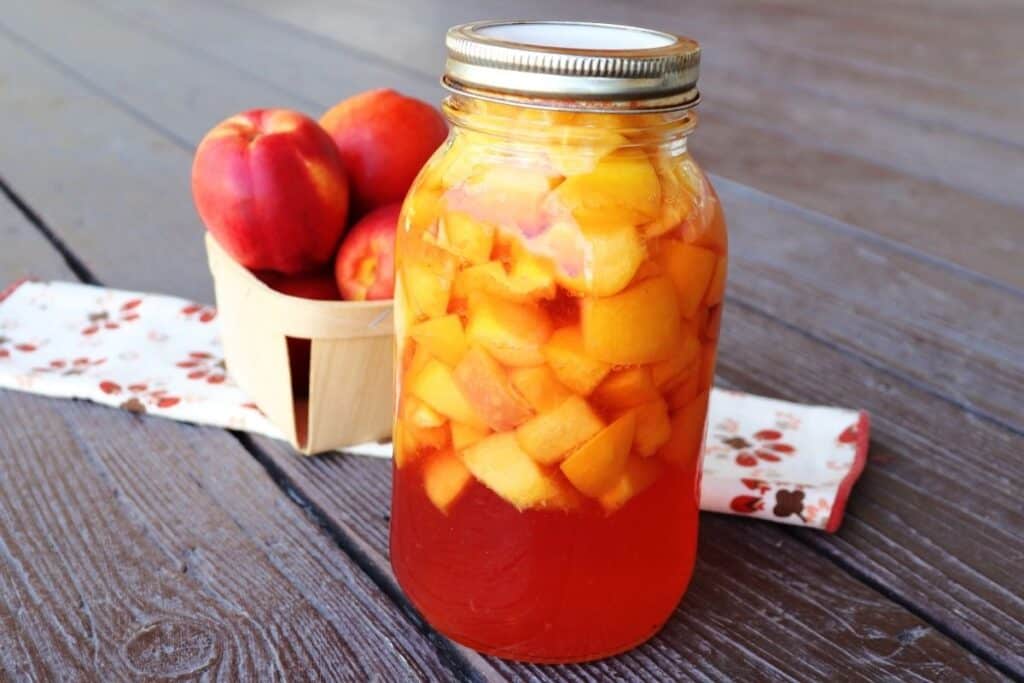 When the raw pack method is used, the fruit will float in the jar. There's nothing wrong with this but it's a bit different. Raw pack method will not earn a blue ribbon at the fair – if this matters to you.
I always use the raw pack method, I don't want to cook the fruit any more than the actual canning process will do. Again, personal preference here.
Canning Liquid
Most commonly a sugar syrup is used when canning fruit. However, one can use things like fruit juice instead.
Canning without sugar or honey is possible. Simply can in plain water. If using plain water, you must use the hot pack method. Know that plain water means fruit will have a dull color, may be less flavorful, and won't hold its shape as well as those canned in a sugar syrup.
I use an extra light sugar when canning nectarines and most every fruit for that matter. That ratio is 1 ¼ cups of sugar to 5 ½ cups of water. Bring to a boil and use the boiling syrup as the canning liquid.
Packing Jars
Nectarines are like canning any other fruit. Pack jars with fruit leaving a generous ½ inch of headspace. Fill jars with boiling liquid of choice, again leaving a ½ inch of headspace.
Remove air bubbles, wipe jar rims, place lids and rings. Process.
Canning Times
The time for processing jars is slightly different for hot versus raw pack.
For hot pack, process pint jars for 20 minutes, quart jars for 25 minutes.
For raw pack, process pint jars for 25 minutes, quart jars for 30 minutes.
Those processing times are for up to 1,00o feet above sea level. Add time as needed for your elevation.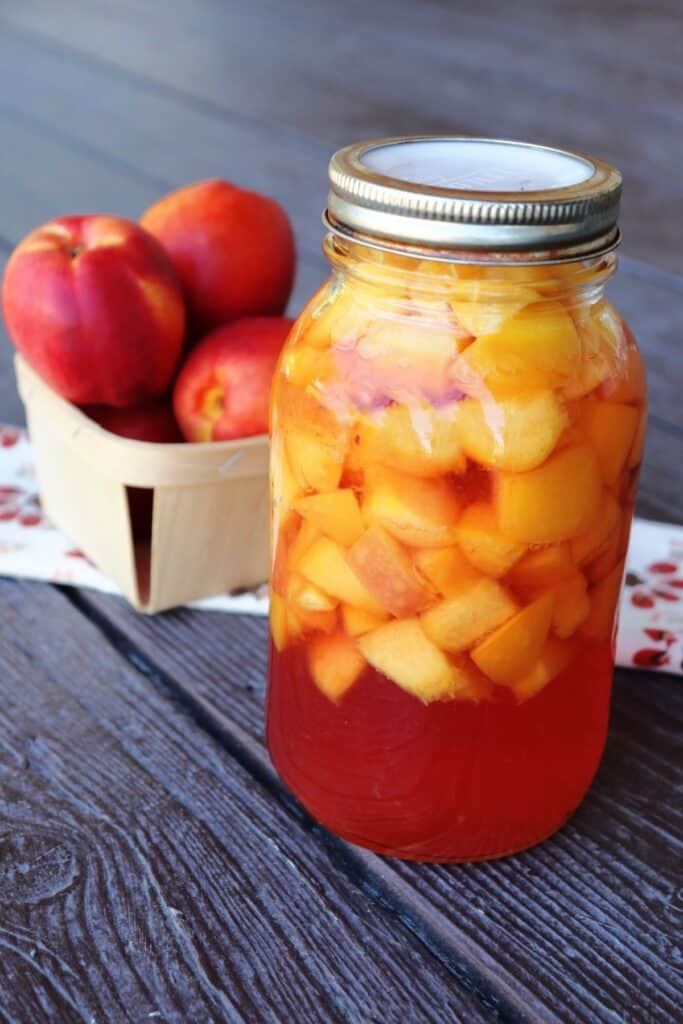 How to Use Canned Nectarines
Canned nectarines are a great snack or side dish. Simply drain the fruit from the liquid and enjoy. We eat them often as part of packed lunches.
Save the canning liquid to use for sweetening drinks like cocktails or Italian sodas, heck even tea.
Cook oatmeal in some of the liquid for a sweet and fruity flavor.
Drain the liquid and use the fruit for things like cobbler, pie, fruit crisp.
Serve the fruit on oatmeal or pancakes. Top poundcake or ice cream.
Yield: 4 Quarts / 8 Pints Approximately
How to Can Nectarines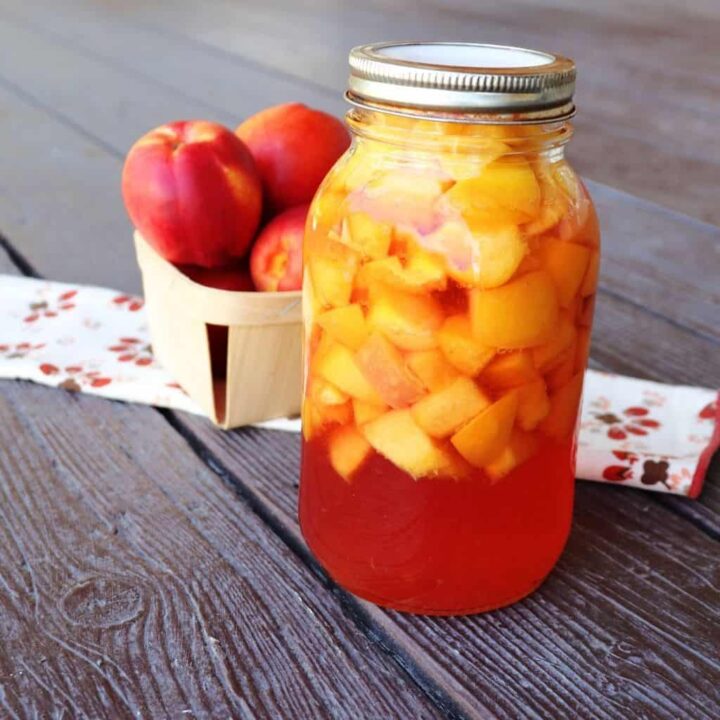 Simple and delicious canned nectarines are a staple to have on the pantry shelves.
Ingredients
10 Pounds Nectarines
2 1/2 Cups Sugar
10 Cups Water
Instructions
Get boiling water canner ready. Prepare jars, lids, and rings.
In a saucepan, combine the sugar and water. Bring to a boil, making a sugar syrup.
Place the nectarines pieces into prepared jars. Fill the jars, leaving 1/2″ headspace. Fill the jars with sugar syrup, again leaving 1/2″ headspace.
Remove air bubbles. Wipe jar rims. Place lids and secure rings on to the jars.
Put the jars into boiling water canner and process for 25 minutes for pints, 30 minutes for quarts (adjusting for elevation).
Remove jars from canner and allow to cool completely. Test seals. Remove rings from sealed jars and store in the pantry.
Recommended Products
As an Amazon Associate and member of other affiliate programs, I earn from qualifying purchases.
Nutrition Information:
Yield:
16
Serving Size:
1 Cup
Amount Per Serving:
Calories:

246
Total Fat:

1g
Saturated Fat:

0g
Trans Fat:

0g
Unsaturated Fat:

1g
Cholesterol:

0mg
Sodium:

6mg
Carbohydrates:

61g
Fiber:

5g
Sugar:

54g
Protein:

3g
We try our best but cannot guarantee that nutrition information is 100% accurate.