I'm a lazy canner. I do a lot of canning but I'm always looking for safe shortcuts to make it go faster. One of my shortcuts is to avoid peeling whenever possible. I never peel tomatoes, pears, apples, etc. I just can't see taking the time to do that in large batches. Peaches, however; there's something about the fuzz that I don't like in a jar so I peel. Several years, I decided to cut back on canned peaches and opted to do more nectarines instead. The flavor is not exactly the same, of course, but nectarines like peaches seem to be just like summer in a jar to me. Learning how to can nectarines is easy and quick if one opts to skip the peeling.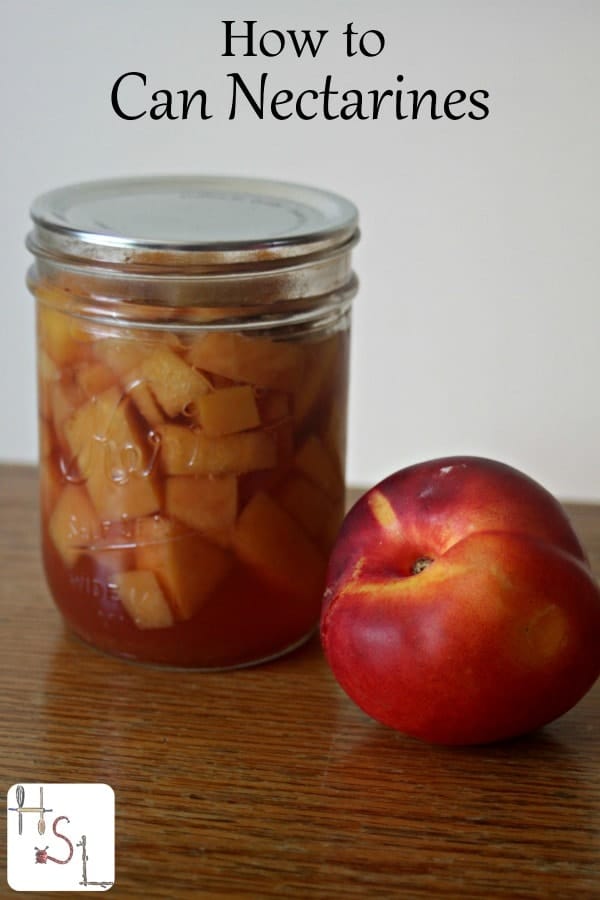 Selecting Nectarines for Canning
Nectarines like peaches have freestone varieties. Choose these whenever possible to make the process faster. Choose firm nectarines as well as they soften up quite a bit in the canning process.
How to Can Nectarines
Get boiling water canner ready. Prepare jars, lids, and rings.
Make an extra light sugar syrup (1 1/4 cups sugar to 5 1/2 cups water). You can use a heavier syrup if desired. Plain water is fine too, however; the fruit will be softer. Bring to a boil.
Cut nectarines in half and remove pit. Chop, slice, halve, or quarter nectarines.
Place the nectarines pieces into prepared jars. Fill the jars, leaving 1/2″ headspace. Fill the jars with sugar syrup, again leaving 1/2″ headspace. Remove air bubbles. Wipe jar rims. Place lids and secure rings on to the jars.
Put the jars into boiling water canner and process for 25 minutes for pints, 30 minutes for quarts (adjusting for elevation).
Remove jars from canner and allow to cool completely. Test seals. Remove rings from sealed jars and store in the pantry.
Floating Fruit
This is the raw pack method. The nectarines will float in the jar when using this method. There is nothing wrong or unsafe about that. However, the peels and the floating fruit do mean that the jars will not win a blue ribbon at the fair. To avoid floating fruit, use the hot pack method.
Save some time when canning a big batch of fruit by skipping the peeling and still enjoying summer flavor all winter long by canning nectarines.