Classic cabbage rolls are an easy and comforting meal. They are also a super simple dish to freeze and have ready for meals later in the winter.
It is this make now and freeze for later idea that makes baked cabbage rolls a great way to preserve the garden harvest in a freezer ready meal.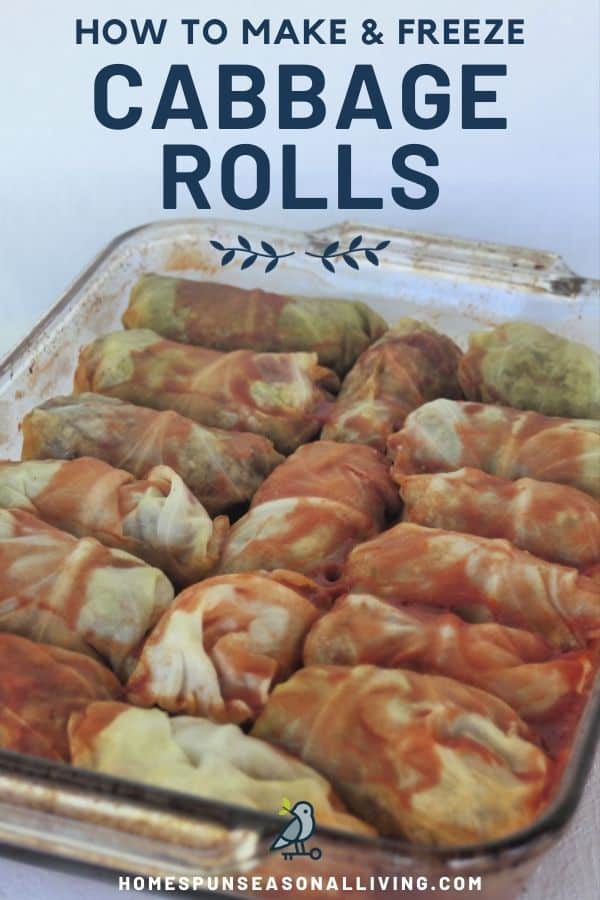 There is a bit of hands-on time here. Cabbage rolls don't pull together in 5 minutes. But that time now is well worth it when you find them in the freezer later on in the year.
Don't let the time involved stop you from trying, the more you practice, the better and more efficient you'll become.
How to Make Cabbage Rolls
There is a fairly exact recipe at the bottom of the article for folks that need it. However, cabbage rolls are more method than exact recipe, feel free to get creative with the basic process.
Boil the Cabbage
Start with a fresh head of cabbage, cored. Put that head of cabbage into a pot of boiling, salted water and let it blanch for a few minutes.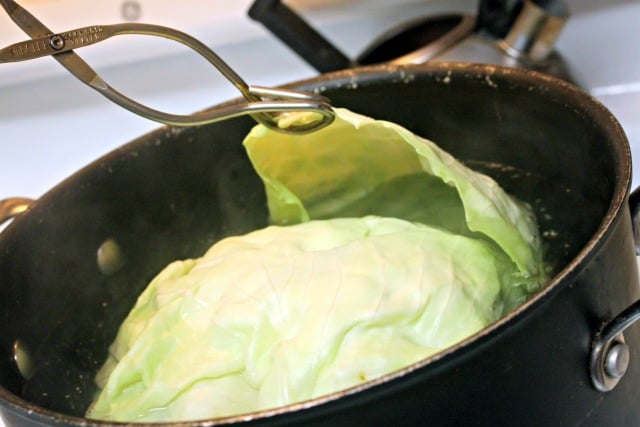 The outer leaves will start to come loose from the head. I use a pair of tongs to remove these outer leaves and stack them on my cutting board. I continue this process until all the leaves are loose and ready to be filled.
Make the Filling
The leaves are now ready for filling. My method is a cabbage roll recipe with rice, however one could easily skip the rice.
Use a filling of your choice but my cabbage rolls generally include:
raw ground meats (a combination of Italian Sausage and chicken is nice, plain ground beef, regular sausage, veal, ground turkey, etc. all work)
cooked rice (brown or white)
sauteed veggies (usually I start with basics of onion, celery, garlic, and green pepper but often add carrots and sometimes peas)
seasoning (salt, pepper, parsley, etc.)
vegetarians feel free to use cooked lentils or buckwheat instead of meat
How to Fill the Leaves
Place the cabbage leaf onto a board so that it's a bit of a bowl shape.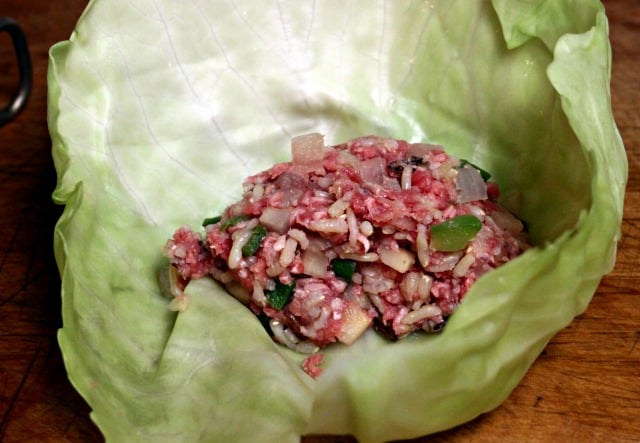 Place a spoonful of the filling in the middle of your cabbage leaf. How much filling will depend on the size of the cabbage leaf. Use bigger scoops for bigger leaves. Don't overfill.

Roll up the cabbage leaf like a burrito. It's easiest to roll from the core edge, tucking the ends in as you roll. Place the roll into a baking dish, seam side down. Continue until you've used up all the leaves / filling.
Depending on the size of the cabbage, you may need multiple pans. It is okay to pack them tightly into the baking dish.
Finishing & Baking the Rolls
Cabbage roll sauce is nothing more than tomato juice in most cases. Though a thin tomato sauce could also be used.
Feel free to use store-bought or fresh juice (even tomato juice cocktails would work).
Pour some tomato juice over all of the rolls, making sure I have about 1/2″ of tomato juice at the bottom of each pan.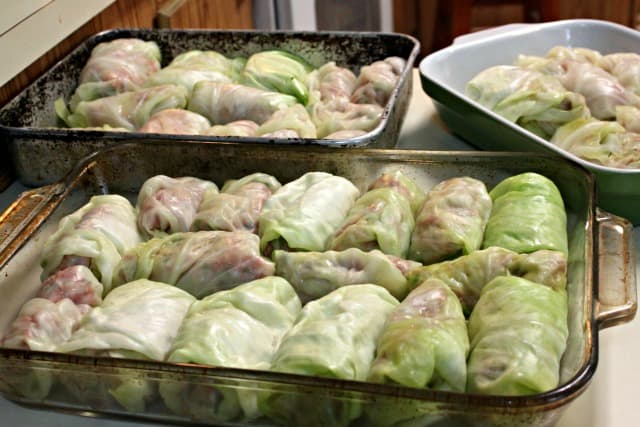 Cover the pans, aluminum foil works if your baking dishes don't have lids.
Bake in a 350 degree fahrenheit oven for about an hour.
Uncover the rolls and serve immediately the ones you want to eat now.
How to Freeze Cabbage Rolls
To freeze rolls for later, allow them to cool to room temperature.
Place the cooked and cooled cabbage rolls into containers, freezer bags work just fine as do containers. Pour a little of the tomato juice into each container and freeze.
To Reheat Frozen Cabbage rolls
Place frozen rolls and their frozen tomato juice into a saucepan, cover, and simmer until heated through. Probably about 20-30 minutes.
It'll go faster if the cabbage rolls are thawed before reheating, naturally.
Alternatively, place the thawed rolls into a casserole dish, pouring the tomato juice on top. Cover the pan and bake in a 350 degree oven for 30-45 minutes, until heated through.
What to Serve with Cabbage Rolls
Cabbage rolls are almost a complete meal in and of themselves. They have veggies, grains, and protein all rolled up together. Admittedly, that's a rather plain and simple meal.
Elevate the rolls by serving them with whole grain breads or toasted garlic bread.
Pierogies make a nice and even more comforting meal.
Add more vegetables to the meal and serve them with salad. A tossed green salad is nice but so is bean salads or a cucumber salad. A bit of sauerkraut on the side is lovely, too.
A side dish cooked apple & sauerkraut is amazing.
Want to add some cooked vegetables to the meal? Try some mashed potatoes. Roasted veggies like carrots or Brussels sprouts are quite nice.
Yield: Approximately 24 rolls
Old-Fashioned Cabbage Rolls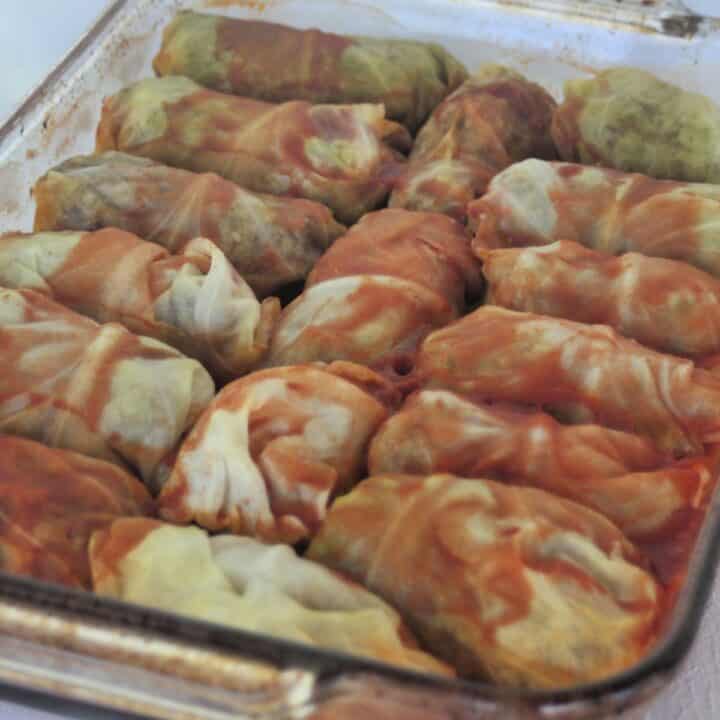 Bake these easy and delicious cabbage rolls to eat now or freeze them to quickly reheat and eat later.
Total Time
1 hour
45 minutes
Ingredients
1 Large Head Cabbage
1 Large Onion, Chopped
3 Cloves Garlic, Minced
1 Large Bell Pepper, chopped
1 1/2 Cups Cooked Brown Rice
1 Pound Ground Beef
Salt & Pepper, to taste
2 Cups Tomato Juice
Instructions
Saute the onion, garlic, and bell pepper until onion is translucent. Set aside to cool to room temperature.
In a large pot of boiling salted water, blanch the head of cabbage until the leaves separate.
Drain the leaves and stack on your work surface.
In a mixing bowl, combine the sauteed veggies with the brown rice and raw ground beef. Mix until thoroughly incorporated.
Preheat oven to 350 degrees Fahrenheit.
On your cutting board, place a cabbage leaf. Put a spoonful of filling in the middle.
Roll the cabbage leaf up around the filling, tucking the ends in.
Place the cabbage rolls into a baking dish, seam side down.
Repeat until everything is used up. It is okay to pack the baking dish tightly with the rolls, but you may need two dishes to bake the rolls.
Pour tomato juice over all. You want about 1/2" of juice at the bottom of each baking dish, a little more or less isn't going to hurt anything.
Cover the baking dish.
Bake in preheated oven for about 1 hour.
Recommended Products
As an Amazon Associate and member of other affiliate programs, I earn from qualifying purchases.
Nutrition Information:
Yield:
24
Serving Size:
1 roll
Amount Per Serving:
Calories:

74
Total Fat:

3g
Saturated Fat:

1g
Trans Fat:

0g
Unsaturated Fat:

2g
Cholesterol:

17mg
Sodium:

82mg
Carbohydrates:

5g
Fiber:

1g
Sugar:

1g
Protein:

6g
We try our best but cannot guarantee that nutrition information is 100% accurate.