Cooking sauerkraut with apples is an old-fashioned idea that never goes out of style. This simple apple sauerkraut side dish is the perfect modern recipe that pairs well with a number of meals.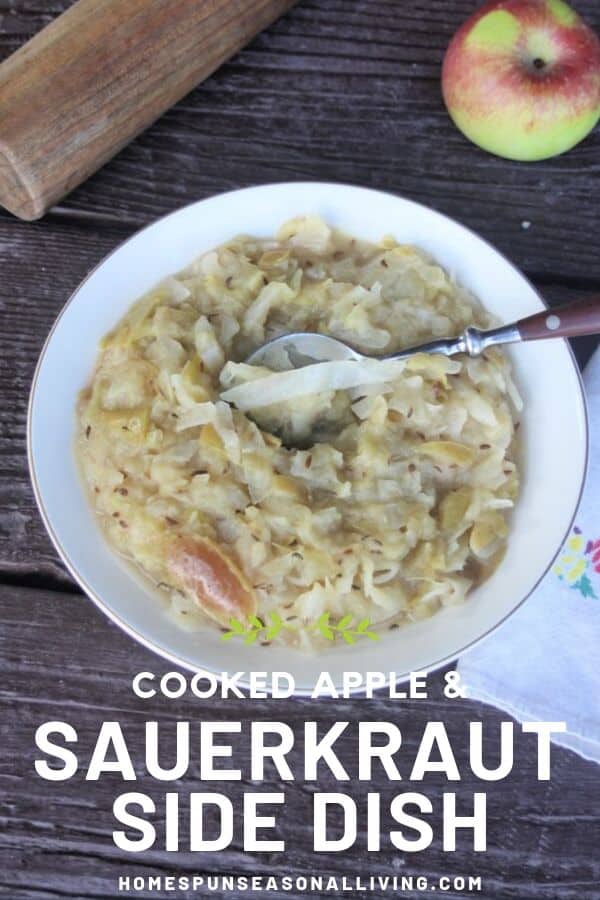 How to cook sauerkraut or whether to cook it all is often debated. If you've only ever eaten sauerkraut raw, give this cooked dish a try as a tangy change.
Cooking Sauerkraut
Admittedly, raw sauerkraut is full of healthy and healing probiotics. We should continue to eat it raw and often at that.
The heating of sauerkraut definitely kills the probiotics but sometimes eating it can simply be about the flavor and not the probiotics.
At least it can for me.
The flavor and use of sauerkraut is incredible even in cooked dishes. It adds a pleasant tang that is more mellow than its raw counterpart.
Type of Sauerkraut
I used a homemade sauerkraut, fermented in a crock for testing this recipe. However, use whatever sauerkraut you have on hand.
Even something purchased from the store. Do use something you would eat raw, however. If you don't enjoy the canned sauerkraut from the store plain, for example, it's unlikely you'll like it here either.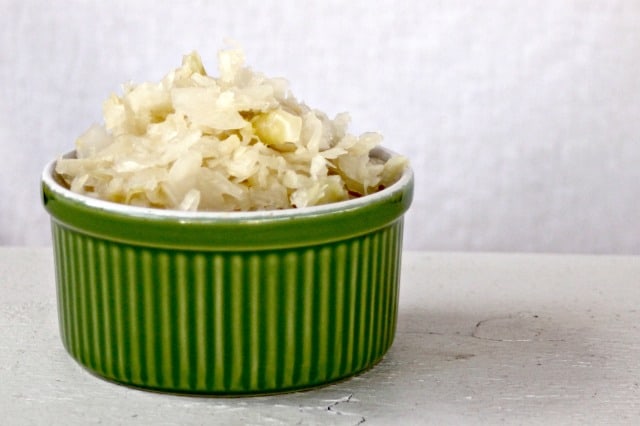 A red cabbage sauerkraut will be a pleasant color. You could use a mix of fermented cabbage and carrots too.
Scoop the sauerkraut out of the jar with a slotted spoon. There is no reason to squeeze it dry for this recipe.
The Apples
I firmly believe in just using whatever apples you have on hand. However, if you need to buy something choose something tart. I use McIntosh simply because those are what we have on our homestead.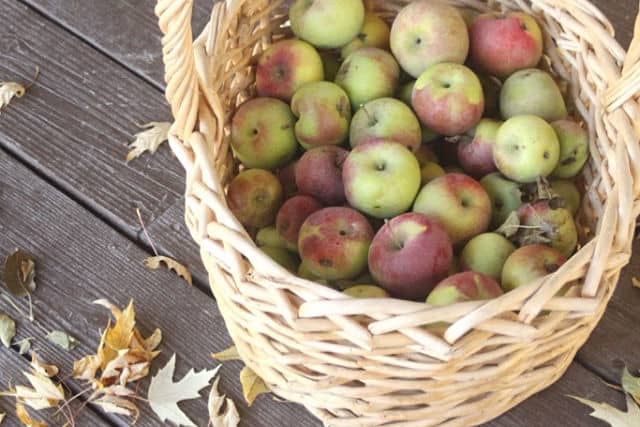 Simply core the apples and cut into uniform slices. Skip the peeling, unless the peels are just too objectionable to you or your family.
Caraway Seeds
Caraway isn't always a welcome flavor. One could skip it or substitute another small seed instead. Celery seed or whole cumin seeds would also be delightful. The bits of small seeds do add some flavor and just a hint of crunch that is welcome in an otherwise very soft dish.
The Cooking Liquid
Plain old water works well for softening the apples and getting all the flavors together well. I default to it most of the time, myself. It's easy after all.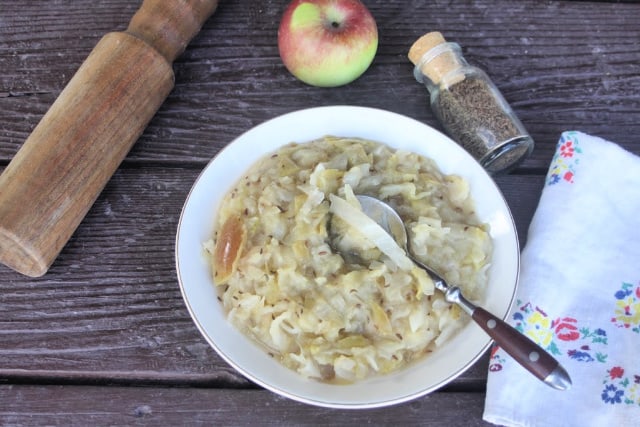 However, other flavorful choices abound:
Beer works great and will have a unique flavor.
Apple cider will also work but will admittedly make the dish sweeter.
Vegetable or chicken broth can be used.
Use a mixture of any liquids you desire. For example, beer and water, apple cider and vegetable broth, etc.
A Bit of Fat
Adding just a touch of fat at the end of cooking adds flavor that is missed when skipped. Butter is a great choice. Some coconut oil would work as would some kind of vegan spread like earth balance for vegans or those skipping dairy.
Optional Additions
To switch up the dish a bit, there are a number of options.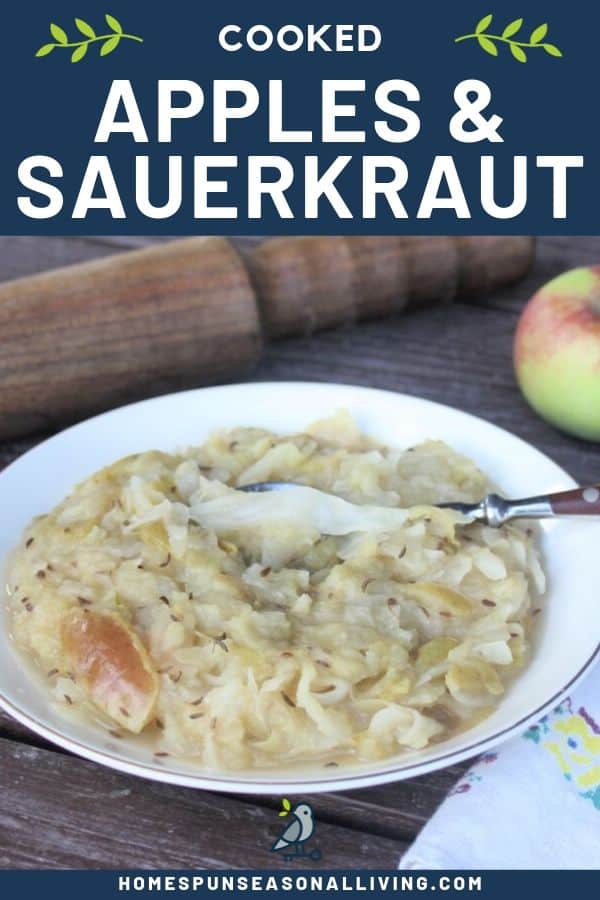 Use a cup or two (to taste) of sliced onions, sauteed in a bit of oil first. Then layer with the apples and sauerkraut in the cooking pot.
Mix the final cooked sauerkraut and apples with some cooked sausage links and cook together for just a few minutes before serving as a hearty main dish.
Serving Ideas
Serve it hot alongside a main dish. It would be excellent with pork roast or roasted chicken. It would also be delightful with pierogies.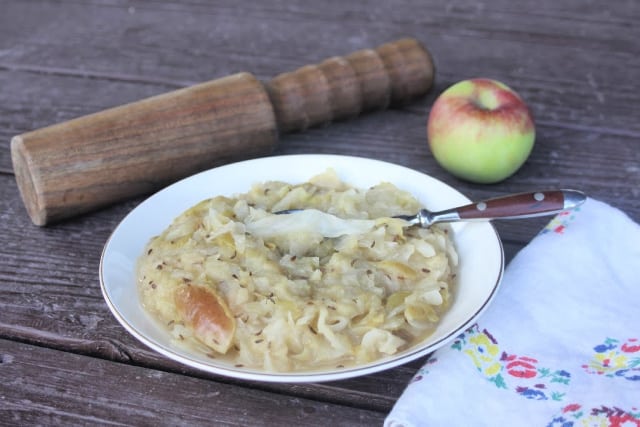 Tuck some inside a sharp cheddar cheese sandwich. Also good as a grilled cheese.
Put leftovers inside a lunch box. While it is especially delicious served hot it is equally good cold or at room temperature.
Yield: 4 Servings
Cooked Apple Sauerkraut Side Dish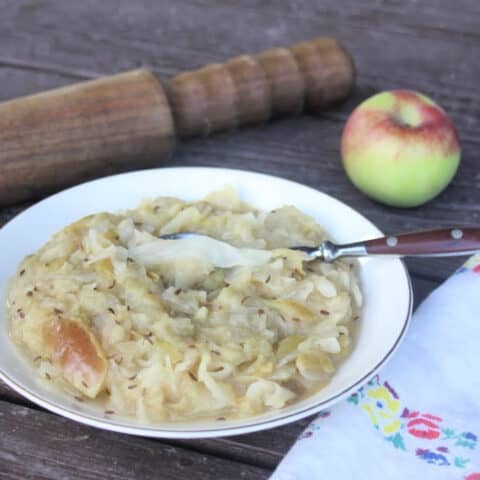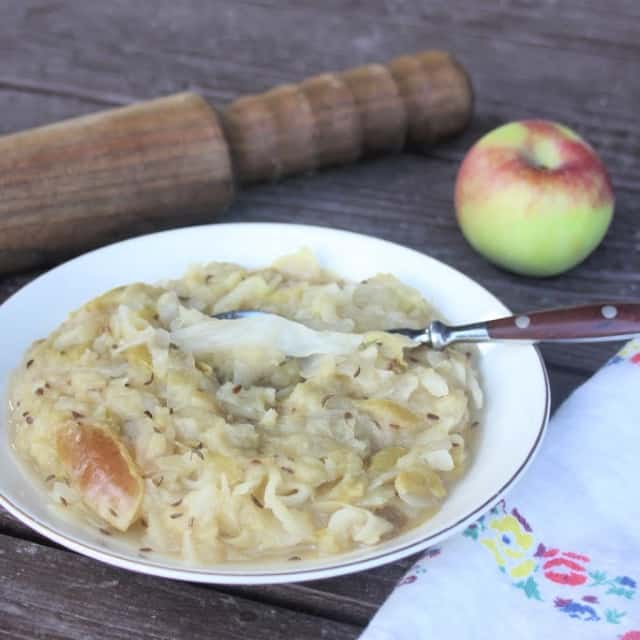 Tart and tangy, this cooked apple and sauerkraut side dish is ideal served alongside pork but also makes a delightful warm salad for lunch.
Ingredients
4 Cups Sliced Apples, cored (about 1 pound)
4 Cups Sauerkraut, drained slightly
1 teaspoon Caraway Seeds
3 Tablespoons Butter (or vegan alternative)
Salt & Pepper, taste
Instructions
Layer the sauerkraut and apples in a large saucepan.
Add water to the pan just to the top of the sauerkraut and apples.
Place over medium-high heat. Bring to a boil.
Add the caraway seeds.
Cover the pan and reduce heat to low-medium. Cook until the apples are soft, approximately 20-25 minutes.
Remove cover, stir well. Increase heat to high and cook until the water is almost completely evaporated. Keep a close watch and stir to avoid scorching.
Stir in the butter and melt. Remove from heat when all of the water has evaporated. Add salt and pepper, to taste.
Serve hot.
Nutrition Information:
Yield:
4
Serving Size:
1
Amount Per Serving:
Calories:

175
Total Fat:

9g
Saturated Fat:

6g
Trans Fat:

0g
Unsaturated Fat:

3g
Cholesterol:

23mg
Sodium:

1393mg
Carbohydrates:

25g
Fiber:

9g
Sugar:

16g
Protein:

2g
We try our best but cannot guarantee that nutrition information is 100% accurate.