Sauerkraut is one of those dishes that makes tasty use of all that cabbage. It keeps for a long time and allows us nutritional boosts even in the midst of a long winter. It can, however; get a little old just as a side dish. Cooking it does destroy many of the probiotic benefits, but sometimes the flavor alone is enough of a reason to eat something. Make the most of that stash of fermented cabbage with these 10 ways to use sauerkraut.
The Reuben Sandwich
A diner classic for sure, but it's easy enough to make at home. The most traditional is corned beef, swiss cheese, sauerkraut, and thousand Island dressing on rye bread. At home it can be toasted in a pan or under the broiler. Devour when hot.
It doesn't have to be an exercise in processed food either. It can easily be made with home fermented sauerkraut and thousand island dressing.
Corned beef isn't the only option for a Reuben either, consider turkey, cod, even hot dogs.
Want to keep it gluten-free? Try stacking the ingredients onto potatoes instead of bread.
Pizza Topping
Don't knock it until you've tried it. Sauerkraut piled onto a pizza crust with tomato sauce, and topped with cheese is surprisingly delicious.
With Pork
Growing up my family always cooked pork roast in sauerkraut on New Year's day. Supposedly it brought good luck, I'm not sure if that's true but the leftovers are good cold too.

Sauerkraut is especially good when served with kielbasa. Cook it up nice and easy in the slow cooker. Speed up the process in the pressure cooker, if desired.
Pork and apples are always a wonderful combination. Make the most of that by serving this apple sauerkraut side dish alongside your pork roast.
Piergoies
Sauerkraut is a traditional filling when mixed with potatoes and sometimes cheese in this is an incredibly comforting dish. This is sure to fill up bellies and hearts on a winter day
Soup
Toss some sauerkraut instead of kale or raw cabbage into those winter soups for delightful tangy flavor.
Use it as a main ingredient in a filling and healthy vegetable soup.
Add some sauerkraut to a slow cooker beef stew for a different, tangy twist.
Make that sauerkraut a comfort food by tossing it into a soup with sausage and pasta.
Breakfast
Saute sauerkraut with some cooked bacon and potatoes for a delicious twist on hash. Serve with an egg on top, if desired.
Put sauerkraut inside your breakfast sandwiches or burritos.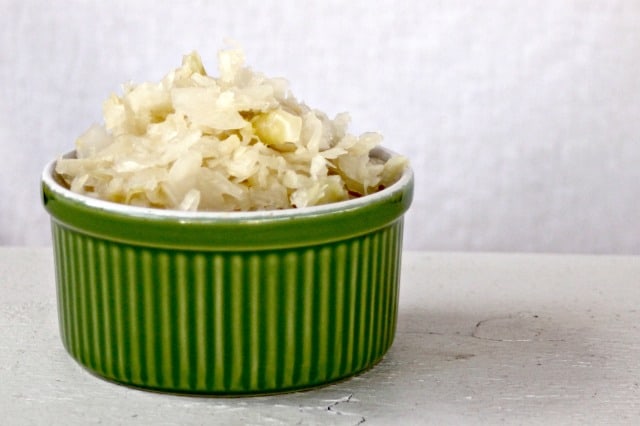 Sandwich Topping
Sauerkraut can be added to so many other things than just the Reuben. Lightly steam or saute the sauerkraut and serve on top of lightly fried brats, hot dogs, or other sausages.
Consider adding it inside a classic grilled cheese sandwich for something so much more complex and wonderful.
Save & Use the Brine
Use the brine for a salty and tangy flavor in sauces or stews. Try just adding a teaspoon at a time and tasting before adding more.
It can also help kickstart other ferments.
Quesadillas
Spread some sauerkraut, cheese, and peppers onto a tortilla, top with another and bake until melted and browned.
Make it pierogi style by spreading those tortillas with mashed potatoes and sauerkraut.
Casseroles
Mix sauerkraut with potatoes, kielbasa, onions, and cheese and bake until cooked for a filling, easy meal.
Cook chicken with sauerkraut and some yogurt for a creamy, dreamy dish that is easy and filling.
Salads
Use that tangy, crunchy goodness to add depth and flavor to salads. Add as much or as little as you'd like for a different way to get those probiotics into the body.
Make a sweet and tart salad by combining sauerkraut with mangoes and almonds.
Toss sauerkraut with apples and beets for a filling and healthy meal.
The cooking process can sometimes help mellow out sauerkraut that was perhaps over-fermented or too sour for a family's normal preferences. Instead of tossing that sauerkraut into the compost heap, consider using sauerkraut to fill out your meal plan with these different ideas.
Do you have a favorite way to use up sauerkraut?