We're having a good garden year. We're not at all complaining. Without a doubt this is our best garden to date and I know it all goes back to the work we've done over the last 5 years to build the soil. We're preserving lots of things and eating tons of things fresh, still the bounty is out pacing us. We hate wasting food, however; there's no point in making zucchini pickles just to avoid spoilage if those jars are going to sit unopened in the pantry only to be tossed in two years. It's still food waste and a waste of precious time and effort in the preserving process. In order to apply grandma's wisdom, we've learned to waste not, want not by bartering garden produce.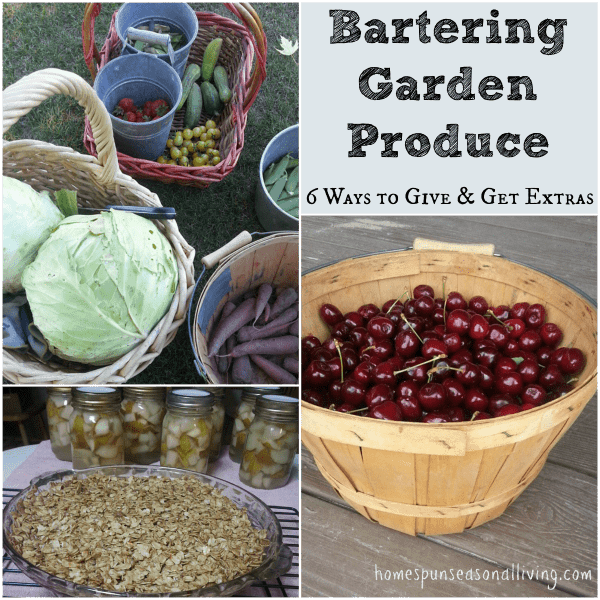 Bartering garden produce is fun and easy in our very technical age. Here are few simple ideas to help you get started:
1. Email Local Friends
Send a polite but quick email to friends. Tell them what you have and ask if anyone is interested in trading. We've traded cucumbers for goat milk, soap, even summer sausage. Also, ask your local friends to share with their local friends. You never know what might show up.
2. Facebook
Take advantage of any local trading or 'online yard sale' groups in your area and post what you have to trade and tell them what you're looking for in return. I often advertise my extra veggies and ask for extra fruit, foraged berries, etc. We've even gotten some homebrew this way.
3. Craigslist
Post in the barter section of your local craigslist. Again, post what you have and what you're looking for, keep it open ended because you just never know what someone might offer.
4. Local Email Groups / Boards
Member of your local gardening, beekeeping, mom's group, etc? Post to them advertising what you have, often I get interest from the sources that seem least likely. Don't be a spammer, but do send out feelers.
Tried to barter but had no luck and still worried about spoilage? Here are a few other options to consider:
5. Sell it
Put a sign up on the mail box advertising produce for sale and see if you can sell it. Use the suggestions above to post your items for sale instead of trade. You might get more interest and sometimes people simply don't have anything you want to barter for but they might be willing to pay cash.
6. Donate it
Your local food pantries, soup kitchens, and churches would undoubtedly be grateful for your extras.
The great thing about bartering is that it often leads to enduring sense of community and in my own case has led to some truly wonderful friends. Good luck with your produce and remember to waste not, want not in this bountiful season of late summer!
Have you had any truly wonderful or surprising experiences with bartering garden produce? Any tips for beginners?