One of the great things about having a well-stocked pantry is the ability to whip up tasty and yet humble food quickly. Those jars of home canned items, the root cellar veggies, and frozen bits combined with some frugal dried beans and spice can truly be a divine thing. This sweet potato stew came about from such a mixture of on hand supply and my goodness has it become a favorite.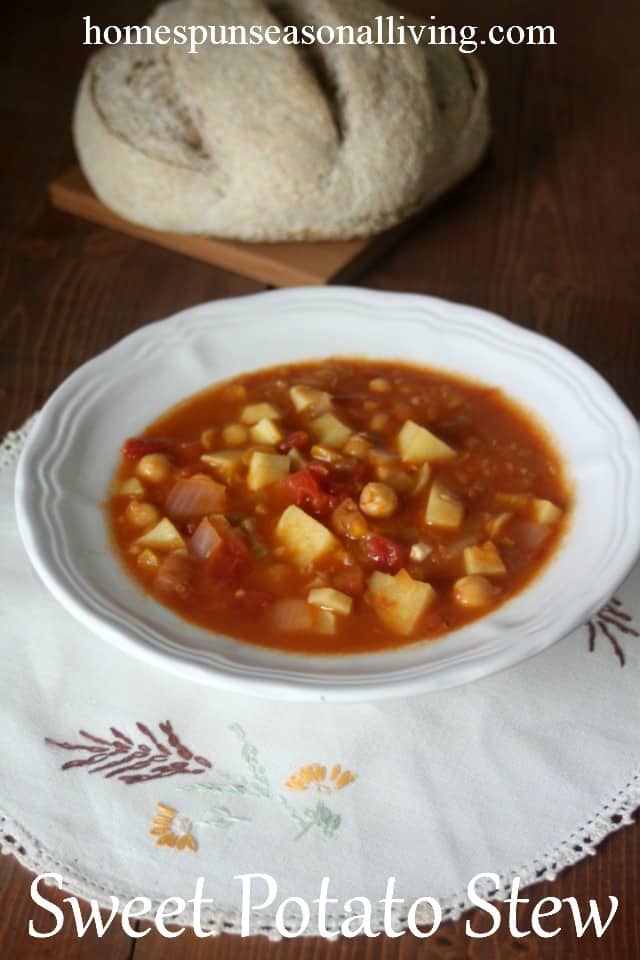 Simple & Seasonal
This is a simple stew. There's no need to complicate it. The mix of canned and fresh (stored) items is the perfect winter meal. Don't let the humble nature of the ingredients mislead – this is flavorful and filling.
Making Use of the Pantry
Living in northwest Montana, winter means getting creative with the items I have in my pantry. In the end, this is the payoff for gardening, preserving, and buying things in season. The pantry is better than most grocery stores and I know every single ingredient without confusion.
This stew can easily make use of items in the root cellar, in the freezer, in jars, and dried goods. Even if you don't have these items in your pantry already they should all be relatively easy and frugal to find in a local grocery store.
Make it a Meal
The recipe will make 4 servings as part of a bigger meal. If serving the soup alone, they would be small servings for adults. Serve this with a hearty bread or savory muffins, cheese, and a salad for a bigger meal.
Options for the Stew
While I think the recipe is amazing just as it is, I know we all need options now and then to make things our own:
Use vegetable broth to keep it vegetarian
White potatoes would likely work but make a starchier final product and the flavor would be different
Any white bean would work instead of chick peas
Use canned stewed tomatoes, even a spicy version instead of the diced tomatoes
Frozen celery and green peppers work well, add them with the chick peas instead of sauteing them with the onions and garlic
Yield: 4 Servings
Sweet Potato Stew
A quick and hearty meal that makes the most of humble ingredients likely already in the pantry this sweet potato stew is sure to become a family favorite.
Ingredients
1 Tablespoon Ghee or Olive Oil
½ Cup Celery, chopped
2 Cups Onions, chopped
3 Cloves Garlic, minced
2 Cups Sweet Potato, peeled and diced
½ Cup Bell Pepper, chopped
1 ½ Cups Cooked Chick Peas
2 Cups Diced Tomatoes (canned with Juice)
2 ½ Cups Chicken Broth
2 teaspoons Paprika
1 teaspoon Salt
½ teaspoon Black Pepper
1 Bay Leaf
Instructions
Heat the ghee or olive oil in a soup pot over medium high heat.
Add the celery, onions, garlic, and bell pepper. Saute until translucent.
Add the sweet potatoes, paprika, salt, and pepper. Tossing everything to coat well.
Pour in the tomatoes and chicken broth. Add the chick peas. Cover the pan and reduce heat to medium low.
Simmer until the sweet potatoes are tender about 20 minutes.
Serve hot.