Eating homemade and seasonal food is a priority in our home. We do eat out on occasion but those are special treats. It seems to us that homemade and seasonal is more frugal and healthier. So when working outside the home or taking trips we pack our lunches a majority of the time. We've learned a few tricks on how to pack hot, seasonal lunches that don't require camp stoves or microwaves to heat.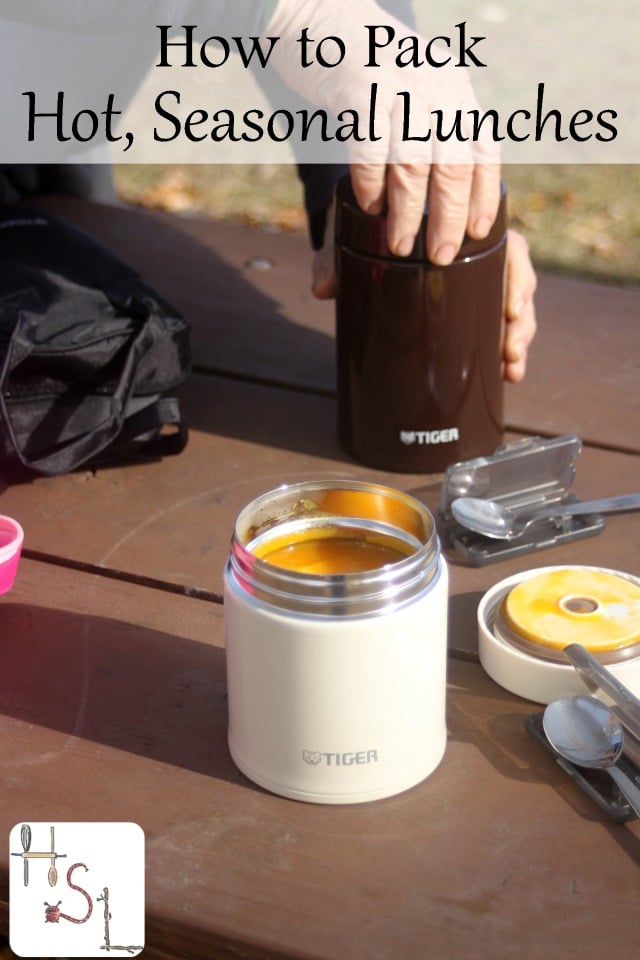 Use the Correct Containers
Those glass jars and plastic containers are fine for keeping food confined but they do not keep food warm without reheating. Reheating at most offices means a microwave, which isn't always the tastiest way to reheat food and the health consequences are still being debated. Reheating on the road can also mean a microwave or some kind of camp stove at a rest stop. Finding some kind of thermal container is key to packing hot, seasonal lunches.
I've been using these Tiger thermal soup cups for a few weeks now and let me just say they're the best I've ever owned. I pack my lunch around 7:15 am and eat my lunch around Noon each work day. My soups and other foods are still hot at lunchtime. These soup cups are stainless steel and BPA free. They clean-up super easily too – always a bonus in my busy lifestyle. A wide mouth makes it easy to pack and eat from with a spoon or fork for that matter. There are a variety of colors and sizes to please every appetite and fashion choice.
Admittedly, buying a thermal soup cup is an added expense when there are already other containers likely in the cabinets. Consider these thermal soup cups an investment for the long term in the financial and health goals for the family. The thermal cups will last a very long time when taken care of properly and will help prevent wasted money on restaurant meals.
Use Thermal Containers Correctly
Always preheat thermal containers. This simple step goes a long way into keeping lunch warm until lunchtime. Simply fill the container with boiling water, put the lid on and let it warm for a few minutes.
While the container is preheating, heat the lunch food. Get it nice and hot on the stovetop. Bring the soup to a simmer, heat the leftover casserole, etc. It's important, obviously, to start with hot food in order for it to stay hot.
Dump the water out of the thermal container. I often use that water for tea on the go, or simply dump it into dirty breakfast dishes for clean-up (it will be hot so add some cool water before putting hands into it). Fill the now warmed thermal container with the hot lunch food. Seal the thermal cup and pack it into a lunch bag.
Fall Hot, Seasonal Food to Pack in Lunches
Soups are a natural choice for a fall lunch. Without a doubt, our favorite lunch this time of year. They pack and easily and are usually a filling and nutritional choice. Need some soup inspiration:
Other ideas include leftovers, of course. Leftover pasta dishes and casseroles reheated and packed in the thermal cups are delicious at lunchtime. Have breakfast for lunch by packing some hot oatmeal in the cups. Scrambled eggs mixed with cheese and bits of meat will stay nice and warm in the cups as well.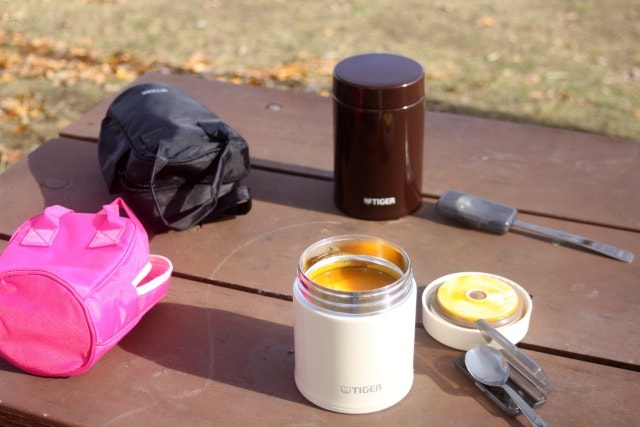 Complete the Hot Lunch
Pack a roll, some bread, or crackers to have with the soup or alongside the hot meal. A bit of fruit either canned or fresh also goes along nicely. These extra little bits make for a filling and nutritious meal that is frugal too. Pack some water (in a reusable container) or other favored drink if fresh water won't be readily available.
Make the Morning Lunch Packing Rush Easier
Time tends to be crunched in the morning. Make those minutes count by doing the prep work ahead. Make a big pot of soup that will last a few days that can easily be reheated in the morning. Have batches of homemade soup or casseroles in the freezer. Put it in the fridge this morning to thaw, reheat it tomorrow morning for lunch. Use home canned soups for quick grabbing and reheating from the pantry.
How do you pack hot, seasonal lunches in your home?