There are times in life where we need a sweet and easy dessert. And this honey cake is the perfect answer. It's rich and sweet, decadent and yet simple to pull together.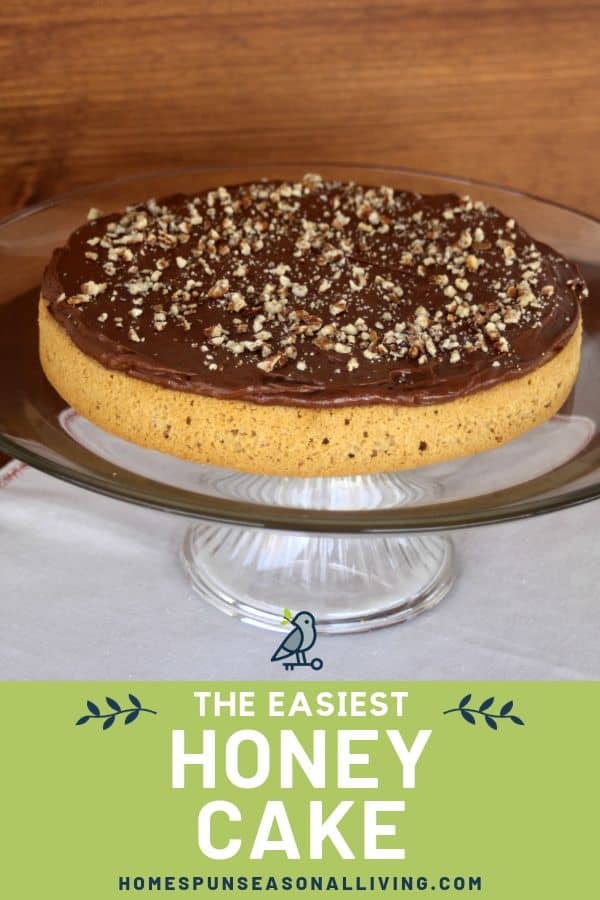 I am at an age where big birthday celebrations aren't so necessary. That's true for more than 99% of the people in my life too at this moment in time too. Still, I just think a birthday needs cake. Some small token of celebration, some expression of 'I'm glad you were born,' always seems to be welcome. This honey cake is the perfect such token. It's also so very simple for the baker.
[mailerlite_form form_id=8]
Simple Presentation
Big, beautifully decorated cakes are a treat without a doubt. But honestly, I don't have super great cake decorating skills, nor am I fan of fondant. Simple, delicious cakes with a little decadent frosting is more my style and I've never had someone turn their nose up at one either. That's exactly what this cake is: simple & delicious.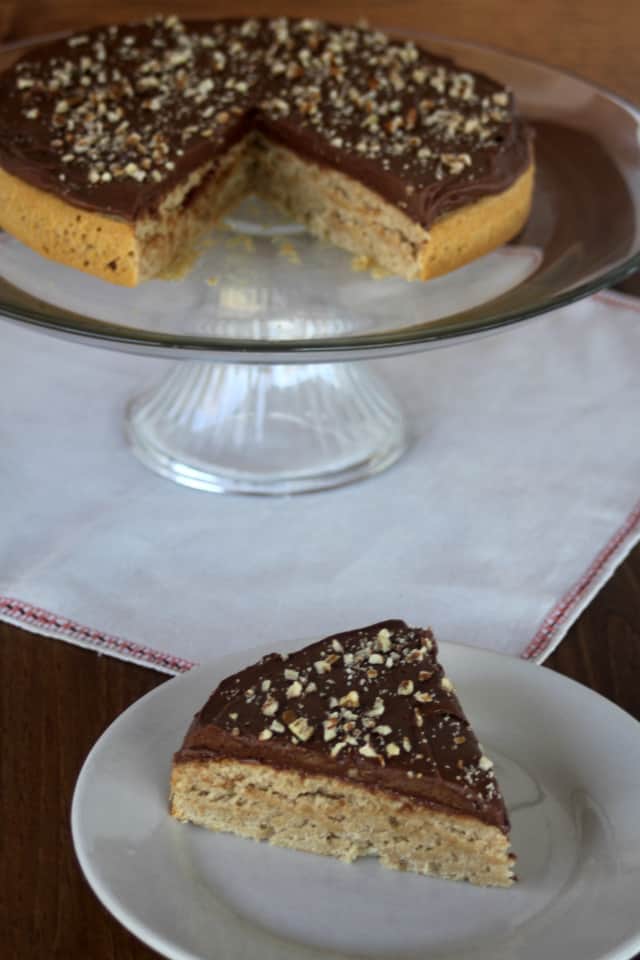 If you are good at decorating cakes, definitely pipe some roses or other designs into the frosting. If like me, decorating isn't your thing spread the frosting on the top and sprinkle on some chopped nuts or chopped chocolate bits for a simple but lovely touch.
Sweet & Moist
This is a single layer cake. Don't be tempted to make it a double layer. It would be far too rich and sweet in my opinion. Keep it simple, the honey adds a supremely rich moistness and flavor that means this cake doesn't need much else to scream, celebration.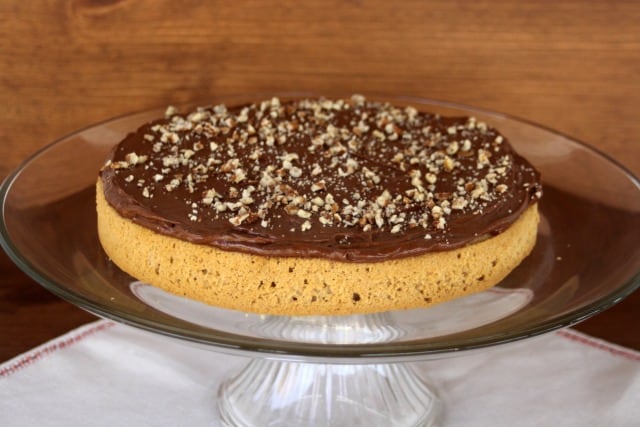 Options to Customize
This is a simple cake but if the need to switch it up arises here are some ideas:
Coffee flavor isn't overpowering in this but milk (dairy or some alternative) could easily be substituted for the coffee.
Change or omit the spices as desired.
Skip the frosting and dust lightly with powdered sugar for an even more simple, less sweet cake.
Serve with whipped cream or ice cream and skip the frosting
Use this cinnamon coffee frosting instead of the chocolate.
Yield: 6 Large Slices
Honey Cake with Chocolate Honey Frosting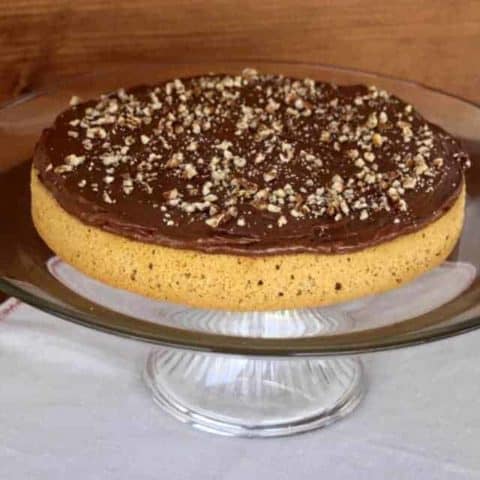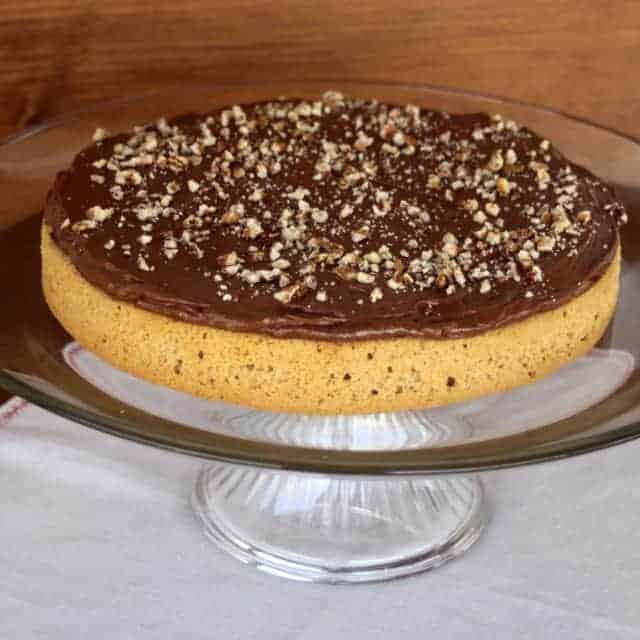 Need a simple birthday cake for adults in a hurry? This honey cake with chocolate honey frosting is the perfect recipe. Simple and easy for the baker and yet perfectly delicious and lovely for the birthday celebration.
Ingredients
Honey Cake
1 Cup Honey
1 Egg
3 Tablespooons Salted Butter, melted
1/2 Cup Cold Coffee
2 Cups Unbleached, All-Purpose Flour
1/4 teaspoon Ground Cinnamon
1/4 teaspoon Ground Nutmeg
1/4 teaspoon Ground Allspice
1/4 teaspoon Baking Powder
Chocolate Honey Frosting
1/4 Cup Salted Butter, softened
2 Tablespoons Honey
1/4 Cup Cocoa Powder
1 1/3 Cups Powdered Sugar
Instructions
Preheat oven to 350 degrees. Butter and flour a 9" round cake pan.
Sift together the flour, salt, spice, and baking powder. Set aside.
Whisk together the egg, honey, coffee, and melted butter until frothy and well incorporated.
Fold the dry ingredients into the wet.
Spread the batter evenly into the prepared cake pan.
Bake in preheated oven for 30 minutes or until an inserted toothpick comes out clean.
Cool in pan 10 minutes.
Turn out onto a cake plate to cool completely before frosting.
Make the Frosting:
Cream together the honey and butter until fluffy.
Add the cocoa powder and powdered sugar. Beat slowly until mixture begins to incorporate.
Add milk and beat until a spreading consistency is reached. Spread onto cooled cake.
Nutrition Information:
Yield:
6
Serving Size:
1 Slice
Amount Per Serving:
Calories:

585
Total Fat:

15g
Saturated Fat:

9g
Trans Fat:

1g
Unsaturated Fat:

5g
Cholesterol:

67mg
Sodium:

143mg
Carbohydrates:

111g
Fiber:

2g
Sugar:

76g
Protein:

6g
We try our best but cannot guarantee that nutrition information is 100% accurate.