I am a fan of all things pumpkin and coffee. Except those pumpkin spice lattes served at all the coffee shops in the fall. As much as I love sweets, I don't like sweet coffee drinks. Rather than drink those favorite flavors, I bake with them. Cakes, most specifically, like this Pumpkin Cake with Cinnamon Coffee Frosting.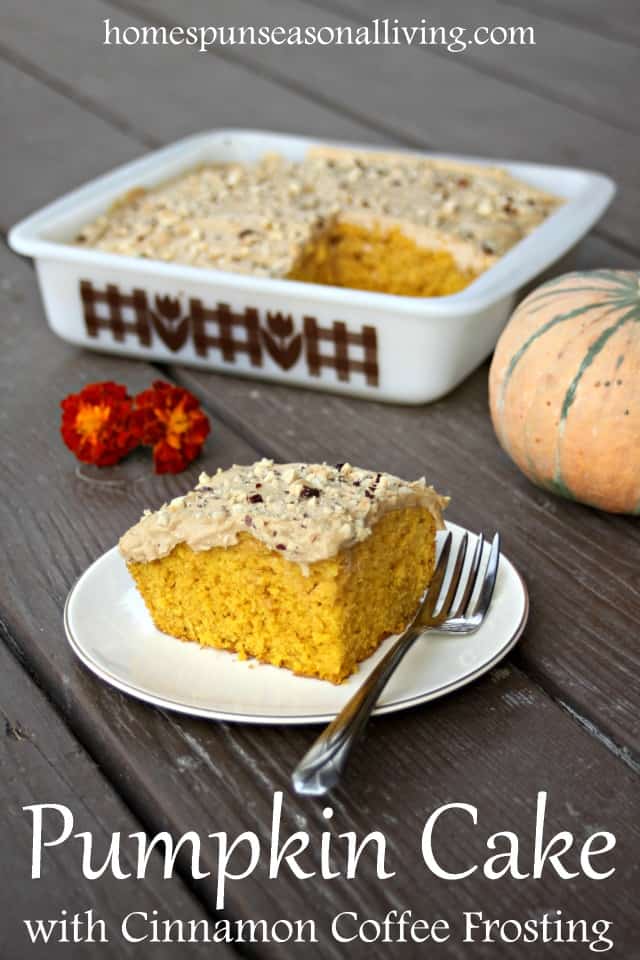 Don't Like Coffee?
If you don't like coffee flavored desserts, you have a couple of options here. Simply omit the instant coffee in the frosting and proceed with the rest of the instructions. You'll have a cinnamon frosting without coffee that will be delightful.
Cream cheese frosting would be an excellent choice here as well.  Chicory cream cheese frosting carries a bitter coffee like flavor that would work too.
Make it Pumpkin Spice Latte Frosting
For the fan of pumpkin spice lattes, this cake is ideal. In the frosting substitute the instant coffee with instant espresso for a stronger coffee flavor. Also, use a pumpkin spice blend instead of the ground cinnamon.
Cupcake Option
These make excellent cupcakes. Simply divide the batter into paper lined muffin tins, about half full. Check for doneness after about 15 minutes. An inserted toothpick should come out clean. Frost when cooled.
Decorating Options
This is intentionally a simple cake. Frosted and served in the pan makes for a simple, no-fuss dessert. To make it a little fancier looking, there are many options:
Pumpkin Cake with Cinnamon Coffee Frosting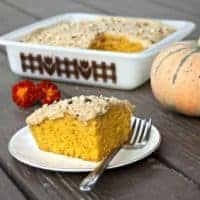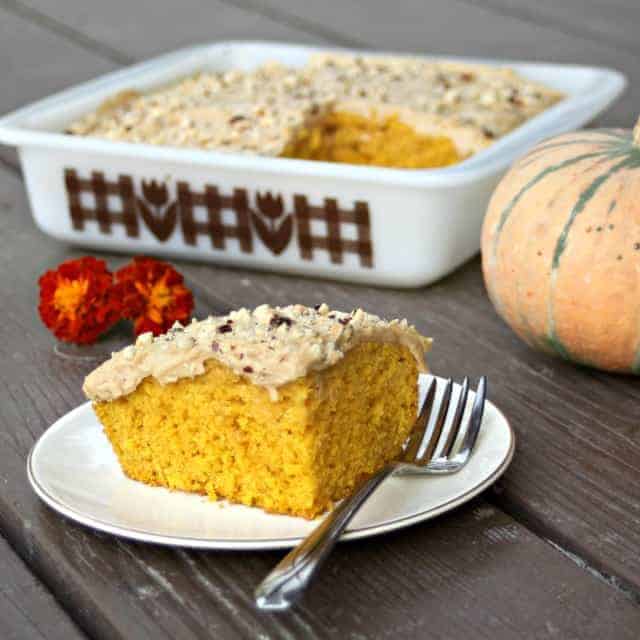 All of the flavor of a coffee house specialty in cake form. This pumpkin cake with cinnamon coffee frosting is a quick and easy dessert sure to please.
Ingredients
Pumpkin Cake:
½ Cup Salted Butter, Melted
½ Cup Sugar
1 teaspoon Vanilla Extract
¾ Cup Pumpkin Puree
¼ Cup Sour Cream
2 Eggs
1 teaspoon Baking Soda
½ teaspoon Baking Powder
2 Cups All Purpose Flour
Cinnamon Coffee Frosting:
2 Tablespoons Salted Butter, softened
¼ Cup Sour Cream
¼ teaspoon Vanilla Extract
1 ½ teaspoons Instant Coffee
¼ teaspoon Ground Cinnamon
1 ¾ Cups Powdered Sugar
Instructions
Pumpkin Cake
Preheat the oven to 350 degrees.
Grease a 9" square cake pan.
Whisk together the flour, baking powder, and baking soda in a bowl. Set aside
Beat together the melted butter and sugar until light. Add the eggs, sour cream, and vanilla extract. Beating until completely incorporated. Fold in the pumpkin puree.
Add the dry ingredients to the pumpkin mixture. Mix until thoroughly combined.
Pour the cake batter into the prepared pan. Spread it evenly into the corners.
Bake in the preheated oven for 30-35 minutes or until an inserted toothpick comes out clean.
Cool completely in pan on wire racks before frosting.
Cinnamon Coffee Frosting
In a small bowl, mix together the sour cream, vanilla extract, and instant coffee. Stir until coffee is mostly dissolved. Set aside.
Cream the butter slightly to soften it up. Add some powdered sugar and beat slowly.
Add the cinnamon and sour cream mixture. Beat until incorporated.
Mix in the remaining powdered sugar and beat until desired consistency is reached.
Spread onto cooled cake.