Most every gardener, dare I say most every human appreciates bees and pollinators. We need them to sustain our very lives. Most of us also aware of the problems of colony collapse and would like to do something even if we don't have the inclination or location to put up a bee hive. Thankfully there is something we can all do even if we don't want to become beekeepers and that is create native bee habitat. Samantha at Runamuk Acres has written the e-book: How to Create Native Bee Habitat in Your Backyard and its chock full of easy and inexpensive ways to help all of us do our part in protecting our native bees.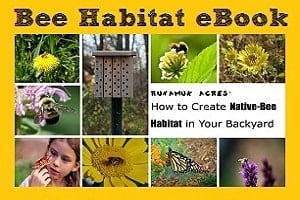 We happen to keep a honey bee hive on our farm but are always looking for ways to help our native bees and butterflies eat better and thrive in our local community. Samantha's book helps the reader understand better ways to plant gardens so that a variety of native bees can not only find a home but find food in a way that is more natural to them, i.e. plant in groupings. There's so much more to it than just planting a few flowers and this book breaks down the wealth of information out there into simple, doable steps without making any of it feel overwhelming.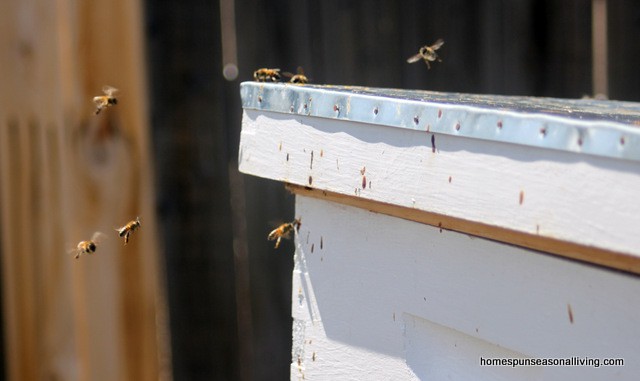 Samantha takes the time to include a variety of links to resources and studies at the back of the book, but in the main text breaks all of that down for us so that we can do our very best to attract native bees and give them habitat in our backyards. Even though I felt like I knew a lot about taking care of pollinators, I learned so very much from this book that I'm using in the planning of this year's gardens. The projects and information would be great for kids and adults no matter experience level. I hope you'll take the time to check out Samantha's book, How to Create Native Bee Habitat and all the amazing work she's doing at Runamuk Acres.
Additional Resources:
—-
Disclosure: I was given a complimentary copy the e-book, but my review is my honest opinion and is not at all colored by the free book. If you click on the link and buy the book, I will receive a small commission that helps fund this blog and my homesteading lifestyle.
[sc:Useadsenselarge ]