Can a person every have too many plants? We don't think so! Here is another way to display them with a DIY hanging plant holder.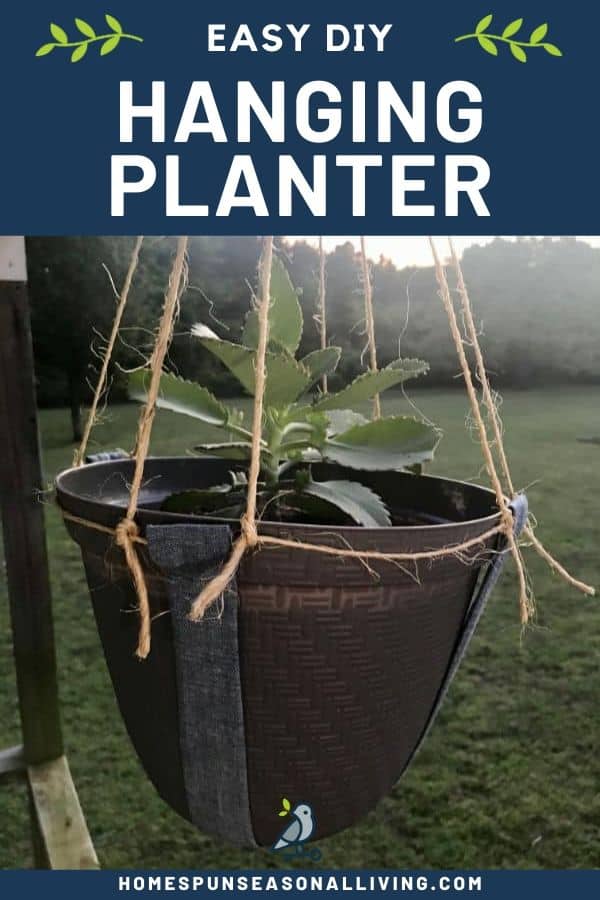 This one is made with fabric and twine. The fabric is cut from a skirt that has been outgrown, and the twine could easily be substituted with rope. It's a great way to use what you have on hand for a new purpose, just like these other upcycle sewing projects.
This tutorial uses a sewing machine, but the planter could easily be sewn by hand. Check out how to sew some common stitches by hand if you prefer that method.
Keep reading for full instructions and photos on how to make a hanging planter yourself.
Supplies Needed
Fabric of choice
Twine or rope
Planter
Measuring tape
Scissors
Sewing clips
Safety pin
Iron and ironing board
Rotary cutter and cutting mat (optional)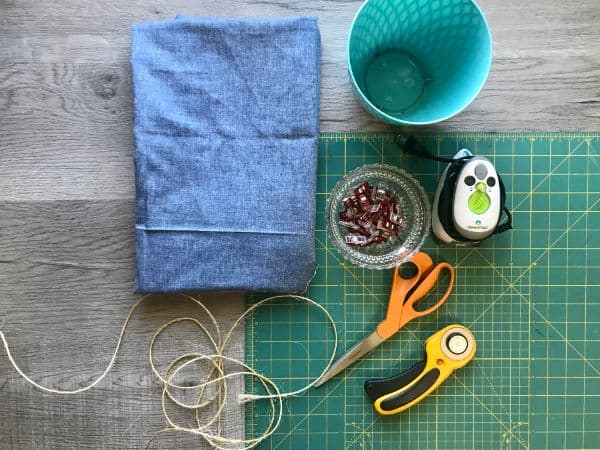 Any fabric without stretch will work for this project. It is a wonderful opportunity to reuse outgrown clothing or worn out linens. It requires very little fabric, especially if you want to hang a small pot.
How to Make a Hanging Plant Holder
Begin by cutting two strips of fabric 3″ wide. The length will be dependent on the size of your planter.
Use a flexible measuring tape to measure from the top of your planter, down under the center of the bottom, and back up to the top of the other side. If you do not have a flexible measuring tape, you a piece of twine or rope.
Add 4″ to get your length. In the example shown, our fabric strips are cut to 3″ x 24″.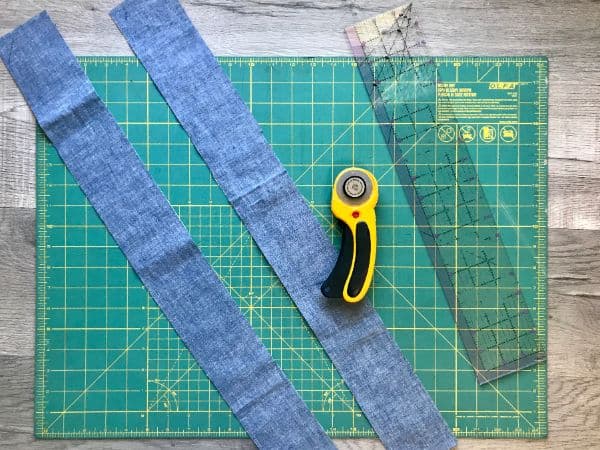 Then fold the strips in half lengthwise with right sides together if your fabric has a right side. Clip with sewing clips along the edge to hold them in place.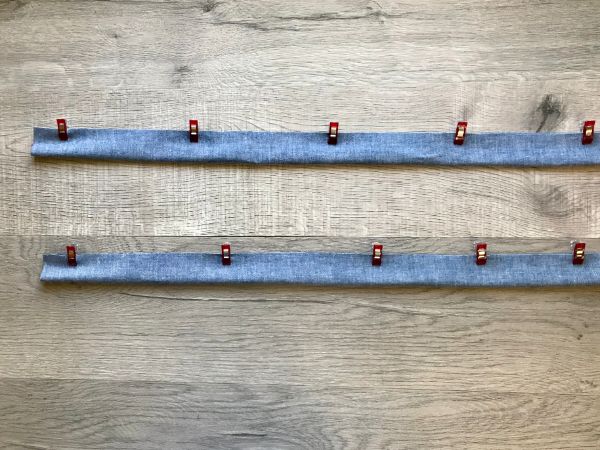 Now sew along the long, open edge on your sewing machine with a 1/4″ seam allowance.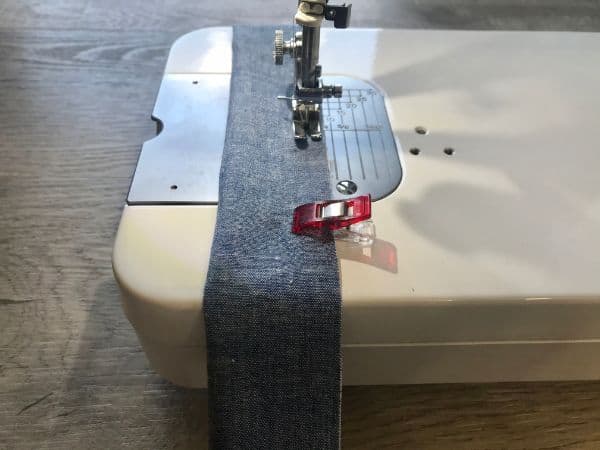 Repeat for both fabric strips. Then turn each strip right side out.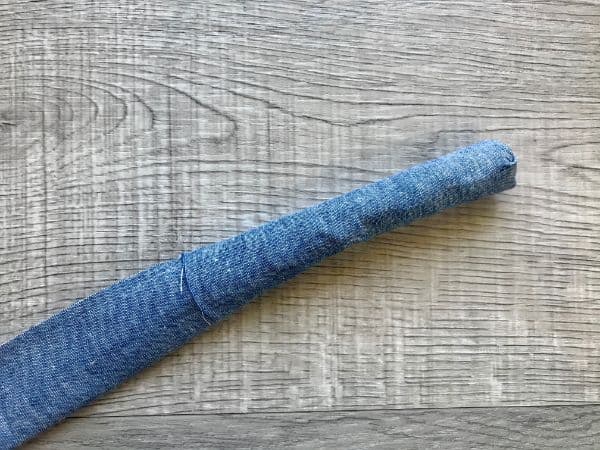 Next, press each strip with the seam running down the center.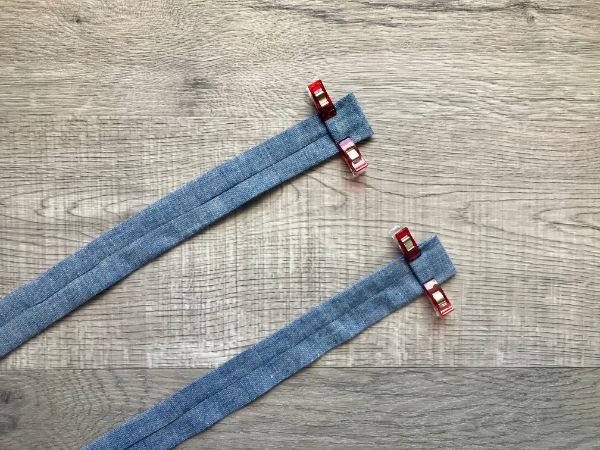 Fold each end over 1/4″ once, then twice. Then fold it over 1″ to form a casing. Press and hold with clips.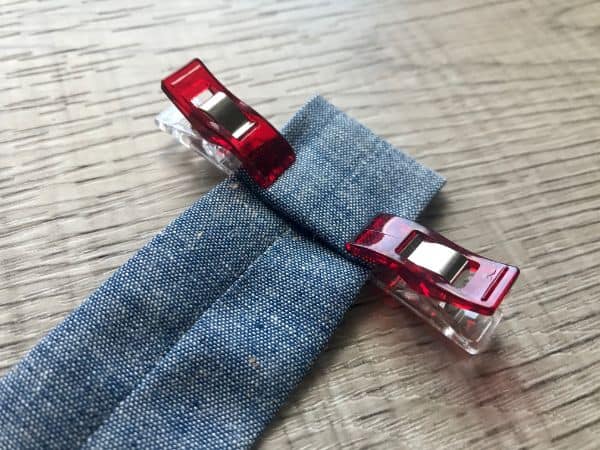 Stitch a double seam along the bottom edge of the folded fabric.
All four ends of the fabric strips should now look like the photo below.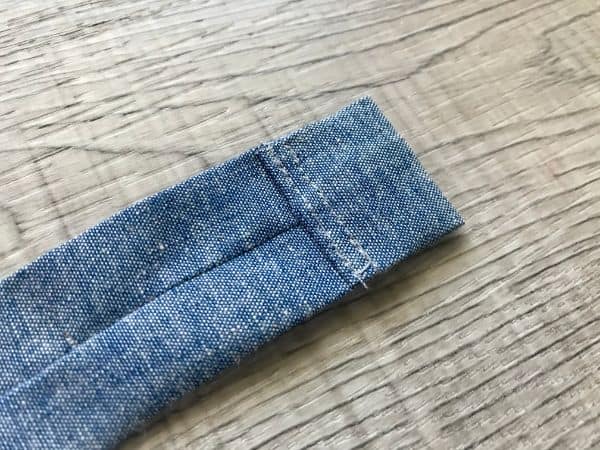 Find the center of each strip of fabric, and lay them on top of each other in a perpendicular manner. They should meet in the center forming a cross.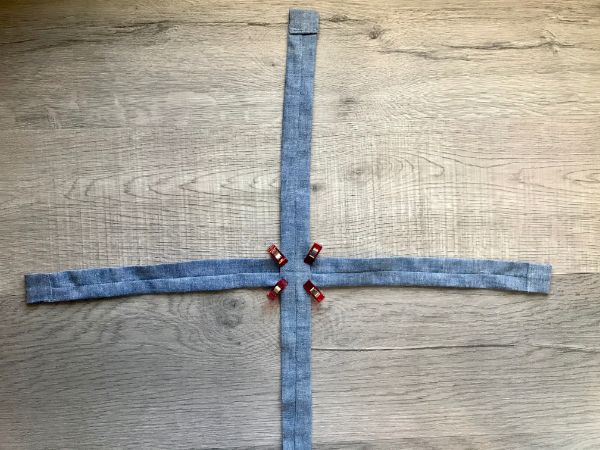 Clip where the fabric pieces meet in the center to hold.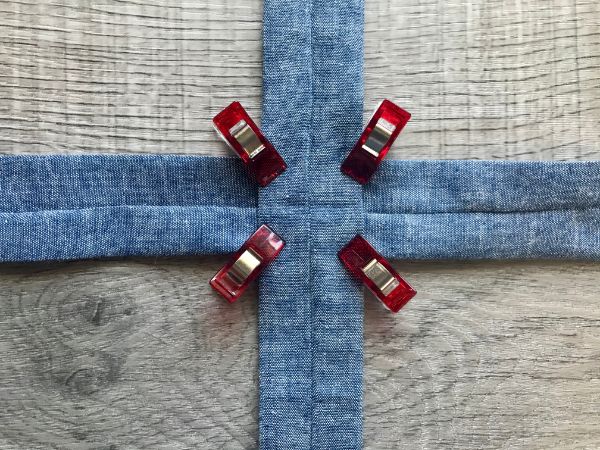 Then take the center to your sewing machine, and stitch a square to secure the two fabric pieces together.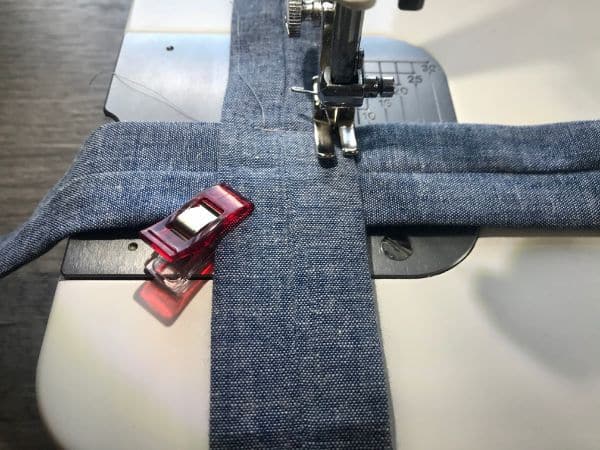 Now it is time to add the twine. Fold the end of the twine over about 1/2″ and insert a safety pin through the fold.
Insert the safety pin through the casing in each end of the fabric.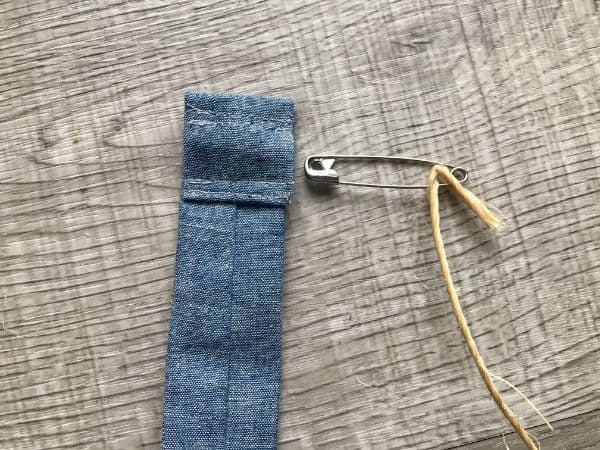 Next, place your planter in the center where the fabric strips are sewn together. Use the twine to pull the fabric up around the edge of the pot, and tie it to secure.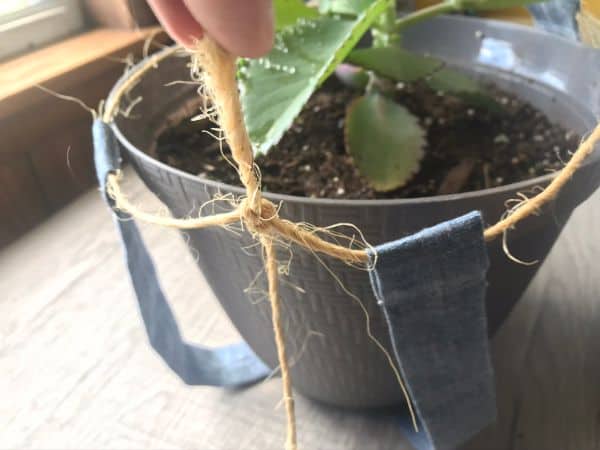 For the next step, we found it helpful to use an extra set of hands or clamps to hold the fabric pieces at the top of the planter.
Then cut four pieces of twine the same length, depending on how long you would like your planter to hang. Tie each piece from the inside of once fabric strip to the inside of the next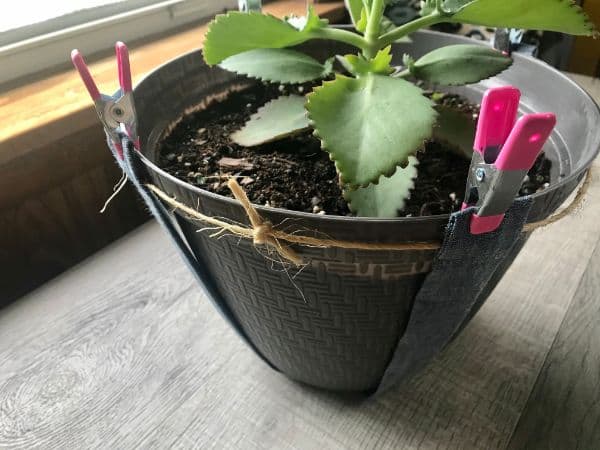 Your DIY hanging plant holder is ready to hang!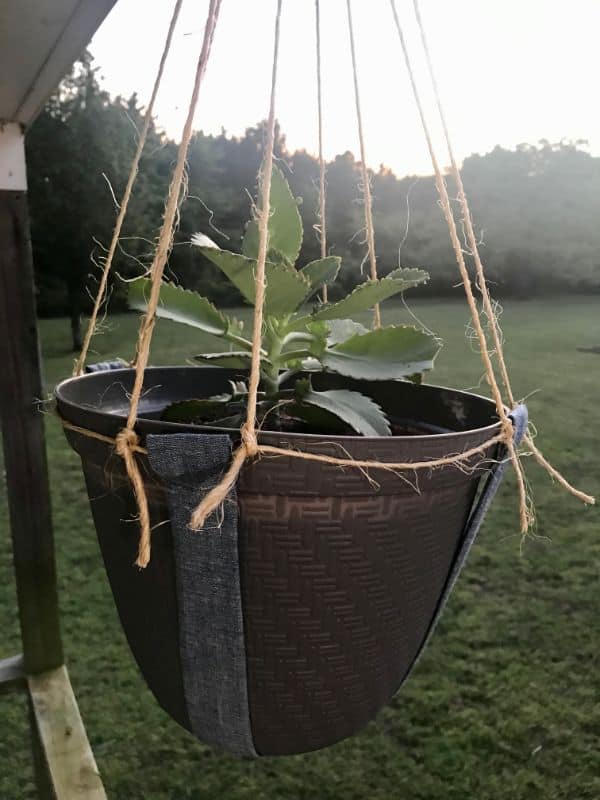 Yield: 1 Hanging Plant Holder
DIY Hanging Plant Holder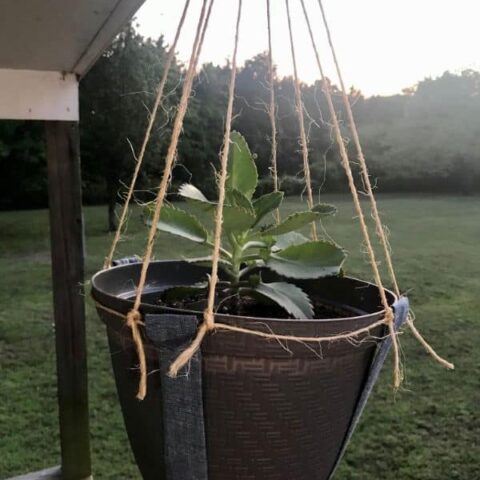 How to make a hanging plant holder with fabric and twine or rope.
Materials
Fabric of choice
Twine
Planter
Tools
Measuring tape
Scissors
Iron and ironing board
Rotary cutter and cutting mat (optional)
Instructions
Measure plant from one edge, around bottom, to other edge
Cut two strips of fabric 3" by measured length + 4"
Fold strips in half lengthwise
Clip to hold
Sew with 1/4" seam allowance
Turn strips right side out
Press with seam running down center of strip
Fold each end over 1/4", then another 1/4"
Fold again 1" and press
Stitch down bottom of fold twice
Repeat for all fabric ends
Lay strips on top of one another, perpendicular, meeting in the center
Clip to hold
Sew a square where the strips meet
Pin safety pin to end of twine
Insert safety pin through all fabric casings
Place planter in center on top of sewn square
Bring ends to the top of the planter
Knot twine to form a tight circle around top of planter
Cut four pieces of twin in equal lengths
Tie each end of the twine to the inside of a fabric strip
Notes
Do not use a fabric with stretch,
Twine can be substituted with rope.
Another pair of hands or small clamps are helpful for the last step.
Recommended Products
As an Amazon Associate and member of other affiliate programs, I earn from qualifying purchases.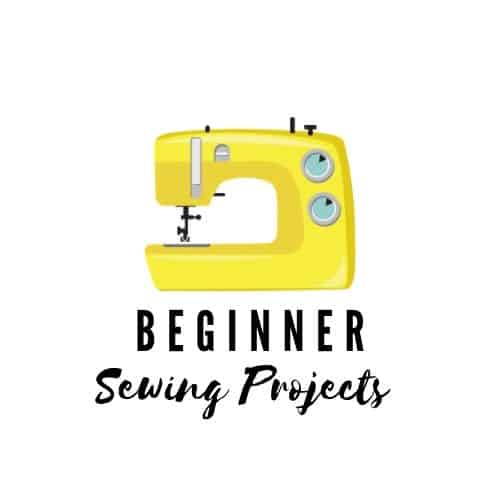 Beginner Sewing Projects is a site filled with quick and easy sewing projects that anyone can make. In addition to sewing projects for beginners, you will find crafts made with felt and sewing tips and techniques. Every post contains easy to follow instructions and photos for you to successfully complete the project.