Every now and then an injury requires some convincing to heal. Especially those injuries that include splinters, boils, or bug bites. Do that and convincing with an easy and natural homemade herbal drawing salve recipe.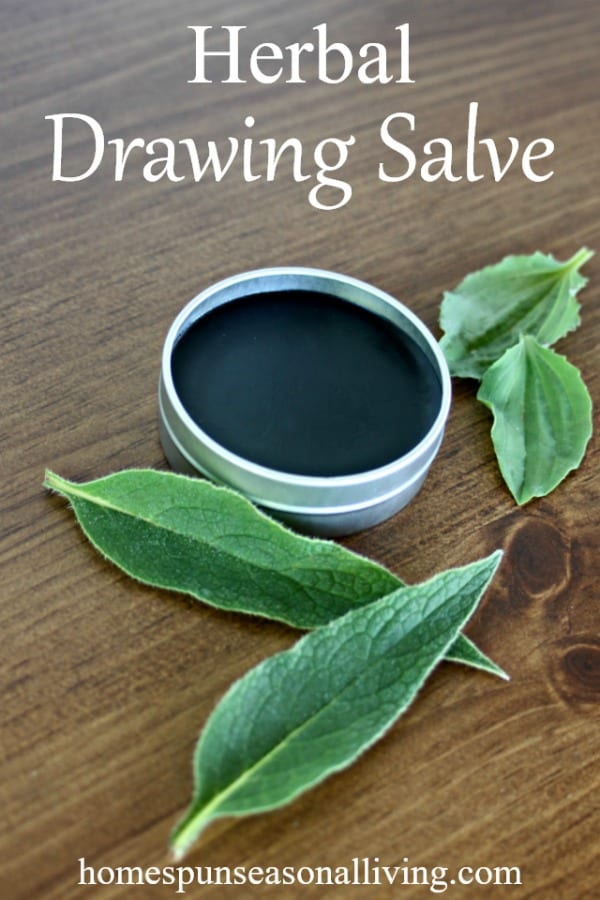 When You Need More than Tweezers
We are active people, we use our hands often and don't wear gloves as much as we should. This is especially true when we're working with the wood we use to heat our home. We chop, stack, carry, fill the woodstove, etc. All that working with wood means we get slivers and splinters. Generally, we're able to get those removed with tweezers but occasionally the little ones need a little convincing.
I know we're not alone in that. I convince those stubborn buggers with this homemade herbal drawing salve.
Quick, Small Batch
This salve whips up in less than an hour. Unless you're making some for gifts, one batch should be enough to last a year. As all oils can go rancid, do use this salve up within 1 year.
A Word About the Ingredients
Comfrey is an astringent that can help heal minor wounds, ease inflammation, and lessen scarring making it an ideal herb to use in a drawing salve.
Plantain can help with itching and sting. It also has some ability to draw out infection.
Activated Charcoal has been used to remove toxins from the body. Medical doctors often use it in cases of poisoning. When applied to the skin, it can pull toxins from the pores and that same action seems to help with splinters and slivers in our experience.
Kaolin Clay is gentle, has disinfectant properties and can stimulate circulation which can help speed healing.
Tea Tree Oil has antibacterial properties and can speed healing.
Yield: 4 ounces
Herbal Drawing Salve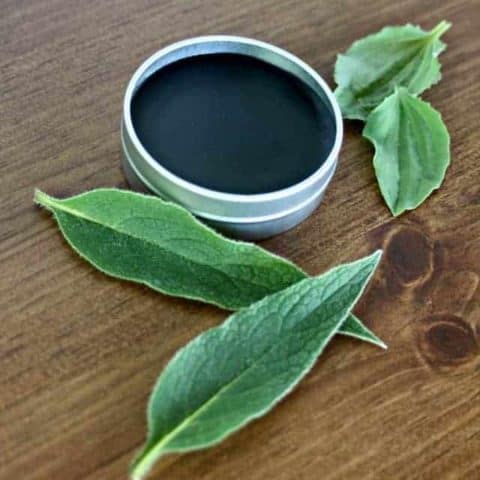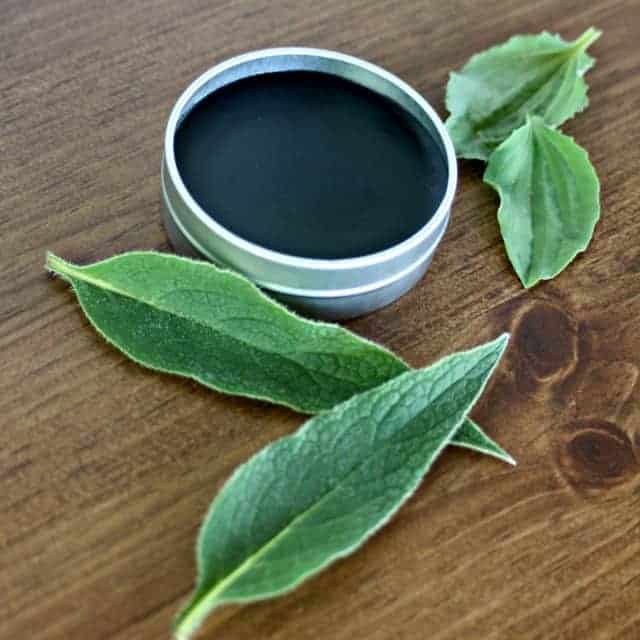 Get rid of splinters, slivers, stingers, and more from the skin by learning how to make a homemade herbal drawing salve with this simple recipe.
Materials
Tools
Double Boiler
Wire Mesh Strainer or Cheesecloth
Whisk
4 ounce Salve Tin
Instructions
Make Infused Oil
Combine the chopped comfrey and plantain with the oil in the top of a double boiler.
In the bottom of the double boiler, heat 1" of water to boiling.
Place the oil and herbs over the boiling water, keep the water simmering and heat the oil for 30 minutes.
Strain the herbs from the oil and wipe out the top of the double boiler to remove any bits of herbs.
Make the Salve
Pour the strained oil back into the top and add the beeswax.
Heat and stir until the beeswax melts.
Remove from heat and whisk in the charcoal, clay, and tea tree oil. Stir until completely incorporated.
Pour into a storage container and let harden before sealing.
Notes
To Use: Spread the salve over splinters and cover with a bandage. Repeat as needed to remove the splinter.

All oils can go rancid, use this salve up within 1 year.