There's something comforting about a hot bowl of homemade soup on a cold winter day. Lentil bacon soup is a favorite around here. It cooks up easily and is full of hearty flavor.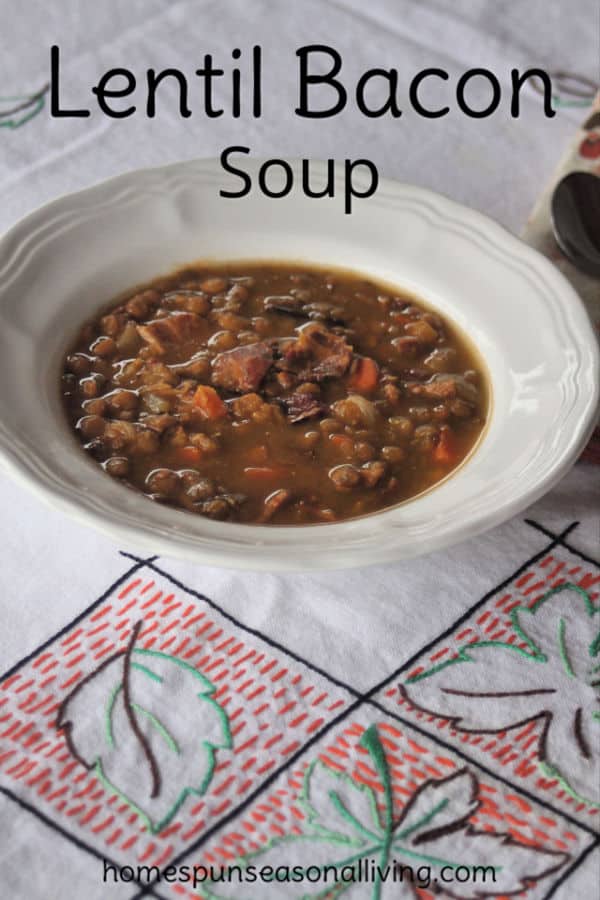 Hearty without Soaking
The great thing about lentils is that you get all the hearty filling qualities of beans without having to soak them overnight. Use any color lentils you have on hand. Most grocery stores sell the green lentils at a most frugal price. Red lentils are my favorite but more expensive and harder to find in my small town.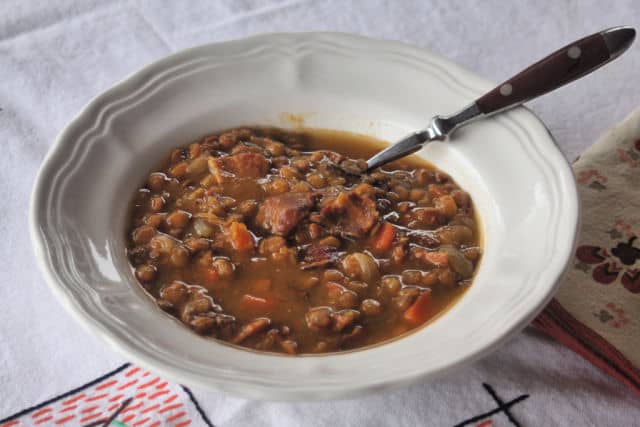 Options for Larger yet Frugal Batches
If you wanted to mind the budget and make a bigger pot of soup, double everything but the bacon. The bit of bacon will still flavor the soup greatly while the upped lentils keep the soup frugal. This method makes it ideal for pot lucks and feeding large families.
To stretch this soup into a complete meal serve with a hearty rye bread and salad.
Yield: 4 Servings
Lentil Bacon Soup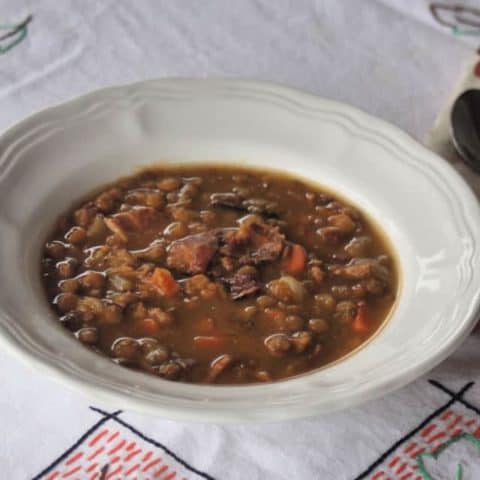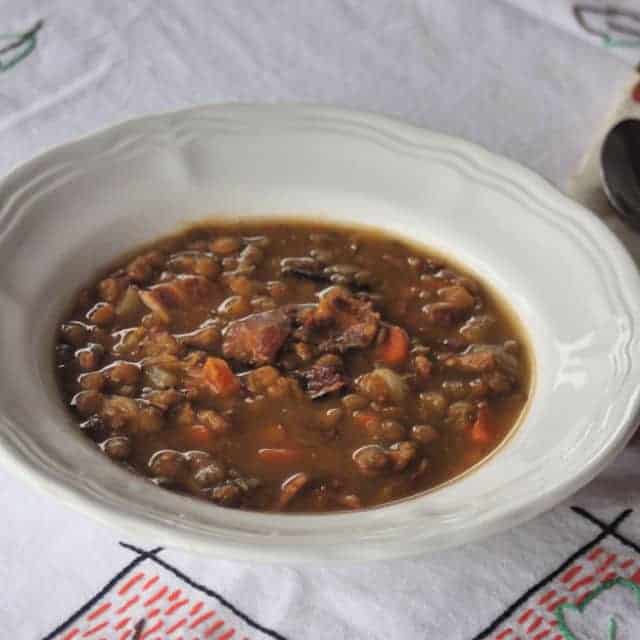 Lentil bacon soup is a filling and easy bowl of healthy comfort on a cold day.
Ingredients
8 ounces Bacon
1 Cup Chopped Celery
2 Cloves Garlic, minced
1 Large Onion, chopped
1 Cup Carrots, Diced
1 Cup Lentils, rinsed
4 Cups Chicken Broth
2 Cups Crushed Tomatoes, with their juice
1 teaspoon Ground Cumin
Salt & Pepper to taste
Instructions
In a soup pot or dutch oven, fry the bacon until crisp. Remove from pan and drain on a towel. Pour all but 1 Tablespoon of the bacon fat from the pan. In the remaining bacon fat, sauté the celery, carrot, onion, and garlic until translucent. Add the cumin and sauté 1 more minute.
Add the chicken broth, tomatoes, and lentils. Bring to a boil over high heat. Reduce heat and cover the pot. Simmer until the lentils are cooked about 40 minutes.
Crumble or chop the cooked bacon. Once the lentils are cooked, add the bacon and heat through. Serve hot.
Notes
If desired, crumble a bit of the bacon top of the bowls before serving.