I've always liked old-fashioned filled cookies. They don't seem to be very popular these days but they are tasty and rather impressive little packages on those holiday cookie trays and in gift baskets. While filled cookies can be a bit old-fashioned, these rum raisin filled cookies are full of tasty modern flavors sure to impress everyone who samples one.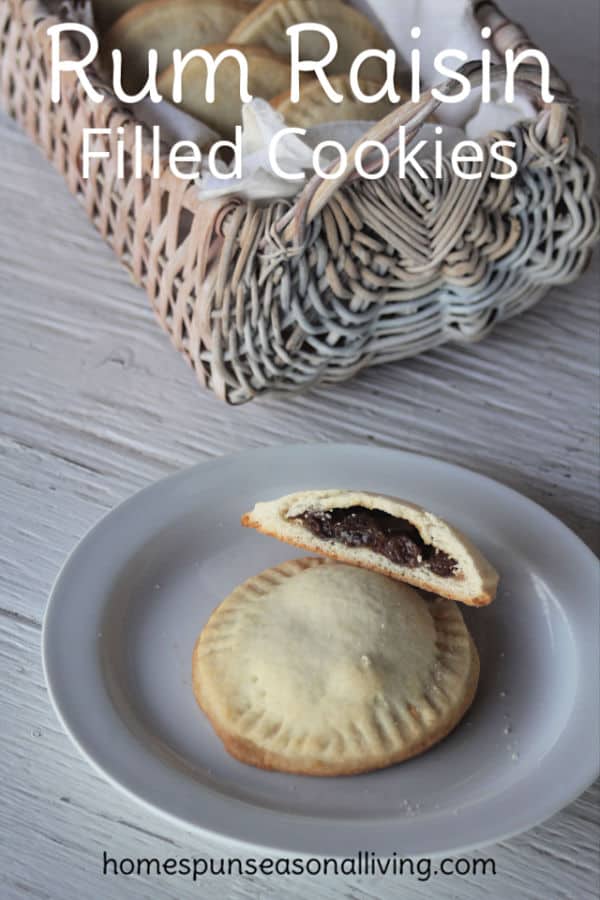 Think Beyond Raisins
The filling for these cookies can be endlessly adapted and changed as well. While raisins are a natural and tasty filling option in these cookies, feel free to use any dried fruit on hand.
Dried cherries and rum are great together. Chopped bits of dried apricots with brandy would be nice, as would chopped dried apples and brandy.
Feel free to combine fruits for a different take as well. Truly let your taste buds be the guide not the exact directions in the recipe.
Want to Skip the Alcohol?
Substitute orange juice for the rum and proceed with the recipe. Use the orange zest in the cookie dough for a tasty option.
Apple juice would likely work as well, but I only tested with orange juice.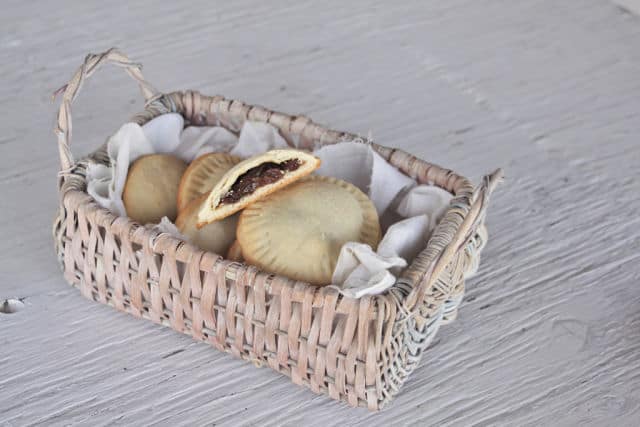 Not Quite a Hand Pie
Filled cookies are somewhere between a cookie and a hand-pie. The cookie itself is buttery and sweet and rolled thin to be crunchy while letting the filling flavors shine through. There's enough baking powder to give the cookies some lift.
I think one could easily use pie crust dough instead of the cookie dough for a more traditional hand-pie with the rum raisin filling.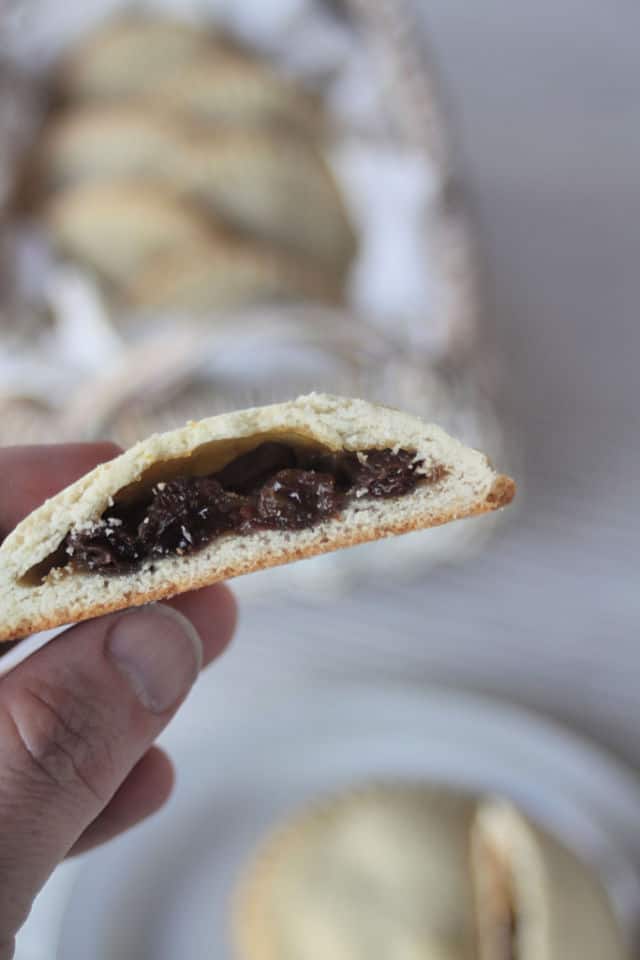 Extra Decorating Ideas
For an extra special touch, the cookies could be sprinkled with coarse or colored sugar or even chocolate sprinkles before baking. The cookies are delicious plain and don't need these extras for flavor or sweetness only for a stronger visual presence should that be desired.
Make Ahead
Because these cookies get their flavor from allowing the dried fruit to soak up the rum be sure to plan ahead. The dough needs to chill for at least an hour as well. I suggest putting the raisins in the rum and making the dough at least before bed and tackling assembly and baking the next day.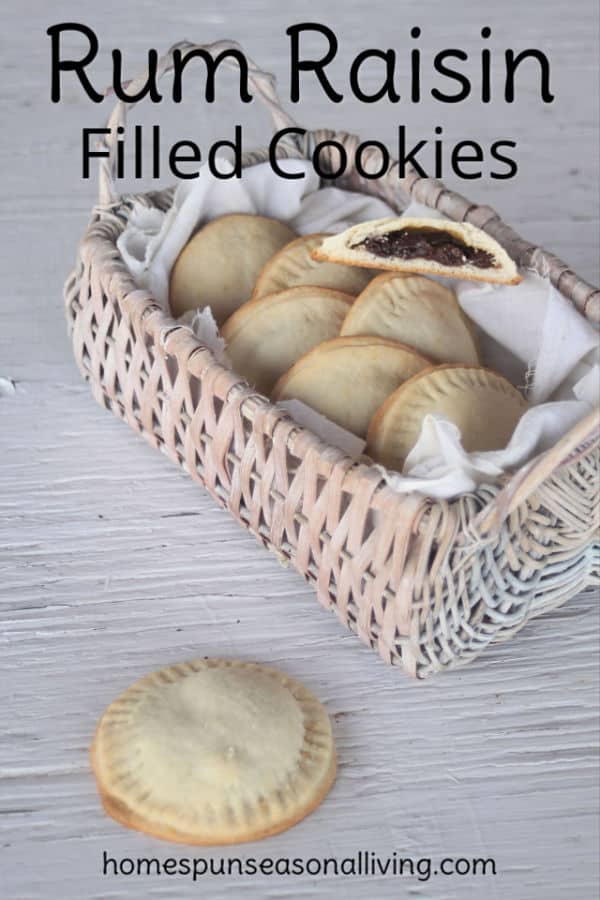 Freeze Big Batches
These cookies freeze extremely well. Make a big batch and freeze them for giving or taking to parties later. Just let them thaw at room temperature for at least an hour before eating. Although truth be told, we ate several frozen at our house with coffee for breakfast and they were tasty that way, too.
Yield: 4 dozen
Rum Raisin Filled Cookies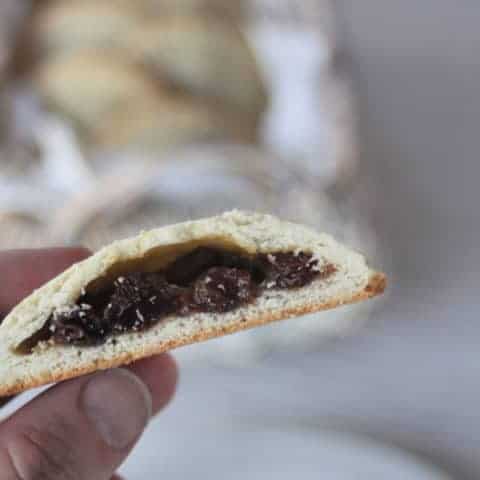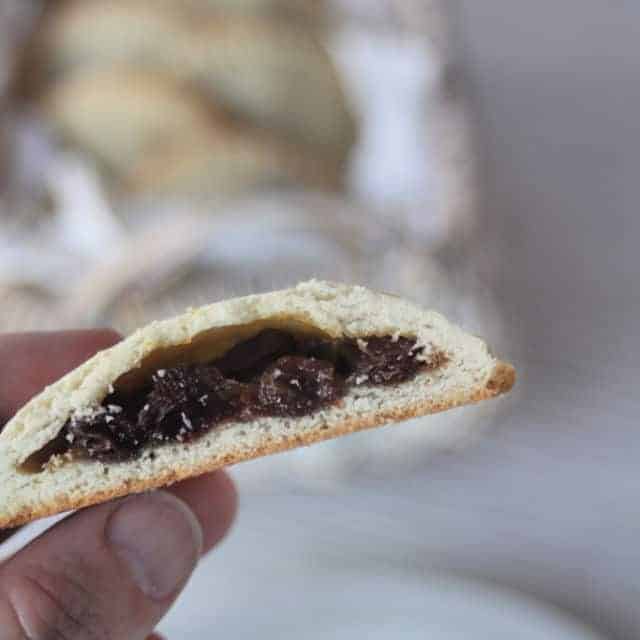 Rum raisin filled cookies are part hand-pie, part cookie with a completely delicious sweet and crunchy exterior complimented by a flavorful, boozy center.
Total Time
8 hours
45 minutes
Ingredients
Rum Raisin Filling
1 Cup Dark Rum
1 ⅓ Cup Raisins
2 Tablespoons Flour
2 Tablespoons Butter
2 Tablespoons Honey
1 Tablespoon Lemon Juice
Cookie Dough
1 1/3 Cups Sugar
1 Cup Salted Butter, softened
2 Eggs
5 Cups Unbleached, All-Purpose Flour
4 teaspoons Baking Powder
1/2 Cup Milk
2 teaspoons Vanilla Extract
Instructions
Soak the Raisins
Place the raisin in a clean jar and pour in the rum. Be sure to push the raisins down so that they are covered by the rum. Cover the jar and leave it sit at lease 8 hours. The raisins will swell slightly as they absorb some of the rum, that's perfect.
Make the Dough
Whisk together the flour and baking powder. Set aside.
Cream together the butter and sugar until light and fluffy. Add the eggs and vanilla extract, beat well.
Slowly begin adding a little of the flour mixture, alternating with a bit of the milk while continuing mix and until all the flour and milk is added to the dough.
Remove the dough from the mixing bowl and divide in half. Pat dough into a circle. Cover with parchment or wax paper and chill for at least one hour (longer okay) before rolling.
Make the Filling
In a small saucepan, melt the butter and honey together. Stir in the flour and stir for about a minute to make a roux. Add the lemon juice and all of the contents from the rum soaked raisin jar. Continue cooking until the mixture thickens. Remove from heat and allow to cool completely before assembling cookies.
Assembling & Baking the Cookies
Preheat oven to 350 degrees.
On a floured board, roll the cookie dough out to about 1/8 inch thickness. Use a round cookie cutter to cut into shapes.
On a greased or parchment lined cookie sheet, place rounds of dough 2 inches apart.
In the center of each cookie, drop a bit of the filling up to 1 teaspoon.
Brush the edges of the cookie rounds with water. Place another round of cookie dough on top of the filled cookie. Press the edges together to seal.
Bake in the preheated oven for 15 minutes or until edges turn a golden brown.
Cool on wire racks completely before storing.