The lilacs started budding a few weeks ago and I started thinking of ways to use them rather immediately. The idea that popped into my head and wouldn't leave me alone was lilac rice pudding. I've been a fan of rice pudding since childhood – something about that creamy, comforting dish has always stuck with me. Admittedly, I don't make it often but this idea of infusing that favorite comfort food with edible flowers just wouldn't leave me alone. When the flowers began opening up last week, I decided to give it a try and boy, am I glad that I did.
Because this recipe uses already cooked (leftover) rice, it doesn't take terribly long to cook. Next time you're cooking rice for dinner, make a little extra for rice pudding making. The snipping of the lilac blossoms does take a little bit of time, but is not hard work and in fact, can be a nice way to relax on the porch for a bit. The stems can be a little bitter, so for this recipe simply snip or the pull lilac blossoms from their stems and collect in a bowl until ready to use.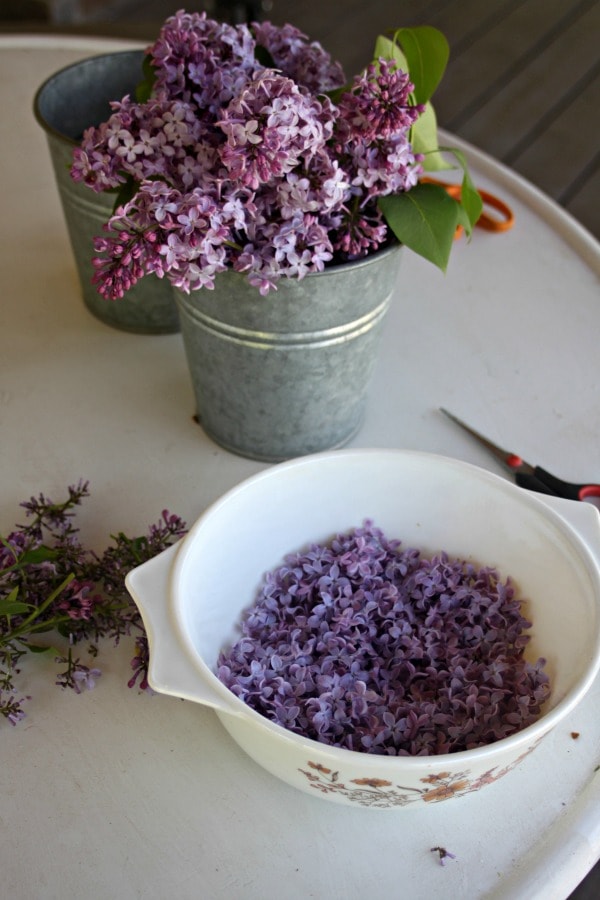 Lilac Rice Pudding
Ingredients
4 Cups Milk (cow, goat, rice, coconut, almond - any will do)
1 1/2 Cups Cooked Rice (brown, white, etc.)
1/3 Cup Maple Syrup
3 Tablespoons Cornstarch
1 Tablespoon Vanilla Extract
1 Cup Lilac Blossoms (1/2 ounce by weight)
Instructions
In a saucepan, whisk together the milk, maple syrup, and cornstarch. Add the rice and whisk to break up any clumps.
Over medium heat bring the mixture to a light simmer. Turn down the heat to medium low and cook for about 18 minutes. Stir frequently to prevent scorching. At this point, the mixture to coat the back of spoon thickly.
Add the lilac blossoms and vanilla extract, stir well. Cook another 2 minutes.
Remove from heat and pour into serving dish and refrigerate. The pudding will thicken more as it cools.
Serve chilled.

Disclaimer: I may receive compensation for products mentioned in this post. All opinions expressed are my own. I am not a doctor, always seek trained medical advice. No statements should be considered approved by the FDA or as a diagnosis or treatment for any illness. See my Full Disclaimer Here.