Rhubarb is a productive plant. Honestly, there's only so much one family can eat of this tart gift of the earth. However, it provides for many jam making and dessert baking opportunities. Opportunities that I jump on because having homemade gifts already done and ready to give is always a good thing. This rhubarb hard cider jam is the perfect combination of tart and sweet with a hint of hard cider flavor that is sure to delight.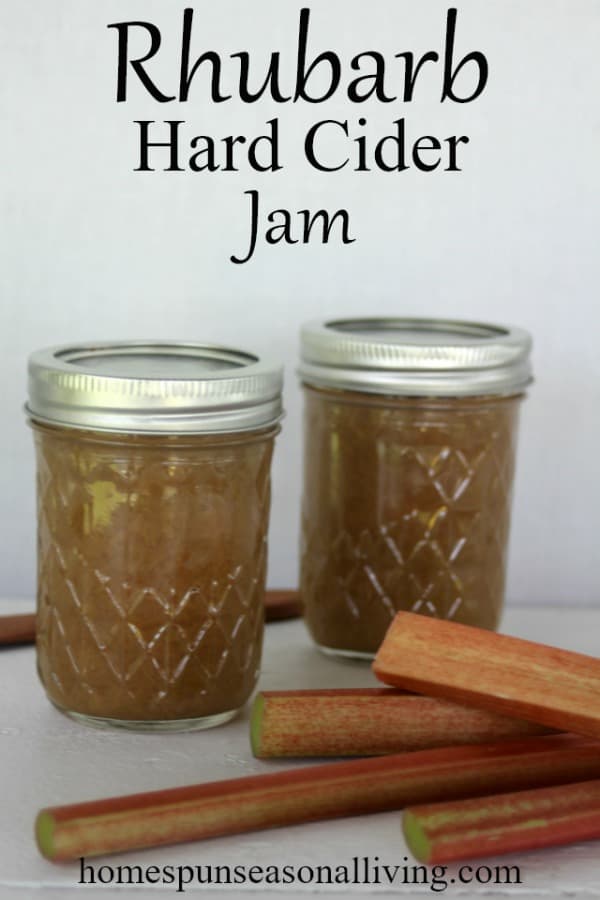 A 2-Day Recipe
For optimum flavor, the rhubarb, sugar, and apple cider need to sit in the refrigerator overnight. Don't skip this step. I tried it both ways – immediately making jam and letting it mellow overnight. The overnight marrying of flavors makes for an infinitely better final product, in my opinion. This hands-off so don't let the sitting stop you from making this jam.
[mailerlite_form form_id=3]
No Pectin
I've traditionally made rhubarb jams with pectin. It's quick and easy that way and little worry about set. In this version, however, I cooked it until the gel point was reached. Gel point varies based on elevation but the National Center for Food Preservation has a handy chart to help you adjust this temperature.
Want more tips and recipes for making jams & jellies? Check out my Fiercely DIY Guide!
The Color
The longer cooking time and the sitting in hard cider overnight means that this jam lost a bit of the normally vibrant red color of rhubarb jams. It's more of an amber color but still lovely and most importantly delicious.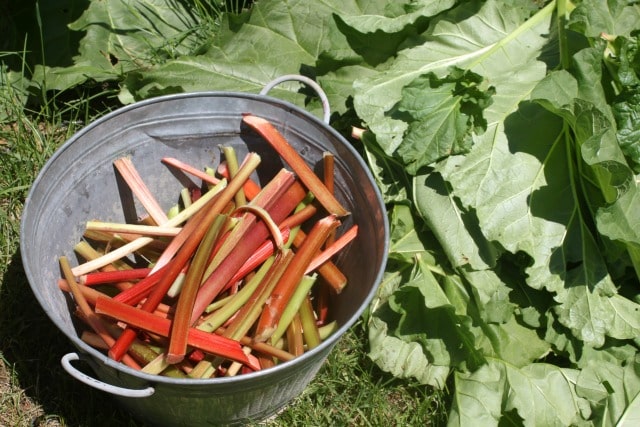 Hard Apple Cider
I used a homebrewed hard apple cider in this recipe. Any commercial hard cider will work, choose something a little drier not terribly sweet if possible. This jam is boiled several times which generally means the alcohol will be cooked out. I wouldn't worry about anyone getting drunk off the final product. The hard cider does leave a very interesting flavor however and while I imagine you could substitute apple juice, I didn't try it and the flavor would definitely be very different.
Using Rhubarb Hard Cider Jam
This is delicious simply spread on toast. That is, of course, always the best use of jam. However, it pairs well with cheese and crackers too for a simple and unusual appetizer.
Give Rhubarb Hard Cider Jam as a Gift
Save these jars in the pantry for the holiday season, bring as hostess gifts to summer barbecues, even send them to friends in faraway places. For homebrew fans, package a few jars with some bottles of locally made hard cider. Give a jar with a nice loaf of challah or brioche for a breakfast gift basket fit for a king.
Yield: 6 Half Pints
Rhubarb Hard Cider Jam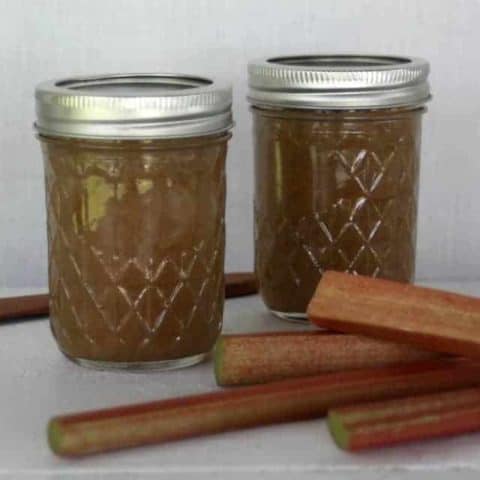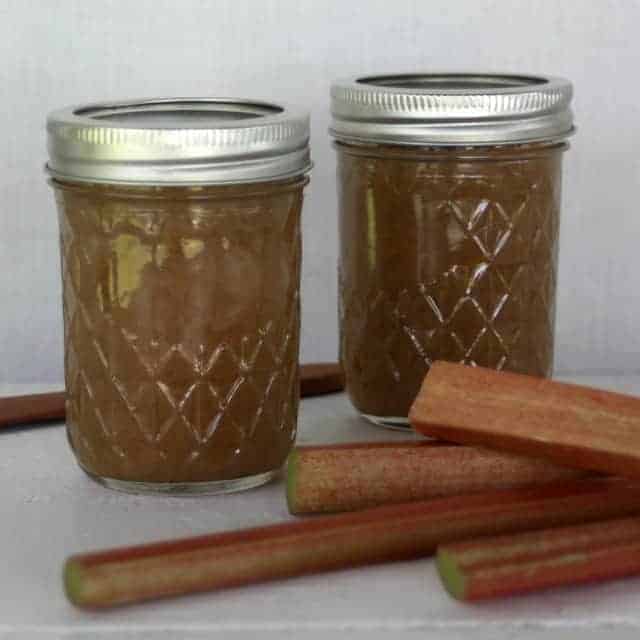 Preserve the first fruits of spring and add a boozy flavor with this delicious rhubarb hard cider jam perfect for fall eating and winter gift giving.
Ingredients
3 Pounds Rhubarb, sliced 1/4" thick
3 Cups Hard Apple Cider
1 ½ Cups Sugar
2 Tablespoons Lemon Juice
Instructions
In a medium saucepan, combine all the ingredients. Mix well and bring to a boil. Turn down heat and let simmer 5 minutes. Remove from heat and cool. Store in the refrigerator overnight.
The next day get jars, rings, lids, and boiling water canner ready.
Remove jam mixture from the fridge and bring to a rapid boil. Cook until gel point is reached (probably 15 minutes but check the temperature to be sure). Skim off foam.
Pour jam into clean jars, wipe rim, place lids and rings.
Process in boiling water canner for 10 minutes (adding time for elevation).